Salmon Angling
River Moy
The Moy system accounted for a total of 253 salmon for the week. On the Ridge Pool, Jim Sheridan, Sligo, had a 5 lbs. fish on spinner, while Spanish flyangler, Sebastian Camarero, caught and released a fine eight pounder. His countryman, Luis Monterlere, was successful on the Cathedral Beat with a 7.5 lbs. salmon on spinner.
UK visitor, Bob Bell, enjoyed his day on the Coolcronan Fishery with a nice grilse on worm, while Frenchman, Eric Fabre, landed a 6 lbs. fish (on spinner) on Gannons. The Foxford Fishery produced a fine 10.75 lbs. salmon for flyangler Bob Ives from the UK. On Rinanney, Jim Martin, Northern Ireland, had one of 12.5 lbs. on prawn.
Further upriver, Cloongee saw a god week with almost 40 salmon landed. Successful anglers included Jez Leech, UK, with a ten pounder on worm and Michael McGuirk, Monaghan, with a 9 lbs. salmon on spinner.
Anglers also enjoyed some good fishing on the East Mayo water. The fly worked particularly well for Valerio Santagostino from Italy who caught 3 grilse, best at 7 lbs.
Ballisodare Fishery
Despite dropping water levels June started off well with 15 salmon (6 released) caught on the first day of the month. Amongst the successful anglers were John Lawler with a 7 lbs. fish, Tom Devaney with an eight pounder and Vincent Henry who had one of 7 lbs. on the fly.
Luke O'Connell had a good day on Wednesday June 3rd releasing two fish weighing 10 lbs. and 7 lbs. both taken on the fly. Mark Graham also released a fish of approx. 10 lbs. on the fly.
Last week saw some excellent fishing with a total of 84 fish caught, 29 of these being released. Most fish fell to the fly and worm and averaged 5 to 6 lbs. However, the best fish of the week weighed 14 lbs. and was caught by Keith Campbell at the Falls. Most successful flies included Thunderflash, Gold Body Cascade, Yellow Ally's Shrimp, and small plastic Willie Gunn tubes.
For information and bookings please check www.ballisodarefishingclub.ie
Trout Fishing
Lough Conn & Lough Cullin
Although angling is tailing off somewhat on Loughs Conn & Cullin, following one of the most successful mayfly seasons in recent years, there were still some good trout catches recorded last week. The cold, windy, wet weather that characterised the 2015 Mayfly season is now a distant memory as blue skies and warm breezes replaced the hail squalls of recent weeks.
On Lough Cullin, Thomas Egan and Brian Flaherty from Tuam had 8 trout to various wet flies. Best fish was 1.5 lbs. and all were released.
South Conn produced some lively fishing for Martin Flanagan and Mick Sweeney, Galway, with 8 good trout to 2 lbs. as well as numerous other fish in the 11" to 14" size range. Green Peter and Green Dabbler were the most successful flies. Also on South Conn, Michael Shiels had 4 trout on dry olives at Coleman's Shallows. And Noel Quigley had 7 trout, all on a Golden Olive Dabbler, best fish was over 2 lbs.
Further north on the lake, in the Errew area, Nigel Williams recorded 6 good trout, all on a Grey Wulff.
Later in the week, in the Massbrook area, Tegan Binley from Foxford had her first ever trout. This lovely fish weighed approximately 1.5 lbs. and was caught on a Green Peter
Lough Arrow
After a successful Mayfly season, fishing on Lough Arrow slowed down somewhat in recent days. However, some anglers still experienced good trout fishing on the lake. Stella Mc Grisken from Northern Ireland had 2 fine trout at 2 lbs. and 2.25 lbs. on the dap.
Fishing out of John Hargadon's Boat Hire, Thilo Theisen and his boat partner Rolf from Germany enjoyed a great day on Arrow with three good fish between 34cm and 41cm.
Pike Angling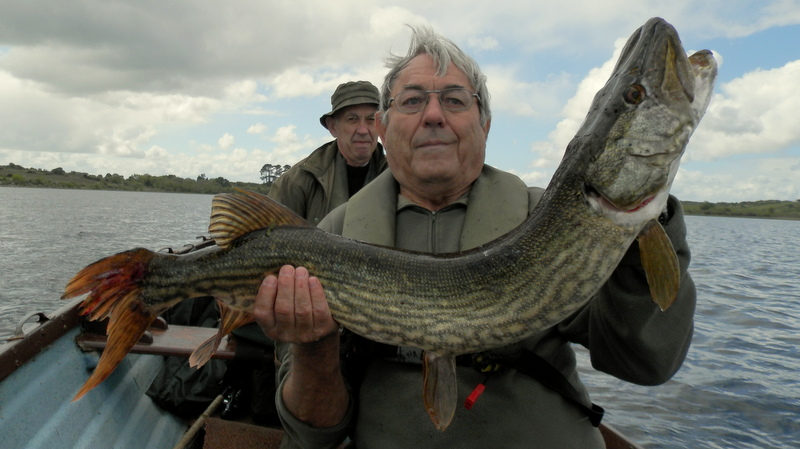 Jean Michel Dinhut & Joel Pierres with one of their double figure Mayo pike To book a day's guiding or boat hire contact Kenny Sloan on +353 (0)949256501 or +353 (0)879670310.

During the week, French visitors, Jean Michel Dinhut and his friend Joel Pierres made their way to Foxford to meet up with local guide Kenny Sloan for some pike fishing. Despite the difficult conditions pike were fairly active and feeding. The two anglers fished a number of waters including Derryhick Lake, Levally Lake and Lough Conn and landed some fine double figure fish. The best fish of the trip was a one meter pike caught while trolling over deep water.

+353 (0)949256501+353 (0)879670310