Corrib
Declan Gibbons reports on a productive opening few days on Corrib. Opening Day on the 15th of February provided some of the best early conditions in several years, with the lake at a low enough level and mild weather offering anglers the chance of good sport. There was much activity and enthusiasm amongst anglers from around the lake - both those living locally and those who travelled from further afield to wet a line on opening day with weather conditions favourable in the morning and early part of the afternoon, and notable activity in the towns and villages around Corrib. Most anglers were looking forward to a bit of sport after the long winter break, but truth be told the main point of opening day is to catch up with old friends, usually over lunch and a drop of something strong on one of the islands.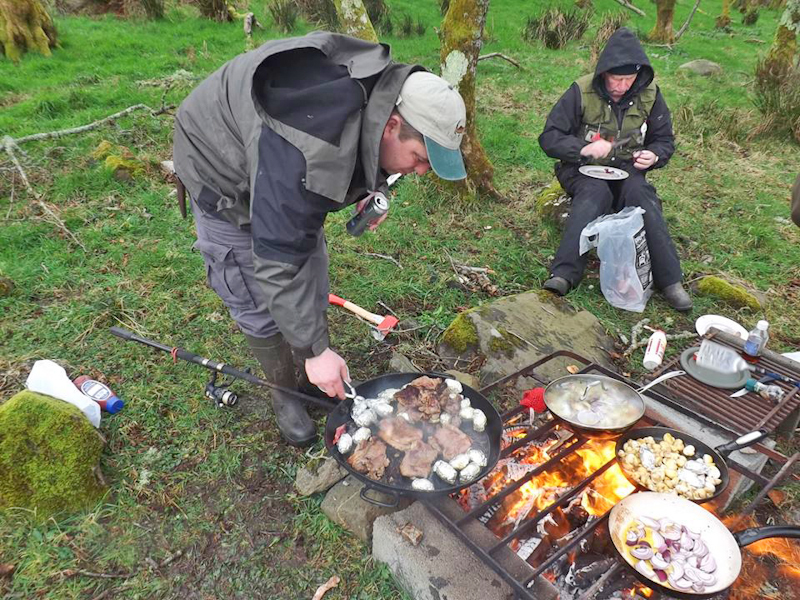 A great tradition - lunch on the island on Opening Day, Lough Corrib.
In the Oughterard area Kevin Molloy from Baurisheen Bay Guiding and Self Catering (087-9604170) reported Stephen Barry from Laois enjoyed an excellent start to the season, landing 3 trout with the best fish being 8.5lbs, and Richard Kirkham also landing 3 trout - best fish 2lbs (all sportingly released). Gerry Molloy (www.loughcorriboughterard.com) was on to report a great start to 2017, with Gerry himself, Kevin Molloy and Emmet McGloin landing 7 fish for their efforts on opening day, with the best fish being 2.75lbs caught trolling the "brickeen". On Sunday last Gerry had a fish for 2lbs also on the brickeen but Gerry tells us that his fish was well out-weighed by a cracking fish caught by Joe Tierney on the brickeen, weighing 10lbs 2oz.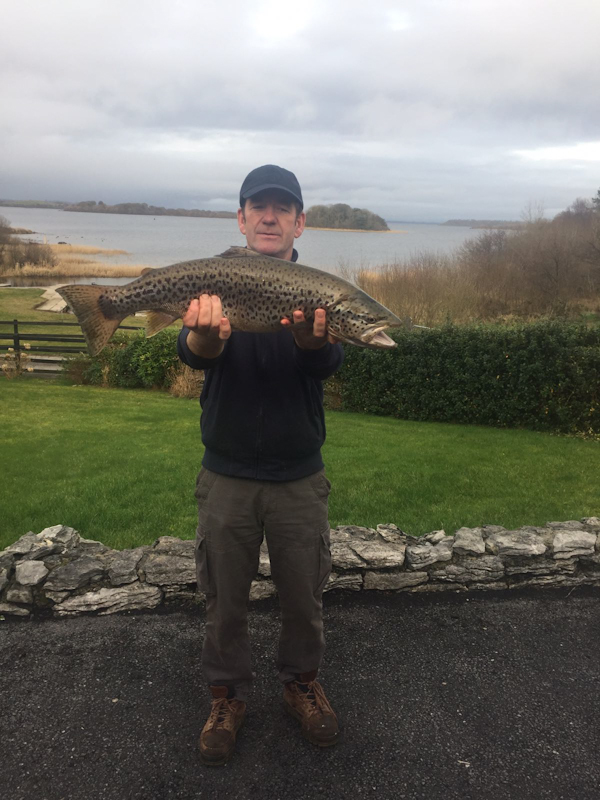 Joe Tierney from Oughterard with a fine 10lbs 2oz ferox trout from Corrib, taken a few days into the season. Feb 2017.
In the Cornamona area on opening day Jackie Coyne along with John Somerville met 6 fish on dabbler patterns with Jackie landing 1 fish for almost 3lbs, and the Renvle man sportingly released his first capture of 2017 back into Lough Corrib.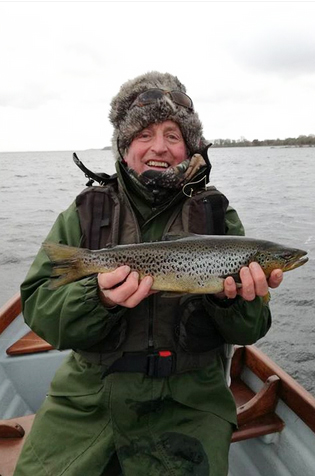 Corrib expert Jackie Coyne with a fine opening day trout of just under 3lbs.


Corrib expert Jackie Coyne with a fine opening day trout of just under 3lbs. Jackie fished with John Somerville and they met 6 trout, most coming to Silver Dabblers.

Mike Shanks fishing along with Kevin Kerrigan got his season off to a pleasant start with a fish of 2.5lbs on opening day and a fish of 3.5lbs on Saturday last.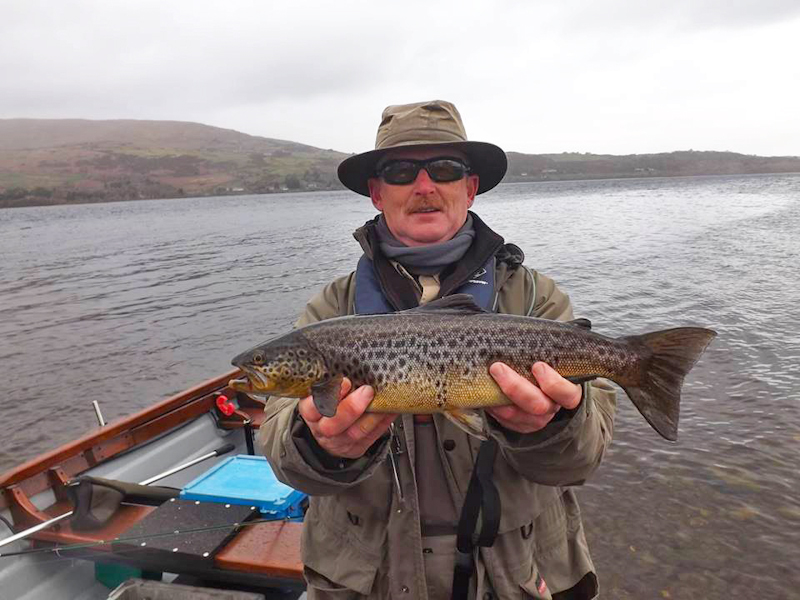 Cornamona angler Mike Shanks with a lovely Corrib trout caught on the morning of opening day, 15 Feb 2017.
Also in the Cornamona area Richard Molloy (087-2879339) of Ballard Shore Boat Hire and Self Catering reports on regulars returning to Lough Corrib and making the most of their time, with Derek Evans from the Irish Times landing a nice fish of 1.5lbs on the fly on opening day, and other visitors enjoying reasonable fishing for the time of the year on brickeen, Tasmanian devils and on the fly - dabbler patterns were most productive on intermediate lines having produced a few fish in the 1-1.5lbs range on Sunday last. In the Cong area Cong Angling Club hosted the Kevin Glynn Memorial (Heaviest Fish) in which 12 anglers participated in and 13 trout were weighed, from 1.25 to 2.5lbs. Winner on the day went to Vincent Hughes with a fish of 2.5lbs. Vincent from The Neale is an uncle to well-known and successful coarse angler Cathal Hughes from Moycullen. The presentation took place in Lydons Lodge Cong (094-9546053) where all enjoyed refreshments and a warm fire.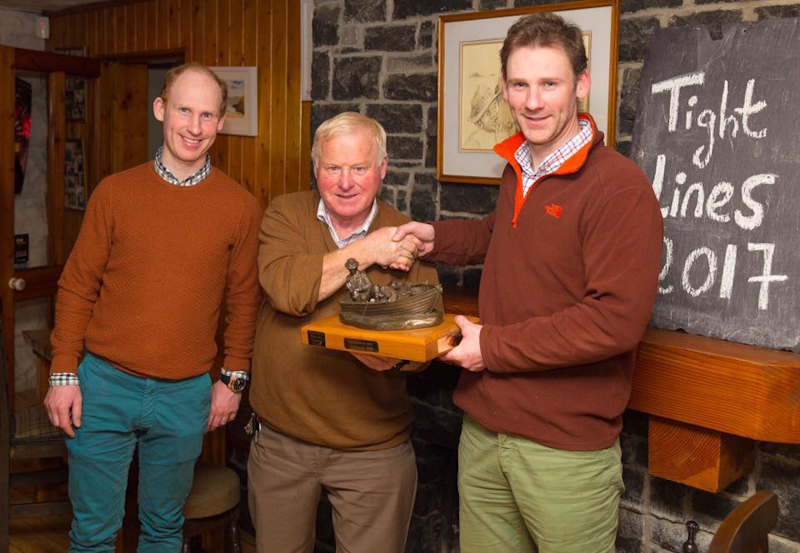 Vincent Hughes (centre) being presented with the Kevin Glynn trophy for the Cong Anglers Opening Day Competition by John Lydon (left) and Stephen Lydon (right).
In the Greenfields area on opening day Ennis Angler Gerry Kenny got his season off to a good start with two fish on the fly both sportingly released. On Sunday last Frank Reilly marked his first days fishing with a trout on the fly of 1.25lbs which he duly returned to Lough Corrib. On Saturday last Andrew Boyd Ballindiff Club Chairman got his season off to an excellent start with two trout, the larger being 4lbs and the smaller 1.5lbs.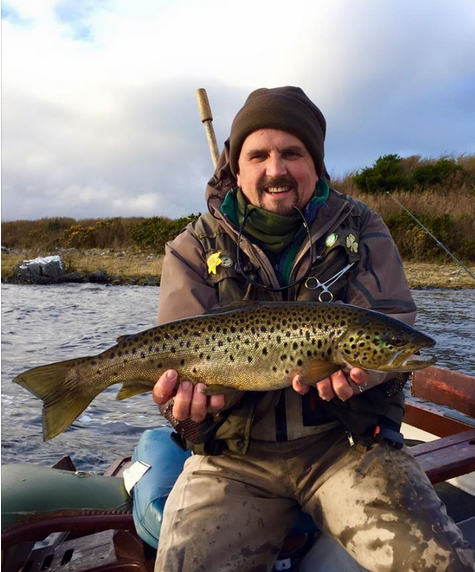 Galway angler Andrew Boyd with a nice Corrib trout taken on opening day.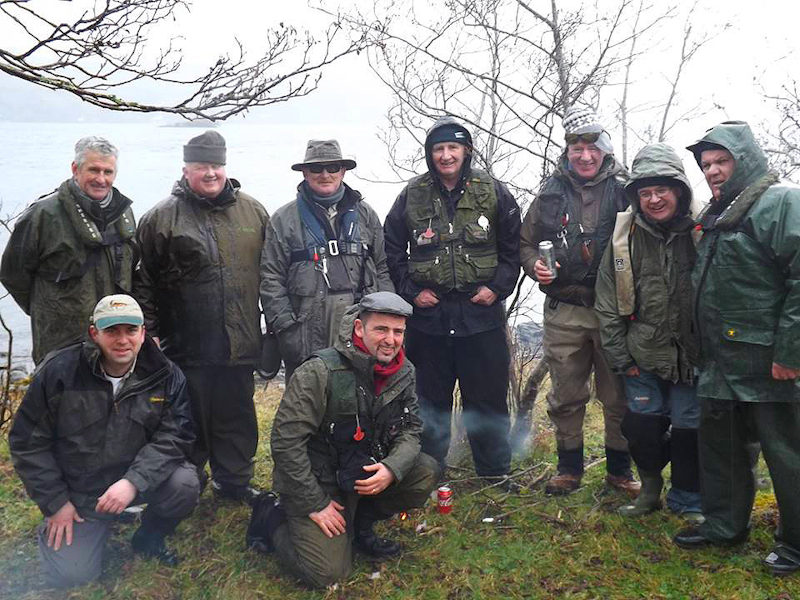 Some of the Cornamona Anglers enjoying a break from fishing on opening day, 2017.
Lough Mask Ronan Cusack reports that cool south-easterly winds and low water levels were the order of the day on Wednesday last, as Mask opened its doors to anglers for the first day of the 2017 trout season. There was plenty of activity along the shores of Tourmakeady from very early morning, as the traditional shore anglers anxiously awaited their first trout of the year. Castlebar brothers Tadgh and Wally Flynn finished a cold first day with 3 trout on the worm (best fish 1.75lbs). Unfortunately due to the low water levels, fish that would normally be in feeding on worms on flooded grass land were few and far between.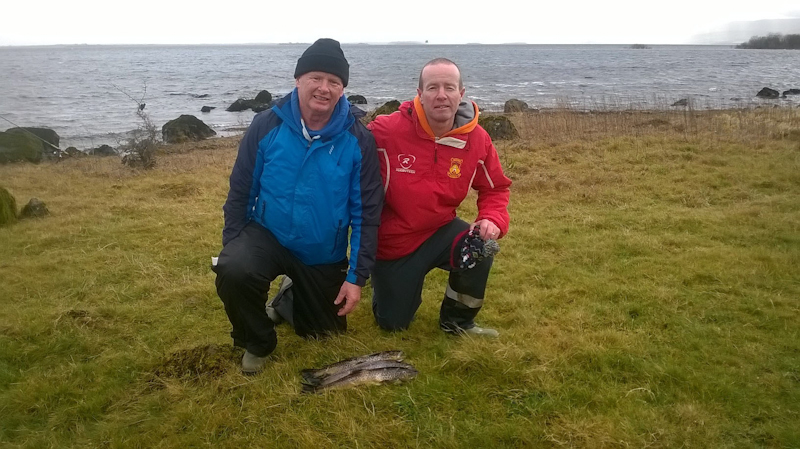 Tadgh and Wally Flynn from Castlebar pictured with their catch on opening day on Lough Mask, 15 February 2017.


Local anglers Liam Conroy and Peter Gosson ventured out on the lake for a few hours and pulled wet flies in the shallows. The lads finished with a fish each (best fish 1.5lbs) and Peter lost a trout of approximately 3lbs. Peter Byrne, Castlebar and Johnny Moroney from Ennis also spent a few hours on the lake on Wednesday and they also had a fish each (best fish 1.5lbs). The well-known Toby Gibbons from Westport had a good start to the season with a lovely fish of 3lbs on wets. Kevin Bettie and fishing partner Ray Broughton from Ballinrobe had 2 fish for their first outing this year (best fish 1.5lbs).

Conditions look to improve this week as temperatures creep into double figures, so the lake could be worth a visit.