Erriff Fishery
Fishery manager Osgur Grieve was in touch to report on fishing over the last three weeks, which is belatedly included on my part due to email server issues. There were 10 salmon and 33 sea trout caught on the Erriff over the 2 weeks up to the 12th June, along with 30 brown trout on Tawnyard Lough for a half days fishing. Salmon came off beats 5 to 9 during this period.

Benny Christoph from Germany fished on the 1st and caught a grilse weighing 3.2lbs. Raphael Amat had a nice 3.8lbs grilse on the 2nd on a Cascade of his own tying. Raphael also had 16 sea trout for his stay ranging in weight from 0.5-1lb. He also lost a large salmon in the Bridge Pool on the evening of the 2nd much to everyone's disappointment. Jeff Pole (UK) had a fresh 3.75lbs grilse on the 6th from the Upper Garden Pool which was the same spot where he caught his grilse last year. Stuart Woodhead fished on the 5th and caught and released 5 sea trout ranging in weight from 0.5lbs-1.25lbs on a small Watsons Fancy.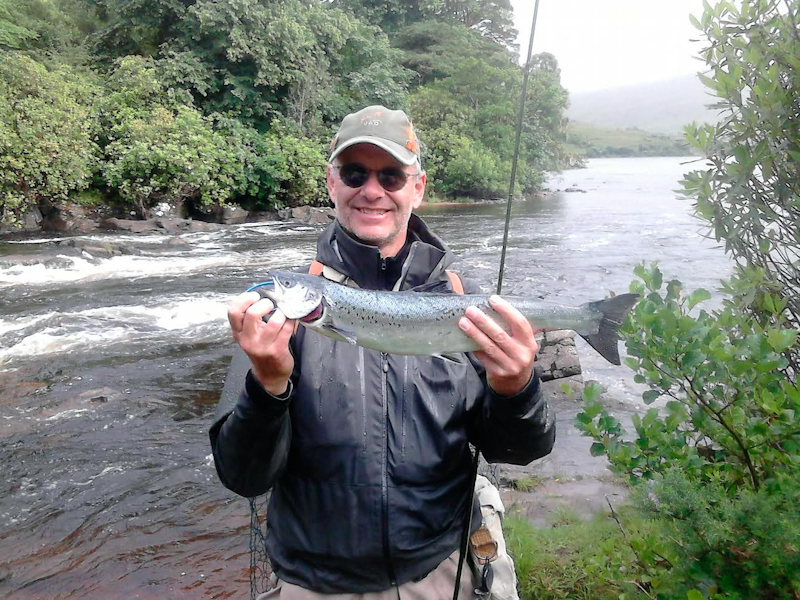 Benny Christoph from Germany with a grilse weighing 3.2lbs.


Benny Christoph with a nice grilse from the Erriff, July 2016

Regular visitor Gerard Garnier (France) started his holiday off nicely on the 8th with a 7.5lbs salmon from the Colonels Run on Beat 6. Local angler Phillip Clesham had a nice grilse on the 9th, estimated at 5.5lbs from the Sally Pool on Beat 7 which he sportingly released.


We had a spate on the 10th which brought the river up to 1.8m, during that day Gavin Dunbar (UK) had a 9lbs salmon on an Ally's Shrimp from the Broken Bridge Pool on Beat 5 and lost another grilse. Regular visitor Enda O'Connell had a 3.8lbs grilse on a Cascade from the Gauge Pool on Beat 9. With the water clear on the 11th Gerard Garnier (France) was first into action with a 5.25lbs salmon caught on a Cascade of his own tying from the Coronation Pool on Beat 8. Then it was Enda O'Connell's turn who caught a 3.5lbs grilse from the Falls and followed that up later that morning with another grilse this time from the Upper Square Pool on beat 9 estimated at 3.5lbs which he sportingly released. There were 12 sea trout caught and released ranging from 0.5lbs - 1lbs for the week.


Two anglers fished Tawnyard Lough for half a day on the 8th and had great sport catching and releasing 30 brown trout up to 1lb and a sea-trout of 0.5lb, with many more brownies hooked and lost. As the summer progresses we should see more sea trout entering the lough.

The following is the report from the 12th - 18th. Gerard Garnier (France) struck again on the 13th with a small grilse of 2.75lbs from the Bridge Pool on his own Cascade, the day after he was in again with another grilse the same size as the day before, 2.75lbs, this time from Doyle's Pool on Beat 6. The next evening regular visitor Ken Mills (UK) had a nice grilse of 3.6lbs from the Falls Pool on a Silver Stoat's Tail. On the 15th Enda O'Connell had a springer estimated at 8lbs from the Colonel's Pool on Beat 6 which he released. Also that day Simon Price (UK) caught and released a 6lbs grilse on a Currys Red Shrimp from Beat 8 above the Holly Pool, not to be outdone Gerard Garnier caught a 4.5lbs grilse from the Coronation Pool on Beat 8 later that day.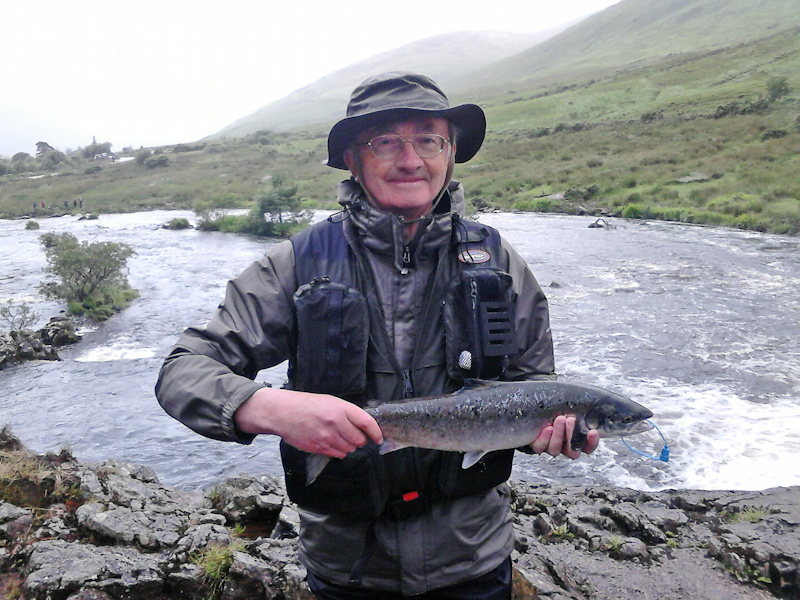 Enda O'Connell with a nice Erriff grilse on a misty day at the Falls Pool, July 2016
Stephen Simmons fished hard for a few days and was rewarded on his last day with a 3.5lbs grilse from the Falls on a black tailed shrimp fly. Regular visitor Andrew Beattie (UK) fished on the evening of the 18th and was rewarded with a 3lbs grilse fresh in from the tide. This fish was part of a small pod of fish observed entering the system on that evenings tide. There were also some nice sea-trout in the 0.75lbs. - 1.75lbs bracket caught and released for this period.

I was out at the Erriff myself this week and saw plenty of salmon and sea trout jumping at the falls, so there appear to be good numbers of fish running now. Anglers should be in for plenty of action if the weather plays ball and keeps the river at a good level.

To book fishing or accommodation, contact Aasleagh Lodge at 095 42382 or check www.errifffishery.ie
Lough Corrib
Declan Gibbons reports that fishing has picked up on Corrib, with good mayfly and sedge hatches providing good sport on wet and dry fly.
Starting off in the Cornamona area Tom Doc Sullivan (tel. 087-6113933) was guiding Steve Carew and Ray Hickey of Fulling Mill Flies for two days and had excellent fishing, landing 12 fish for the two days with the best fish at 2.5lbs caught on fry and mayfly patterns. Tom also guided Tony and Elaine Stone from Yorkshire, England who are regular visitors to the Cornamona area and Lough Corrib, and had 3 trout on mayfly patterns with the best fish 2.5lbs. Richard Molloy of Ballard Shore Boat Hire & Self Catering (tel. 087-2879339) reports an improvement in fishing in the area and has a Swiss angler currently with him who is enjoying some excellent fishing both on wet fly and trolling.

On Wednesday last Cornamona angler John Somerville had an excellent day's fishing at Inchagoill, landing 4 trout on wet mayflies, including a personal best with an excellent fish of 6.48lbs which he sportingly released. Watch this space on TG4 as John was assisting Cloughbreac man and TG4 camera man Trevor Laffey on an upcoming production in relation to angling.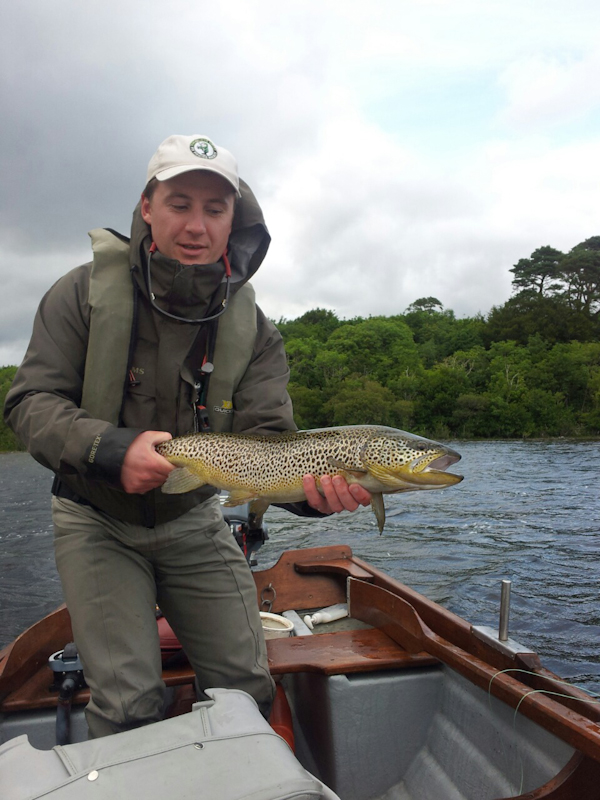 Cornamona angler John Sommerville with his personal best trout from Lough Corrib, a fine fish of 6.48lbs caught on mayfly, July 2016
In the Oughterard area Basil shields (tel. 086-0869758) of Ardnasillagh Lodge reports an improvement in fishing the last week with fish to be got on Daphnia, olives , mayfly and sedges. Belfast angler Colin Wright had 7 fish for 2 days on olives with the best fish being 3.25lbs. Jim Buchanan from Northern Ireland had 12 fish for 3 days on wet and dry olives. Jim Bickerstaff also from Northern Ireland had 3 fish for a day's fishing on mayflies, with his best fish being 4.5lbs, and Shannon angler Donie O'Loughlin had excellent sport in the deeps on Daphnia - landing 9 trout for his day!

In the Greenfields area on Saturday last father and son duo Frank and Oisin Reilly from Glencorrib enjoyed an excellent day's dry fly fishing with Oisin (16), landing and releasing 3 trout for 7.5lbs - his best fish was just over 3lbs. Oisin also landed 4 other trout around the 1lbs mark. Frank also had two nice fish on dry fly. A case of the student surpassing the teacher, although I'm sure Frank is proud of his student!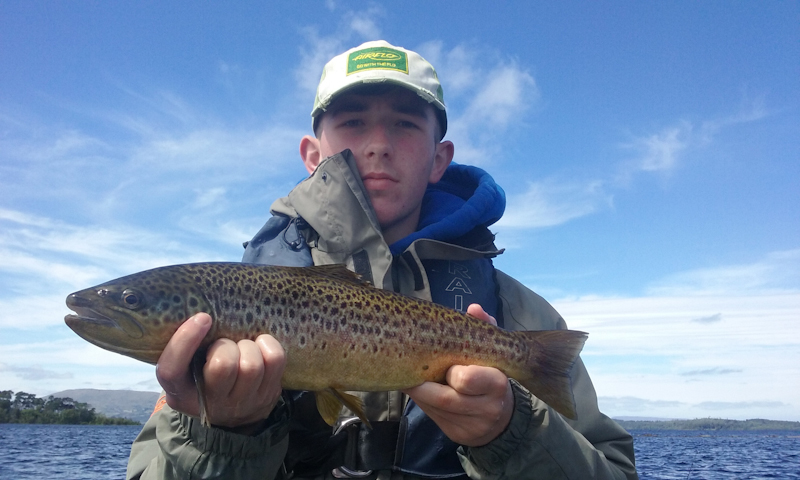 Oisin Reilly from Glencorrib with a fine Corrib trout, one of many he landed on dry fly on a recent day out with dad Frank.
Frank Costello of Ashford Bay Boat Hire & Guiding (tel. 087-2524253) reports an improvement in angling in the Cong area with better hatches of mayfly and the trout responding to the hatches, mainly on dry mayfly and dry sedge patterns.
Frank Butler also submitted a great report on the recent Galway Windpark Cup competition, which is belatedly included here due to email server problems at my end.
The second Galway Windpark Cup was run out of Collinamuck on Sunday 12th June. There was a great buzz of activity on the pier and lake shore as boatmen readied their crafts and their flies of choice to offer up to the trout on Corrib. As a mark of respect to the recently deceased John Crowley RIP a minute's silence was held on the pier in advance of the off. At 11:00am 18 boats took to the water with 45 anglers on board - many of these boats hosted Galway Windpark guests for what was, for some, their first Lough Corrib experience. Conditions seemed very favourable with a good westerly wind providing the perfect dapping conditions.
At 1pm all the boats landed on Rabbit Island for the lunch. BBQs and Kelly Kettles of all sizes were lit and within no time 'fine feeds' were being dished up to the hungry anglers - 'if only the fish were so hungry' was overheard more than once as unfortunately the fishing in the morning had been tough with only the odd fish encountered and landed. The party of anglers were treated to a few tunes by Pat Connors on the mouth organ with the odd line of a song being added for good measure by some of the willing guests. After a very enjoyable lunch, some liquid refreshments and the hearty music, all boats took to the water again with a revived sense of hope for a good afternoon's fishing. At 6pm all boats landed back to Collinamuck Pier for the weigh in. For a total of 45 anglers fishing a return of 10 measurable trout were weighed in.
In first place was the team of Michael Murray, Jim Doran and Galway Windpark Guest Carmel McDonagh with a catch of 3 trout for 8.1lbs. In second place was the team of Noel Carter, Paddy O'Farrell and Galway Windpark guest John Howley with a catch of 2 trout for 3.97lbs. In third place was the team of Mike Regan, Alan Conneely and Eugene McMahon with a catch of 1 trout for 2.22lb. The heaviest fish was caught by Bernard O'Halloran with a trout weighing 3.44lbs. The heaviest fish caught by a Galway Windpark Guest was caught by Carmel McDonagh. The ladies prize went to Carole O 'Brien.
The prize giving took place in O'Hallorans bar where hot food and cold beverages were served up while the entertainment was provided by local DJ Peter O' Halloran until the early hours. The committee of Collinamuck & District Angling club would again like to extend their gratitude to the personnel of Galway Windpark in sponsoring this event and also for bringing along several guests to take part in what was a great day on Lough Corrib.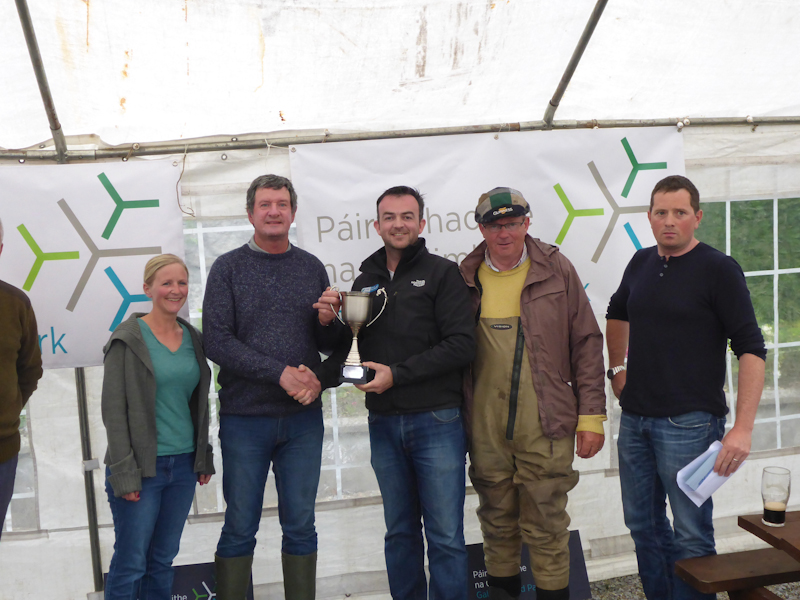 David O' Malley (centre) & David Connolly (far right) present the Galway Windpark Cup to the winning team of Michael Murray, Jim Doran and Carmel McDonagh.

Galway Fishery
James Quinn reports that fishing has slowed down on the fishery for the last week and this is not due to the lack of fish but to the fish just not taking. This is indicative of the whole system from the weir to Cong. The numbers of fish to be seen in the river and on the pool camera, which is a live feed, is fabulous. Angling conditions with one gate are excellent but the OPW have just opened another gate which is strange with the Lough very low and rivers low as well. Hopefully this will not cause the fish to run upstream out of the weir. We would ask anglers that are booked in to fish to contact the fishery regarding water levels or indeed the OPW.
We had just over 40 fish for the week on the weir with 35 on the fly and the rest on shrimp.
Killian Garvey from Dublin had a nice fish of 6lbs on fly. Ber Gilsenan from Multyfarnham had a nice brace on shrimp, and Brian O'Rourke, Tuam had another brace on fly.
Brian Howard had his quota on fly - all around 4lbs, and Barry Harten from the Midlands had his first ever salmon - and to make it ever sweeter caught on the fly - of 4lbs.
A German party of 3 anglers had 5 fish on the fly from 3lbs to 5.5lbs, while Andy Smith (Clonbur/Dublin) and Michael Rogers, Dublin had a nice fish apiece at 4.5 and 5.5lbs on fly and shrimp.
Costello & Fermoyle
Fishery manager Terry Gallagher reports on fishing from Costello & Fermoyle, where the weather has provided anglers with a challenge over recent days, but perfect water levels and good runs of fish have provided some great sport.
Salmon were tricky to catch over the last week with a lot of fish seen pitching and unwilling to take the fly but there were exceptions! The really good news is that the sea trout fishing on the lakes greatly improved with a lot of fresh fish caught. Highlights for the week include Padraic McDonagh who caught a fine grilse of 6lbs on River Beat 1. John McManus ventured out onto Glenicmurrin Lough where he landed 8 sea trout. Sean and Anthony Bollustrum hit Clogher Lough just right and recorded a fine catch of 18 sea trout and numerous brownies. Special mention must go to Micheal Dillon, Micheal Martin & Sean Bollustrum who over the course of a day and a half fishing landed a very respectable 47 sea trout! Hugh McGuire was rewarded for his efforts on River Beat 1 with a 4lbs grilse. Geoffrey Fitzjohn was back on River Beat 2 when he landed a very fresh 5lbs grilse at the Crooked Pool. Seamus O Neill also landed a 5lbs fish while fishing the Cabbage Pool on Beat 1. Eamon O Brien was also delighted with the 18 sea trout he landed on Glenicmurrin.
Then came the hottest days of the year so far but Peter O'Callaghan & Co still managed to tease 4 nice sea trout from Glenicmurrin, and Kevin Crowley & Andy Bowman landed 5 sea trout up to 1.5lbs for only a few hours on Glenicmurrin. Finally, father & son team, Martin & Rob Byrne spent a day on the upper lakes where they recorded an impressive 16 sea trout and a 5lbs salmon.
For bookings and further information please contact Terry Gallagher at 087 23 999 88 or at the new Costello and Fermoyle email address: gallaghere.terence@gmail.com
Lough Inagh
Fishery manager Colin Folan says unbelievably unsettled weather has set in the last couple of weeks. From baking heat to gusting gales, we have had it all. However, no one can complain with the lack of water in the river, and thankfully there is a constant influx of fresh salmon and sea trout. Anglers are also having a ball with the brown trout at present, with a few fish of 2lbs, 3lbs and a beast of 9lbs landed by regular angler Ronan Power on Lough Inagh. Ronan fished in tepid conditions for three days, and at 6.50pm on his final day he got stuck into a leviathan! Ronan's boat partner and brother Brian yelled "We're gonna need a bigger net!" Ronan replied " We're gonna need a bigger boat!" The fish took a size 10 Fr. Ronan (a fly named after him) on 6lbs leader on a floating line. See photo below.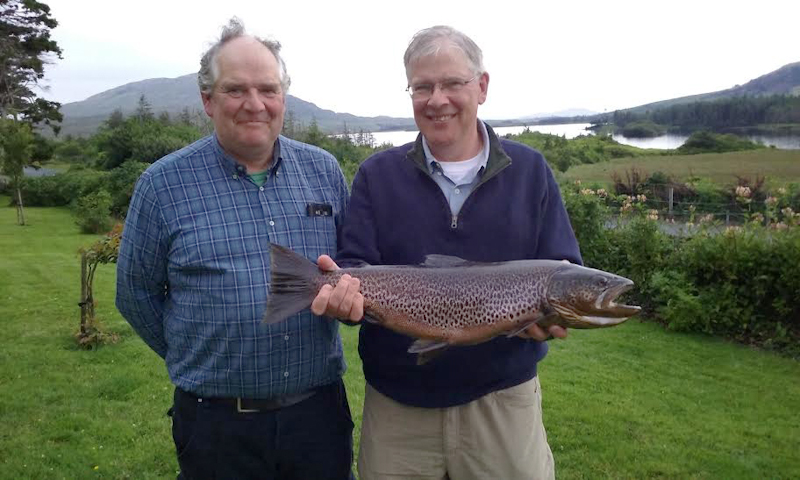 Ronan Power with a monster brown trout of 9lbs taken on Lough Inagh, July 2016. The fish took a Fr Ronan fly fished on a floating line.
Also pictured below is John Dardis (Kildare), with a brace of grilse landed from the Derryclare Butts on a Jungle Alexandra. Henry Harendza fished a few half days in July and landed 3 grilse to 7lbs from the Derryclare Butts. Michael Heery and Denis Murphy (Dublin) fished Inagh for a day and landed 2 grilse and 9 sea trout on daddies. Visiting Scottish angler Andy Bowman fished a day on the river beats in Inagh with fishery manager Colin Folan and Kevin Crowley (IFI) and between them managed 2 grilse, 10 sea trout and 4 brown trout. Most fish took a Silver Doctor and Blue Delphi. We are on par for salmon as last year, a small bit down on sea trout and way up on browns. Fishing and enquiries to hotel reception 095 34706 or email inagh@iol.ie , pre booking is essential!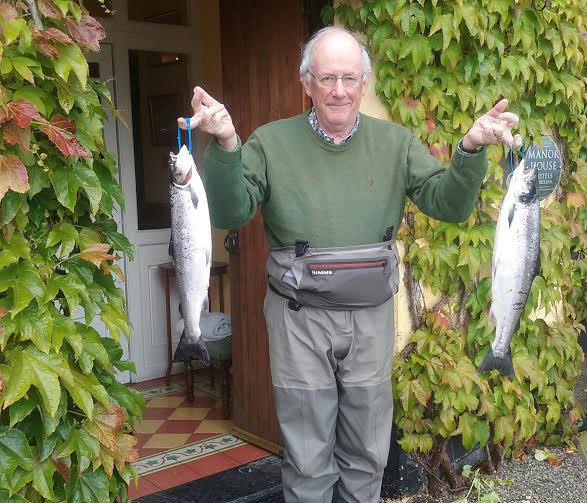 Kildare angler John Dardis with a nice brace of grilse taken on Lough Inagh, July 2016.

Lough Mask
Ronan Cusack reports that thankfully with the World Cup just around the corner, angling on Mask has shown signs of improvement. Local angler John Burke from Tourmakeady fished on Thursday last with two visiting anglers from Manchester and they had 5 good keepers from the deep (best fish 1.5lbs). John reported that the going was tough for the early part of the week, only averaging 1 fish per day. World Cup PRO Denis Kelleher fished with Tom Winters from the UK on Friday last and they had 4 trout on a combination of wets and dries (best fish 2.5lbs). Denis said that the deep was lively on wets but there were better fish to be caught in the shallows on dries. Gerry O'Brien and his son Damien had 4 fish over the weekend on wets and dries (best fish 1.75lbs).
Weather conditions are to turn more favourable towards the weekend, with a drop in temperature and a bit more cloud cover.