Lough Corrib
This week's banner photo shows the sun rising over Greenfields Bay on Saturday morning. A beautiful morning when I had the pleasure of watching pods of trout feeding on a large hatch of Caenis between 5am and 8am. After a poor mayfly season, it was a joy to see so many trout feeding hard, and indeed the old saying "The early bird gets the worm" is most apt when it comes to fishing on Corrib at this time of the year. Caenis fishing is really delicate stuff, with small dries, fine tippet and light rods the order of the day. The Caenis hatch very early, and it can all be over by 7am, but with the hot sunny weather we have been enjoying lately, this is the most pleasant and productive time of the day to fish anyway.
Declan Gibbons reports that the heatwave conditions affected the Annual Mayfly Competition held on Sunday by Cong Angling Club, with 27 rods participating and only two anglers weighing in trout! In first place was Dan O'Donovan with one fish for 1.9lbs and in second place was Domhnall Ryan. Domhnall also won Best Junior Angler on the day.

Kevin Molloy of Baurisheen Bay Boat Hire, Guiding & Self Catering (087-9604170) reports on Cork man Harry Couch and his two sons, dapping for two days, having excellent sport landing 17 trout dapping with the best fish being 4lbs. Visiting anglers from Spain Stephen Walsh and Michelle Ursv enjoyed three days trolling on Lough Corrib catching a total of 12 trout, all released apart from two for their visit, one of which was a ferox of 13lbs and was sportingly released.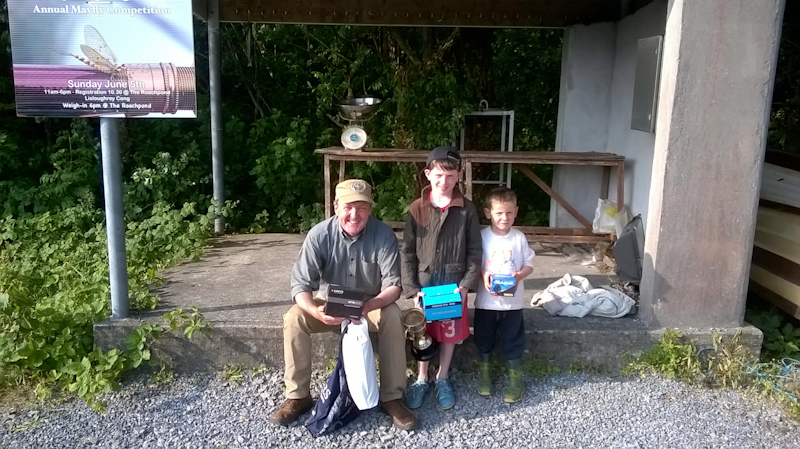 (Left to Right) Dan O Donovan Clonbur, Domhnall Ryan Cong & Odhran Mannion Roundstone at the Annual Mayfly Competition held by Cong Angling Club on Sunday.
Basil Shields of Ardnasillagh Lodge, Oughterard (086-0869758) says there was less activity on the lake due to weather conditions and hatches and any clients he had out were all Caenis fishing. Northern Ireland angler Jimmy Johnston had 4 fish for his 1 day visit with the best fish being 4.5lbs. Dr. Terry Bradley from Lisburn had one fish on Caenis.

Also held in the Oughterard area was the Cathal Noone Memorial Cup (Heaviest Fish Competition) and the winner on the day went to Mike Faherty with one trout for 12.25lbs.

Galway angler Harold O'Toole has been enjoying some excellent sport in the week gone by, catching 9 trout for 4 mornings on Caenis with the best fish being around the 3lbs mark on the lower lake.

Richard Molloy of Ballard Shore Boat Hire & Self Catering (087-2879339) reports a quieter week on the angling front with Ashbourne man Paul Geraghty catching one trout for 5lbs trolling.
In the Greenfields area on Sunday Paul Dignam, Ennis and Tuam angler Sean Naughton had 3 trout on dry may flies for their efforts in what was a very bright day with high temperatures.

Larry McCarthy at Corrib View Lodge, Glencorrib (087-9135222; www.corribangling.com) reported a huge improvement in fishing over the last week with great early morning sport. Larry was guiding a regular client from England and had 25 trout over 3 days with several fish over 4lbs and one over 5lbs, all caught on Caenis patterns. Anna Dawson from Scotland caught her first 2 trout both on small dry fly, one which weighed 4lbs 6oz. In total 6 anglers guided by corribangling.com over the week caught 47 trout! Not bad for short early morning sessions.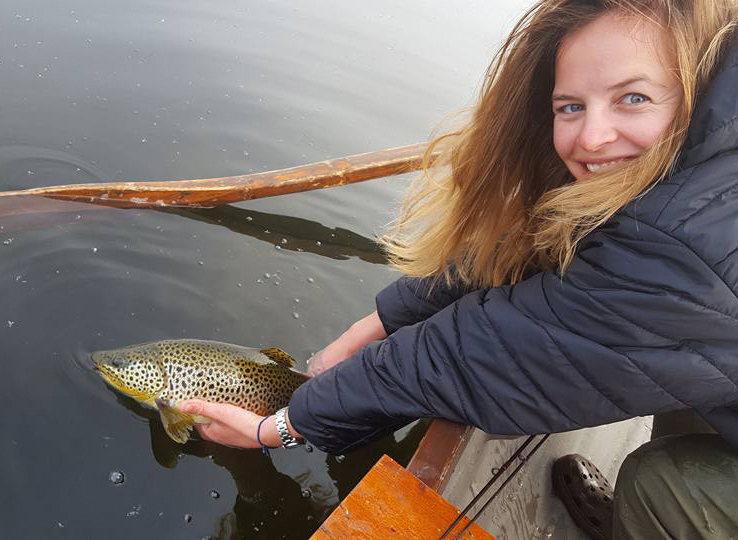 Anna Dawson from Scotland releasing a fine trout caught on a Caenis pattern.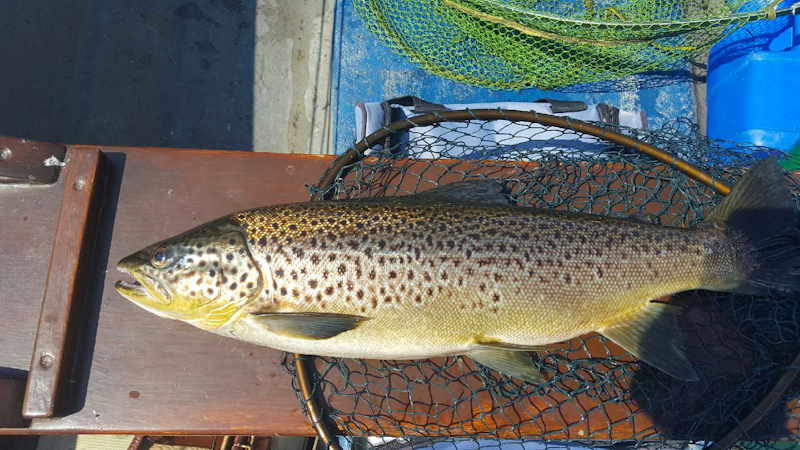 A beautiful Corrib brown trout of 5lbs+ caught on a Caenis pattern. Photo: Larry McCarthy.

Lough Mask
Ronan Cusack says there was not much to report from Lough Mask this week as the majority of visiting anglers have now returned home, looking more like they spent the mayfly in Tenerife rather than Lough Mask!

Local angler and angling guide Michael Vahey fished with D. Fitzpatrick from Finland last week and they had a total of 12 trout on dries for the week (best fish 2lbs, all returned). Cameron from the United States Fished with Nick Craig from the UK for a day on Wednesday last and they had 5 fish on a combination of dries and buzzer (best fish 2.25lbs, all returned). Gerry O'Brien, Ballinrobe also reported doing well on dries in the evening once the sun went down and temperatures dropped. Ronan Cusack and Mark Rogan had 3 on Sunday on nymphs and small dries (best fish 2.25lbs, all returned).

The outlook for the coming few days is for more unsettled weather, so there is a possibility of a bit of good fishing over the weekend.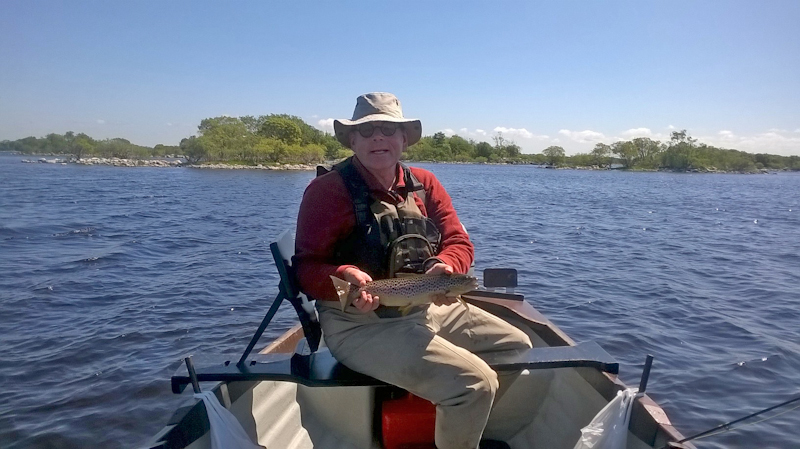 Cameron from the USA with a nice Mask trout, June 2016..
Galway Fishery
James Quinn reports another good week in Galway, with perfect water levels and a great run of grilse through the fishery giving anglers great sport, in spite of bright sunshine and high temperatures.

John McCarthy from landed 3 fish to 4.5lbs on fly, while father and son Steve and Mark Turner from the UK had a fish each on shrimp. Dublin angler Dave O'Reilly landed a 4.5lbs on fly. Tipperary man Jim Delahunty said he would not come back if he didn't catch on his visit, presumably after a couple of blanks, but James now has to put up with him for while longer, after he landed a 5lbs grilse on fly. James says he doesn't mind too much!

Waterford visitors Paul Whelan 3 fish and Eamon Power had 5 fish to 4.5lbs between them, all on fly, while Mike Daly had a lovely 7lbs fish, also on fly. Local angler Eoin Trill had a 4.5lbs grilse on fly, while Limerick man Gerry Hartigan landed 2 grilse to 5.5lbs on shrimp. The 6th was a bumper day with 19 fish. - Dublin men Gary Rogers had 2 fish of 4 and 5lbs on fly, and Dermot Quinlan had a 4lbs grilse on shrimp.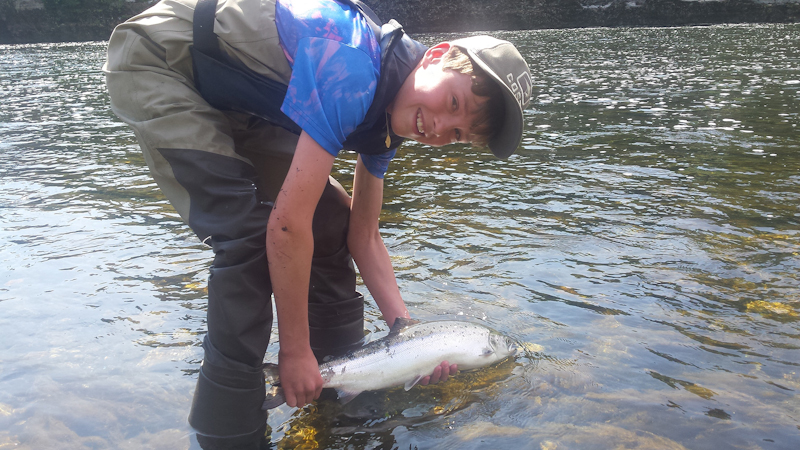 Tommy Quinlivan (12) with a lovely 4lbs grilse he caught on his first visit to the Galway Fishery. The fish was sportingly released after the photo. Well done Tommy!