Lough Corrib
After four and a half months off, many anglers were getting cabin fever, so the opening of the new season on the 15th of February was a welcome tonic to many, and probably a relief to more than a few spouses! Opening day was a wet affair this year, with the damp cold conditions putting a few off, but a good number still ventured out for the first day's socialising, eating and drinking, and a spot of fishing besides.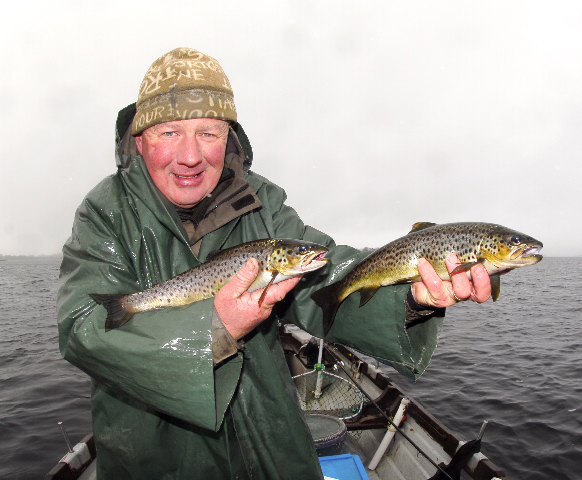 Mick Flanagan 15-2-15 Corrib trout Angling journalist Mick Flanagan of the Sunday World with 2 nice brownies taken on opening day on Corrib.
Angling journalist Mick Flanagan from the midlands sent in a great report of his opening day visit: The Angling Focus team travelled to Corrib last Sunday Febuary 15th for opening day of the wild brown trout season. It was an early start and leaving Mullingar it was a lovely morning, but as soon as we got near Galway the wind and rain greeted us with open arms. Conditions were certainly not for the fainted hearted, and it was hard to entice the Corrib trout. I teamed up with pal Marty Smith, and my younger brother J.J. was with John Daly of Ballinafid. The lads were very unlucky not to have a few fish, and John hooked and lost 5 fish on the troll. Marty and I had the same Salmo trout-coloured lures on, and I had 9 hits, with Marty not getting a bite. Unbelievable, and our lures were only a rod distance apart! We boated 4 lovely brown trout, and as evening fell a salmon kelt hammered my little Salmo lure. Marty was on camera duty, and I was a little red in the face, and I can tell you its was not from the sun. Ah well, no pain no gain, even in the Angling World.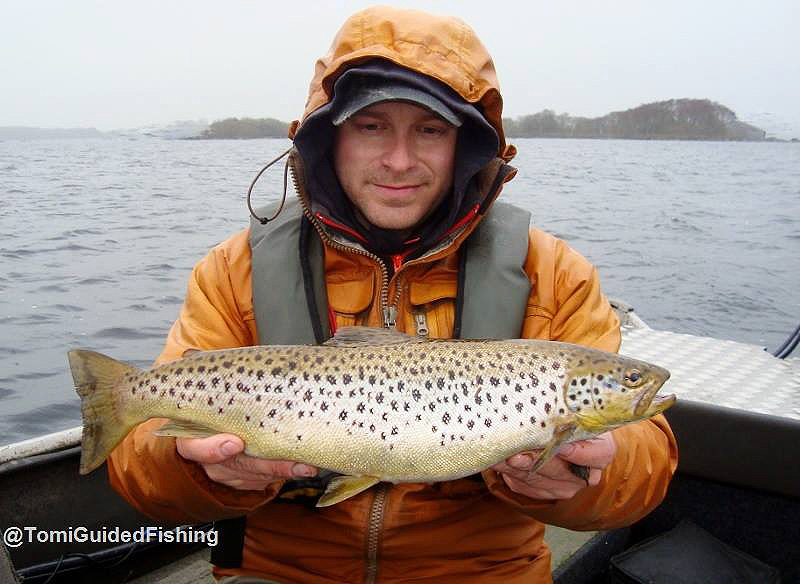 Fishing guide Tomi Kurman with a lovely Corrib brown trout taken on opening day
Elsewhere on Corrib, Frank Reilly reports that the Oughterard areas had a good number of anglers trolling and fly fishing. Kevin and Jerry Molloy had 3 trout with the best fish of the day at 12lbs taken while trolling. Tom and John Kelly had 3 trout for 4.5lbs on fly. Malcom Naughton from Loughrea had 4 trout for 7lbs trolling. Padraig Fahy and Patrick Molloy had 3 trout trolling for 7lbs. Kevin and Harold O'Toole were trolling and landed 7 trout for 12.75lbs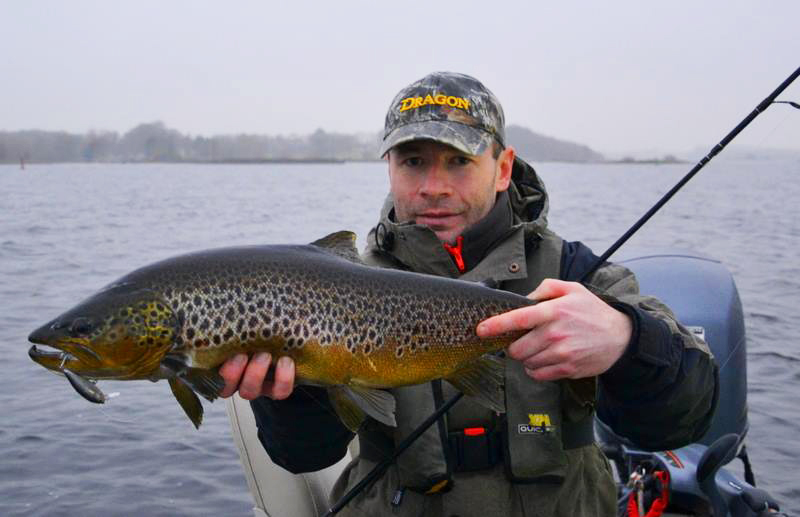 Jack Gorny Corrib trout 15 Feb 2015 Fishing guide Jacek Gorny with a fine opening day trout from Corrib.
Collinamuck and District Angling Club held their traditional opening day competition on Sunday, and the winners of the Langan Cup for the fifth year in a row were John and Frank Butler with 6 trout for 20lbs 1oz. In second place were Daragh Noone and Brian McCarthy with 7 trout for 19lbs 4oz, third were Bernard O Halloran and Brian Noonan with 3 trout weighing 13lbs 8oz. The best fish of the competition went to Pat MacDonagh with a trout of 5.5lbs.
The Greenfields area had 12 anglers all on fly with only 2 trout caught. Paul Dignam of Ennis had the best fish of the day at 2.5 lbs, and Jer Kenny, also from Ennis with 1 trout. Pat Day of Headford also fished for a few hours and landed 2 small trout.
Peter Curran fished in the Corr na Mona area and landed 3 trout trolling.
Fishing guides Jacek Gorny and Tomi Kurman were also out on opening day, trialling their new handmade lures, and both had some nice fish. Having seen some further photos from their first few day's guiding, I'm looking forward to a full report from the lads in the next week or two.
To book fishing with Jacek check his website at www.fishingireland.pl, and to book a day with Tomi check him out on www.facebook.com/tomi.guidedfishing.

Lough Mask
Ronan Cusack reports that there was a good turnout of anglers in Cushlough on Sunday morning, for the first day of the 2015 trout angling season. These brave heroes were met with a very cold and damp spring morning, with light southerly winds. With hip flasks topped up and dozens of new flies ready to be tried out, nothing could dampen their enthusiasm.
Regular visitors to Lough Mask, Kieran Newman and John Brennan from Longford finished their day with an impressive 7 trout pulling wet-flies (best fish 2lbs, all returned). Local Ballinrobe angler Tim Hannon fished for a couple of hours on Sunday morning and had 1trout for 1.5lbs. David Connors, also living in the Ballinrobe area, had 4 nice fish for his day, all on wets (best fish 2lbs, all returned). John Burke from Foxford had 2 fish for a couple of hours on Sunday (best fish 1.5lbs, all returned). The traditional large number of shore anglers you would expect to see on the western side of the lake for opening day was well down this year. The reason for this may be the combination of falling water levels and the cold chill in the air.
Water levels in comparison with this time last year are relatively low and reports were that fish were hard fighting and in superb condition after the mild winter.
Ronan also guides on Mask and can be contacted at cusackronan@gmail.com