Western River Basin District - Bangor, Ballina & Sligo Fisheries Districts - Angling report - w/e 10th August 2014
Salmon Angling
River Moy
The River Moy saw its best week of the season so far. A flood on the Bank Holiday Monday resulted in rising water levels and provided improved fishing conditions for some time. The best of the fishing was between Ballina and Foxford with the Ballina Salmon Anglers' water yielding most of the catches. However, water levels had dropped back to summer level by Friday.
On the Ridge Pool, John Rocha, Dublin, had 3 fish, one on worm and two on spinner, while Tipperary angler, Austin Kenny, caught three on spinner. Garreth Ruigrok, Dublin, was successful on the Moy Fishery's Freshwater Beat where he landed two salmon on worm.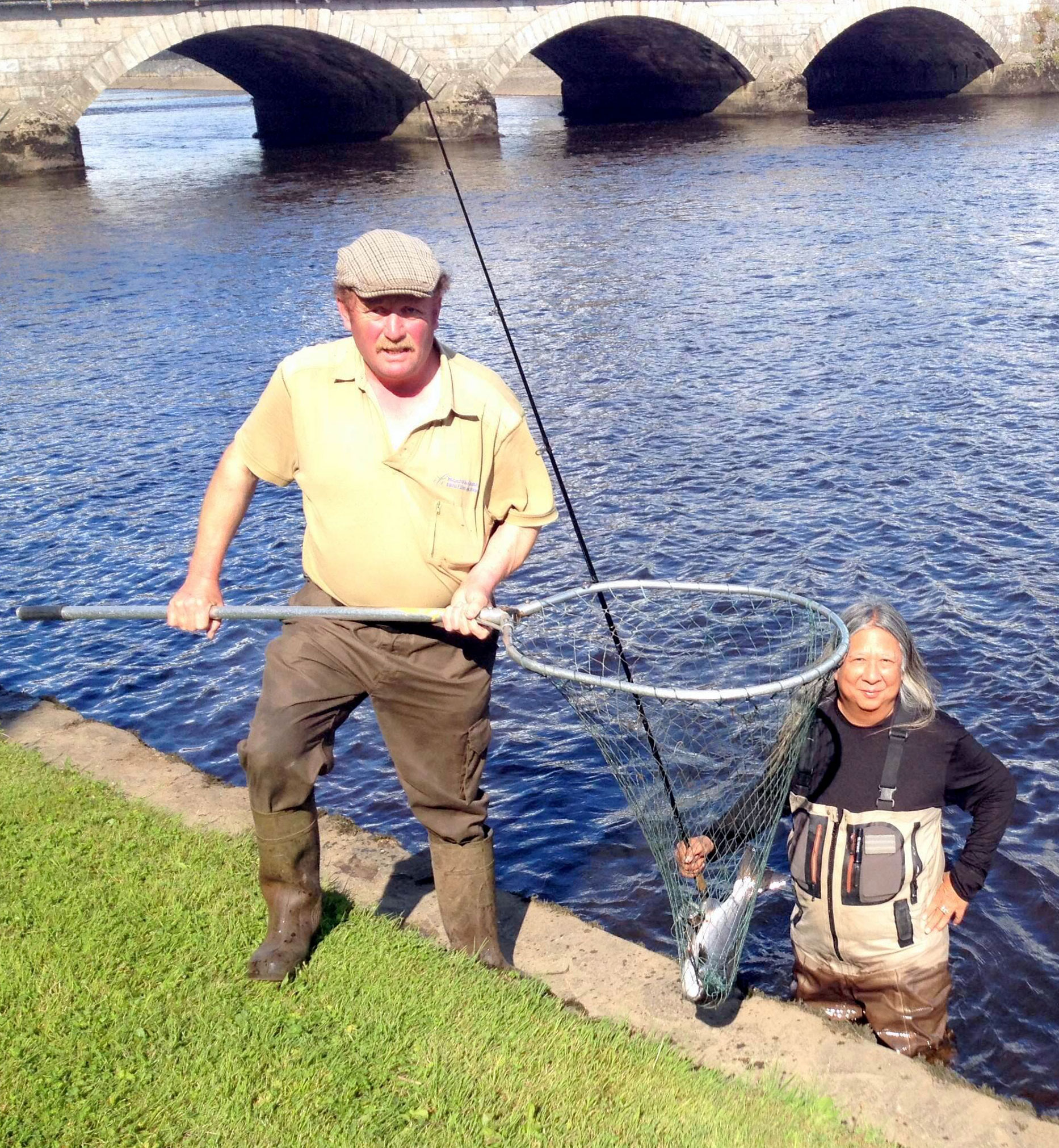 Moy Fishery Ghillie, Declan Hughes, netting one of John Rocha's three Ridge Pool salmon.
Anglers on the Mt. Falcon water enjoyed the best week of the season with three generations of the Jordan family, UK, catching a total of 22 salmon over 5 days; best fish at 10 lbs.  All mid river fisheries fished quite well for the week. On the Foxford Fishery, fly angler, Hank Shugg, US, caught and released two salmon, best at 7 lbs.
Further upriver, Monday's spate didn't really improve angling and, as a consequence, only a moderate number of fish were reported from this part of the Moy including 2 salmon on spinner for French angler Francis Verveche on the Cloongee Fishery.
Burrishoole Fishery
Fishery manager, Pat Hughes, reported a total of eight salmon from the Burrishoole Fishery for the week.
Amongst the successful anglers were A. Kennedy, E. McGreal, P. McGuiness (two fish), T. Gibbons, D. Lennon and T. Bradley.  All fish weighed between 3 lbs. and 5.5 lbs. The heaviest fish of the week was caught by S. O'Neill and weighed just over 6 lbs. There were 5 sea trout also caught and released for the same period. Most successful flies included Green Peter, Octopus and Silver Daddy, all in size 12.
To book fishing on the Burrishoole Fishery contact Pat Hughes at +353 (0)87 2377078
Trout Angling
Lough Conn
Angling conditions on Lough Conn are still difficult and only very few anglers ventured out trying their luck.
Guests of Pontoon Bridge Hotel (www.pontoonbridge.com), John & Clair Hannifan, UK, caught four trout for 5 lbs., all on Green Peter patterns. Richard & James Bell, Northern Ireland, were also successful catching four on dry olives.
Fishing out of Gerry Murphy Boat Hire (gmurphyboats@gmail.com), Colin Craig, Northern Ireland, had 3 trout and a salmon, while John Evans, also Northern Ireland, boated for trout for 5 lbs.
Cloonamoyne Fishery (ian@cloonamoynefishery.com) reported 5 trout for Raymond Francis and Bob Taylor UK, best at 1.15 lbs. and 3 sea trout (all around 1 lb.) plus one nice brown at 2 lbs. for US angler Tony Brubaker.
On North Conn, Galway anglers Sean Joyce, Paul McLoughlin, Mike Murray & Brendan Coleman, were all successful catching trout up to 3.2lbs on dry flies.
Fishing Competition Results:
The Foxford Anglers held the Kilmurray Cup during the week. Twenty-three anglers took part in the event and results were as follows:
1st Dominic McGowan, Foxford 2 trout for 1.06 kg
2nd Joe Quinn, Ballina 1 Trout for 0.49 kg
3rd Jon Binley, Foxford 1 Trout for 0.47 kg
Lough Arrow
Angling effort during the hot weather was limited but now, with the onset of cooler weather, evening fishing is giving way to daytime angling.
On Bank Holiday Monday, David O'Keefe, Cork, caught a 2 lbs. trout on a sedge pattern, while Brian Kelly, Roscommon, witnessed trout in Jack's Bay feeding on perch fry but he lured his 1.5 lbs. fish on a dry Daddy Long. Danny Quinn, Northern Ireland, had several fine trout on wet flies, best at 2.5 lbs.
---
WRBD Galway Angling Report 13th August 2014
Galway Fishery
Fishery Manager, Seamus Hartigan, reports that angling conditions were ideal for flyfishing with one sluice gate open on the Weir. However, despite good numbers of fish in the system, salmon were proving difficult to tempt at times! Some anglers did have some decent sport during the week with local angler, John Anderson, Killian Garvey, Wicklow, and Stephen Oliver, Northern Ireland, recording fish from 4 to 6 lbs. on the fly. Mossy Brown, Waterford, had a day to remember on Sunday 10th landing three fish from 4 to 8.5 lbs. on fly, and hooked several more, all of which were sportingly released! Donal Carney, Athlone, enjoyed a decent evening's fishing session landing two salmon on the fly, best 12 lbs. Both fish were sportingly released to be caught another day!
The total catch for the week was 14 fish, all caught on fly. Weather conditions have changed in recent days, with water temperatures cooling down, so prospects could be good in the coming weeks on the Weir!
Erriff Fishery
Fishery Manager, Jim Stafford, reports from the Erriff: It was another very dry week on the Erriff and angling conditions were far from ideal.  The rods that fished the river tried hard and several fish were landed and several more lost during the period.
The first fish of the week was caught by Margie Crawford on an Orange Shrimp pattern and weighed 3.25 lbs.   Kevin Glynn, Dalkey, Co. Dublin caught two weighing 9 lbs.  Brian Holloway, UK, had one on a Cascade in the Falls Pool on Beat 9, while Will Masterson, UK, landed one of 4.5 lbs. and also released 2 sea trout.  David Williams and his brother Christopher, UK, who came all the way from Hong Kong had a grilse each and also two sea trout.
Two Delphi rods fishing Tawnyard Lough reported three sea trout and a scattering of brown trout.  Fishing Tawnyard the following afternoon Jim Stafford reported just one sea trout and some 12 brown trout in what could be described as poor angling conditions. However, there is no doubt that Tawnyard will produce good bags of sea trout when weather conditions improve.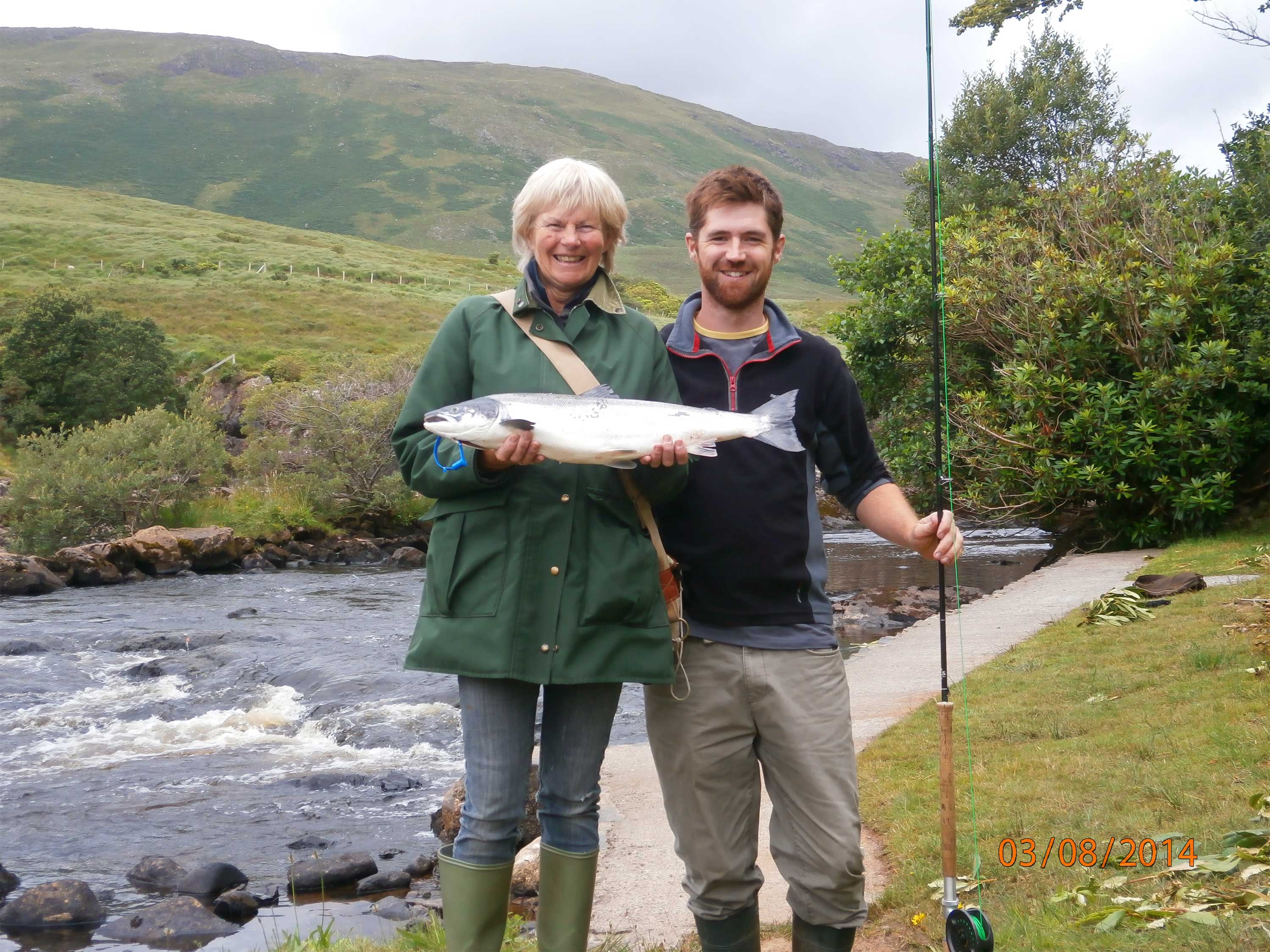 Margie Crawford, Co. Down, pictured with her son Robbie caught this sparkling fresh grilse of 5 lbs. on a Cascade.
The total catch for the week was 7 salmon and 9 sea trout.
To book fishing or accommodation, contact Jim at +353 (0)95 42252, or check www.aasleaghlodge.ie
Kylemore Abbey Fishery
Fishery Manager, Nigle Rush, reports that a small lift of water levels during the early hours of Tuesday morning gave the fishery some respite from the last three weeks of near drought conditions. Whilst the rest of the country was a washout, Connemara escaped virtually untouched by the wet weather.
Only a few anglers fished after the small flood had dropped and water clarity had improved. However, Geoffrey Fitzjohn ended up with seven fish for his half day after fishing the Lower River. Most of the fish were relatively stale with few fresh fish encountered. This was Geoffrey's best ever Irish day's fishing. Neil Spellacy fished the Middle and Lower river with three fish to his credit to 9 lbs. including one keeper of 4 lbs. from the Middle River.
Gabriel Coulter, the third angler for the afternoon, caught his second ever salmon - his second Kylemore fish from the Rock Pool. Unfortunately, water levels have since dropped back to near nothing.
Lake angling has started to pick up with boats on the Castle/Middle Lake regularly landing half a dozen sea trout for half days angling.
To book fishing at Kylemore Abbey contact Nigel at 095 41178, or mobile 087 9580702, and for latest news check the website at www.kylemorefishery.ie
Lough Corrib
Only small numbers of anglers were taking to the water over the last week and reported very few fish moving.  However, the forecast for the coming week looks more favourable for angling with cooler conditions and some fresh water.
Anglers are asked to be vigilant with regard to nursery streams going low. Contact your local fishery officer if you think fish are in danger.