IFI Ballina
Western River Basin District
Angling report - w/e 7th May 2017

Salmon Angling
River Moy
Very few fish were reported from the River Moy this week. The prolonged drought and extremely bright conditions brought fishing almost to a standstill. Amongst the very few successful anglers were Donal Carney, Dublin with an 8 lbs. fish on fly from the Weir Pool in Ballina and Jean Jacques Daurat, France, who had 2 salmon (one released) on Cloongee. Also on Cloongee, Thierry Coulm, France, caught and released 2 fish on bubble & fly. On the Foxford Fishery, David, Robert & Gillian Taggart all caught their first salmon. A few fish were also reported from Rinanney, Armstrong's, Gannon's, East Mayo and the Foxford Salmon Anglers' water.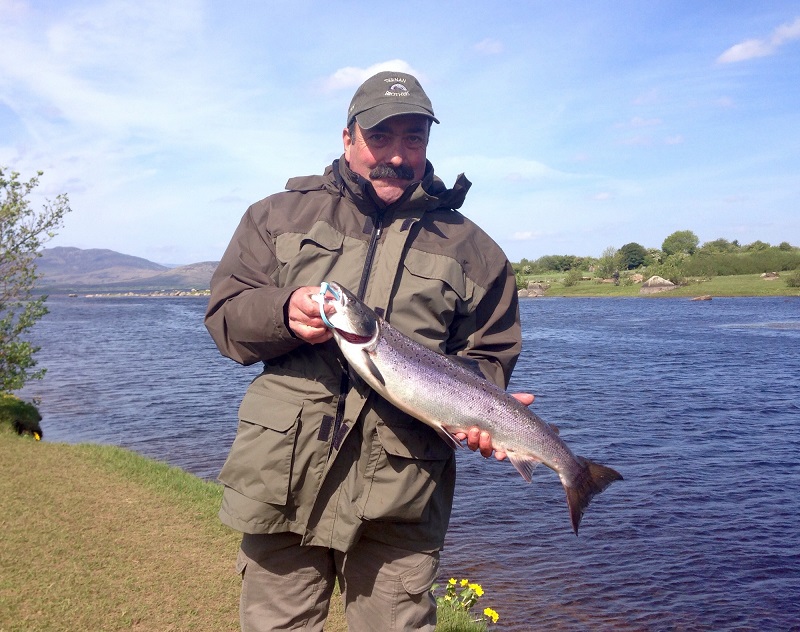 Jean Jacques Daurat, France, with one of his two Cloongee salmon caught on the Lake River.

Moy Estuary
The great sea trout fishing continued on the Moy Estuary this week. Guests of Judd Ruane enjoyed excellent fishing with Bernard Pelle, France, catching 12 fish (9 released), best at 3 lbs.+. On Wednesday, Jerome and Alexander Schramm from France had 14 sea trout (all returned), best fish at 1.7 lbs. Thursday saw Derry man, Paul Dunne, boating 11 with 9 returned, best at 1.4 lbs. Later in the week, Judd himself ventured out together with Harry Feeney catching 12 (10 returned) for 3 hours.
To book a day's sea trout fishing visit www.fishingireland.ie or contact Judd on +353 (0)87 6736969.
Trout Angling
Lough Arrow
The extremely dry and sunny weather impacted on the angling on Lough Arrow with only a few fish being caught.
Announcement:
The annual Mayfly Competition is taking place on Sunday 14th May from 10am - 6pm. Entries accepted from 9am -10am at Flynn's Pier or by text to Roger (086 1500397), Catherine (085 7050133) or Yvonne (087 1224517). Weigh In for single heaviest fish over 13" will take place in McDonagh's Bar, Heapstown at 7pm sharp. Entries €20 (€5 juveniles).

Sea Angling
Killala Bay
Donal Kennedy reported a cracking day's fishing aboard Leah in Killala Bay. On Sunday 7th May, a party of anglers from the Czech Republic, Slovakia, Poland and Brazil set out from Killala Harbour at 8.30am for a day's fishing. The weather was excellent with light variable winds and with a slight sea breeze to come late afternoon.
The first drift produced some nice coalfish and small pollack which were all returned. Further out in deeper water things picked up with bigger pollack and some fine ling being caught up to double figures in weight. As the day progressed and after many drifts over rocky ground the catches built up, along with the list of species, including more fine pollack & ling but also cod, pouting, poor cod, grey gurnard, and coalfish. Some big fish were unfortunately lost due to breaking lines.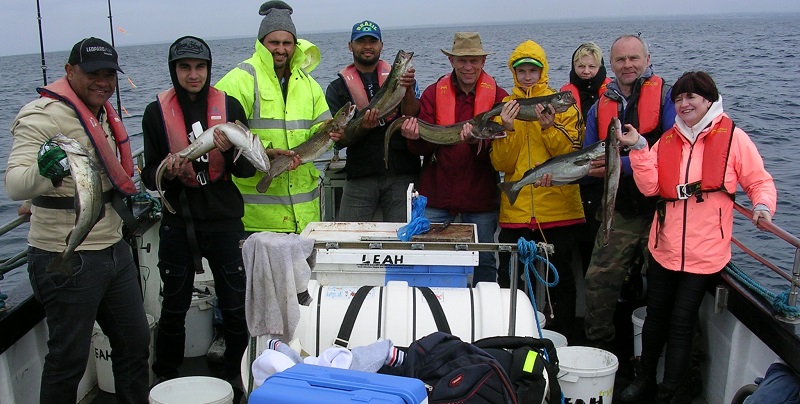 A happy international group aboard Leah.
To book a day's fishing in Killala Bay contact Donal Kennedy on +353 (0)086 8174509 or visit www.dkennedyangling.net.