Salmon & Sea Trout Angling
River Moy
Fishing on the River Moy slowed down somewhat during the week and angling effort was lower than in previous weeks. Dropping water levels and the sunny weather also impacted on the fishing. Yet, the Moy produced one of the biggest fish caught in recent years! Mike Kane from Castlebar caught a magnificent spring fish weighing 19.07 lbs. spinning on the East Mayo Anglers water.
Other good catches from the East Mayo stretch included a 9 lbs. salmon for US flyangler, Jarvis Johnson, and 3 fine fly-caught springers of 8 lbs., 9 lbs. & 10 lbs. (2 released) for Manfred Wiblishauser from Germany.
Another fine springer weighing 13 lbs. was caught on spinner by Geoff Wiles on Gannon's, while David Bradley had a nine pounder on the Foxford Fishery on worm.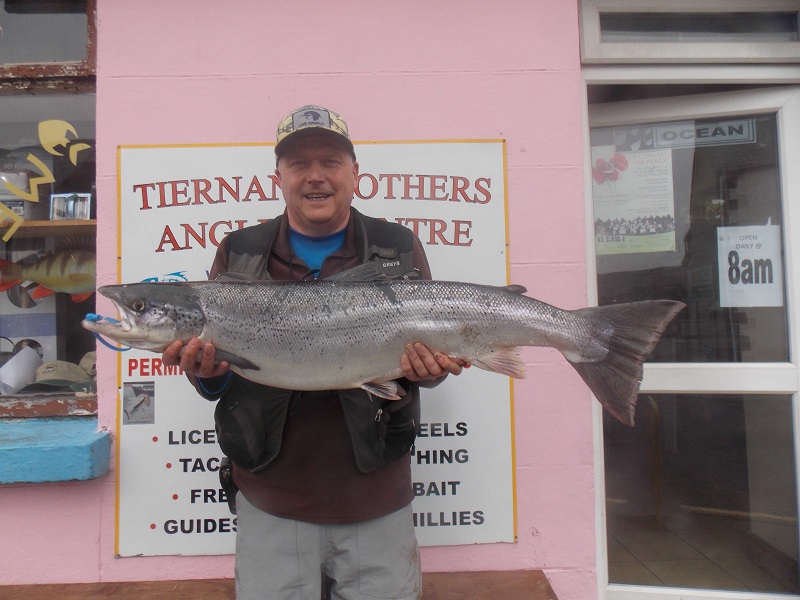 A proud Mike Kane from Castlebar with his magnificent 19.07 lbs. Moy springer.
Moy Estuary
Judd Ruane, skipper of the Pegasus, reported good fishing for some of his clients during the week. Amongst the successful anglers were Peter Jackson from Northampton and Ballina angler Daniel Murphy.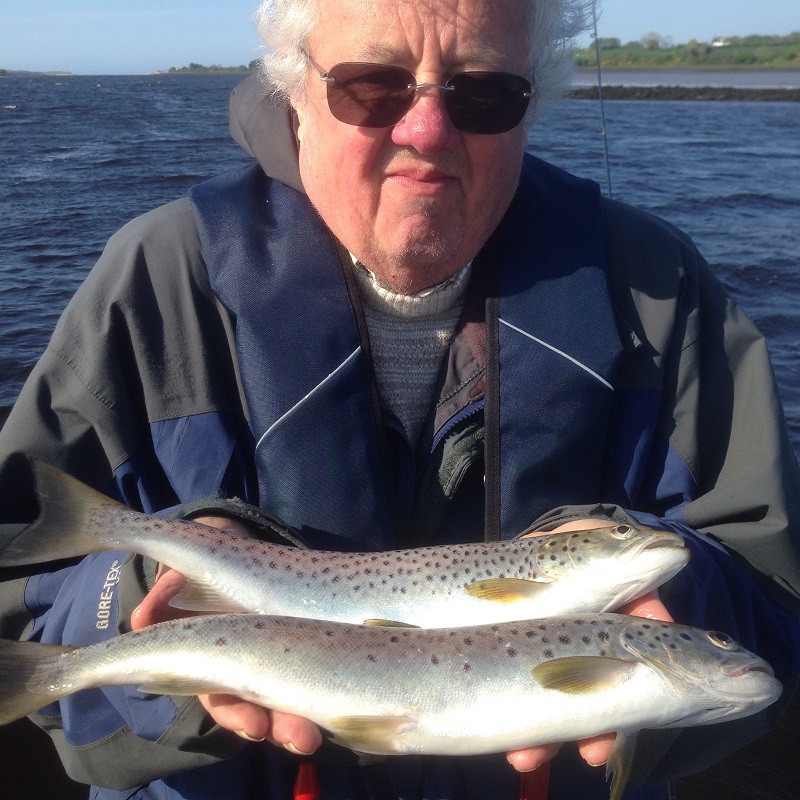 Peter Jackson, UK, showing two Moy Estuary sea trout taken on Pegasus
To book a day's sea trout fishing visit www.fishingireland.ie or contact Judd on +353 (0)87 6736969.

Carrowmore Lake
Carrowmore Lake continued to fish well last week. Over 20 salmon were reported, mostly in the 5 lbs. to 7 lbs. range. August Luger from Germany will definitely remember his trip to Carrowmore catching his first Irish salmon! Other successful anglers included Gary Brown and Marshall Tweed, who the fished Carrowmore for the first time, also did very well. So did D. Maguire, N .Duggan, D. Cazabon, D. Malpass and Andrew Pearson who all had fish.
Please note that Carrowmore Lake is a Brown Tag Fishery this year! For fishing on Carrowmore Lake contact Seamus Henry on +353 (0)97 83487 or visit www.bangorerrisangling.com.
Lough Beltra & Newport River
Lough Beltra continued to fish well despite the bright and sunny conditions. Quite a number of salmon were caught weighing between 6 lbs. and 9 lbs. Amongst the successful anglers were: Michael Dolan (7 lbs. released), Dr. Cahill (8 lbs.), Jonas Romauld (9 lbs.), Steven Howard (7 lbs. released), Michael Gross (7 lbs. released), Eamon Kennedy (2 fish at 8 lbs. & 9 lbs. both released), Maria Bunzel (6 lbs.), Richard McDowell (7 lbs.) and Pat McHale (9 lbs.).
James Kenny had a seven pounder on the Newport River.
To book fishing on Lough Beltra East please visit www.loughbeltra.com.
Ballisodare Fishery
Luke O'Connell reports
A good start was had to the week with 3 fine days fishing, but the warm, dry and bright conditions put a halt to the fishing from Thursday onwards. Between Monday and Wednesday, before the weather picked up, 17 fish were caught with several others released.
Some of the successful anglers included: Sean Maye with a 9 lbs. fish on the fly, Leslie Cooper with a ten pounder at the falls on the worm, Stephen Cassols with a fish of 9 lbs. also on the worm and Sean Mitchell who landed a 10 salmon on the fly upriver.
Gerard Merrick and Dennis Barrett both had 9 lbs. fish on the fly upriver on Tuesday. The rest of the fish were between 5 lbs. and 8 lbs., with the average weight for the week being 8lbs.
Between Thursday and Sunday there was just one fish caught per day, all on the fly upriver, while Dermot Glennon had the first fish on the prawn of 2016, a fish of 8 lbs. at the falls which was released.
For information and bookings please check www.ballisodarefishingclub.ie

Trout Angling
Lough Conn
Declan Cook reports
It has been a busy couple of weeks for trout anglers on Loughs Conn & Cullin. Following the sensational hatches of olives last season, many local and visiting anglers expected to find the same frantic feeding that produced so many memorable fishing days in the first half of 2015. However, olive hatches have been somewhat sporadic so far but trout catches remain surprisingly good.
For the early part of May, anglers enjoyed good sport to wet flies with the Peter Ross, Claret Dabbler and Fiery Brown all taking a share of fish. In the last 5 days, the Mayfly hatches have started to gather in scale and fish are now to be seen all over the lakes feeding on green drakes and even on spent gnat in the evenings.
There were two competitions held over last weekend and both produced superb results. The first of these was the Albert Berry Cup which was held on Lough Cullin over two days. Despite the bright warm weather, 46 anglers recorded 90 trout over 13" (35cms). Large numbers of smaller trout were also reported. Winners were Pat Foley & Gerry Hughes from Cavan with 9 trout for 11.10 lbs. Second place went to Tom Flynn & Jerry Martin with 8 trout for 9.01 lbs. and third went to Jack Spratt & Stanley McCart with 7 trout for 8 lbs. Most successful flies were Green Fanwing Mayfly, Green Peter and Golden Olive Bumble.
On Sunday, the Connaught Cup, held on Lough Conn, produced 58 trout over 14" (37.5cm) for 59 anglers. The winner was Jackie Mahon with 3 superb trout for 2.65 kg. Peter Greene was a close second with 3 trout for 2.565 kg and third was Pauric Fahy with 5 trout for 2.225 kg.
Elsewhere, Mick Murphy and Brian Creighton from Dublin had 6 trout each averaging 1.5 lbs. in Victoria Bay. Mark Duncan and nephew Danny Davro from the UK had 4 & 5 trout respectively, averaging 1.25 lbs. and Liam McHugh with boat partner Tom Cooney from Edenderry had 6 trout for 8 lbs. on all on dry mayfly patterns in Massbrook Bay. Mick Sweeney and Martin Flanagan from Loughrea had 6 trout in the 1.25 lbs. to 1.5 lbs. class. Their best fish (of 2.5 lbs.) fell to a Green Peter.


A golden Conn trout of 1.5 lbs. which fell to a Yellow Wulff.
In Cloghans Bay, Sean Dively from Mullingar had 8 trout for 10 lbs. on small dry mayfly patterns and Paul Langan from Sligo had 4 good trout to 2 lbs. on a Golden Olive Bumble. Harry McCafferty, Ballina, had an average of 2 good trout a day over 5 days as well as a plethora of smaller fish. All were on dry olives. Mick McNeely from Mullingar also had 3 trout for 5 lbs. at Poteen Island. Eamonn Cooke and Michael Quigley from Co. Wicklow also had 5 good fish in the Gortnor Abbey area. Padraig Traynor and Orla Walsh had an excellent evening in Pratts Bay, accounting for five trout to 2 lbs. all on spent gnat.
With such quality fishing currently available on Conn and Cullin, the angling prospects for coming weeks, as Mayfly hatches peak, are excellent.

Lough Arrow
Bright and calm conditions persisted for most of the week on Lough Arrow resulting in difficult fishing.
Martin McDaid from Tyrone was amongst the lucky few who still enjoyed good angling. Martin caught 3 fish between 2.25 lbs. and 2.5 lbs., while Dirk Zonnekein from Belgium had one fish for 2 lbs.
As mayflies have started to hatch in bigger numbers, prospects for the coming week are looking better and the recent break in the weather should also improve angling on Lough Arrow.