Salmon Angling
River Moy
Yet, another slow week for anglers on the Moy system, with only 130 salmon reported bringing the yearly total, so far, to 5,619.
Some of this week's catches included two salmon for German visitor, Manfred Müller on prawn from the Coolcronan Fishery. Also on Coolcronan, Manfred's countryman, Dominik Weber, had two fish; one on prawn and one on spinner. Despite the difficult conditions the East mayo water provided some reasonable fly fishing during the week. Successful anglers included: Alain Bouvet, France, with a 6 lbs. fish, Matthias Engels, Germany with two small grilse and Ralf Hemmersbach, also Germany, with a 3 lbs. and a 6 lbs. grilse.

Trout Angling
Lough Arrow
Lough Arrow Fish Preservation & District Anglers will hold an open competition on September 25th in aid of North West Hospice. Fishing will be from 11.00am until 6.00pm. Weigh in for single heaviest fish over 13" will take place in McDonagh's Bar & Lounge, Castlebaldwin at 7.00pm. Entries at Flynn's Pier from 10.00am until 11.00am or Lytless Island between 1.00pm and 2.00pm or by text to Karl 086-8343584, Catherine 085-7050133, David 086-3825376 or Jimmy 087-2670768 . Entry fees: Adult €20 Juvenile €10.
---
Galway Report

Erriff Fishery
Fishery manager Osgur Grieve reports on another positive week on the Erriff following on from last week, with 6 salmon and 13 sea trout for the week. Regular visitors from France Jean-Jacque Calvar and Jean-Francoise Calvar with their friend Jean-Pierre Leroy had 2 salmon of 2lbs and 2.5lbs on a ''little black fly'' of their own tying along with 10 seatrout between 1 and 2lbs for the last 4 days of their holiday. Graham Smith (UK) released 1 salmon of 6.5lbs from the Paddystick Pool on Beat 3 using a Collie Dog, interestingly this fish took the fly as he dragged it across the surface of the pool. Graham also had 3 sea trout of 1lb for his visit. Thursday 8th was Martin Davison's turn when he released a 3.5lbs grilse from the Glenacally pool on Beat 5 using a Park Shrimp.

Traci Walker along with her husband Marc fished on the morning of the 9th in a gale and pouring rain, their perseverance paid off with Traci catching her first salmon of approximately 4lbs, which was then returned after a quick photo. This was a great achievement as it was her first attempt at fly-fishing!

Saturday 10th saw George Jones from Tyrone release a 5lbs grilse from the Broken Bridge Pool on a Cascade.
Fishing prospects look good for the next few days with plenty of water in the system and we still have rods available for anglers looking for late season salmon fishing.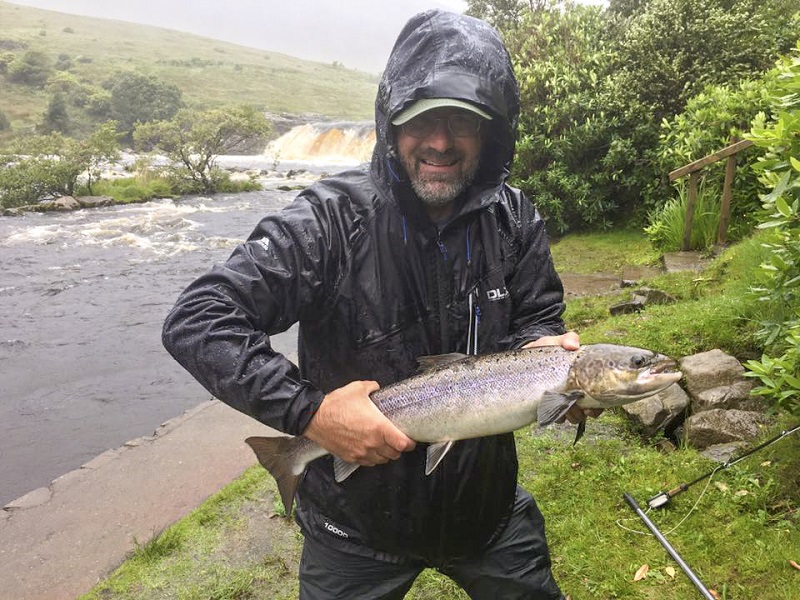 Marc Walker with a nice 4lbs grilse caught by his wife Traci from the Garden Pool on the Erriff, September 2016. The fish was released after a quick photo.
Aasleagh Lodge and the Erriff Fishery currently has a special offer available for the last couple of weeks of the season - a two-night fishing package with one dinner and one day's fishing for €188.80 per person sharing. For bookings please call (095) 42208 or check www.errifffishery.ie
Lough Corrib
Declan Gibbons reports on an upturn in fishing on Corrib over the last week with anglers everywhere reporting better fishing.

Larry McCarthy of Corrib View Lodge, Glencorrib (087-9135222, www.corribangling.com) reports a much improved week on Lough Corrib, with plenty of good fish on dry sedge patterns. Best were in the Greenfields and Inishanbo areas of the lough. There were notable catches for visiting angler Tom Chamberlain from Wales, who had several trout over three days fishing with Larry, two of the trout being Corrib beauties over 3lbs. Ferdinand Rodrigues had two days guided by Larry and had trout to 3lbs on reed smut and small dry sedges. Frank Reilly while guiding for Corrib View Lodge with French angler Lauren Pouillaud caught a lovely trout over 4lbs. Hopefully with some light winds forecast the remainder of the season will be good.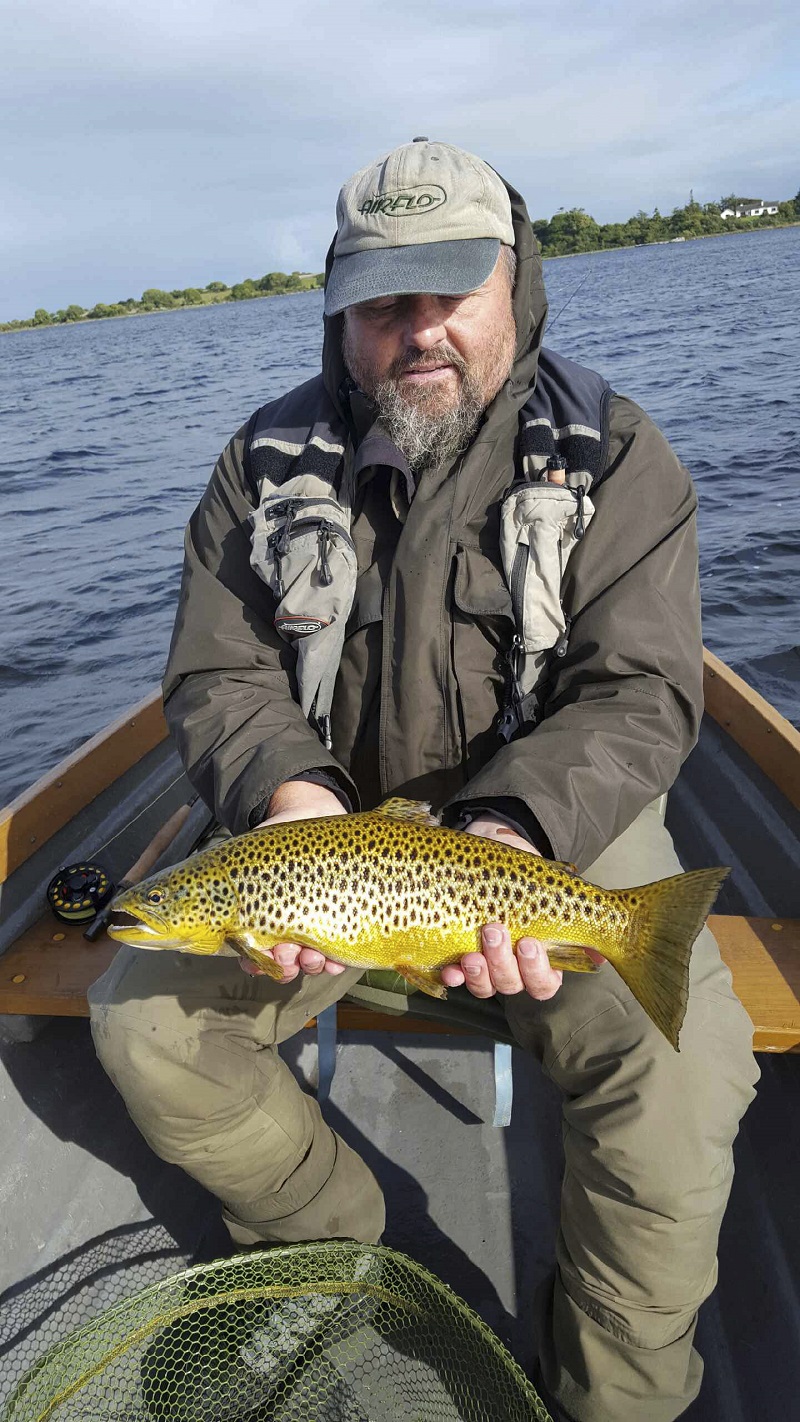 Tom Chamberlain from Wales with a fine Corrib trout caught while fishing with guide Larry McCarthy, September 2016.
Recently The Oughterard Anglers and Boatman's Association hosted the Kevin McQuinn Cup (Junior Competition) which saw Sean Molloy of Baurisheen take 1st place with one trout for 1.44kg. Second place went to Shane Joyce, Glann with a trout of 1.00kg and in third place was Liam Ferguson with a trout weighing 0.96kg.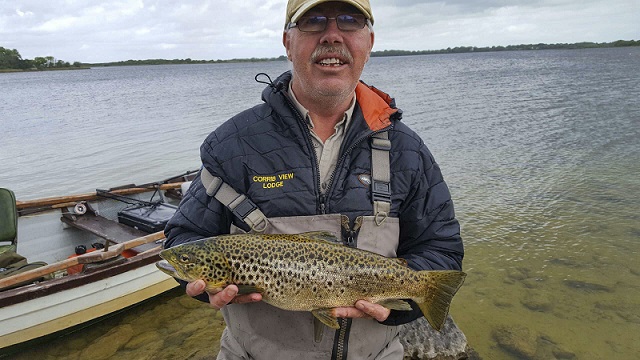 Frank Reilly with a nice Corrib trout, September 2016.
Staying in the Oughterard area Basil Shields of Ardnasillagh Lodge (091-552550) reports good fishing during the week gone by with most of the action being had on Daphnia-feeding fish in the deeps. On Monday Eddie Rowe from Dublin had 2 trout on wets, while on Thursday visiting UK angler Phil Potts had an excellent day's fishing, landing 7 trout for his visit. On Friday last Mallow angler Neil Glavin had 3 trout for his trip to Lough Corrib. Regular visitor to Lough Corrib John Fitzgerald from Shannon had 3 fish for his day's fishing and fellow Shannon angler Glen O'Connell had 3 fish for a day during the week and on Saturday last he had 1 trout.

Ted Wherry of Mayfly Lodge, Ballynalty Bay (tel. 087 4305957) reported 2 guests at Mayfly Lodge had great fishing over 2 days each on small sedges; Paedar McAvinnney with 8 fish (best 4lbs) and Jason James with 9 fish (best 3.5lbs). Ted also enjoyed some good fishing himself, as evident from the photo below.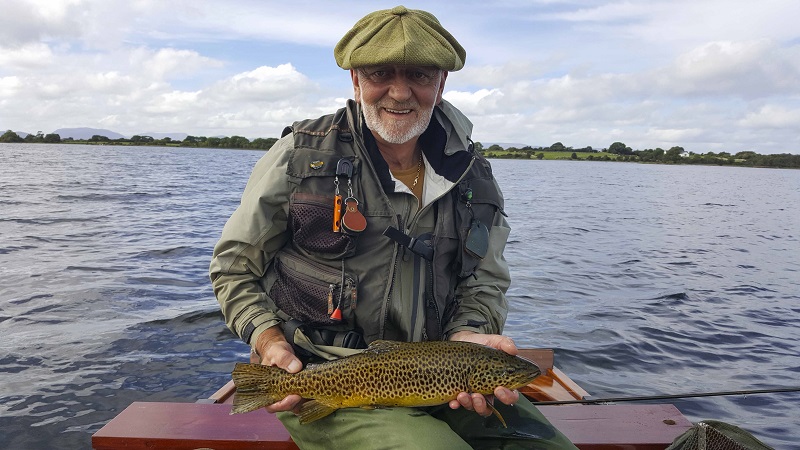 Ted Wherry with a fine trout from Lough Corrib, September 2016.
Lough Mask
Ronan Cusack says reports have been very good from Mask this week, as we head towards the middle of September.
The Licenced Vintner's Federation of Ireland held their annual 2 day competition recently, which was supported by 128 anglers from across the country. Conditions on the first day were difficult, with low pressure and virtually no wind, resulting in only 13 trout being weighed in. Fresher conditions on the second day saw an improvement, with the deep producing some impressive bags. This year's top rod went to Donal Forrest from Cork with 4 fish for 2.116kgs. In second place was Eddie Gibbons from Tourmakeady, who also had 4 fish for 2.116Kgs kgs. The organizing committee made the decision to award first prize to the angler with the heaviest individual fish. In third place was Patrick Molloy from Oughterard with 4 fish for 2.079kgs. Heaviest fish went to John Murray from Sligo with a trout of 1.366kgs. This year's winning team was Kevin Cremin, Patsy Tracy, Eddie Gibbons and Michael O'Leary with a total of 12 trout for 6.355kgs.
Local Ballinrobe angler Peadar Jennings had 6 good fish from the deep on Thursday evening last pulling wet flies (best fish 1.75lbs, all returned). John Brennan and Kieran Newman from Longford fished Mask on Saturday last and they reported landing and returning approximately 15 fish over the 13" limit for the day (best fish 1.75lbs). Billy Graham from Northern Ireland also fished on Saturday and he had 6 good fish from the deep on wets (best fish 2.5lbs). Kieran Biggins from Ballinrobe had 2 trout in the shallows on Saturday evening (best fish 1.5lbs). Kevin Egan and Michael Vahey from Ballinrobe fished for a half day on Saturday and they finished with 7 on a combination of wets and dries (best fish 1.75lbs, all returned). Overall Mask is fishing well and worth a visit.
We would like to remind anglers that have not seen their boats on Mask recently to do so, as water levels have risen quite a bit in the last 2 weeks and boats need to be pulled up the shore a bit.
South Connemara
Brian Curran was in touch to report fishing continues to be good at Crumlin.
He had a Cork angler, Cal Healy out on Sunday and he produced the first salmon of the season after 10 minutes effort. The fish weighed 7lbs. While the lakes are very high at the moment the sea trout fishing is good and Cal had 4 finnock to the boat and rose many more.
Boats can be hired on the fishery from Brian Curran at 087 2509722, or visit the web site at www.irelandwestangling.ie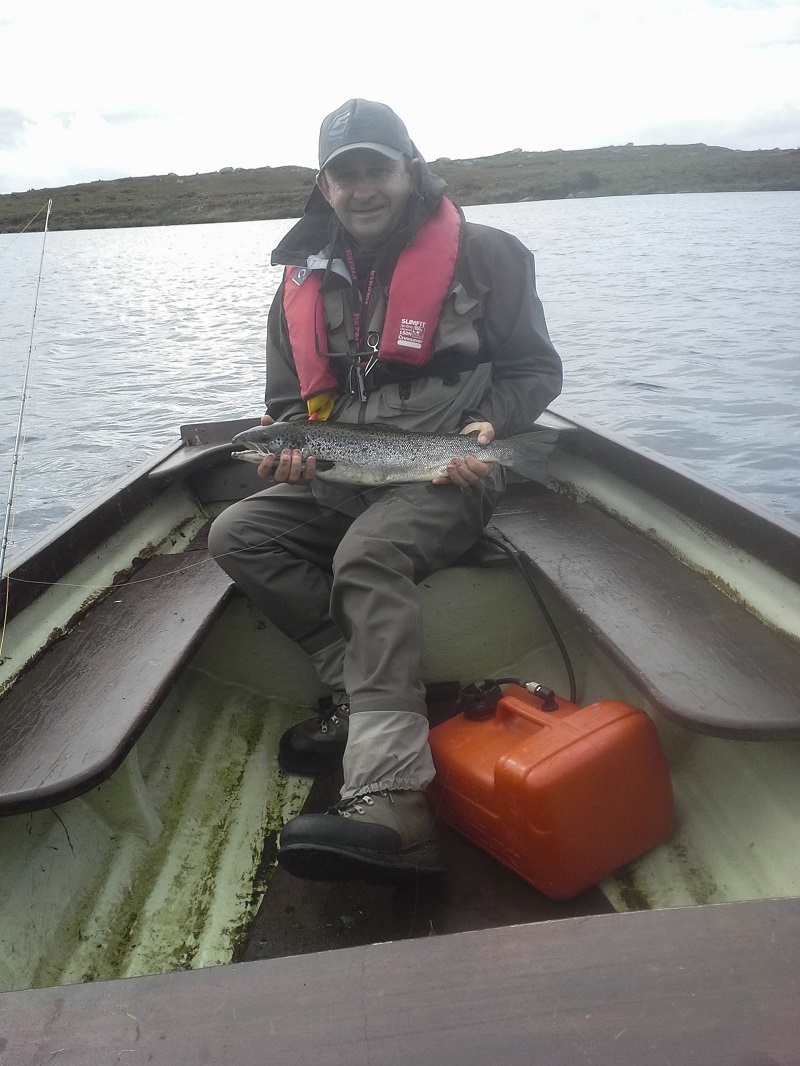 Cal Healy from Cork, with a nice grilse taken on the Crumlin Fishery on 11 September, 2016.