Lough Mask
Ronan Cusack reports that strong gales pounded the rocky shorelines of Lough Mask over the past few days, producing some of the best wet fly fishing seen for years! Rod averages of 7/8 plus trout over the limit were not uncommon throughout the week, with large numbers of undersize trout also coming to the fly. Mayfly hatches are reasonable, with trout responding well.
Michael Shovlin and son Michael Jnr, from Tourmakeady fished on Sunday last and they had 14 cracking trout pulling wet-flies in very wild conditions (best fish 3.25lbs, all released). Mick Dunne and Michael Prendergast also from Tourmakeady had 8 on Sunday (best fish 1.5lbs, all released). Simon Mitchell and Victor Long from the UK had a 4 day trip to Lough Mask towards the end of last week. The lads had a total of 68 keepable trout over 4 days, all on wet flies. The best fish of their visit was 4.75lbs and all fish were returned. Dave, Martin and Garry Connor from Co. Armagh fished with Kevin Sheridan, Ballinrobe over the weekend and they had a total of 75 trout on a combination of buzzer and wet fly.
Again this week wet fly is accounting for the majority of the fish, due to the nature of the weather.
Forecast for the coming days are for strong winds and temperatures not passing the low teens.
Ronan also guides on Mask and can be contacted at cusackronan@gmail.com
Margaret Gorman from Cong Self-Catering and Boat hire also reported great fishing for their guests. A party from Cavan including Larry Tierney and Pat Bannon averaged 5-7 trout per day, including a nice 2.5lbs trout taken on a Claret Bumble. Wet fly proved very successful, with Green peter and Bumble Olive also taking fish. Chris Loots and Edith Bollen from Belgium enjoyed fine fishing, averaging 15 trout a day, as did another Belgian party with them. Dr. Ian Gordon and wife Rosie fished a day on Carr and reported a great hatch of mayfly, landing a couple of nice fish.
Donal Whiteman and 2 friends celebrated Donal's impending wedding with a fishy stag party over the weekend, enjoying very good fishing despite the distractions of the pub! German visitor Thomas Burkart averaged 5 trout a day for his visit, and also landed a fine 12lbs spring salmon from the Cong River. Pat Gorman and Adrian Gorman fished in the rain on Sunday and had tremendous sport, landing 20 trout, including 12 on the first drift. They also fished a few hours on Saturday evening and had 7 trout. Mask really is fishing superbly at the moment and producing wet fly fishing to rival anywhere. For further information on accommodation and angling advice, please contact Margaret Gorman at 094 9546582 or check www.congselfcatering.com. Boats are available for hire - with or without outboard motors.
Inland Fisheries Ireland would like to take this opportunity once again to remind anglers that fisheries officers are continually carrying out checks and patrols around Corrib, Mask and Carra lakes to ensure that local bye-laws and regulations are being adhered to. Anglers should be mindful that since 2008 it is illegal to be in possession of any trout under 33cm (13 inches) and that there is a daily bag limit of 4 brown trout per angler per day. Also a 4 trout limit is what it says "A limit" and not a target. So please keep conservation in mind and practice catch and release. All undersize trout must be handled with great care using a wet hand and returned to the water as quickly as possible.
Lough Corrib
Declan Gibbons reports on mixed fishing from Lough Corrib, with some days providing excellent sport. Fly hatches have been intermittent, with good hatches of mayfly some days and very little on others. Olives are also still hatching in good numbers, and fish are being taken on both. Dapping is proving successful also. Weather conditions are proving difficult, with torrential rain drenching anglers on Sunday, and high winds preventing much fishing on Monday.
Oughterard hosted the International Mayfly Festival from Thursday to Sunday last week, with a huge programme of events bringing visitors to the town for the festivities. The highlight was the International Mayfly Competition on Sunday, with over 100 competitors lining up in their boats for a shotgun start in driving rain. This was a really well-organised competition and festival and compliments to the Oughterard Anglers Association and Discover Oughterard who put it all together. Anglers returned to Oughterard Pier at 6pm for the weigh-in, and prizegiving back in the town later. Back in town, a hog roast was on the go all afternoon, and all competitors were treated to a BBQ steak dinner following the prizegiving. First place in the competition went to Ken Ferris, with 4 trout for 2.86kgs. Joint second were Michael Donnellan and Johnny Flaherty, both with 4 trout for 2.62kgs, and third was Donal Hayes, with 2.42kgs. Top lady angler was Breda Coady, and top junior was Louis de Gregory. The heaviest fish prize was won by Gerry Dixon with a trout of 1.7kgs. The atmosphere was fantastic, and I can see this festival going from strength to strength in the coming years. Many congratulations to the organisers. The competition was filmed on the day as part of an ongoing shoot for a feature on the mayfly season, and a short clip of the day can be viewed on Youtube at https://www.youtube.com/watch?v=-TU_pGJdaBE or by searching Mayfly Angling Competition 2015. Many thanks to Stan Nugent for the video link.
In Greenfields on Saturday Kildare angler Declan Conlon and Mullingar Angler Niall Kenny enjoyed great wet fly fishing, landing 5 keepers and numerous small fish on mayfly patterns. Angler Seamus Ryan had 1 trout on Saturday to a wet mayfly. In the same area Anthony Clifford from Kerry caught 3 trout on wet fly, best fish 2.5lbs, while in the same group Tom Howley, Tipperary and young angler Sean Clifford (showing the adults how to fish dries, landing a nice fish of 1.5lbs) boated 4 fish on a mixture of emerger patterns and dries, with the best fish being 5lbs. Also on Saturday Headford & Corrib Anglers hosted the Michael Walsh Memorial Cup out of Greenfields - 30 rods took part in what was a heaviest fish competition, with Martin Murphy of Greenfields and London taking top prize with a cracking trout of 6lbs 13oz caught dapping, 20 trout were caught in total.
Paul Mott of Ballindiff Bay Angling Club had a cracking trout on Thursday, caught on a Bewick Buzzer - the fish was 25 inches in length and an estimated the weight 6lbs plus, which he sportingly released.
Angling guide Larry McCarthy from Corrib Angling Services (www.corribangling.com) reports on excellent fishing for guests over the last week. A party of 4 anglers from the UK - John Cash, Vaughan Ruckley, Richard Hoskin and Bill Brown - staying at Corrib View Lodge landed, 35 trout on mayfly for 4 days. Two anglers from Northern Ireland - William Graham and his friend Darren - had 14 fish for 3 days on wet mayfly patterns. Gareth Jones from Airflo had an amazing 3 days catching 27 trout while guided by Larry. Saturday was his best day with 7 trout for approx. 27lbs.
Eamon Walsh reports from the Cornamona area of good fishing but sparse fly hatches. Fishing was very good on Saturday with some boats having up to 10 fish. A party of Welsh anglers who are regular visitors to Cornamona had close to 100 trout for the week, all sportingly released. Declan Black from Dublin had a nice trout on wet fly of 2.5lbs. Tom Doc Sullivan and friend had 3 trout on Friday, also released. The McMahon Brothers from the Isle of Man had 8 trout for 4 rods on Saturday and 1 on Sunday. In the Inishmacateer area Clare anglers Pappy Cotter and Gus and John Murphy enjoyed great wet fly fishing catching 6 trout on mayfly patterns, best fish being 4.25lbs.
Kevin Molloy of Baurisheen Hire & Guiding reports on great fishing in the Oughterard area despite patchy mayfly hatches; Kevin had some visiting French anglers who enjoyed excellent trout fishing with Mr Amarie catching 3 trout for 7lbs on wets and trolling. The Godineau group with Kevin also enjoyed excellent wet fly fishing. Olive hatches in the area are excellent. Also in the same area Eamon Molloy and Billy Molloy had great fishing on wet mayfly patterns.
To book boat hire or guiding from Baurisheen contact Kevin at 091 552006 or 087 9604170.
Staying in the same area Basil Shiels of Ardnasillagh Lodge reports super fishing with moderate Buzzer & Mayfly hatches and excellent Olive hatches. For 7 days boating Basil landed 91 trout with an average weight of 3lbs, all released and caught on buzzer. UK Anglers George Gercs and Trevor Haseltine enjoyed great fishing on buzzer catching 13 trout for one days fishing. Larry Kelly, Dublin and John Jacks, Scotland fished on Friday & Saturday and had 32 trout on mayflies and buzzer best fish being 4.7lbs. Northern Ireland Anglers Gary McGuire and Davy Wilson had excellent fishing on buzzer patterns, landing 34 trout for 2 days with 70% of them 3lbs plus, the best fish they caught was 5.4lbs. John Fitzgerald of Shannon and friend Kyle had a great day buzzer fishing, landing 8 trout for an estimated 28lbs.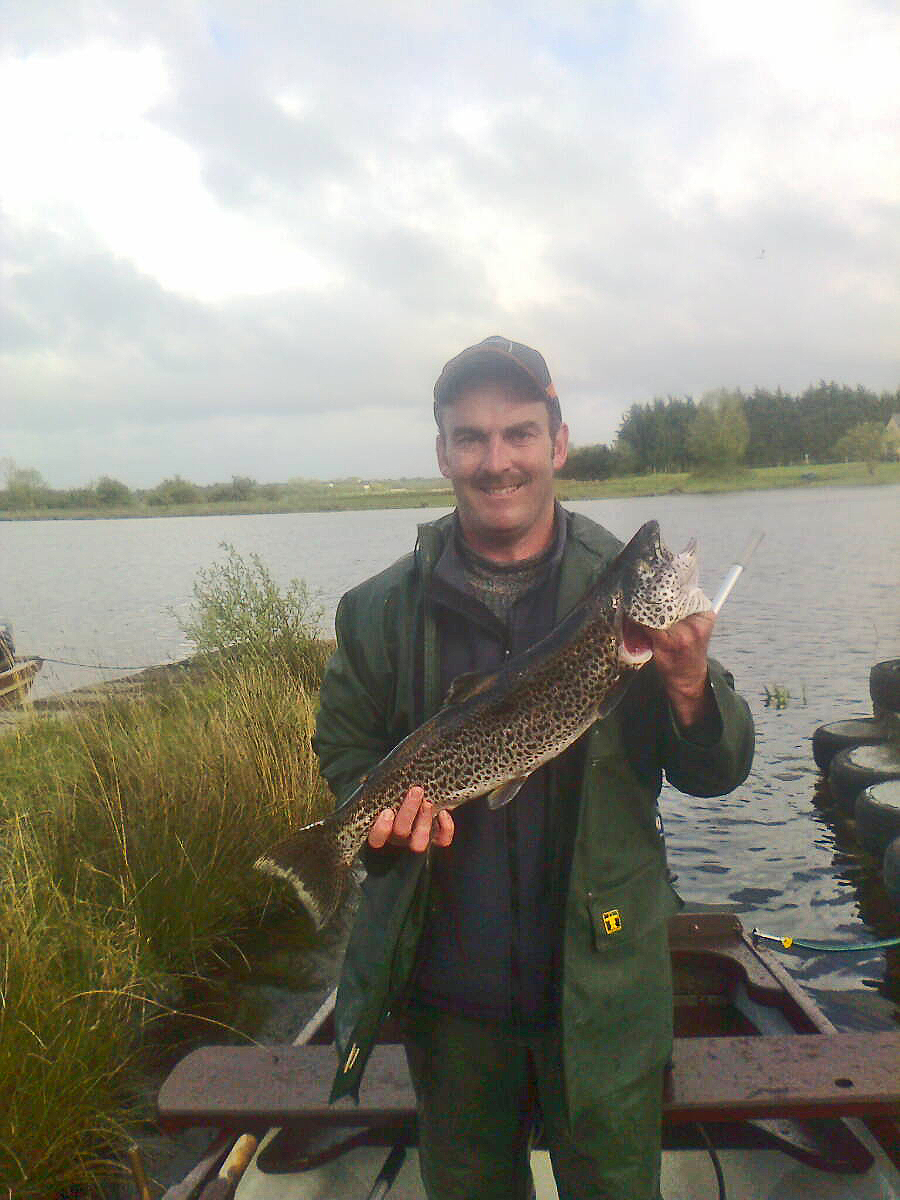 Frank Butler with a fine 8lbs 7oz Corrib trout taken while dapping mayfly on Sunday 10th May 2015.


To book accommodation, boat hire or guiding at Ardnasillagh, contact Basil at 091 552550.

In the Annaghdown area Clare Angler Dave Egan had good sport on Wednesday, landing 3 trout on buzzer - best fish 5.2lbs, and on Thursday he had a superb day's fishing that saw him catch 17 trout on buzzer and dries. Fellow angler Brian Madden also had great fishing in the same area on Thursday catching 5 trout, best fish being 2.75lbs on buzzer and dries.

On Sunday Collinamuck & District Anglers hosted the Dowling Cup (best boat) and the Butt Cup (heaviest fish) . 33 rods took part in the competition catching a total of 41 trout with a weight of 89lbs. Winners of the Dowling Cup were Galway trio Eugene McMahon, Knocknacarra, Mike Ryan, Doughuisce and Alan Conneely, Tirellan with 9 trout weighing 22lbs 11oz. In second place were Frank Butler, Rosscahill and visiting Northern Ireland Anglers Donna McColgan, Derry and Stephen Scott, Belfast who were staying at Lough Inagh Lodge in Connemara, with 8 trout for 21lbs 7oz. In third place were Moycullen duo Darragh Noone and Brian McCarthy with 5 trout for 11lbs.The winner of the Butt Cup was Rosscahill angler Frank Butler with a great trout of 8lbs 7oz taken on the dap.


The next week looks like broken weather, with some windy days and plenty of showers - mayfly hatches have still not peaked according to some top ghillies I spoke to yesterday, so good mayfly fishing should continue for at least the next week.