Sea Angling
John Fleming, skipper of the Brazen Hussy II, reports that blue shark fishing is in full swing at the moment, with 9 fish landed to the boat on Sunday of last week, as well as 7 dropped runs, and 11 to the boat on Bank Holiday Monday, with the best fish approx. 65lbs.
On non-shark days John and his crews are having great general fishing, especially gilling for pollack at the moment, with fish feeding hard and keen to take lures.
John has plenty of dates free at the moment for full boat or single seat charters - to book a day afloat give him a call on 087 7571320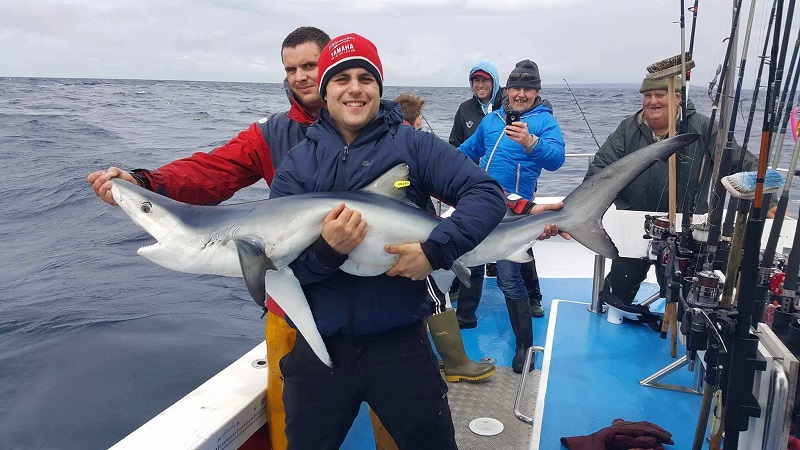 A nice blue shark caught aboard the Brazen Hussy II in Galway Bay last week.
Erriff Fishery
Fishery manager Osgur Grieve was in touch again with an update from the Erriff Fishery, covering fishing from 27th July - 2nd August.
Jack Mannion fished under our ghillie's supervision on the 27th of July and was rewarded with his first ever salmon, caught on an Ally's shrimp from Beat 8, he also caught and released a 0.5lbs sea trout on a silver stoat's tail, well done Jack, we hope it's the first of many!
Local club man Conor O'Leary was next up that evening with a 3.25lbs grilse from the Falls Pool - he caught his fish on a Cascade. Regular visitor Gael Kerschbaumer started his stay with us nicely with a fine 6.15lbs grilse from the Sea Pool on the 31st, this fish was taken on a Willie Gunn micro-tube. Gary Freed from the US had a 0.75lbs sea trout from Finnegan's on Beat 2 and another from the Lower Garden Pool on Beat 9, then it was Garry's turn to catch a grilse and did so in style from the top of the falls, this fish was estimated at 5.5lbs and was released again after putting up a good struggle.
Monday the 1st was quieter with 1 sea trout being released by Greg Rushing of about 0.75lbs.
To book fishing or accommodation, contact Aasleagh Lodge at 095 42382 or check www.errifffishery.ie

Lough Corrib
Declan Gibbons reports that the week just gone by saw some excellent fish being caught.
Larry McCarthy of Corrib View Lodge, Glencorrib (www.corribangling.com) reported a busy week catering for Tim Rowley a regular visiting angler from the UK and his family, a party of eight. The fishing was mixed with several trout to dapped mayfly and dry sedges on Monday and Tuesday in the Inchagoill area. On Wednesday Larry said it was great to see the children in the group catch lots of quality rainbows at Mike Faherty's fishery in Oughterard, a great venue for introducing young people to flyfishing. The remainder of the week produced 12 trout up to 3.5lbs on the lower lake to dry olives.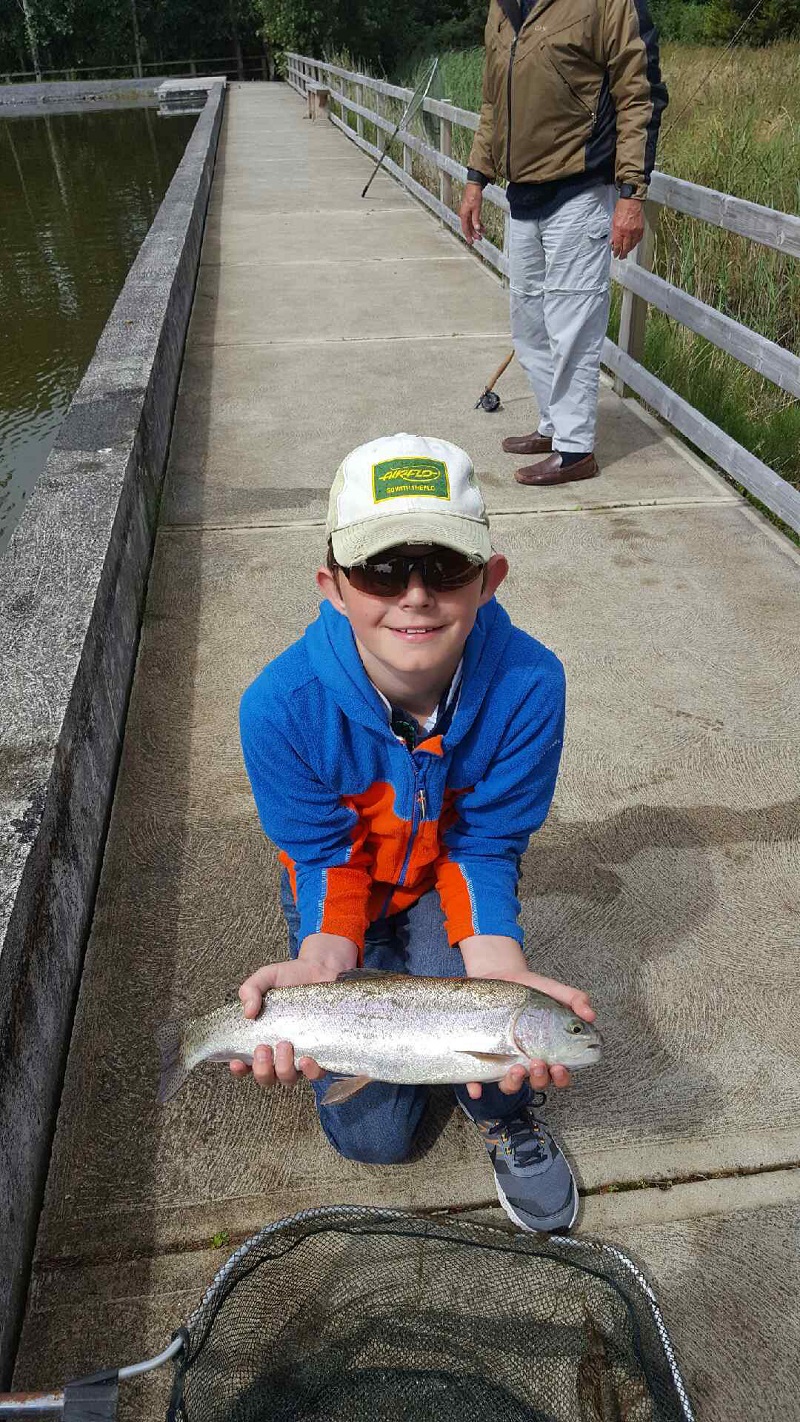 Young Jonathan McCarthy with a nice rainbow trout from Fahertys Angling Centre, Oughterard.
In the Oughterard area Gerry Molloy (087-9190673) reports good fishing to be had in the area, and he enjoyed two days dapping hoppers with a German pairing of grandfather and grandson catching 5 trout for 18lbs, including one cracking fish which Gerry caught himself weighing 8lbs.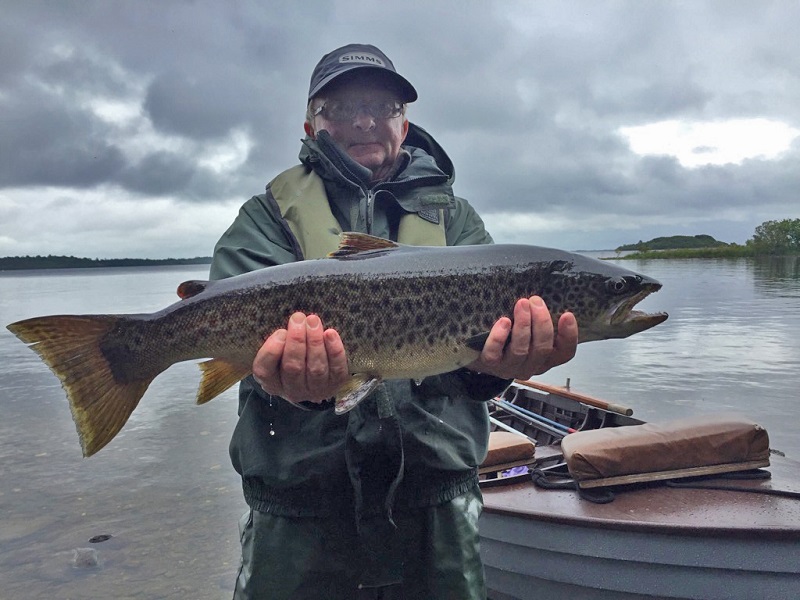 Gerry Molloy with a fine 8lbs Corrib trout caught while dapping grasshopper, July 2016
Offaly man Dan Gilmartin and his partner fished out of Derrymoyle for 3 days and landed 7 fish for 12lbs on wet fly and dapping. Also in the Derrymoyle area Shane Coady from Dundalk had 12 fish for 5 days all released apart from 3, mostly caught on the dap.
Kevin Molloy (087-9604170) report reasonably good fishing to be had in the area on a mixture of trolling, dapping and wetfly with German and French guests on Tuesday and Thursday landing 6 trout for 9lbs.
Basil Shields of Ardnasillagh Lodge (086-0869758) hosted Monaghan angler Peter Boyle, who landed 3 fish on Saturday last on wet fly with the best fish being 2.5lbs. Ronnie McIntyre from Fermanagh had
8 fish for 3 days with the best fish being 4.25lbs. Ian Matchett from Lurgan and Brian McBradley from Newtownards had 5 fish each on a mixture of wet and dry mayfly patterns, with Brian's fish being 4.25lbs. Dublin man Eddie Rowe had 3 fish for his recent visit to Lough Corrib with his best fish being 2.25lbs. In the Cong area Frank Costello of Ashford Bay Boat Hire and Guiding (087-2524253) reports good fishing in the area mainly on dry fly and dapping, with the best fishing being had on sedges. On Monday last he guided two hotel guests landing 7 trout varying in weights from 1.25 - 3.25lbs .
Also in the Cong area Martha Mannion Ryan from Ryans River Lodge (www.ryansriverlodge.com) reports on Daithi Ryan landing 2 salmon - one on the fly and the second spinning, and a brown trout also spinning on the Cong River, which made for a memorable day for the young angler. Martha also tells us that reasonable fishing is being had by guests staying with them in the Inchagoill area.

Lough Mask
Ronan Cusack reports that Monday evening saw a climax to the 2016 World Cup lyfishing Championships on Lough Mask as 460 anglers battled it out for the much sought after World Cup trophy. Conditions on the final day were perfect, with soft winds and plenty of cloud cover as the 120 finalists headed off in the morning. The deep water was the place to be again this year, with plenty of hungry daphnia feeders willing to grab at anything pulled fast with a florescent tag.
The World Cup committee had reduced the bag limit this year to 3, with any additional trout being measured and released. These measurements were then converted into weights using an Inland Fisheries Ireland conversion chart and the overall catch weight was recorded.
This year's winner was the well-known Corofin, Co Clare angler, Thomas O'Loughlin, with a massive catch of 12 trout for a calculated weight of 13.4310lbs. Patrick Molloy of Oughterard was Thomas's boatman on the day. Patrick also took the prize for being the boatman who brought in the biggest number of fish over the 5 days. Second place went to Jonathan Craven of Roscommon with 8 trout for 8.5110lbs. Kenneth O'Keeffe from Kells, Co. Meath took third place with 5 trout for 6.0980lbs. The heaviest fish prize went to Feichin McMorrow Jnr from Sligo, with a trout of 2.880lbs. This year's best under-21 angler was Diarmuid Kelly from Tipperary with 2 trout weighing 2.770lbs. The best lady angler was Sue Hunter from Galway with 3 trout weighing 4.506lbs. This year's best overseas angler was Bob Holland from the UK with 4 trout weighing 4.255lbs.
Overall the lake is fishing well at the moment and well worth a visit.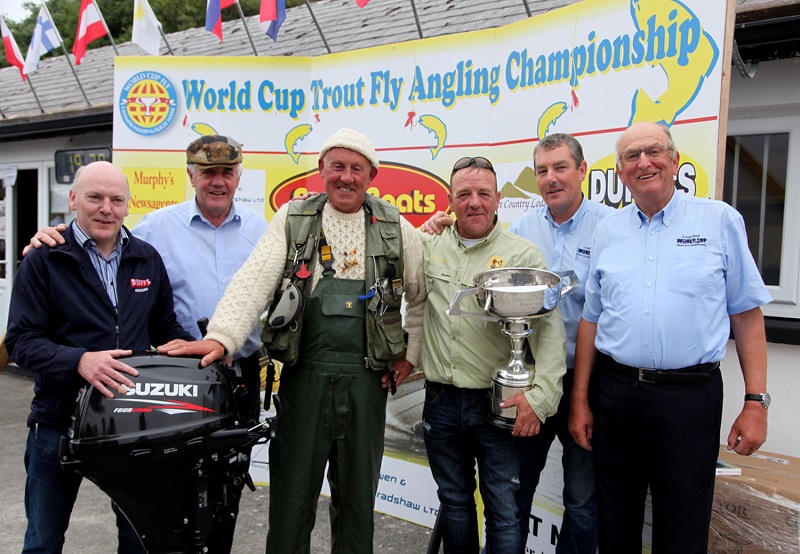 World Cup winner Thomas O'Loughlin with (l-r): Sponsor Paul Duffy, World Cup President Joe Cusack, Winning Boatman Patrick Molloy, Thomas O'Loughlin, Boat manager Ronan Cusack, World Cup PRO Denis Kelleher
Lough Inagh
Fishery manager Colin Folan reports that water levels remained good during July, however the weather did not help the fishing with humid and thundery spells. In total 19 salmon, 153 sea trout and 40 brown trout were recorded for the month. The catches were split fairly evenly between the river beats and lake. Notable catches for July include Denis Murphy and Michael Heery (Dublin) who fished Inagh for two days and landed 13 sea trout to 1.5lbs and 3 grilse to 6lbs, mostly on a size 10 Green Dabbler. William Hamilton (Dublin) fished Inagh for a day and landed 9 sea trout on a Connemara Black and Gold Dabbler. Andy Bowman (Scotland) fished with locals Colin Folan and Kevin Crowley for a day on the river beats and they caught 10 sea trout and two fresh grilse (released) on Blue Delphi's and a Silver Doctor. Another notable catch was Ronan Power (USA) who fished Inagh for a couple of days without much action due to the scorching conditions, but managed a cracking brown trout of 9lbs on a Fr. Ronan fly.
Bookings and info from hotel reception 095 34706 or www.loughinaghlodgehotel.ie


Costello & Fermoyle
Fishery manager Terry Gallagher reports on fishing for the week of 20 - 27th July. Water levels at Costello remained close to optimum as regular showers maintained the system in good order. John Maher and friends fished for 3 days and were very pleased with the 68 sea trout and 6lb salmon they notched up during their visit. Most of the sea trout caught were recorded as fresh, so the run continues! Padhraic McDonagh fished the middle river where he landed 6 sea trout and commented that all the fish were in excellent condition and all fresh. Regular visitor Rene Lachemaer also fished river beats 2 & 3 and he too landed 6 sea trout. Eamon O'Brien treated his grandchildren to an afternoon picnic on the famous "Rock Hotel" on Glenicmurrin. In between courses Eamon still managed an impressive 10 sea trout. Finally, James Egan and Derek Veitch didn't fare badly when they landed their 8 sea trout on Glenicmurrin.
To book fishing contact Terry on 087 2399988 or email gallaghere.terence@gmail.com