Lough Corrib
Declan Gibbons reports that angling on Corrib has still a lot to offer with mixed weather conditions. Hatches of mayfly, sedges and Caenis are happening when conditions are favourable.

Last Sunday saw a fundraising competition out of Greenfields for Oisin Reilly, a member of the Irish Youths fly fishing team who will be representing Ireland in August on the Lake of Menteith in Scotland. The competition was run on a Catch-and-Release basis with Ennis Angler Seamus O'Loughlin landing 5 trout for first place. Seamus caught 4 trout on wet fly and his fifth on a dry fly. In second place was Dublin angler Stuart Marrey who caught 3 trout, all on dry fly. In third place was the young man himself who will be representing Ireland, Oisin Reilly from Glencorrib, with 2 trout both taken on dry fly. Best lady angler on the day went to Cong woman Dorrie Gibbons with 1 trout. The competition saw 15 anglers catch 17 trout. We wish Team Ireland all the best in Scotland in August.

taying in the area well-known angler Vincent Hughes, uncle of International coarse angler Cathal Hughes had a great day's fishing on the dap, landing 3 trout in the Inchiquinn area, with the best fish 3.5lbs. Also in the Greenfields area former fisheries staff member Pat Day had 3 trout for 5lbs for two evening's fishing on wet flies. In the Oughterard area Basil Sheilds of Ardnasillagh Lodge (091-552550) reports Shannon angler Glen O'Connell had 1 fish on wet fly for his day's fishing and fellow Shannon man John Fitzgerald landed 5 trout for 2 days - worth noting the Shannon boys were operating off a self-imposed 14 inch limit. Also at Ardnasillagh, Maurice Murphy of Strabane caught 2 trout on wet mayflies - best fish 3.5lbs. Staying in the Oughterard area Gerry Molloy of Gerry Molloy's Fishing Lodge www.loughcorriboughterard.com (087-9190673) reports a group of visiting anglers - 3 Swiss and 1 German - enjoyed excellent fishing on Corrib from June 13th to June 27th. Also in the Oughterard area Kevin Molloy of Baurisheen Boat Hire (087-9604170) reports French father and son - the Deschamps -catching 3 trout trolling Rapalas for a half days fishing
It was a quieter week this week according to Larry McCarthy of Corrib View Lodge (087-9135222, www.corribangling.com) but there was still some good fishing to be had. Thursday was the first light wind morning and still the Caenis poured off, with 9 fish caught between 1.5 and 2.5lbs.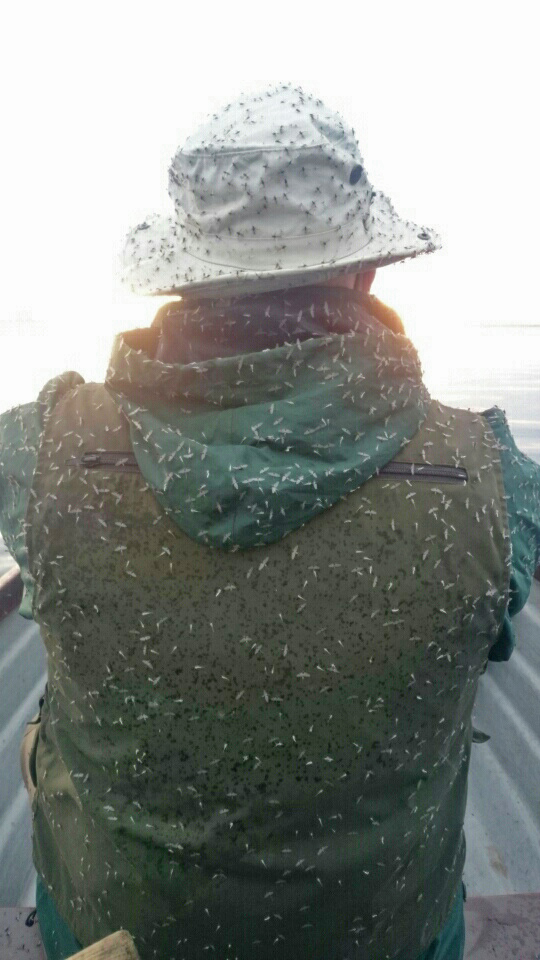 The huge early morning hatches of Caenis on Corrib have to be seen to be believed!
On Saturday two Northern Ireland anglers - Stephen Lusty and his mate Phillip - landed some cracking trout on crickets while boated by Frank Reilly, one of which weighed 4lb 8oz. On Sunday the two boys fished Caenis with Larry and landed 6 nice fish to 2lbs. On Monday they and Larry went to Carra and had 5 nice trout on dry olives between 1.5lbs and 2lbs.
Sedges are appearing with a second hatch of May fly at the moment so the good fishing should continue along with the broken weather.

Lough Mask
Ronan Cusack reports that fishing on Mask has varied over the last week due to the ever-changing weather conditions.
The first good report of daphnia fishing came from Ballinrobe angler Kevin Beattie this week. Kevin had 7 fish over the size limit, plus a few undersize across the middle of the lake on Sunday (best fish 1.5lbs, all returned). Conditions on the day were perfect, with grey skies and a nice breeze. David Connors, also from Ballinrobe has put in a few early mornings on Caenis over the past week or two and enjoyed some great sport (best fish to date 2.5lbs). David reported seeing some unbelievable rises of fish, but typical of trout feeding on Caenis, difficult to sneak up on when you're on your own. Richie Cameron has been chipping away on the dries and picking up fish most days he's out. Noel O'Toole from Galway had a cracking fish of 5.5lbs on dries, at the mouth of Caher Bay on Sunday last.
Fly hatches over the past week have been good, with plenty of Caenis on the calm mornings and reasonable hatches of sedge to keep them interested during the day.
The forecast for the coming week is again for broken weather, so if you're out, bring the dries and the deep is defiantly worth a look.
Ronan also guides on Mask and can be contacted at cusackronan@gmail.com

Costello & Fermoyle
Terry Gallagher reports that the broken weather has lifted water levels significantly, and salmon are moving in on most tides. Peter McDonagh kick started July in style with 3 grilse taken on Beat 1 - best 5lbs. First time visitor to Casla, Frank Steppenbeck, caught his first ever salmon fishing Beat 1 and followed it up with his 2nd later in the day! The fish were 5lbs and 4lbs 8oz, making for a very happy angler! Micheal Dillon was on the beat the next day and landed another fresh grilse of 5lbs. Another newcomer, Brendan Burke was very pleased with the 4lbs 4oz grilse and 6 sea trout he caught on the river. Brendan remarked that if he landed all the sea trout he hooked/rose then the figure would have been closer to 15. Regular visitor, Pat Farrelly, triumphed yet again during his day on the river when he landed 3 grilse, 7lbs, 6lbs and 3lbs 8oz. Geoffrey Fitzjohn also returned to the middle river beats and caught a grilse of 5lbs in the Round Pool. The fish he noted was in excellent condition, a classic stocky Casla grilse.
Neil Spellacy landed 3 grilse on Friday, including a fish of 5lbs 12oz and two fish of 4lbs (2 released). Sean Kelly also had 3 the following day, including fish of 5lbs, 4lbs & 3lbs (all taken on the ubiquitous Black Shrimp!). All were bars of silver fresh in off the tide. Since then water levels have been kept up well with more rain and fishing prospects are very good for the coming week.
Contact Terry Gallagher at terrygal7@gmail.com or on 087 2399988 to book fishing.

Sea Angling
Skipper John Fleming of the Blue Shark Angling Galway was in touch to say that following boat repairs, the Brazen Hussy is back at full throttle and taking bookings for charter trips. Over the last week they have enjoyed good mixed species fishing, including cod, pollack, ling, launce, grey gurnard, octopus cuckoo wrasse and mackerel finally showing in abundance. John is planning a few shark trips over the next couple of weeks given suitable weather conditions, and can be contacted at 087 7571320.