Lough Mask
Margaret Gorman from Cong Self-Catering & Boat Hire was in touch to report on good fishing for some of their guests, as well as a landmark catch for one of her youngest. Karl Gorman, aged 6, caught his first fish ever on Sunday and he was so excited.   He caught two fish and returned another one.   Twin brother Ronan caught some fish too, but this is the first for this year.   He caught one fish and returned another one.
Lough Mask has been fishing well this past week despite difficult conditions. Other guests of Cong Self-Catering who caught fish from Dringeen Bay included Joe Featherston, Dublin, who had 7 trout, all caught in Dringeen Bay.  His catch included 2 fish at 3lbs and 2 fish at 2lbs. Jimmy Fleming from Kerry landed 5 trout for his day, while Lee Corrigan from Dublin had 9 trout, all in Dringeen Bay over a couple of days, returning 4 fish.
For further information on accommodation and angling advice, please contact Margaret Gorman at
094 9546582
094 9546582 or check www.congselfcatering.com. Boats are available for hire - with or without outboard motors.094 9546582094 9546582
Lough Corrib
Frank Reilly reports that anglers are reporting seen the occasional olive through the last of the duckfly hatches in the Corr Na Mona area, and around Greenfields and the lower lake. Corrib fished well over the last week with 58 rod days recorded returning 63 trout, despite very bright conditions. The Bartley McGauley Cup was held in Oughterard on Sunday with 35 anglers returning 14 trout. 1st was Willie Molloy with 4 trout for 3.96kgs.  2nd was Seamus Kelly also with 4 trout for 2.88kgs.  3rd was Mike Faherty with 2 trout for 2.0kgs. Also fishing in the Oughterard area were James and Peter Kelly for one day; they landed 3 trout for 7lbs. Joe Quinn and friend from Mullingar fished for 4 days and landed 12 trout for 21lbs to wet fly and buzzer. Barry Shaughnessy from Meath fished for 1 day and landed 5 trout on wet fly. Very few anglers were fishing the Corr Na Mona area over the last week, however Peter Curran fished for 2 days and landed 5 trout 8.5lbs on wet fly. Barry Molloy, Cong fished for 2 day also and landed 7 trout. Padraig Walsh, Corr Na Mona fished for 1 day and landed 1 trout to wet fly.  The Greenfields area also had very little angling over the last week.  Brian McInerney and Pappy Cotter, Ennis fished for one day and landed  7 trout for 11lbs on wet fly. Sean Dixon, Ennis fished for 1 day and landed 1 trout. John Weir and a friend fished for one day and landed 2 trout to wet fly.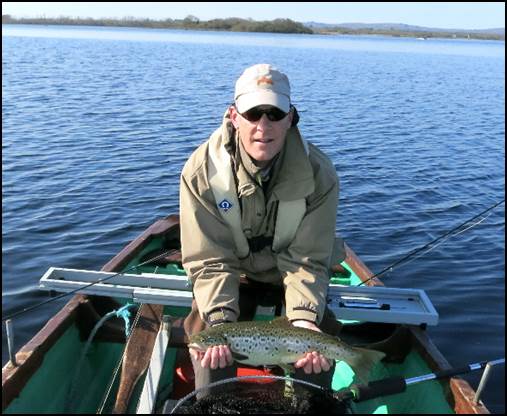 Brian Hughes from Wales, with a nice 4lbs 2oz Corrib trout taken in bright conditions, April 2015.

Gary Costelloe from Lakelands Angling Centre in Oughterard was also in touch to say that bright Sunshine and calm conditions didn't stop a party of Welsh men fishing from Lakeland Angling centre from having a good week on Corrib. Conrad Jones,Geff Churton, Brian Hughes and John Davies had 30 fish between them, including some very nice fish of 4lbs plus for Brian and John. For further information  on accommodation and boat hire please see www.lakelandanglingcentre.com or email mayfly@eircom.net

 
Kylemore Abbey Fishery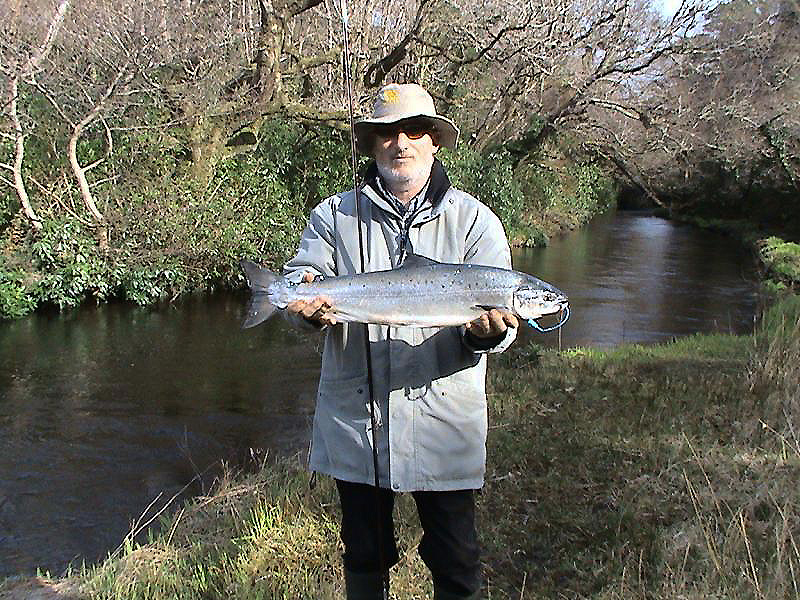 Jeremy Shanahan with his 8lbs springer from the Kylemore Abbey Fishery on the Dawros River.

Fishery manager Nigel Rush reports that Easter brought a welcome run of salmon into the Dawros River, with the first salmon being caught on Good Friday by Nigel himself, a nice fresh springer of 7lbs 12oz, taken on a Kylemore Killer from Tullywee Bridge Pool. The second fish was not long in coming, with Jeremy Shanahan taking another springer the same day from Lower Eugenes Pool - a nice fish of 7lbs 8oz, again taken on a Kylemore Killer. Since then a third fish has been caught and released - another fresh springer of 8lbs taken by Nigel again from Tullywee Bridge Pool. Nigel reports seeing a good number of fish running the river also, so the spring run appears to be well underway at Kylemore, and hopefully we will see a few more reports of fish from here soon. To book fishing, contact Nigel at
087 9580702
087 9580702 for availability and permits. For those not in the know, the Dawros is a delightful little river through amazingly beautiful countryside, good access and easy fishing with a single hand rod. I highly recommend a visit, especially when fish are running.087 9580702087 9580702