Salmon Angling on The River Moy
Fishing was mixed over the past week, with 130 salmon reported for the Moy system. While water levels continued to drop until the end of the week angling effort was still low. Heavy rain impacted on the upper reaches of the Moy over the weekend. However, it is hoped that fishing will improve in the coming days when water levels should have dropped again.
The only fish on the Moy Fishery was caught on the Ridge Pool by UK angler, Robert Rashley. Robert's 5 lbs. salmon took a Cascade fished on an intermediate line. UK journalist, Nick Fisher, scored on the Mount Falcon water where he landed two fish: a nice seven pounder on spinner and a 5 lbs. salmon on prawn.
Regular visitor Rene Königs from Germany showed his class and ability to catch fish in difficult conditions on the Coolcronan Fishery where he had five salmon for the week, while Alan Culley, Northern Ireland, had a 6 lbs. fish on Gannon's on the worm.
Further up-river on East Mayo, Larry Fewer from Cork and John McDonagh from Galway were amongst the few successful anglers. They had fish of 4 lbs. and 7 lbs. respectively, both on spinner.
---
Erriff Fishery
Fishery manager Osgur Grieve reports on fishing from the 8th to the 15th. On the 8th Jean Francois Calvar had a nice 4lbs grilse which he returned on a small black fly from the middle garden pool. On the 10th Jean Jacque and Jean Francois Calvar had 5 sea trout between them ranging in size from 1lbs to 1.5lbs from beats 1 and 9, all of which were returned of course. The sea trout numbers have been very low this year so it was great to see some nice sea trout being caught. The Calvars struck again on the 11th catching and releasing 3 more sea trout weighing 1lb, 1ls, and 1.5lbs. On the 13th Benoit Delille caught and returned a 1lbs sea trout from the Square Pool. Also on the 13th Frederick Murphy caught a 3lbs grilse which he released on a Cascade from the Black Banks. On the same day Martin Wiltort caught a nice 3lbs grilse on a Cascade from the Colonels Run. Willliam Dunbar caught a grilse of 3.3lbs from the Coronation Pool on an Ally's shrimp on the 15/9/15. With so much rain recently it has meant the river was unfishable on 2 days this last week. Hopefully we will have more to report next week.
With rain forecast we hope to have more to report next week as we still have a few fresh fish entering the system. At the moment we have beats available during September, if you would like to book some fishing please call 095 42208 or check out www.aasleaghlodge.ie.
Lough Corrib
Declan Gibbons reports that as anglers are having their last casts this month, Corrib is still producing excellent sport on wet and dry fly with sedges, daddies and olives doing the business.
In the Oughterard area Kevin Molloy of Baurisheen Boat Hire (087-9604170) and his brother Eamon Molloy had excellent wet fly fishing on Saturday in the Oughterard area, landing 6 trout to the boat with the best fish being 3.5lbs. Also in the Oughterard area Frank Doyle and a friend from Cork had super fishing on Sunday, with Kevin landing 6 trout to the boat with the best fish 2lbs. Staying in the Oughterard area Galway angler Harold O'Toole on Friday last had superb sport catching 10 trout for an estimated 15lbs on wet flies, and on Saturday along with his father kevin they landed 9 trout with an estimated weight of 30lbs on a mixture of wets and dries. In the Greenfields area on Saturday last anglers Andrew Boyd and Michael Monaghan had great wet fly fishing in the area landing 6 fish over 13 inches and landed 10 trout in the 11 to 12 inch bracket, all trout sportingly released.
Readers may be familiar with the well-known flytyer and author Ted Malone from Belfast. Ted and his lovely wife Judy have been coming to Corrib for many years, with a two week pilgrimage in May usually followed by two weeks in September. They always stay at Currarevagh House (www.currarevagh.com) and fish with John Oliver Molloy, their loyal boatman for many years. Last week Ted enjoyed some good sport, with his best fish a fine trout of 4lbs 10oz, as ever caught on a fly that Ted had tied himself. Not bad for a man of 98 years young! Also at Currarevagh, Paddy Dawson from NI and England enjoyed a few good day's fishing, including 5 trout on one day for approx. 12lbs to wet fly, best fish 3.5lbs.
Larry McCarthy from Corrib View Lodge and Angling Services (www.corribangling.com) had another good day on Sunday, and he says "Corrib has to be the most consistent wild trout fishery in the world. Corrib View Angling Services reported great fishing again last week with trout on wet and dry fly patterns. Larry, while fishing with Peter Neeson from Northern Ireland over 3 days, reported 8 trout between 1.5lbs and 3lbs on wet fly and dry olives in the Greenfields area. On Sunday Larry fished alone for 4 hours and between showers caught 5 cracking trout for a combined weight of 14lbs all on small size 16 dry olive patterns. All trout were sportingly released to have the opportunity to run the spawning streams next month.
At this time of year we would also encourage anglers to practise catch-and-release with fish soon about to run rivers for spawning.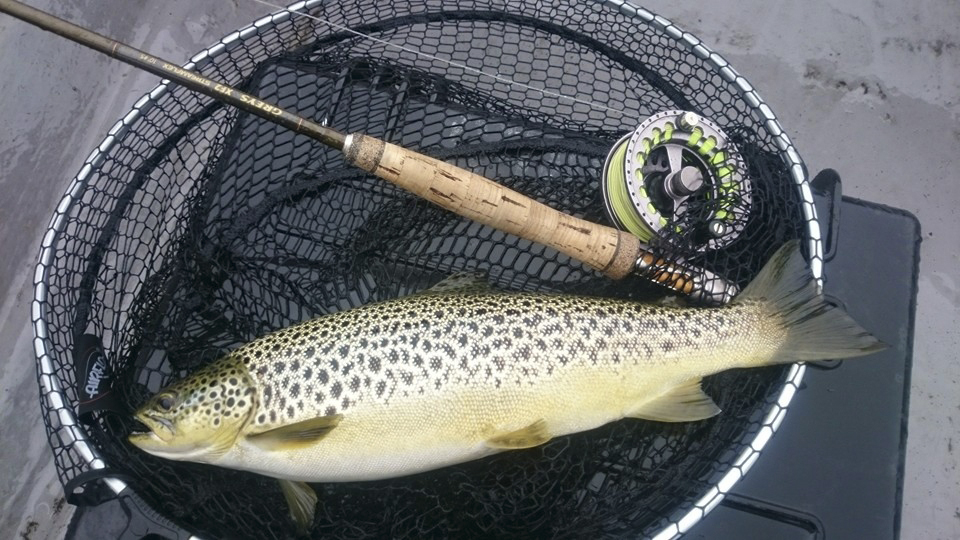 A cracking late season Corrib beauty, taken by Larry McCarthy on a small dry olive. The fish was released again after the photo.

Lough Mask
Ronan Cusack reports that torrential rain over the past few weeks in the Connacht area has driven water levels on Lough Mask up to what you would expect in mid-November. Anglers and boatmen that have not seen their boats for a while would be well advised to take the time to check them, as many are just about clinging on to the shore.
Fishing over the past week or so has been difficult; possibly due to the volume of flood water in the lake at the moment. Last week saw the 14th Vintners Federation of Ireland 2 day Trout Fishing Competition on Lough Mask, which was hosted by Burkes Bar, Clonbur. As always the competition was well supported by 128 anglers. In first place was well known competition angler, Basil Shields from Oughterard, with 5 fish for 4.255kg over the 2 days. In second position was Tom Ormond from Dublin with 2 fish for 3.131kg. Tom also weighed in the heaviest fish, which tipped the scales at 2.687kg. Richie Willis from Mallow took third place, with 5 fish for 2.583kg. Richie also won the best Vintner prize over the event. The best team of four went to Eddie Gibbons Tourmakeady, Tom Sweeney Macroom, Richie Willis Mallow and Jackie Coyne Renvyle with a total of 13 fish weighing 6.486kgs.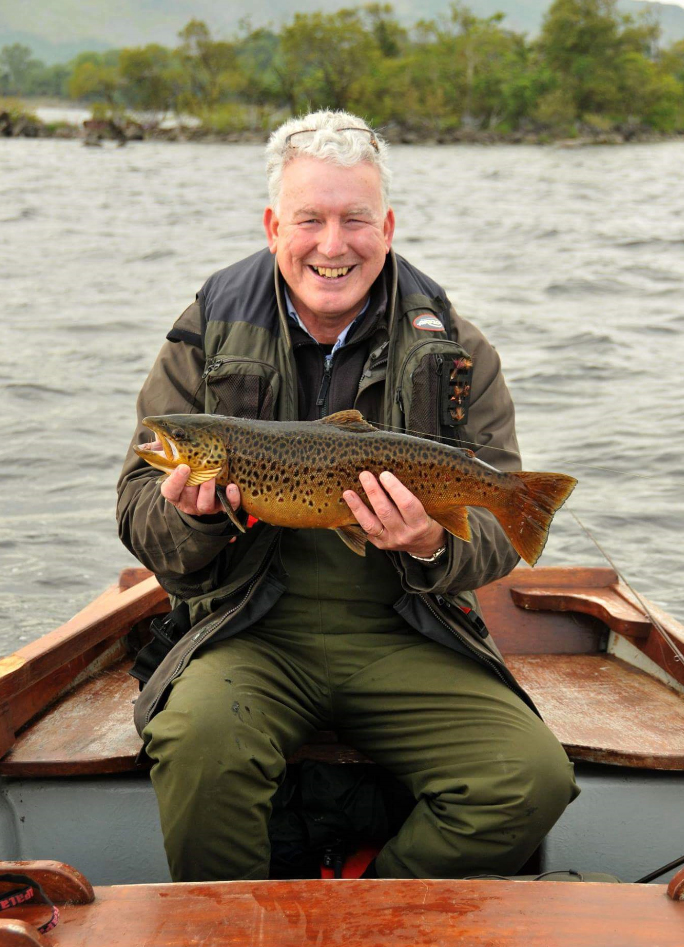 Tom Ormond with a fine trout from Lough Mask on September 9th 2015. Tom won the heaviest fish prize in the Vintners Competition with this fish.
Lough Carra has come alive over the past 2 weeks with some outstanding dry-fly fishing to be had. Dr Martin O'Grady of Inland Fisheries Ireland, spent most of last week fishing dry sedges on Carra and reported having trout up to 5lbs. Martin said it was the most exiting fishing he had experienced in years and looked forward to coming back this weekend. Kevin Egan and Ronan Cusack fished Cara on Sunday and had 6 fish on dries (best fish 4lbs, all released).
Kylemore
Much of Connemara suffered massive floods over the last few days, with up to 140mm of rain recorded in the Clifden-Letterfrack area, causing landslides and roads to collapse. Nigel Rush reports it was the biggest flood he has seen in his time at Kylemore. The water at one stage was flowing over Derryinver Bridge, which as regular visitors will know is usually many feet above water level! Roads in the area were closed for a time, and the abbey itself had to close. The day prior to the flood one salmon was landed, which brought the season total to 99 so far. Water levels will presumably take a while to return to normal, but the lakes usually fish very well at this time of year and should be worth a cast. To book fishing, contact Nigel at 087 9580702.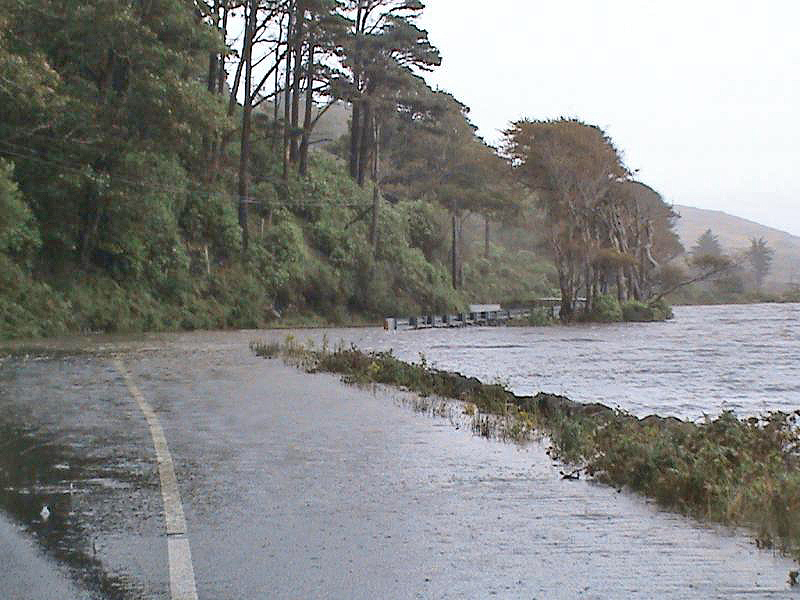 Water overflowing from the upper lough at Kylemore, which closed roads in the area for a time.