Salmon Angling
River Moy
After the first fish of the season was caught a couple of weeks ago the River Moy, angling on the River Moy system picked up further during the past two weeks with more fish being reported, mainly from the Ballina Salmon Anglers' water upstream of Ballina town, and also a few salmon caught on the troll on Lough Conn.
On the East Mayo Anglers' water, David O'Callaghan from Dublin caught a fine 11.5 lbs. salmon on a Flying C. This was the first fish of the season for this section of the river.
With water levels dropping further, prospects for the coming weeks look good and it is hoped that more spring fish will be reported in the coming days.

Trout Angling
Lough Mask
Mask continues in flying form despite the recent return to cold and wet weather. Water levels remain high and painfully slow to go down as the rainfall continues. Duckfly hatches over the past week have been reasonably good on the warmer days with a scattering of sedges mixed in.
Thomas Burke of Burke's Bar and Restaurant held the Ignatius Burke two day Perpetual Cup on Mask last week. The event was a huge success and was attended by 104 anglers from across the country. A total of 364 fish were weighed in over the two days. Alan Hough from Loughrea, Co Galway, was in first position with 4 fish for 9.62 lbs. Second place went to Nigel Greene from Fermanagh with 6 fish for 7.88 lbs. and in third position was Ronan Gibbons from Westport with 6 fish for 7.86 lbs. Alan Hough also had the heaviest fish which weighed 1.69 kg. Ann McWilliams from Kanturk won the best lady angler with 6 fish weighing 7.08 lbs. The organising committee has committed to increasing the size limit to 14 inches for next year's competition in the interest of conservation.
John Joe O'Sullivan, Fermoy, fished Mask on Sunday last and reported 5 fish for his day (best at 2 lbs). Kevin Egan and his brother Michael had a good day on Friday last on wets finishing with 6 keepers (best at 1.75 lbs) and a few undersize fish. Ronan Cusack fished with his son, Conor, on Sunday and the pair accounted for 5 keepers on wet flies, two of which were on the one cast (best at 2 lbs. & all returned).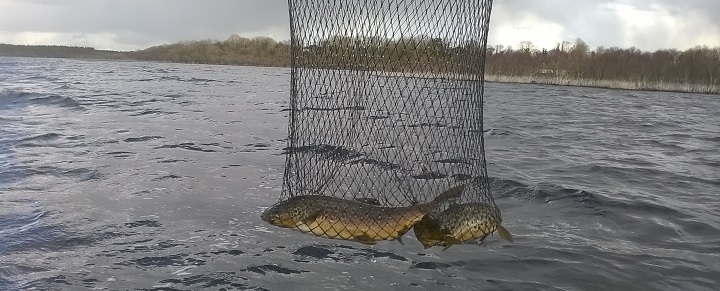 Nice Mask double for Ronan Cusack.
Eugene Fagan from Kildare reported having a trout of 4.5 lbs. on the Rocky Shore while fishing with Sean Maloney over the weekend. Elsewhere, father and son, Martin and David Connors, Armagh boated 6 fish on Tuesday (best fish 2.5 lbs.).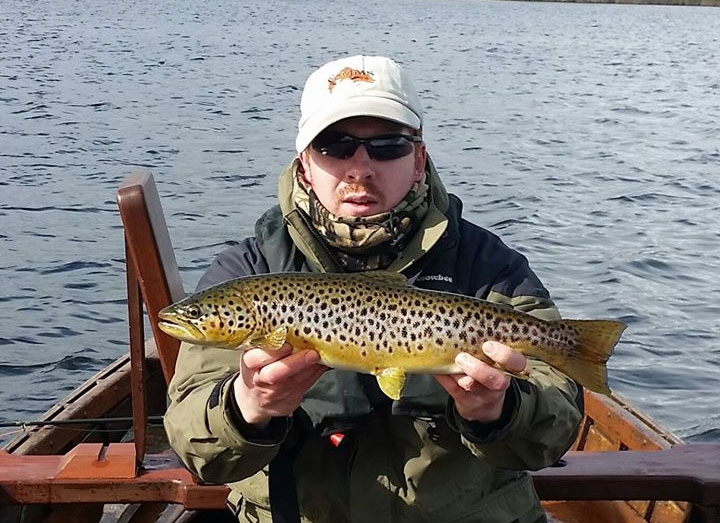 David Connors with a good Lough Mask brownie
The outlook for the coming week is for more broken weather so the good fishing looks to continue.

Lough Corrib
Declan Gibbons reports from Lough Corrib:
On Thursday 24th March, Galway West Garda Angling Club enjoyed a day out on Lough Corrib with ten anglers participating. First place went to Peter McGuinness with a fish weighing in at 1.86 lbs. Runner up was Mick McGorran with a 1.7 lbs. trout and 3rd place was Barry Carolan with a 1.2 lbs. fish.
On Sunday last, Loughrea brothers, Robert and Basil Reilly, enjoyed good fishing in the Greenfields area landing five fish over 13 inches, best at 3.5 lbs. and all sportingly released. Also on Sunday last, 15 year old Oisin Reilly from Glencorrib caught his first trout of the season. Oisin's fish weighed approx. 2 lbs and was released.

In the Oughterard area, Basil Sheilds of Ardnasillagh Lodge (+353 (0)86 0869758 & +353 (0)91 552550) reported excellent Duckfly hatches and angling to match it. Last week saw Westmeath angler Ronan McCarthy landing a cracking fish on a buzzer weighing 4.75 lbs. On Sunday last, Shannon angler Glen O'Connell had two fish on buzzers for over 5 lbs., while John Malcom, Belfast, caught a trout of 2.25 lbs. also on buzzer.
Visiting anglers Malcom Patrick & David Pilkington from the UK enjoyed a good day's sport whilst being guided by Tom Doc Sullivan (+353 (0)87 6113933) in the Cornamona area, landing five fish with the best fish being 3 lbs.