Salmon Angling
River Moy
The Moy system accounted for a reported catch of 203 salmon for the week. It was a difficult week for anglers with very high winds at the beginning of the week and fluctuating water levels. Angling effort was high, particularly in the middle and upper reaches of the river and, as a consequence a number of fine double figure fish were still caught.
On Coolcronan, regular visitor, Harald Retsch, Germany, had a 6 lbs. fish on worm, while Swizz angler, Adolf Kunze, got a ten pounder on Gannons. Adolf's fish was caught on the prawn. The Foxford Fishery produced a fine 11 lbs. salmon for Thierry Rey Dorene, France, on worm. Frank Geib from Germany succeeded on Rinanney also landing an elven pounder on prawn. French anglers, Jean-Marc Housseini, Patrice Boisadam and Gus Feillet all enjoyed good fishing on Cloongee with fish ranging from 6 lbs. to 9 lbs. All their fish were caught on spinner.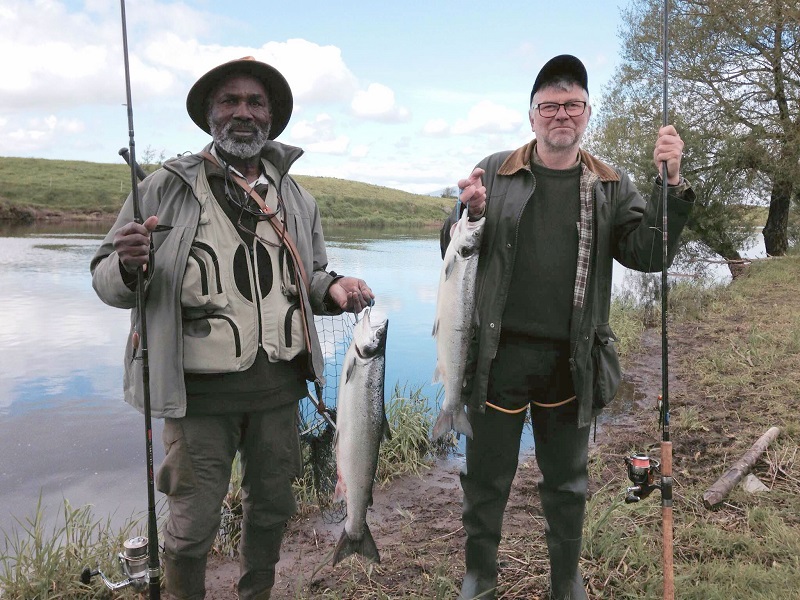 Happy French anglers, Jean-Marc Housseini & Patrice Boisadam, on the Cloongee Fishery.

Further upriver on the East Mayo water, a total of 59 salmon (7 released) were reported for the week. Amongst the successful anglers were Finn Huber, Germany, with a 7 lbs. fish on spinner and his country man, Eric Drechsler, who had two fish at 5 lbs. and 8 lbs. also on spinner.

Carrowmore Lake
Fishing on Carrowmore Lake was hampered by high winds until mid-week. After the lake had settled, a total of nine salmon were caught, four of which were released. Most of the fish weighed between 4 lbs. and 6 lbs. However, a magnificent 12.75 lbs. salmon was caught by Vincent Rigney from Westport on a small Black Dabbler. Other successful flies included Green Peter and various Muddler Head type flies.
Please note that Carrowmore Lake is a Brown Tag Fishery this year! For fishing on Carrowmore Lake contact Seamus Henry on +353 (0)97 83487 or visit www.bangorerrisangling.com
Trout Fishing
Lough Conn
Although it was anticipated that the quality flyfishing associated with the olive and mayfly season on Lough Conn would soon be coming to an end, last week proved to be as productive as the few previous ones in terms of trout catches and fly hatches. The early part of the week saw many boats and anglers taking to the water with good reports of lively fishing, mainly to dry flies.
Local boatman Kieran Connolly, who operates out of the Pontoon area, had clients out every day and they all averaged 4 to 6 "keepable" trout each day. The best fish was caught at Glass Island and weighed approximately 4 lbs. Royal Wulff and Grey Wulff were the most successful patterns.

Vinnie O'Boyle, another local Guide, operates from the opposite end (North) of the lake and he, too had some good days early in the week. The storm force winds from the south which occurred on Friday and persisted through the weekend prevented safe angling in his usual spots. He did have three good days in the Inishlee and Cloghans area, using Claret Dabblers and Bibios. One client, Derek Molloy from Co. Kildare, had 9 trout, best fish at 1.5 lbs.
Around Massbrook, Michael Shields from London fished with a party of four friends for the week and he reported 24 trout averaging 1.5 lbs., mainly on dry olive type patterns. In the same area, Noel Quigley and partner had 8 trout on one day, mainly on wet mayflies; best fish 2 lbs. Paddy Connolly, UK, had 3 good size trout each day for three consecutive days, mostly on dry mayfly patterns. John Creighton and John Murphy averaged 6 "keepers" a day over three days on dry olives and Wulffs, also in the Massbrook area.
Gary and John Binley had 8 good trout up to 1.5 lbs. in the Cloghans area, mainly on dry olives and Dessie and Mark Ruttledge had 4 trout up to 2.5 lbs. along with numerous smaller ones to 12" off Poitin Island. Mick Mc Neeley from Mullingar fished with local friend Harry Mc Cafferty in the Brackwansha area and they reported 4 good trout to 1.5 lbs. on wet fly patterns over two evenings, while Adrian Murphy along with his two young sons had 3 trout to 2 lbs. on dry olives, also along the Brackwansha shore.
Brendan Hand and Mick Naughton from Longford had three trout for 4.5 lbs. from along the Errew shoreline. Sean Reilly and Paul Johnston from Donegal caught 12 trout over 2 days, also around Errew. They fished principally with grey Wulffs and put numerous smaller fish back.
Brenda Lindsay from Manchester had nine good trout over three days on Dabblers and Black Pennells and Gerry McCarthy from Galway had 5 trout on dry Wulffs (green & olive) at the Rinmore shore, best fish 2 lbs.
With so much activity still on L. Conn it may well be that the current "purple patch" of fishing may extend well into June. Milder weather is on the way and there could be some interesting evening fishing to report next week.