Lough Mask
Ronan Cusack reports on fishing on Lough Mask. The sun shone bright across Lough Mask over the past week, yet the fly fishing remains surprisingly good. Mayfly continue to hatch in fair numbers, coupled with good hatches of sedge all across the lake, giving trout good reason to focus their attention on the surface.
Despite the tropical conditions, Tourmakeady anglers Peter Gosson and Liam Conroy had an excellent day on Sunday last, with 7 keepable trout and several undersize (best fish 2.5lbs). An Garda Síochána held a club event on Mask on Friday, fishing from both Tourmakeady and Cushlough. There was a small turnout with just 10 competitors on the day. A total of 22 trout were weighed in, with first prize going to Declan Conlon from Kildare. Declan had 4 trout weighing 5.10lbs. Second place went to John Donohue from Dublin, with 4 trout weighing 4.12lbs. In third place was Paul Corcoran from Tuam, with 3 trout weighing 3.15lbs.
Kevin Beattie and Tommy Foley, Ballinrobe, fished on Wednesday last and they had 5 fish for the day to wetfly (best fish 4.2lbs). Kevin fished again on Sunday with Christy Crotty from Waterford and they had 4 on dries (best fish 4.2lbs). Christy fished alone on Saturday and he had 8 over the size limit (best fish 1.5lbs all returned).
Wet flies have again this week been the most productive method of catching trout, with any of the mayfly and sedge patterns working well. Anglers have also begun to experiment in the deep over the past week, with some success.
The forecast for the next few days is for more settled weather, so angling predictions for Lough Mask is anyone's guess!
With the settled weather, Caenis hatches are also good on Mask. Larry McCarthy from Corrib View Lodge and Angling Services (www.corribangling.com,
093 31718) fished Ballinchalla Bay from 5.30am one morning this week and had 10 trout to 3lbs, all released. While Corrib is more renowned for the Caenis hatch, I have also seen huge numbers on Mask and Carra, so there is no reason for local anglers not to get out and try it more on these lakes.093 31718
Lough Corrib
While reports are a bit more sparse this week, with far fewer anglers out fishing, the fishing is far from sparse, with anglers enjoying excellent sport during the Caenis hatch, and indeed, mayfly fishing. While most consider the mayfly season over, there are still good numbers hatching off on some days, and anglers fishing mayfly patterns are still catching fish.
Andrew Shaw from the UK kindly sent on a report from last week's short visit. "Fishing out of Lisloughrey, Cong I took two old friends out more in hope than anything and was rewarded by some excellent fishing. Robert "Spud" Collery and Adrian Lack both had fish in the bright sunshine on the 10th on dry fly with only one other boat anywhere in sight. On Friday 11th, with odd hatches of mayfly, they took 6 fish up to just under 2lbs in the Inishmicatreer area on both dry and wet fly until we lost all the wind around tea time. We finished with a flourish on Saturday in wonderful weather and wind conditions finding reasonable hatches behind Ardillaun and in front of Cleenillaun in the afternoon, with fishing as good as it gets at the height of the mayfly period in my experience. We boated 8 good fish up to 2lbs, with plenty more juniors - all but two fish for the pot returned. We brought them back on the plane from Knock in one of Spud's Wellington boots!"
Early risers are being rewarded by good bags of fish, with Caenis hatches in full swing. Settled conditions with light winds suit this type of fishing, with stealth and accurate presentation essential for success, providing a good test of angling skill for the wary wild trout of Corrib. Anglers who can master these skills can enjoy superb fishing at this time of year, and it can be truly amazing to see so many trout rising to these hatches. Anyone who thinks there are no trout in Corrib really needs to get up early some morning for a look!
Mike Holian, from Bayview Angling Centre and B&B near Cong, was again in touch to report on more good fishing for guests. Christoph Quinter, Switzerland, spent a few days spinning and trolling, reporting 12 trout, best 3lbs, releasing all but 2. He also landed 6 pike, best 5 kgs. Hans-Ueli Studerus and Bruno Ruegger led a party of 4 from Switzerland; they fished for 10 days (trolling) and reported 32 trout, best trout 5 lbs. Maggie & David Plum, visiting from England, boated 6 trout over 2 days. Tony Hall, Ballinrobe, had 5 trout for 7lbs over the weekend fishing wet and dry fly.
To book fishing or accommodation at Bayview, contact Mike Holian at
087 2130416 or check www.bayviewangling.com 087 2130416
With settled weather incoming again over the next few days, prospects for Caenis fishing are excellent again, while sedge hatches and mayfly should keep trout interested also. Fishing will probably be best in the morning and evening, with bright conditions during the middle of the day more conducive to having a siesta in between all that excellent fishing!
Costello and Fermoyle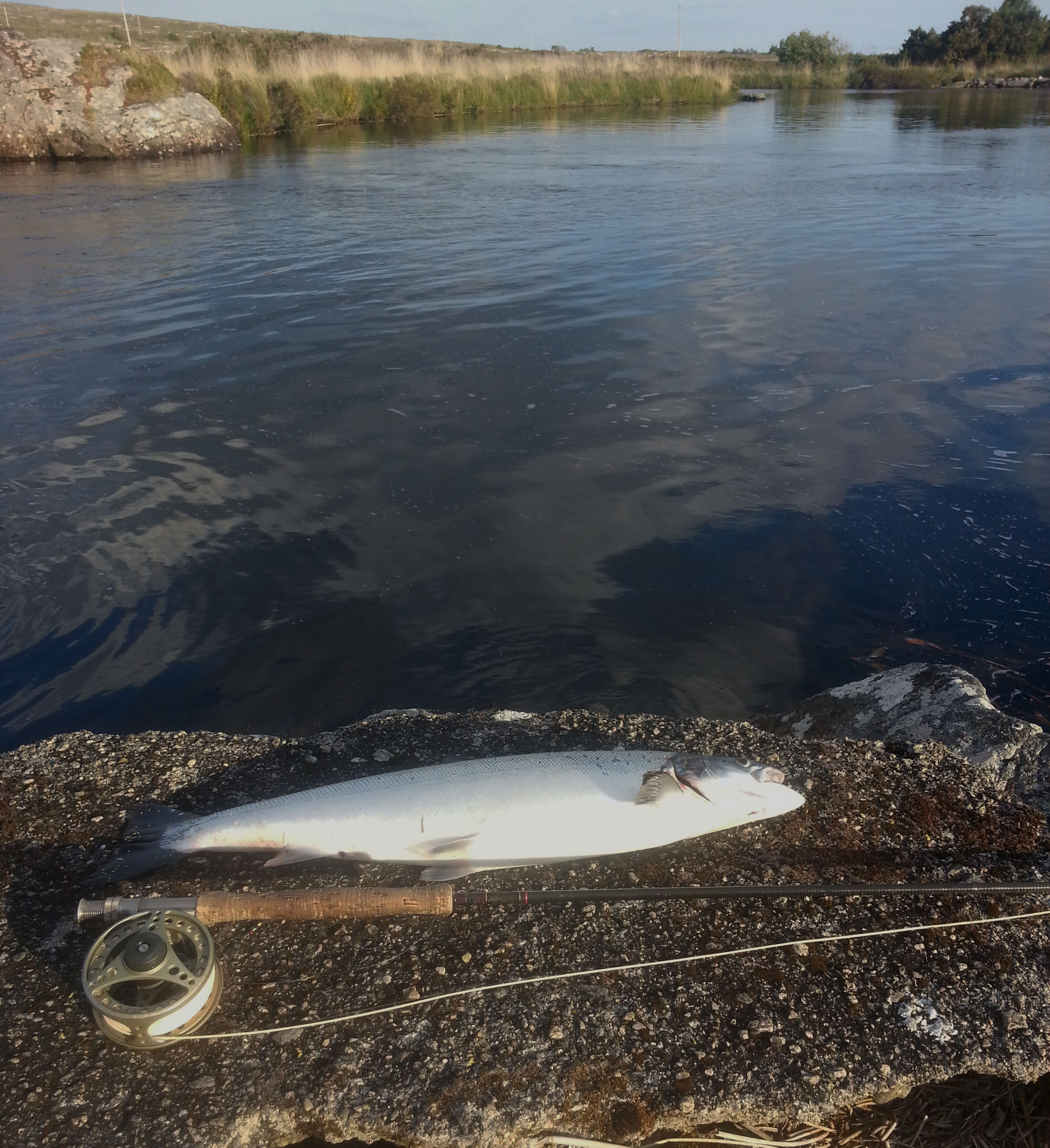 Paraic McDonagh landed this nice salmon of 8lbs from Beat 1 of the Costello Fishery, 10 June 2015.

Fishery manager Terry Gallagher reports that grilse are running in Costello, with 6 more fish since the last report. Paraic McDonagh took a 6lbs grilse from Beat 1 on a Black Shrimp, Geoffrey Fitzjohn landed a 6 lbs grilse off Beat 2 (on surprise surprise, a Black Shrimp!) & Peter McDonagh took a 9 lbs salmon from Beat 1 on a Connemara Black. 3 more fish were reported later in the week, all from the Cabbage Pool on Beat 1 and all on the Black Shrimp. Geoffrey Fitzjohn had a 4lbs 8oz grilse on Sunday, while Sean Kelly had 5lbs and 3lbs 8oz fish on Monday evening. That brings the rod catch to 13 salmon for the year so far, 11 of which have been caught this month.

To book fishing contact Terry at terrygal7@gmail.com or on
087 2399988.
087 2399988


South Connemara
Brian Curran reports that with sunshine and light winds from the west, the Hyland party from Galway had an enjoyable day's fishing on Lough Nagravin, Ballynahown, 12 miles from Galway on the road to Rossaveal. While Tom and Mark had not fished the lake for some years, they were delighted with the fishing, rising many wild brown trout and keeping a couple for the pan. Angie was able to take many photos of the surrounding area while the men were busy.
Contact Brian Curran at 0872509722 or web site:irelandwestangling.ie, to book either sea trout or brown trout fishing.