Salmon Angling
River Moy
Salmon angling on the Moy System improved further with over 500 fish reported for the week. As in the previous, the best of the fishing was confined to the tidal section of the river and the reaches upstream from Foxford town. However, the fisheries located along the middle section of the river also reported some catches.
The Ridge Pool produced a total of 20 salmon including two fly-caught grilse (4.5 & 9.5 lbs.) for Jonathan Smith from Cavan. On the Moy Fishery's Weir Pool, German flyangler, Christin Breuker, had her first ever Moy salmon, a fine grilse of 5.5 lbs. Anglers on the Cathedral Beat also did well, while Kai Puscher from Germany was successful on the Spring Wells landing a nice 7 pounder on fly.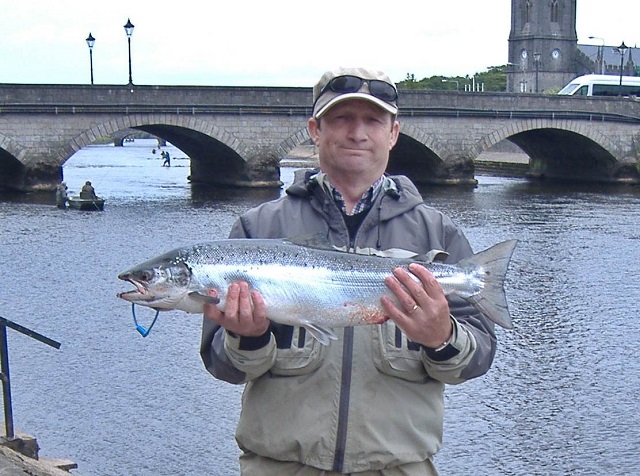 Jonathan Smith from Cavan with a 9.5 lbs. salmon from the Ridge Pool.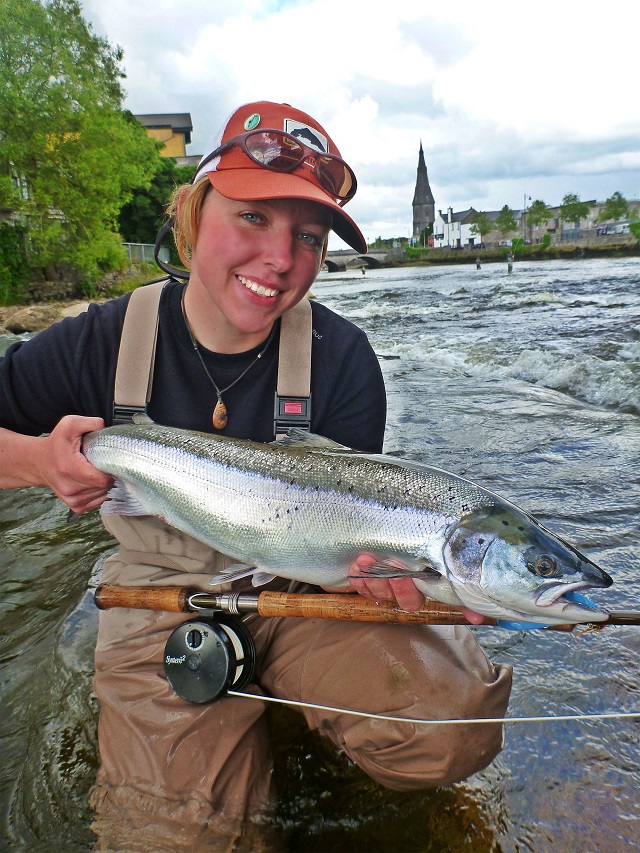 A happy Christin Breuker from Germany with her first Moy salmon.
Swiss visitor, Christian Gerber had a 5 lbs. grilse on the Mount Falcon Fishery, while Nick Roberts, UK, had one on Gannon's. Nick's fish weighed 6 lbs. and took a spinner.
The Cloongee Fishery enjoyed a red-letter week! Mark Parsley and Geoff Besher from the UK had a total for 22 salmon (4 released) for the week. However, other anglers also scored on Cloongee including Uwe Steffen from Germany with 7 fish and French pair, Nicolas Escalle and Jean-Eric Gancille, who caught a number of salmon up to 8 lbs. Most fish on Cloongee were taken on bubble & fly.
Further upriver on East Mayo, dropping water levels didn't impact as much as feared and anglers were no less successful. Flyfishing produced a good number of grilse including 5 lbs. fish for Garrett McMorris, Northern Ireland and Mark Parsley, UK.
The wetter conditions of late should see a continuation of the grilse run and hopefully improve fishing on the middle section of the river.

Carrowmore Lake
Despite changing weather conditions, anglers caught 27 salmon (11 released) over the past two weeks on Carrowmore Lake. Amongst the successful anglers were members of the Dargle Anglers who had an outing on Carrowmore during the week. The majority of the fish were fresh-run grilse between 3 and 6 lbs.
Along with the grilse there are very good numbers of sea trout entering the system providing extremely enjoyable fishing. Most of the sea trout are around ¾ lbs. weight with the odd bigger fish amongst them. However, some anglers also reported fine sea trout between 2 and 3.5 lbs. Most successful flies included Black Dabbler, Green Peter and small size Cascade patterns fished on the point.
Please note that Carrowmore Lake is a Brown Tag Fishery this year! For fishing on Carrowmore Lake contact Seamus Henry on +353 (0)97 83487 or visit www.bangorerrisangling.com.
Sea Angling
Killala Bay
Donal Kennedy reported on another cracking day's fishing in Killala Bay. On July 1st, a party of anglers from Dublin set out to fish Killala Bay in which could only be described as glorious conditions. Everything was right about the weather: calm, soft drift, some sunshine with rain to follow later on in the day.
The skipper headed far out to the head of the bay to a spot where there was a strip of sand and hard ground all around it. It was well worth the try, with 5 varieties of ray being caught: painted ray, thornback ray, spotted ray, blonde ray and cuckoo ray! The best of the ray was well into double figures and all 25 were put back alive. Along with the ray, an array of other species was caught including plaice, dab, tub gurnard, pouting, grey gurnard and dogfish.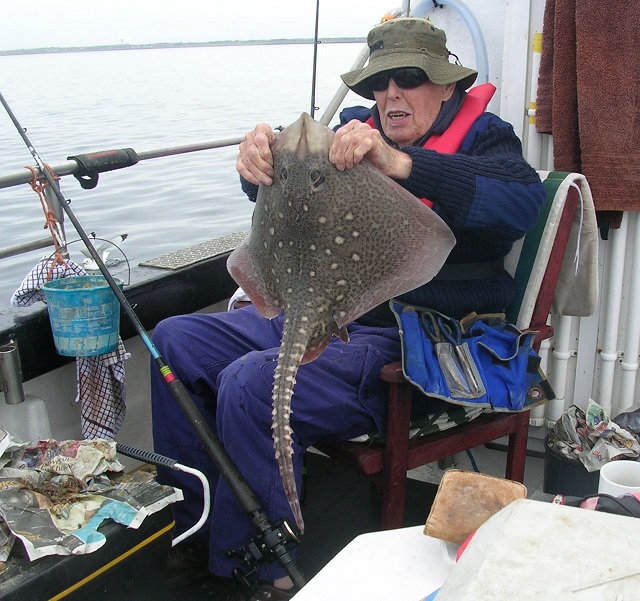 A good Thornback Ray.
As the drift passed over harder ground it wasn't long before the anglers met some fine pollack, ling and cod. Mackerel were also in good supply and at the end of the day some 14 varieties were caught.
To book a day's fishing in Killala Bay contact Donal Kennedy on +353 (0)0868174509 or visit www.dkennedyangling.net.

Moy Estuary
High spring tides on Sunday last brought big shoals of grey mullet up high into the tidal part of the River Moy. UK visitors, Gael Impiazzi and Andy Moore, made the most of this and landed over a dozen of these hard fighters on light tackle using bread dough as bait.
The pair had several specimen mullet up to 7 lbs.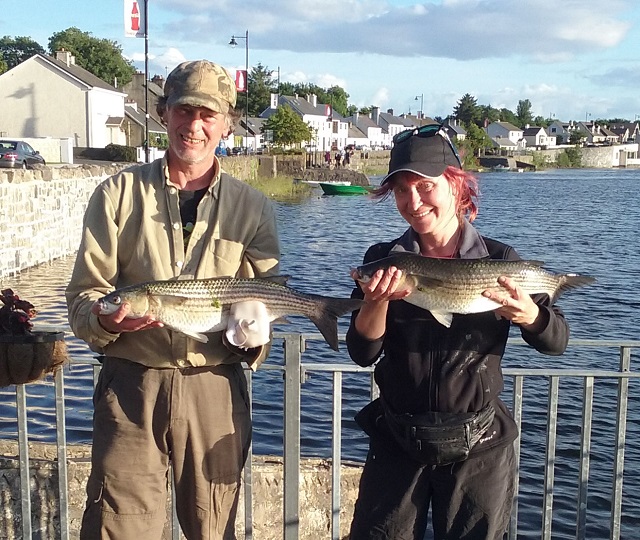 Andy Moore & Gael Impiazzi, UK, with two of their many Mullet from the tidal part of the River Moy.