Lough Mask
Ronan Cusack says there are plenty of good reports again this week, as the olives and Campto buzzer make their first appearance of 2015. Anglers have also commented on the enormous hatches of small cinnamon sedge they are encountering and trout seen freely rising.
Father and son team Gerry and Damien O'Brien from Tipperary had a red letter day on Sunday last, landing 16 trout on a combination of wets and dries, mainly in the Caher bay area (best fish 2.5lbs). Local Ballinrobe anglers Kevin Egan and Gerry McDonnell had 8 on Friday pulling wets (best fish 1.75lbs, all returned). Fermanagh angler Billy Graham also fished on Friday and he had 13 exceeding the legal limit and numerous undersize (best fish 2.75lbs, all returned).
Regular visitors to Mask Christy Crotty, John and Sean Ronane from Waterford fished over the weekend and they had 8 on Saturday and 5 on Sunday. Young Sean who is just 11 years old had his first Mask trout on Saturday. Sean was fishing dry olives in Ballahalla bay when he skilfully landed and returned a lovely fish of 1.5lbs.
Anthony Baggott and Philip McGoldrick had a lively day early last week in very blustery conditions. The lads finished with 4 keepers and returned numerous undersize (best fish 1.5lbs). Danny Joyce, Ballinrobe, fished wet-flies in the Rocky Shore area on Sunday and finished with 6 good keepers (best fish 2.75lbs, all returned).
David and Helen Hall of Halls Angling Centre also reported excellent fishing this week for guests. John O'Sullivan and friend from Killarney had 6 fish on Saturday (Best fish 1.5lb). Alan Murray from Dublin had 9 good fish on Sunday (Best fish 2.5lb). Shane Cullen also from Dublin had 12 over 3 days (Best fish 2.5lb). Dermot O'Connor had 8 fish over 4 days (Best fish 1.75lb). To book fishing or accommodation at Halls, contact David or Helen at 094 954 1389, or check www.lakeshoreholidays.com
Wet-flies on intermediate lines in very shallow water are still accounting for the majority of fish.
The long range forecast tells us that the good weather is to go before the weekend and more broken weather is to takeover, which is even more good news for anglers.
Inland Fisheries Ireland would like to take this opportunity to remind anglers that fisheries officers are continually carrying out checks and patrols around Corrib, Mask and Carra lakes to ensure that local bye-laws and regulations are being adhered to. Anglers should be mindful that since 2008 it is illegal to be in possession of any trout under 33cm (13 inches) and that there is a daily bag limit of 4 brown trout per angler per day. Also a 4 trout limit is what it says "a limit" and not a target. So please keep conservation in mind and practice catch and release. All undersize trout must be handled with great care using wet hands and returned to the water as quickly as possible.
Ronan also guides on Mask and can be contacted at cusackronan@gmail.com

Lough Corrib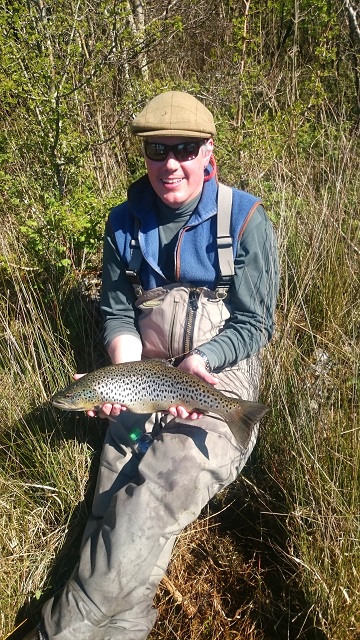 Tarquin Millington Drake from Frontiers Fishing, guided by Larry McCarthy, landed 5 good trout on his day out last Friday, including this lovely fish.

Frank Reilly reports that there was little angling on the Corrib over the last week in the bright sunny conditions, however those that did fish had mixed fishing results. Anglers reported plenty of olive with the occasional mayfly throughout the lake. Larry McCarthy of Corrib Angling Services reporting good fishing on the lower lake in spite of the difficult conditions, as the last few days were bright and windy. Malcolm Patrick, England fished from Corrib Angling Services and landed 3 good fish, including one of 4.5lbs. On Friday Tarquin Millington Drake from Frontiers Fishing, guided by Larry McCarthy, landed 5 good trout including one over 5lbs. Larry has reported more good fishing for clients since the weekend, and I should have more details next week. Ballindiff Anglers held the Michael Smyth Cup competition on Sunday the 19th, 20 anglers fished with just 4 trout landed. In 1st place was David Egan, Doolin with 3 trout for 4.65lbs, while 2nd was Glen O Connell, Galway with 1 trout for 1.5lbs.




Galway Fishery
Salmon angling has been slow so far in Galway, with persistent high water hampering angling over the first few weeks of the season. However, levels have dropped to 4 gates open on the weir lately, and since then sport has picked up, with quite a few salmon hooked and lost over the last week, including a couple of very big fish that broke anglers' lines! Leo Casey from Dublin landed a lovely springer of 13lbs 4oz on Sunday the 12th, taking the fish on fly, a tough feat in the high water. Since then 2 more fish have been landed - Paddy Murray from Kildare fished spinner and landed a nice 9.5lbs springer on Tuesday this week, while the following day local angler Simon Lenihan landed a 6.5lbs fish, also on spinner. Reports are coming in of fresh fish landed at Cong, and one of 12lbs taken on fly on the Clare River, so the spring run appears to be on, and prospects for the coming weeks are certainly improving.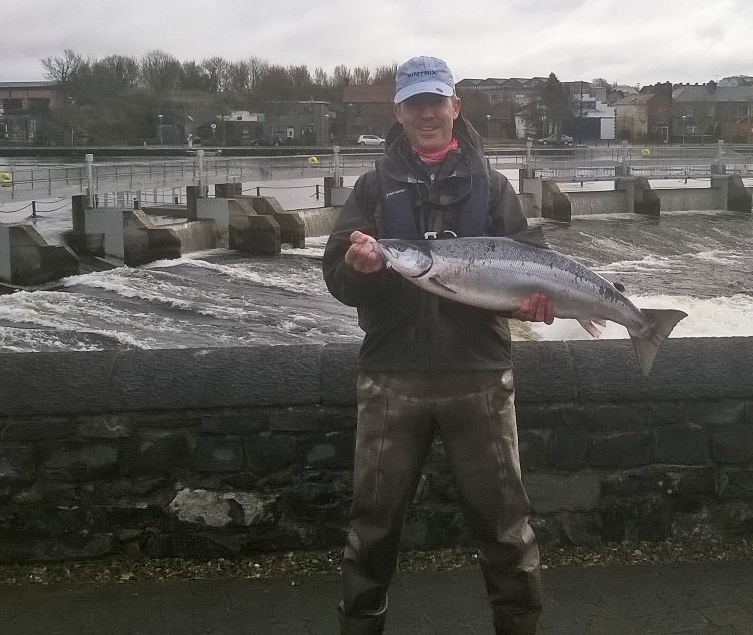 Leo Casey from Dublin with a fine 13lbs 4oz Galway salmon taken on the fly, April 2015.