Salmon Angling - River Moy
For the third consecutive week, angling on the River Moy has been slow with very few fresh fish entering the system. Despite pretty good angling conditions in the middle and upper sections of the Moy, catch numbers were rather disappointing. However, as in previous weeks, the main reason for this was a lack in angling effort. Where anglers put in enough time, success wasn't far away. That was, for example, the case on the Mount Falcon water where a total of 45 fish (36 released) were reported for the week. On Gannon's, Swiss lady angler, Ingrid Keller, had a 7 lbs. salmon on worm, while Keith Spence, UK, caught a six pounder on spinner which was released.
A group of German fly anglers did quite well on the East Mayo water catching a number of fish in the 3 lbs. to 7 lbs. range. Successful anglers included Ralf & Lars Hemmersbach, Lutz Koch and Ernst Saubach.
Trout Angling - Lough Arrow
Announcement:
Lough Arrow Fish Preservation Association & District Anglers will hold a competition in aid of North West Hospice on Sunday 27th September from 11am until 6pm. Entries accepted between 10am and 11am at Flynn's Pier or by texting your details to 086 3825376, 086 8343584, 0879734101 or on Lyttle's Island between 1pm and -2pm. Entry € 20.00. Weigh in for single heaviest fish will be in McDermott's Bar, Castlebaldwin, at 7pm followed by refreshments and raffle. All proceeds to North West Hospice. Raffle prizes would be gratefully appreciated. Club T-shirts and fleeces are also available.
Pike Angling
Foxford based angling guide, Kenny Sloan, reported good pike fishing for a group of four anglers from Austria. The anglers concentrated on surface lures and the fly and despite difficult conditions they encountered numerous follows and attacks but also caught a good number of hard fighting Mayo pike.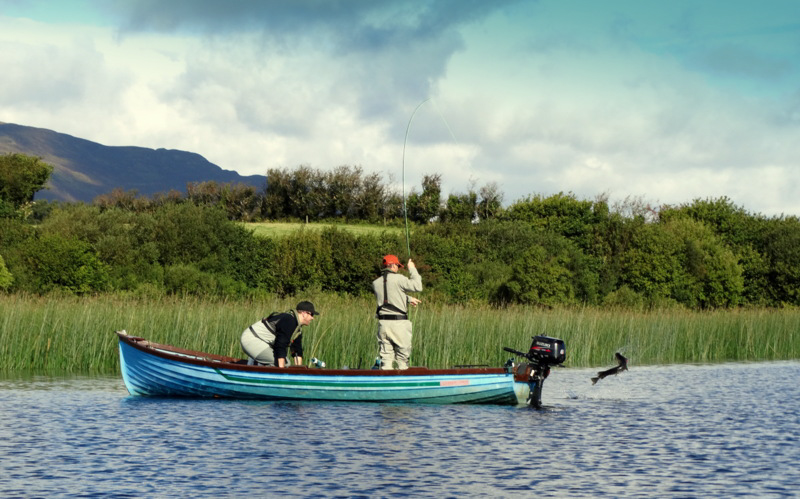 Pike on fly - always action packed!
Group leader, Christopher Oswald, finished the day with three nice pike on lures, while his friend, Gerhard, had two on the fly.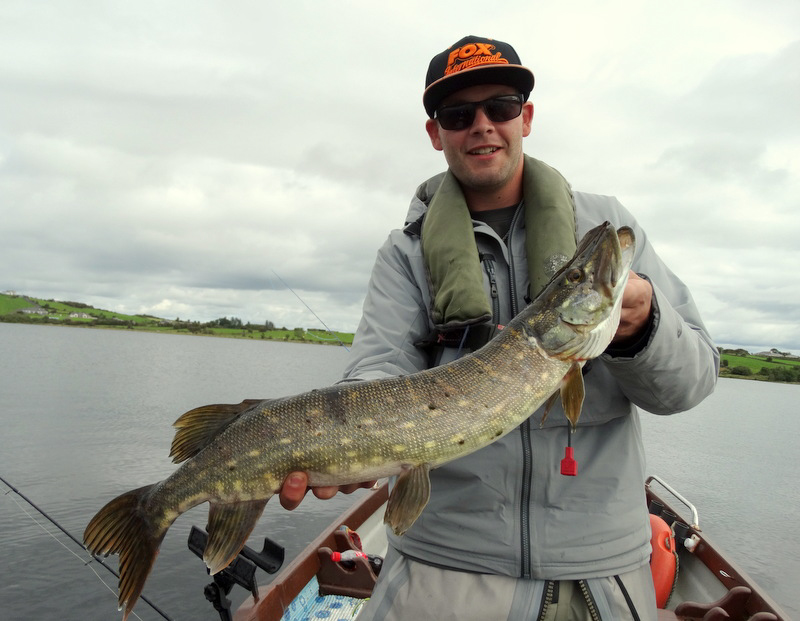 Christopher Oswald, Austria, with one of his Mayo pike.
To book a day's guiding or boat hire contact Kenny Sloan on +353 (0)949256501 or +353 (0)87 9670310.

Sea Angling
Newport
Declan Moran reports:
On Sunday 13th September, Newport Sea Angling Club hosted the Eddie Gibbons Memorial annual sea angling competition. Check in on the day was 9.00am with all anglers enjoying the club's famous fry up and hot cuppa before heading out to sea. Weather conditions were ideal on the day and catches were good on all boats. All anglers enjoyed a hot cup of soup on their return to the quay. The prize presentation was held in the Bridge Inn in Newport and special thanks go to Seamus and the staff who were on hand with hot food throughout the evening.
The overall winner of the Eddie Gibbon's Memorial Cup was Declan Gallagher with 39 fish and 195 points. The trophy was presented by Kevin O'Malley on behalf of the Gibbons family. Further results were as follows: 2nd - Darragh McGee, 3rd - Charles Murray, 4th - Joseph Chambers, 5th - Thomas Moran, 6th - Shane Gilvarry, 7th - Gerry Boiling &, 8th - Peter Coyne.
Overall winner of the Junior Cup was local junior angler, Matthew Moran, with 14 fish and 140 points. Further results were as follows: 2nd - David Loftus, 3rd - Calum Kennedy, 4th - Jessica Loftus, 5th - Conal Murray, 6th - Clodagh Moran & 7th - Tomas Moran.
Skipper of the Day: Joe Gibbons on board the Finnaun
Largest Bullhuss: Joe Chambers
Largest Ray: Gerry Boiling
Largest Ray (Juniors): Calum Kennedy
Largest Bullhuss (Juniors): David Loftus

The title of Master Angler for the senior anglers section went to local skipper Darragh McGee. Shane Gilvarry finished as runner up. The overall winner of the Junior League was David Loftus and second place went to Matthew Moran.
This event brings down the curtain on the Newport SAC season and the club would like to thank all anglers throughout the year for their time and participation in each of the events. The club would also like to thank all sponsors, skippers and of course the hard working committee who make it all happen.
Please visit Newport SAC website www.newportseaanglingclub.com for all the latest results, photos and news on forthcoming shore angling events.

Killala Bay
On Thursday 17th Sept, a party of anglers from Austria went sea fishing in Killala Bay with charter Skipper Donal Kennedy aboard his boat Leah. The group of anglers, which was staying at Mt. Falcon Estate had previously fished a number of lakes and rivers in North Mayo for pike and salmon and was keen to try their luck at something different - sea angling!
The anglers left Killala harbour around 9.30am with the weather a little overcast and some light showers promised. Winds were light from the South West and the wave movement was from the North West. This was to change in late afternoon.
The skipper wasted no time in heading out to the first fishing spot after catching plenty of fresh mackerel for bait. Donal decided to fish a sandy area out in about 35meters of water because of the brackish water that was in the bay from all the recent floods.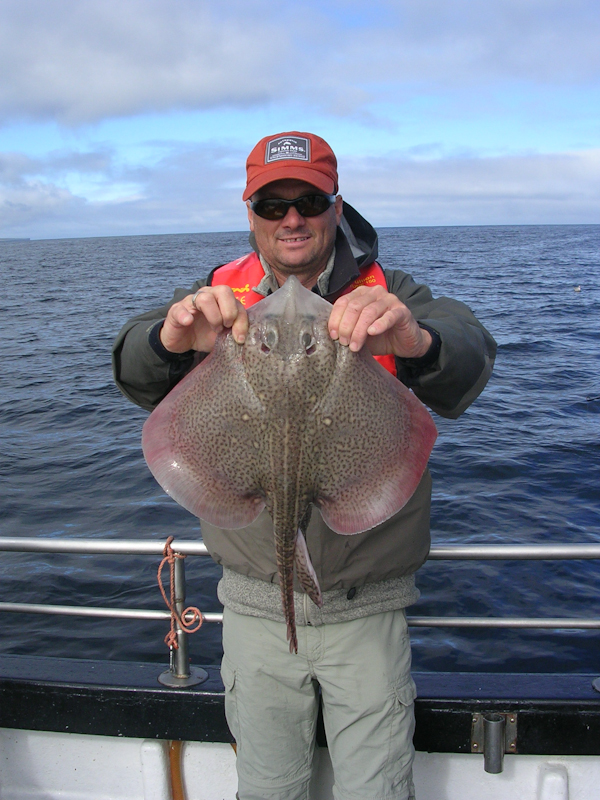 One of many Killala Bay thornback ray on the day.
The party was not disappointed by the skipper's choice because on the first drift a couple of fine thornback ray were caught and released. The second drift produced a number of lesser spotted dogfish and these were ever present during the day. As the day moved on, the catch included a couple of nice turbot.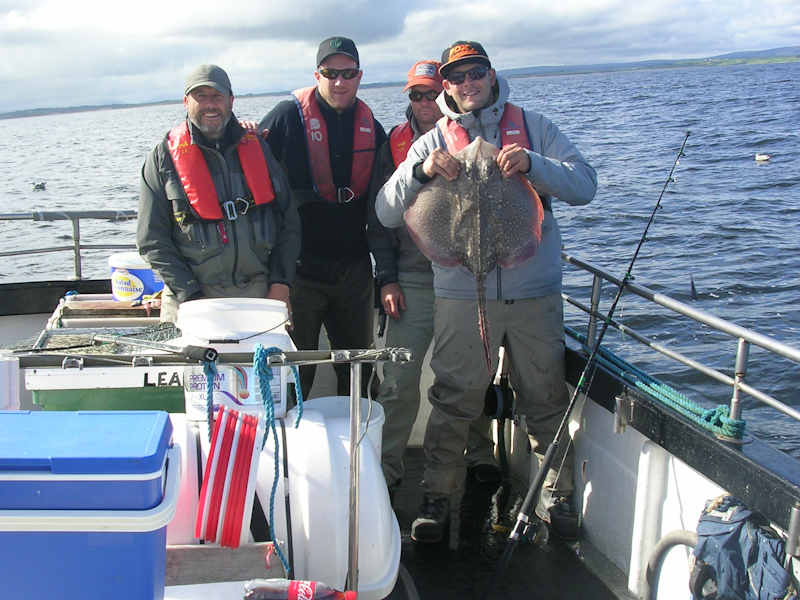 Happy Austrians on board the Leah.
The weather changed late afternoon with the wind moving out the North West and the wave motion getting stronger making it very difficult to have a stable drift. However, in the end the group enjoyed a cracking day's fishing with Donal. In total, 24 ray were caught with all but 2 being thornbacks. All ray were returned.
To book a day's fishing in Killala Bay contact Donal Kennedy on +353 (0)0868174509 or visit www.dkennedyangling.net.
---

Erriff Fishery
Fishery manager Osgur Grieve reports on fishing from the 15th to the 22nd. Following on from last week's report we had 3 more grilse landed on the 15th. Michael Vincent had a 4lbs grilse on a gold shrimp from the Garden Pool, Michael Arraitz from France had a 4lbs grilse from the Paddy Stick Pool which he returned, and Max Arraitz from France had a 4lbs grilse also from the Paddy Stick Pool, also returned. Max also lost a fine fish at the net, estimated to be 8lbs, on beat 3. Bill Sullivan from Boston, USA had a nice end to his fishing trip on the 20thth, landing 3 grilse in an afternoon on a Collie Dog from the Middle and Lower Garden Pools, all of which were returned.
Despite the efforts of seasoned anglers the fish seemed reluctant to take, which at times became frustrating to say the least. With the river showing and salmon jumping, sometimes two at a time, it seemed the salmon were more interested in acrobatics than taking a fly.
Simon Hughes had 7 hook-ups during the space of a couple of hours on the 16th, all of which came astray. This and other stories of fish being hooked and lost were the common theme for the week. ''They just didn't seem to be taking it right'' was the common consensus amongst the anglers, hopefully next week will see a different attitude from the salmon as we soon draw this season to a close.
At the moment we have beats available until the end of the season, if you would like to book some fishing please call 095 42208 or check out www.aasleaghlodge.ie
Lough Corrib
Declan Gibbons reports some good late season fishing again on Corrib. On Sunday last Ennis and District Anglers hosted a competition out of Greenfields. Ten anglers weighed in 8 trout (working off a 14 inch limit); John Connors took first place with a bag of 3 trout for 7.5lbs - John also had the heaviest fish weighing 3.5lbs. On Saturday and Sunday last Frank Reilly and Pat Winning landed 7 trout over 13 inches on a mixture of wet sedges and dry olives, and plenty more smaller fish - all fish sportingly released. Staying in the area Larry McCarthy of Corrib View Lodge (087-9135222) reports mixed fishing for the week gone by as a result of heavy rain which raised the lake level considerably. Fishing on Tuesday and Wednesday produced good sport in the Ballynalty area with 5 trout up to 3lbs, all on dry olive patterns. Two visiting anglers from the UK - Loyd Vincent and Ian McKensey - fished over three days from Friday to Sunday and caught 3 trout up to 2.5lbs on day one on dry olives, on day two struggled but on day three had excellent sport on wet flies landing 6 trout to the boat, best fish 1.75lbs. Phillip Comber of The Old Stone Barn (086-2786301) in Golden Bay reports that regular visiting angler Stephen Norton from Monaghan landed 2 trout on Saturday last with both fish around the 1.5lbs mark taken on wet flies.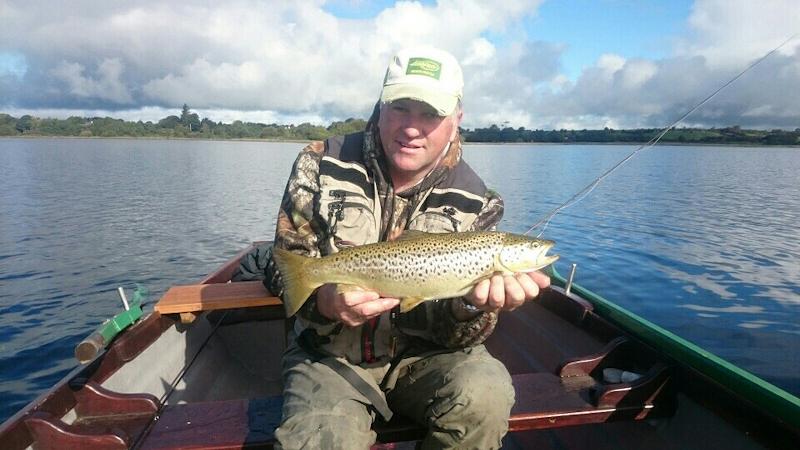 Larry McCarthy with another fine late season trout from Corrib.
At this time of year we would encourage anglers to practise catch-and-release with fish soon about to run rivers for spawning.
Kylemore
Nigel Rush reports that the 100th salmon of the season was landed by James Barry from Cork, fishing with Jason Nash he landed a well-coloured cock fish in glorious autumn spawning livery. The fish was released again after a quick photo. The two lads thoroughly enjoyed their day on the river, exploring all the streams and pools that make up this fishing gem in deepest Connemara, and have vowed to return next season.
Unfortunately, further floods following Sunday's heavy rain put the fishery out of order again, although it should be coming into perfect fishing order again for this final weekend of the season. Kylemore is well worth a throw for the last cast. To book fishing, contact Nigel at 087 9580702.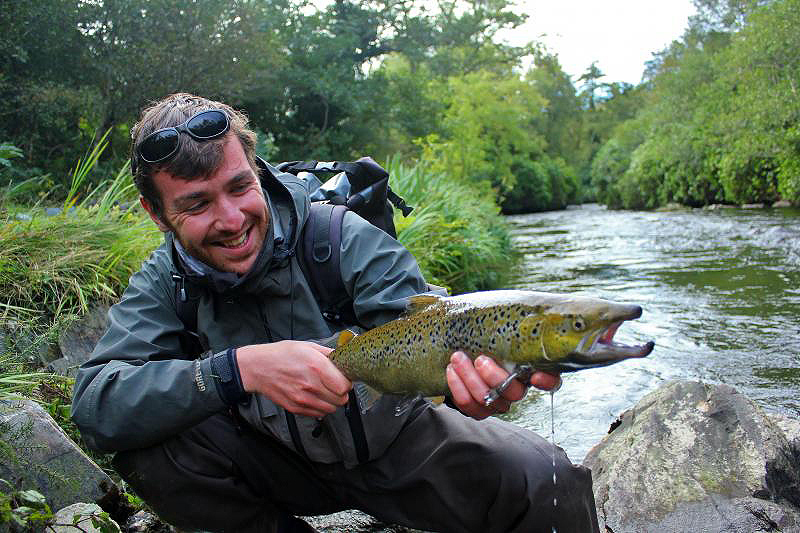 James Barry with the 100th salmon of the season for Kylemore Abbey Fishery, a well-coloured grilse in spawning livery that was released after a quick photo.
Sea Angling
John Fleming, skipper of the Brazen Hussy in Galway Bay, reports he had absolutely cracking lure fishing in Galway Bay over the last week with all fish a decent average and a lot of cod showing.
On Wednesday John had 15 blues to the boat, which were all tagged and released, and as many more dropped runs. Fantastic sport with sharks circling the boat all day! John has good availability and with such good fishing available at the moment it should be a good day out. To book fishing contact John at 087 7571320.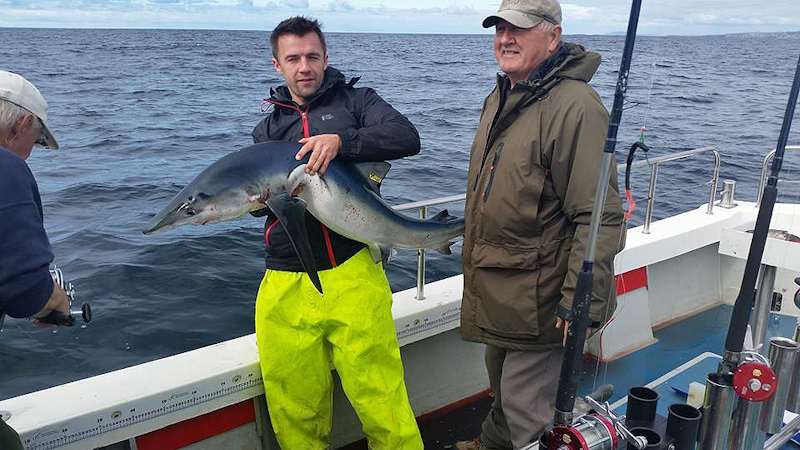 One of 15 blue shark caught aboard the Brazen Hussy by skipper John Fleming and his crew recently, with many more fish lost and sharks circling the boat all day long!
John Brittain, skipper of Bluewater out of Cleggan, also reports good ground fishing, with plenty of pollack, ling and cod being caught. John also reports several sightings of bluefin tuna busting through shoals of bait fish, which echoes similar sightings all up and down the west coast over the last few weeks. It seems bluefin numbers are the highest ever seen off our coast this year, which makes the refusal of the Department of Agriculture to permit a recreational fishery all the more bewildering. Ireland has no quota for bluefin tuna, which is the rationale for the decision, but a recreational catch-and-release fishery would not use any quota, as all the fish are released alive again. While other European countries have quota and can fish bluefin, including taking fish off our coast, Irish skippers are not even allowed fish for them in a sustainable manner, denying them valuable charter business at a time when the whole charter fishing industry is struggling. Hopefully sanity will prevail soon and skippers can market a quality big game fishery for next year to match anywhere in the world.