Galway Fishery
I was called out yesterday by an angler who shall remain nameless (ahem, Colm) for being overly optimistic in recent reports about the prospects for angling in Galway. Well this week I am happy to have been proved right, as a good run of excellent quality spring fish provided some great sport for anglers. 17 salmon were landed for the week, including plenty on fly, and a good deal more fish were lost after good sport. Declan Tuffy was top rod this week, with a cracking fish of 13.5lbs taken on fly.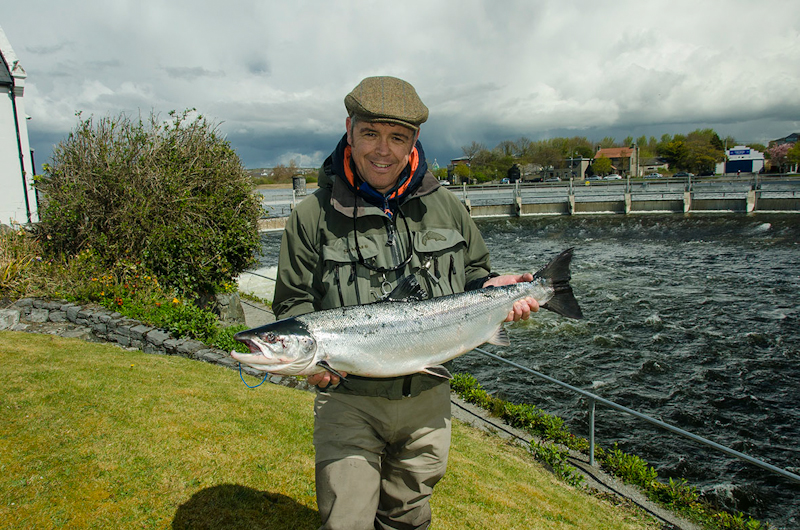 Athenry angler Declan Tuffy with a beautiful 13.5lbs salmon caught on the fly at the Galway Fishery, 29 April.
Sunday was the best day of the season so far, with 5 landed, including fish for Paul O'Malley (6lbs, taken on shrimp), a 12lbs fish for John McCarthy on shrimp, Paul Stewart's 12lbs fish on fly, a 10lbs fish for Christian Berger, also on fly, and a 5.5lbs grilse for Declan McInerney taken on shrimp. The fishery averaged 1-2 fish a day for the rest of the week, including fish of 10lbs for Jon Menzies and Paul Wymes, fish of 9.5lbs and 8.5lbs for Padraic Corrigan and Seamus Nee (both on fly), and an 11.5lbs fish for Ber Gilsenan on spinner.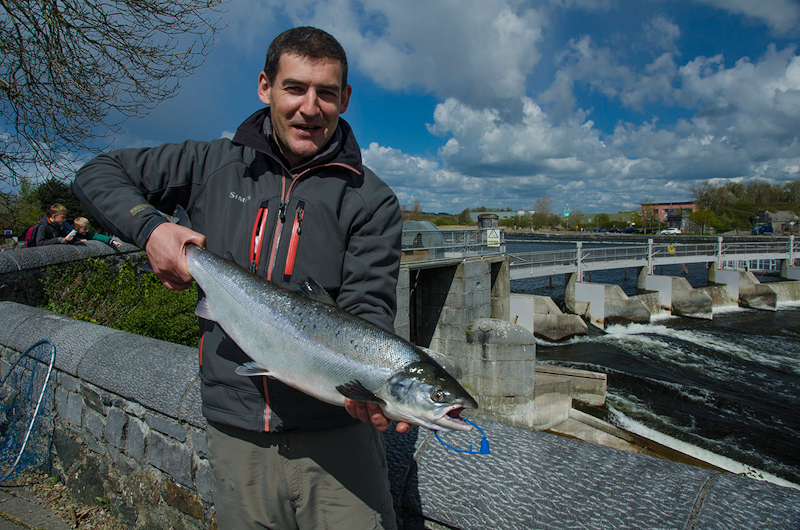 A fine salmon of 10lbs was the reward for Paul Wymes on his visit to the Galway Fishery, 29 April.
Louis Mathews landed an 11lbs fish on fly, while former fishery manager kicked off today with a lovely 12-pounder on the fly. Louis Brennan followed that up with a 12.5lbs fish on spinner, while Sean O'Toole has kept things going with a 8.5lbs fish on shrimp.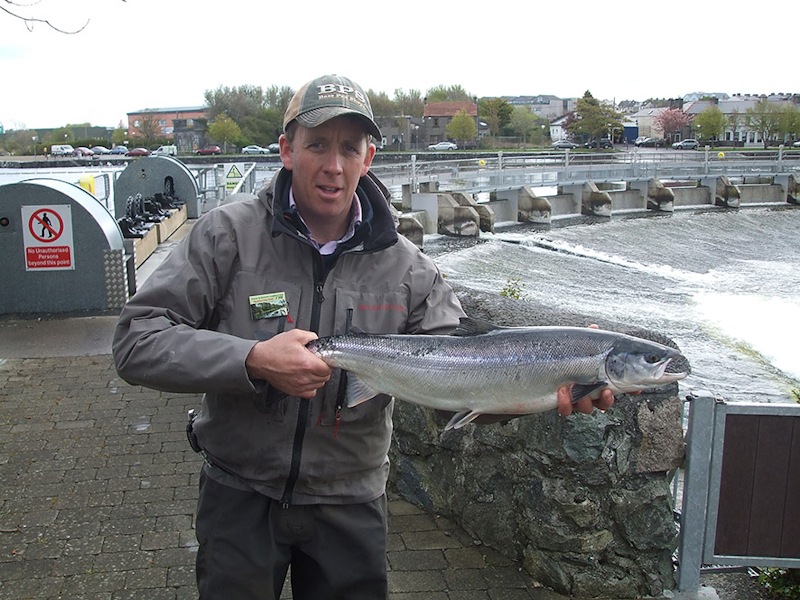 Padraic Corrigan with a fine 9.5lbs salmon taken on fly at the Galway Fishery, 30 April.




Water conditions are good at the moment, with 2 gates open on the weir, and with the forecast set to pick up slightly, fresh fish of a great size running the river, I'm going to put my neck on the line again and predict good fishing prospects for anglers again over the next week. You heard it here first Colm!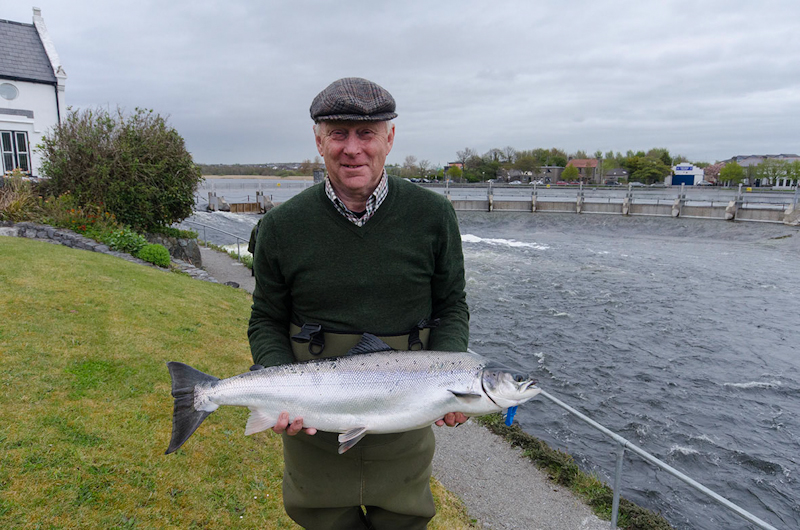 Jim Stafford with a fine 12lbs salmon from the Galway Fishery, 4 May
Lough Corrib
Declan Gibbons reports on a week of cold, sometimes stormy conditions, but fishing was good on some days and has picked up well since the bank holiday.
In the Cornamona area Tom Doc Sullivan (087-6113933 for guiding & boat hire) reported a good day's fishing in the Cornamona Anglers Annual Wet Fly Competition, with 30 rods landing 45 trout on the day. First place went to Gerry McDonnell with a bag of 4 trout for 7.59lbs, second place went to Joe Quinn with 4 trout for 6.29lbs and third place to club chairman Mairtin Kinneavy who also had 4 trout weighing 5.7lbs. The heaviest fish on the day went to Dooras man John Diskin with a trout of 2.85lbs.The average weight on the day was 1.52lbs.
Also in the Cornamona area Richard Molloy of Ballard Shore Boat Hire & Self Catering (087-2879339) reported visiting Northern Ireland angler Colin Wilson catching 3 lovely trout in the Carrick area on wets, and visiting Swiss anglers catching plenty of trout on wets and trolling - all sportingly released.

In the Oughterard area Gerry Molloy (087-9190673; www.loughcorriboughterard.com) Self Catering & Boat Hire hosted two visiting Swiss anglers who enjoyed a day's fishing with him, which saw them land 4 trout for their day, sportingly releasing two of them back into Lough Corrib. Also in the Oughterard area Basil Shiels of Ardnasillagh Lodge (086-0869758) reports excellent olive hatches but the fish being somewhat moodier than the abundant fly life, with temperatures not helping, but fortunately these look set to rise in the coming week. Those who fished out of Ardnasillagh Lodge during the week gone by included Coleman Counihan from Gort, who had 7 fish for 2 days fishing with his best fish 3.5lbs, all on buzzer. Mick Kelleher from Clare had 2 fish for his day's outing with the best fish being 4.25lbs. Joe Barry from Cork had 6 fish for 2 days - best fish around 2.5lbs. Joe Murray from Shannon had 2 fish on buzzer with his best fish being 4.5lbs
Staying in the Oughterard area, an International Angling/Golfing Competition on Lough Corrib was held on Saturday and Sunday last. 24 rods participated in the angling section of the event catching 45 trout for the two days with a total weight of 56lbs. Average weight of the fish was 1.25lbs.
First place went to Gerry Dixon, Oughterard and Johnny Flaherty, Renvyle with 11 trout for 14lbs.
Second place went to Toby Bradshaw, Moycullen and Joe Creane, Roundstone with 5 trout for 12lbs.
Third Place went to Oughterard brothers Tom and John Kelly with 8 trout for 10.5lbs.
Raymond Lee Oughterard had 4 trout for 7lbs on wetfly day last week, and visiting Northern Ireland angler Gerry Sands and partner had 8 trout for 13lbs for 2 days fishing.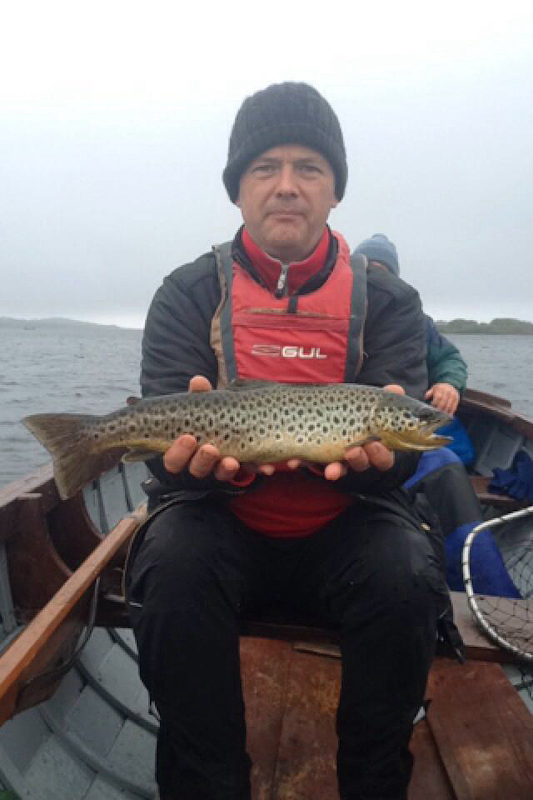 Michael Spelman, originally from Cornamona, with a nice Corrib trout caught while home visiting from the UK.
In the Cong area Frank Costello (087-2524253) reported slow trout fishing activity in the area due to the weather and sparse hatches. On Sunday last he had one guest out Michael Harvey, from Castlerea, Roscommon who finished with 2 trout on dabbler patterns.
Mark Wilson was also in touch with a report on a good day's sport for himself and family member Martin. Martin had 3 lovely trout on wetfly, best fish 2lbs on a Fiery Brown. Conditions ranged from winter to spring to summer in the one day! They saw few olives but did see some early mayfly in the afternoon in the lee of some islands, with the odd trout starting to come to them. It won't be long now!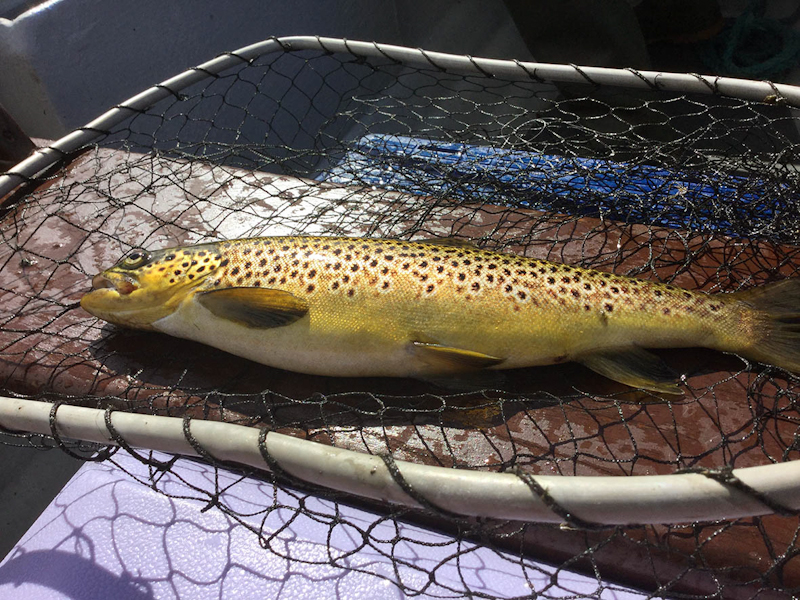 A lovely well-fed Corrib trout caught by Martin Wilson, April 2016
The Oughterard Anglers are also hosting the International Mayfly Competition this weekend, as part of the Mayfly Festival, which will see a hive of activity in the town from Thursday evening through to Sunday. The angling competition, which is the main event, takes place on Sunday, with fishing from 10.30am. Entry is €25, which includes a BBQ steak dinner. Full details of all the festival events can be found here http://www.discoveroughterard.com/international-mayfly-festival.html
Erriff Fishery
Fishery manager Osgur Grieve was in touch today to report on a fantastic day yesterday for anglers, with 3 super spring salmon landed. Delphi regular Urs Liebundgut was first off the mark, with a lovely salmon of 11.6lbs on a Cascade fly. He was followed by Nico Mittman, who had a fine 9lbs salmon, taken on a Green Butt Cascade. Later in the day Yvonne Zirngibl from the same group hooked and lost another salmon, and that evening local angler Peter Coyne kicked off his season in style with a 10.5lbs ranched fish, taken on a Cascade tube fly.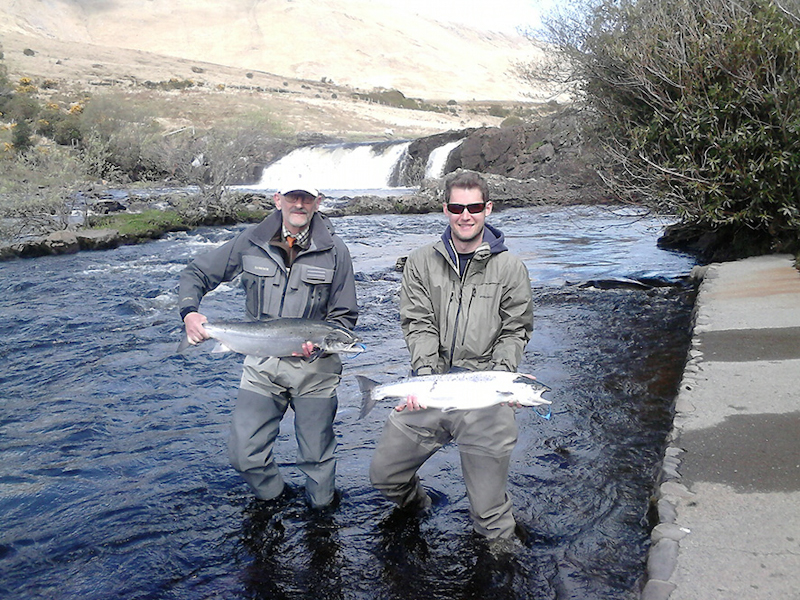 Urs Liebundgut and Nico Mittman with two fine spring salmon from the Erriff, 3 May 2016
It's great to see such good sport this early in the season on the Erriff, which hopefully bodes well for the rest of the season. To book accommodation or fishing contact the staff at Aasleagh Lodge on +353 95 42208, or check out their new and impressive website at www.errifffishery.ie