WE are well into the last week of the game angling season in the West here, with Friday the 30th the final day for action. I'm sure a lot of anglers will be out for a last cast before putting away the fly rods for the winter, so best of luck to everyone out after a final fish of 2016.

Erriff Fishery
Fishery manager Osgur Grieve reports that there were 3 salmon caught during the past week (20 - 25th September). Ian Ferris was first off the mark with a nice 5.15lbs grilse from the Falls Pool on a Stoat's Tail. Ian returned 3 small sea trout and was also unlucky to lose another grilse earlier that day. Saturday 24th saw a big flood of 2.8m come down the river leaving it unfishable for the day. The river conditions were a lot better on Sunday 25th and Tony Carmody released a nice fresh grilse of 6lbs from the Middle Garden Pool using a Collie Dog. Later that day Rupert Banks had a 3.5lbs grilse from the Upper Square Pool on a Red Francis.

We still have some fresh fish entering the system and water levels should be reasonable with rain keeping water levels up.
Fishing prospects look good for the next few days with plenty of water in the system and we still have rods available for anglers looking for late season salmon fishing.

For bookings please call (095) 42208 or check www.errifffishery.ie
Lough Corrib
Declan Gibbons reports the last week of angling on Lough Corrib has been of mixed fortunes for anglers availing of the last bit of action before the end of the season. Daphnia and sedge patterns have been producing the bulk of activity and results. Anglers are encouraged to practice catch & release as fish will be congregating to run rivers for spawning in many areas of the lough.

Starting off in the Cornamona area Tom Doc Sullivan (087-6113933) had 5 fish for two outings during the week, with the best fish being 3.25lbs on the south side of Dooras peninsula. Also in the Cornamona area John Somerville was guiding Darragh Musgrave from Cork and John Watson on Saturday and Sunday last, Saturday producing the best fishing with Darragh landing 2 trout of 3.82lbs and 2.6lbs. John Watson has been fishing Lough Corrib since 1972 when he was guided first by John's late grandfather and well-known boatman Paddy Somerville, and hasn't missed a trip to Corrib every year since, with John being the third generation to guide him!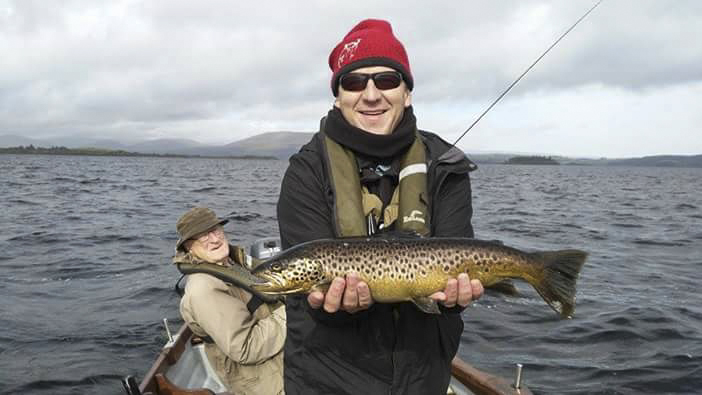 Darragh Musgrave & John Watson (seated) with a fine late season Corrib trout, September .2016. Photo: John Somerville
Also in the Cornamona area on Thursday last Peter Walsh, Kevin Cronin & Marcella Senior had good sport dapping grasshoppers and daddies landing a few fish with one fish over three pounds.

Larry McCarthy reports from Corrib View Lodge (www.corribangling.com) that even though the weather conditions were difficult the trout were still accommodating anglers. On Monday Larry caught 3 trout on wet fly in the Greenfields area with the best fish being 2.5lbs. Ian McKenzie and Martin Cottis from the UK had three days fishing being boated by Larry, and had their best day on Tuesday with 6 fish to dry sedge patterns in the Ballycurrin area. The best fish was caught by Ian and weighed 4lbs. Frank Reilly guiding Steve Whittaker over two days returned 6 good trout on wet and dry fly patterns.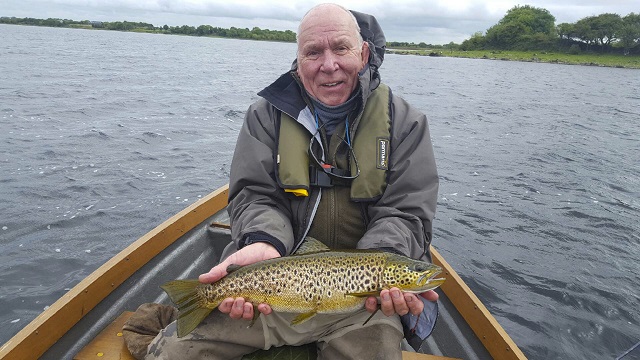 Ian McKenzie with a nice late season trout from Corrib, September 2016. Photo: Larry McCarthy.
On Sunday last Annaghdown Angling Club hosted the Michael Kavanagh Cup in which 11 rods participated and 5 trout were weighed in. Top rod on the day went to Ronan Sweeney with 4 fish.
In the Oughterard area Basil Sheilds of Ardnasillagh Lodge (091-552550) reports reasonable fishing mainly in the deeps and on Daphnia. Michael Keogh had 2 fish on wets for one days fishing and Michael Gallagher also had 2 fish for one day's fishing. Jim Flynn had 1 fish for his outing. John Tormey and friends had 6 fish for their day fishing on Lough Corrib, all on wetfly. Basil himself and friend Tom Coyle had 6 fish on Sunday for their efforts. Kevin Molloy (087-9604170) reports on visiting USA anglers enjoying a day's fishing on Tuesday last, landing 3 fish with the best being 2.5lbs. On Wednesday Kevin had visiting French anglers out and they had 2 trout for their day. On Thursday Ian Cregg had 4 trout with the best fish being 2.5lbs.

On Friday David Donnelly and Kevin had 4 fish on wet flies with 2 of the better fish being around the 3lbs mark.
On Saturday the Ennis Anglers club fished from Greenfields which saw 11 anglers weigh in 4 fish. Michael Killeen was the winner with 1 fish for 0.83kg (winner on length), pipping Ernie Callan who also had 1 fish for 0.83kg. Patrick O'Loughlin was 3rd with 1 fish for 0.81kg, and Tim Queally was 4th with 1 fish for 0.76kg.
On Sunday the same club hosted the Harry Kelly Cup out of Greenfields which saw 14 anglers weigh in 7 trout. Harold O'Toole took first prize with 4 fish for 6lbs 9oz; Paul Dignam was second with 2 fish for 5lbs 11oz, also winning the Harry Kelly Cup for club members, and third was Sean Naughton with 1 fish for 1lbs 10oz.
On Sunday last The Commercial Boat Club in Woodquay hosted their Last Cast Competition in which 18 anglers participated, weighing in 7 trout for 19.5lbs. All catches were in the lower lake area. First place went to Stephen Greaney and Harold O'Toole with 1 trout for 4.35lbs. Second place went to Nicholas Hanley and Robbie Pitman with 1 trout for 4.20lbs.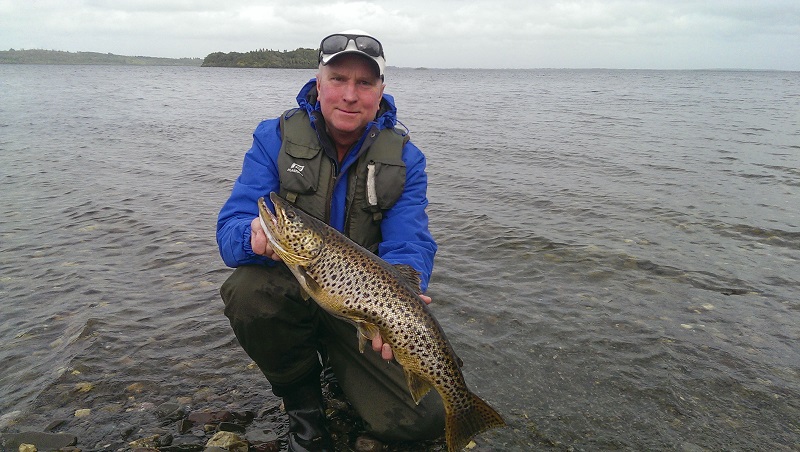 Paul Geraghty from Asbourne, Co Meath with a lovely Corrib Ferox Trout, September 2016.

Finally, Paul Geraghty Myself and three pals from Ashbourne, Co. Meath fished Corrib on Saturday 24th, trolling roach for Ferox Trout over deep water in the Inchagoill area.They had 4 trout for the day, weighing in at 13lbs, 12lbs, 7lbs and 4.5lbs. All fish were weighed, photographed and carefully released.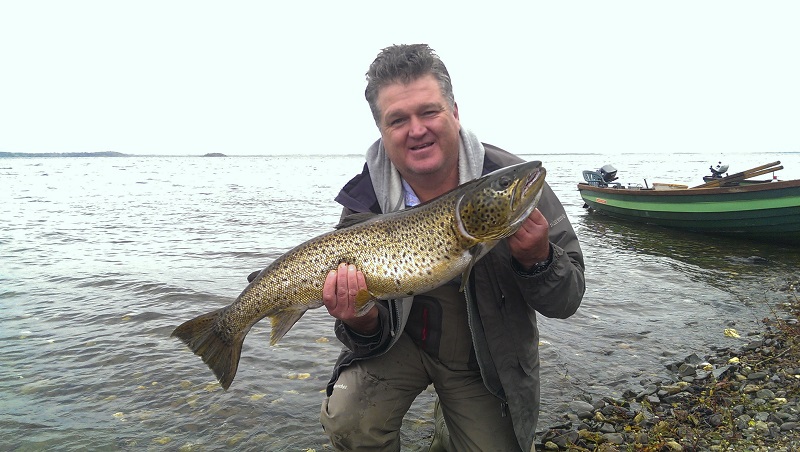 Lough Mask
Ronan Cusack had mixed reports from Mask this week as the trout season draws to a close. Father and son team, Gerry and Damien O'Brien from Ballinrobe had 7 good trout on wet-flies across the deep on Sunday last (best fish 2lbs) and also reported returning several undersize. Kevin Egan and Michael Vahey, also from Ballinrobe had 4 on wets between the shallows and the deep on Sunday (best fish 2.25lbs, all returned). Richard Cameron and Ronan Cusack had a lively day on Sunday in the deep. The lads finished with 3 to the boat and lost at least 5 more just before the net (best fish 1.75lbs, all returned). 17 anglers weighed in 6 trout in a friendly end of season competition out from Dringeen on Sunday last (best fish 1.75lbs). Tourmakeady anglers held their last competition of the year on Sunday, which was run on a catch-and-release basis. First prize went to Liam Conroy who had 3 of the 10 trout that were caught in total.

Finally, Max Mallick from France had a lovely pike of 1.15 metres with Brian Joyce of Derrypark Lodge while trolling on Mask over the weekend.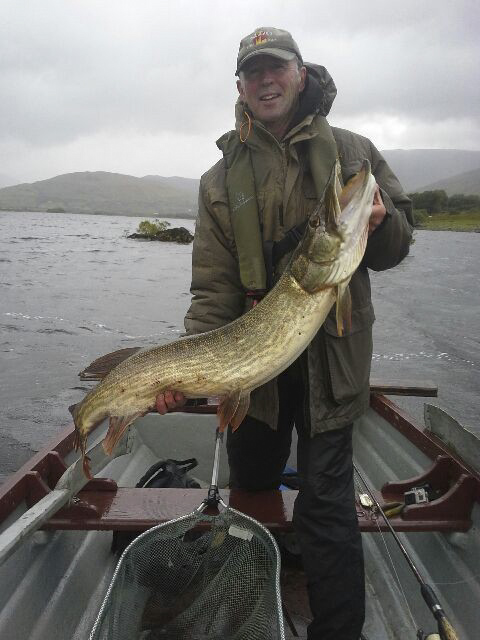 Angling guide Brian Joyce holds a beautiful 1.15m pike caught by Maxd Mallick from France on Lough Mask, September 2016 Westport Anglers Junior Competition.
Westport Angling Club recently held their annual junior competition for local youngsters on Moher Lake, near Westport. 17 young anglers fished on a day that threatened rain, but the competition was finished just in time before the downpours arrived. The event was a great success, and the winner on the day was Naoise Kennedy with 6 fish for 2.670 kilos. Patrick Hegarty was second, and in third place was Joseph Cleary. Adam Walsh won the heaviest fish prize with a trout of 0.838kg. All the small and wild fish were released. Well done to all involved on a well-organised competition and a great day out for the young rods!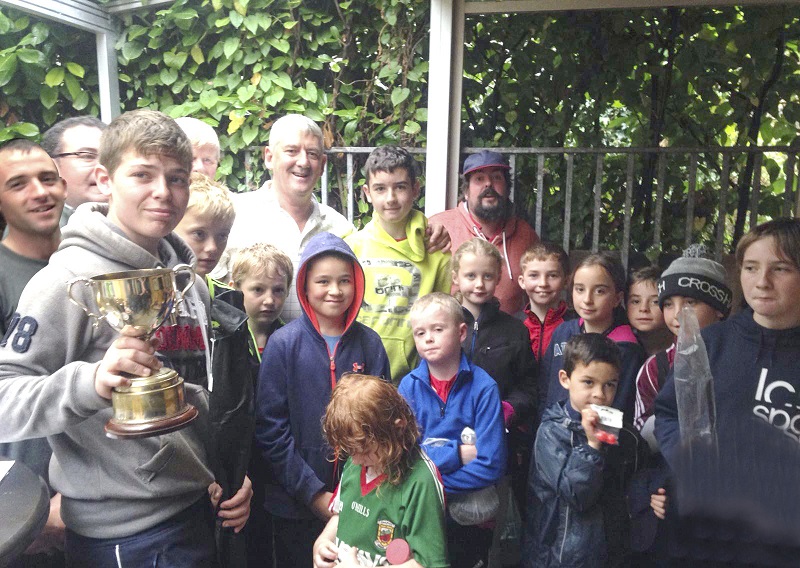 Some of the happy anglers who participated in the recent Westport Anglers Junior Competition, won by Naoise Kennedy, with some of the club members who helped organise and steward the competition. Well done to all!