Salmon Angling
River Moy
Fishing was mixed over the past week, with 284 salmon reported for the Moy system. The sunny weather and dropping water levels impacted on most fisheries upstream of Ballina. However, the Moy Fishery had its best week of the season so far with a total of 34 salmon caught.
Fergal Kyne from Galway had two grilse on fly: one on the Ridge Pool and one on the Cathedral Beat. Also on the Cathedral Beat, US lady angler, Phoebe Bean, landed a fine eight pounder on fly, while John Phealan, Co. Laois, had four on the Weir Pool (one released).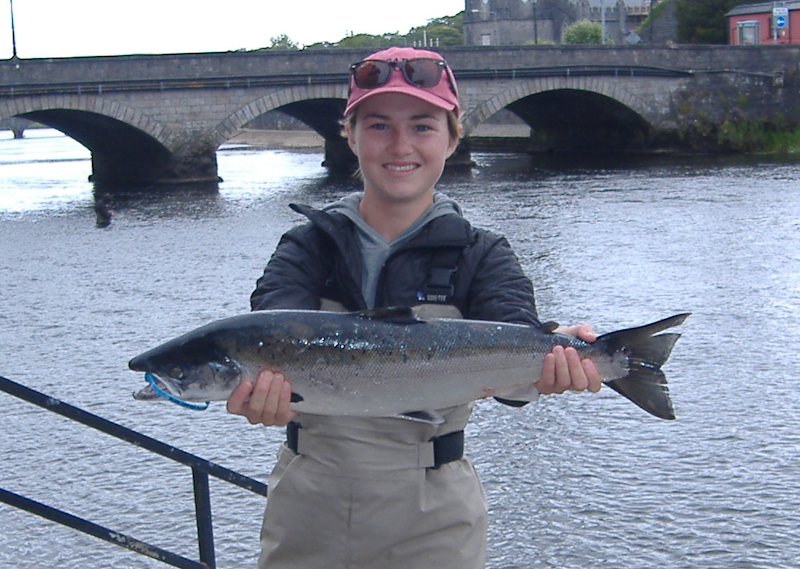 A smiling Phoebe Bean, US, with her 8 lbs. Cathedral Beat salmon
Italian visitor, Filippo Maximo, won't forget his day on the Mount Falcon water where he caught his first ever salmon; a lovely grilse of 5 lbs. Flyangler Sean Reilly from the UK also had a 5 lbs. grilse. He was successful on the Foxford Fishery.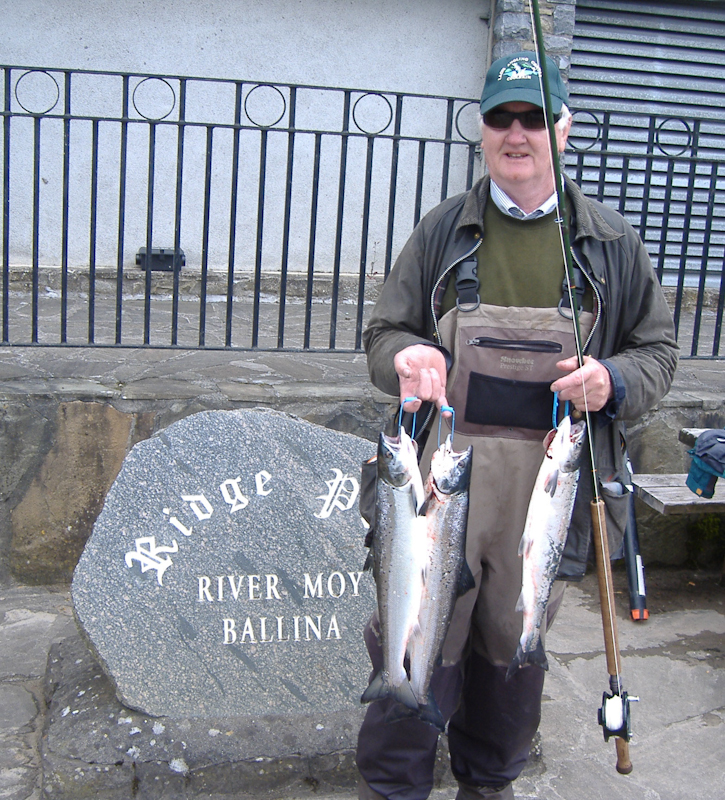 Successful on the Weir Pool: John Phelan, Co. Laois.
With a total of 10 fish Patrick Rousseau and Jean-Jaques Daurant from France enjoyed a good week's fishing on the Cloongee Fishery. Their best fish weighed in at 10.5 lbs.
Further upriver on East Mayo, French flyangler, Alain Bouvet had a fine 12 lbs. salmon, while his countryman, Patrice Lacombe, landed a 6lbs. fish also on fly.
With the grilse run in progress and wetter conditions around the corner prospects for the coming weeks are looking good.

Carrowmore Lake
Local and visiting anglers alike enjoyed good fishing during the past two weeks on Carrowmore. The lake still produced the odd fresh springer but with good numbers of sea trout now running the system, angling has become a lot more entertaining.
Paul De Neef and his friend Danny Verbessem from Belgium boated a total of 5 salmon (two released) during their visit and rose and lost many more. They also caught a few sea trout; many in the 1 ½ to 2 ½ lbs. range.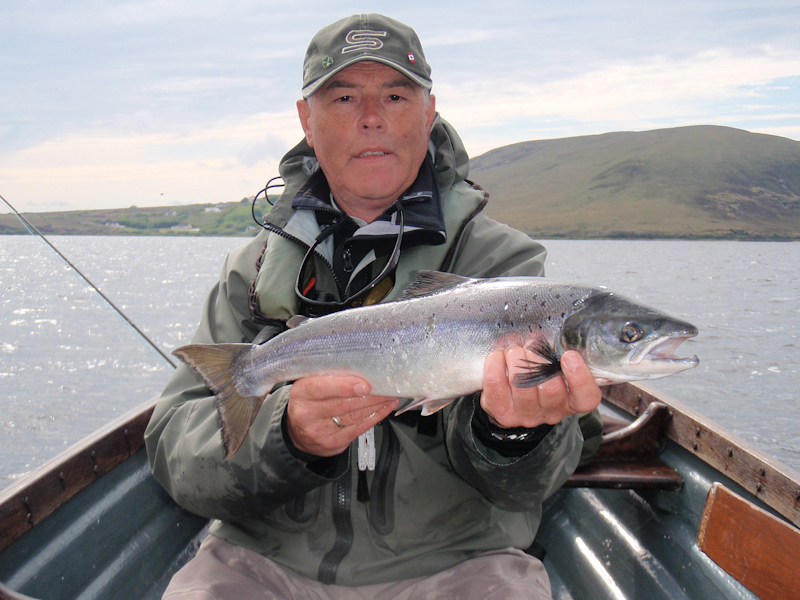 Paul De Neef, Belgium, with one of his Carrowmore grilse.
Most successful flies included Green Peter, Clan Chief and various Muddler Head patterns.
Please note that Carrowmore Lake is a Brown Tag Fishery this year! For fishing on Carrowmore Lake contact Seamus Henry on +353 (0)97 83487 or visit www.bangorerrisangling.com
Burrishoole Fishery
The Burrishoole Fishery opened on the 17th of June with good numbers of fish showing. Despite excellent conditions, angling effort has been low so far. However, local anglers Joe Cooney and Padraic Farrell had a grilse each during opening week. Joe's grilse was a wild fish and was carefully released.
For fishing on Burrishoole contact the Fishery Manager at +353 (0)87 2377078 or visit http://www.marine.ie/Home/site-area/infrastructure-facilities/newport-catchment-facilities/burrishoole-fishery

Sea Angling
Donal Kennedy, skipper of the Leah, reported some nice mixed fishing from Killala Bay and a wealth of varieties for a group of anglers from England and Swinford, Co. Mayo.
The day was dull with lots of cloud and a moderate south westerly wind. The first drift, a couple of miles out in the bay, produced good numbers of pollack and pouting. Further out, on the second drift, the party started to catch small coalfish averaging 3 lbs. (all put back alive). Another spot produced more coalfish and some nice cod up to 5lbs. As the day moved on, some fine ling and more good sized Pollack along with some very big mackerel were caught. All in all an extremely successful and entertaining day out in Killala Bay.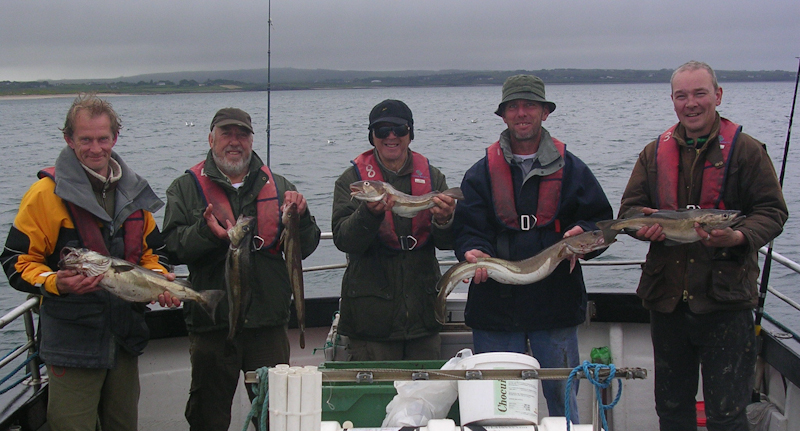 A good day out on Killala Bay!
To book a day's fishing in Killala Bay contact Donal Kennedy on +353 (0)0868174509 or visit www.dkennedyangling.net.