First Salmon of 2017 on Dawros

The first salmon of 2017 on the Dawros River (Kylemore Abbey Fishery) was caught on March 15th by Geoffrey Fitzjohn. The fish weighed 8.25lbs, and was caught in Tullywee Bridge Pool on a size 8 Black Shrimp.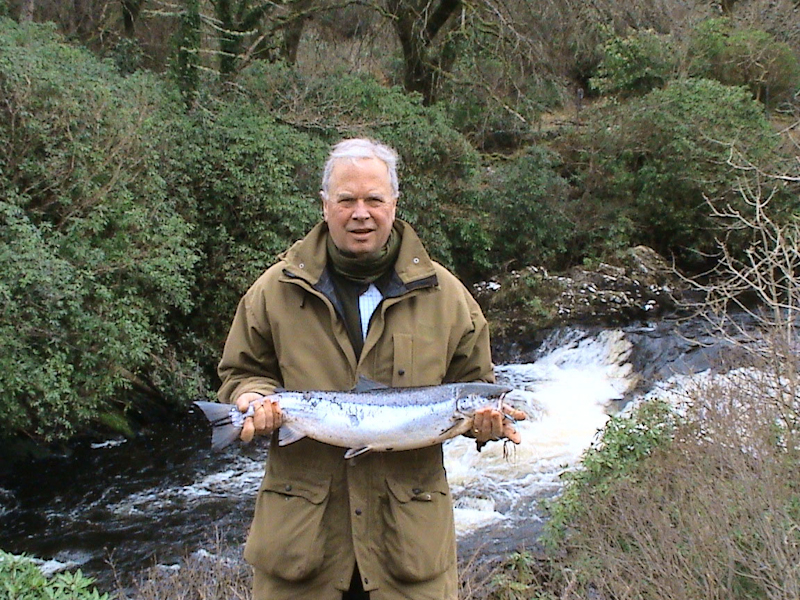 Geoffrey Fitzjohn with the first Dawros salmon of 2017. The fish weighed 8.25lbs, and was caught in Tullywee Bridge Pool on a size 8 Black Shrimp.
Well done Geoffrey. It's great to see the first Kylemore fish already, and hopefully this bodes well for a good spring run. Contact Nigel Rush for information on permits and availability at 087 9580702 or email nigelrush@eircom.net
Lough Corrib
Declan Gibbons reports on that last week saw slower fishing activity on Lough Corrib but with more settled weather and a rise in temperatures the duckfly shouldn't be too far away, indeed some fly are making an appearance already. Those anglers who were out encountered fish and had some nice sport.
In the Roscahill area Gearoid Little had 11 trout for two day's trolling, and most of the 11 were released.
In the Oughterard area local man Peter Kelly went out on Corrib for a few hours in his traditional punt trolling the brickeen and had great success, landing a cracking fish of 7lbs.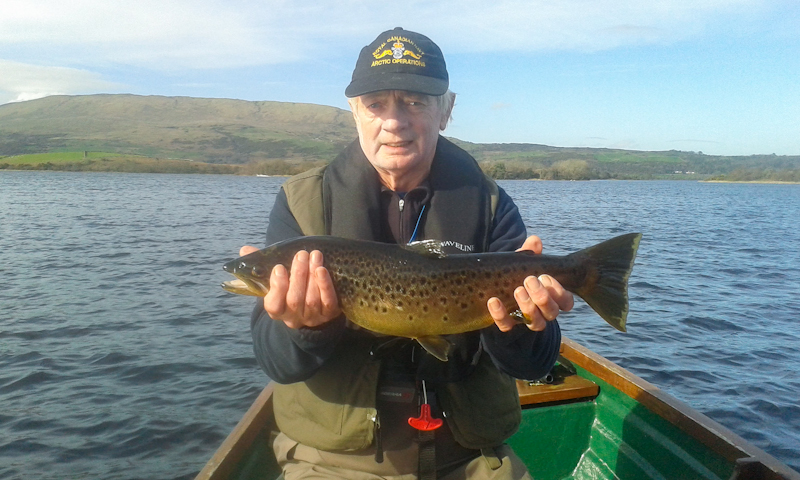 Kevin Cronin with a lovely 4lbs Corrib trout, taken on a Silver Dabbler, March 2017.
Also in the Oughterard area Kevin Molloy of Baurisheen Bay Boat Hire (087-9604170) was fishing on Monday last trolling and had 3 trout for his day, while on Wednesday he had 2 fish on wet fly. Michael Donnellan, Oughterard had 12 trout for two day's trolling and sportingly returned 9. John Gibbons, Oughterard had 5 fish for two day's trolling.
In the Cornamona area Kevin Cronin of Dublin and Roundstone was fishing on Wednesday afternoon last with local angler Peter Walsh and had a cracking trout of 4lbs on a Silver Dabbler.
Staying in the Cornamona area Richard Molloy of Ballard Boat Hire and Self Catering (087-2879339) reported on a Swiss group enjoying excellent fishing - trolling - for their week's stay and landing 25 trout, all sportingly released with the best fish estimated at 4.25lbs.
Ballindiff Angling Club chairman Andrew Boyd and friend Dave McCormack had 3 fish to the boat on Sunday last, with Andrew landing a trout of 5.5lbs on the fly.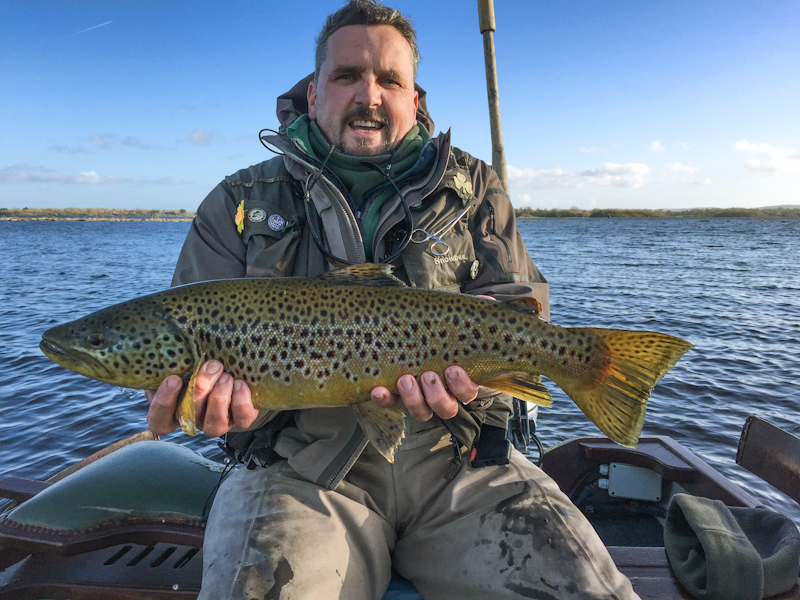 Andrew Boyd with a beautiful Corrib trout of 5.5lbs

Lough Mask
Ronan Cusack reports on some excellent angling from Mask this week, as the duckfly make their first appearance of 2017. Westport brothers Colin and Ronan Gibbons had a fantastic day's sport on Sunday last, landing 10 trout on wets in the Tourmakeady area. All trout were over 13 inches and returned to the water. Joe Fitzharris and Paul McEwan from Ballyhaunis had 4 nice fish on Tuesday (best fish 1.75lbs, all returned). Joe fished again on Friday with John Munroe from Partry and they had a further 7 (best fish 1.5lbs, all returned).
Sean Maloney from Ballinrobe had a good week this week reporting fish on every outing. Sean's best day so far was Tuesday last where he finished with 4 trout (best fish 3.5lbs). Malcolm Naughton and fishing partner JJ Hannon from Loughrea had 11 on Sunday (best fish 2.5lbs, all returned). Kevin Beattie and Ray Broughton from Ballinrobe have been out most days this week and reported excellent sport pulling dark wet flies on slow intermediate lines.
Anglers have reported some trout being a bit thin or "slatty", which is normal at this time of year, so they are asked to allow these fish time to mend and return them to the water.
The water level and clarity is excellent at the moment, so if you're looking for a bit of sport over St Patrick's weekend "Mask is the place to be" according to Ronan!