Erriff Fishery
Fishery manager Osgur Grieve reports that fishing picked up considerably this week, with 8 salmon being caught, as well as some nice sea trout.

On Friday 2nd September Eric Goodall (UK) released 2 sea trout from Jenkins on Beat 5 weighing 0.75lbs and 1.5lbs using a Black Pennell. Saturday morning produced 4 salmon between 4lbs and 8lbs for regular visitor Stuart Topp (UK), 3 of which were released. These fish were all caught in the Lower Garden Pool using a Silver Stoat's Tail of his own tying and a Cascade, Stuart also released 2 sea trout of 0.75lb and 1lb. Later that day Dennis Carron released a nice 1.5lbs sea- trout from Humps and Hollows on Beat 6.

Local club member Charlie O'Connor fished on Sunday 4th and had a small grilse of 2.1lbs from the Falls on a Cascade. Then it was Redmond Cabbott's turn with a nice 1.5lbs sea trout from Beat 6 at the Colonel's Pool on a Bloody Butcher. Club chairman James O'Neill released 2 sea trout of 0.5lb and 1.75lbs from Beats 6 and 9.

Regular visitor Jean Jacque Calvar (France) released a 1lb sea trout from the Tawnyard Potholes on Beat 3. Monday 5th produced 2 more salmon for Stuart Topp (UK) from Beat 3 weighing 2lbs and 5lbs, both of which he released. Derek Killeen fished Beat 5 and with his last cast of the day caught a 4.25lbs grilse from Yellow Banks on an Ally's Cascade.

Well done to all our anglers and we look forward to the few remaining weeks left in this season.

The Erriff traditionally fishes very well in September and could be well worth a throw if the weather is right over the next few weeks. For bookings please call (095) 42208 or check www.errifffishery.ie
Sea Angling
John Fleming, skipper of the Brazen Hussy II is enjoying some good shark fishing at the moment with his guests. Fishing out of Rossaveal offers quick access to the shark grounds west of Aran, and on Sunday they had 9 blues to the boat, ranging in size from a baby of 10lbs to a decent shark of 88lbs.

John says he expects the season to last until the end of October at least, and he has a good few dates still available. To enquire about booking a day afloat, give him a call at 087 7571320.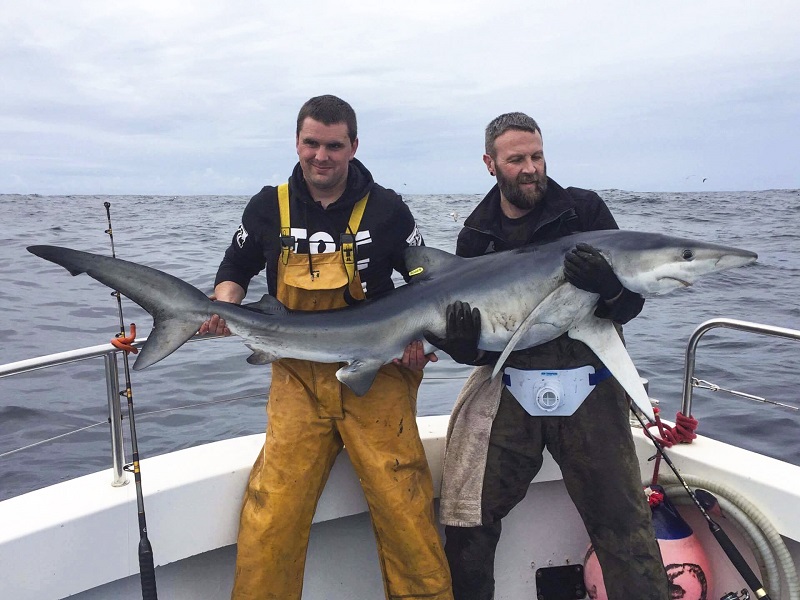 John Fleming (left), skipper of the Brazen Hussy II, with a client and their best shark from Sunday, a fine blue of 88lbs.
An unusual catch was also sent in this week by Michael Webster, who says his nephew Bailey (13), from Co. Antrim was fishing near Rosroe in Killary Harbour recently, when a trigger fish took his mackerel strip bait and gave him a good scrap before being landed. Trigger fish have been turning up in increasing numbers in Cork and Kerry over recent years, although they are still virtually unheard of this far north, so well done to Bailey. Apologies for the blurry photo but the fish is nice and sharp!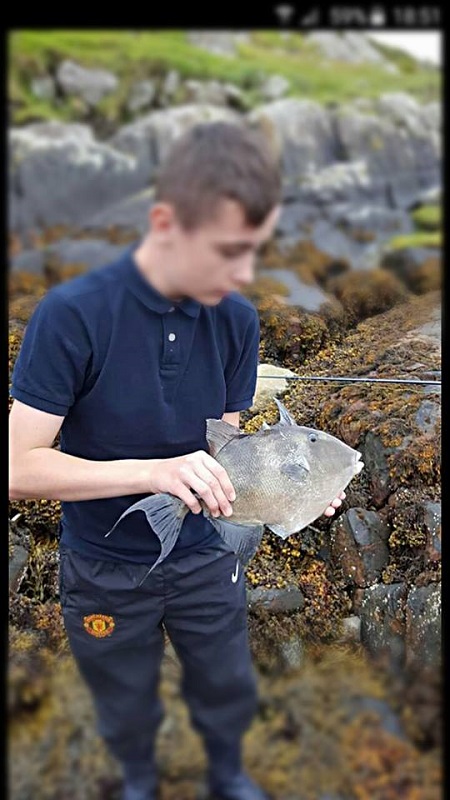 Bailey Webster with his trigger fish from Killary Harbour. (click to enlarge)

South Connemara
Brian Curran reports on some good fishing for sea trout and brown trout in south Connemara. On a day with little wind and numerous midges, Fergus Byrne had catches of 14 sea trout, best 1.75lbs, most 0.75-1lbs. All were in good condition and showing no sign of lice. Ugga Beag the first lake on the Crumlin system has been fishing well for sea trout since the middle of July and continues with excellent catches of good size fish. Best flies have been Olive bumble, Claret Bumble and the old reliables, Black Pennell, Watsons Fancy and Connemara Black.
Boats can be hired on the fishery from Brian Curran at 0872509722, or visit the web site at www.irelandwestangling.ie