Salmon Angling
Carrowmore Lake
The season kicked off on Carrowmore Lake with two spring salmon last Saturday. Local angler, John Cosgrove, caught the first salmon of the season weighing in at 8 lbs. Only a few hours later, Declan Dooley from Maynooth landed a fine elven pounder. Both fish were taken on a Green Peter.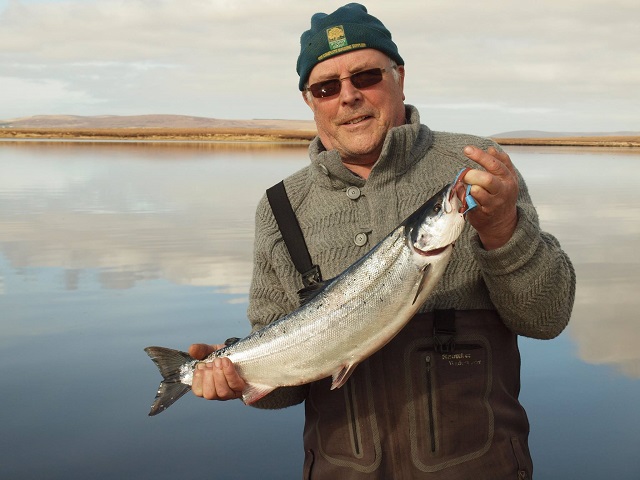 John Cosgrove, Bangor Erris, with the first Carrowmore salmon of the season
Trout Angling
Lough Conn
Trout angling commenced in earnest on Lough Conn last week with the Joe Moffatt Memorial Cup, which was held on Sunday 22nd March. Conditions were bright and sunny but a cold northwesterly kept fly hatches to a minimum. Seventeen anglers reported fairly lively angling but many of the trout were below the minimum size for the competition. Just 7 were weighed in. First place went to Steven Browne with 2 trout for 1.79 lbs. Second was John Walsh with 1 trout at 1.4 lbs. and in third place was Joe Ferguson with 1 trout for 1.15 lbs.
Earlier in the week, Peter Roche had trout weighing approximately 7 lbs. off Brackwansha on a Peter Ross Dabbler, while Joe Corcoran had 2 trout for 3 lbs. on a dry Bibio. Padraig Traynor also caught a nice fish of 1.75 lbs. in Cloghans Bay as well as a few smaller fish which were returned.