Western River Basin District
IFI Ballina & Galway
Angling report - w/e 7th August 2016
Salmon & Sea Trout Angling
River Moy
With a total of just 231 salmon reported fishing on the River Moy slowed down considerably during the past week. Angling effort was well down and the fluctuating water levels didn't help either.
However, some anglers still enjoyed reasonable fishing. One of the successful anglers was Jim Gannon from Co. Meath who caught his first ever salmon. Jim's 3.35 lbs. grilse took a fly on the Ridge Pool. Also on the Ridge Pool, flyangler Peter Smith, Northern Ireland, had 2 grilse, while Chris Ryan, UK, was successful on the Cathedral Beat catching a four pounder also on fly.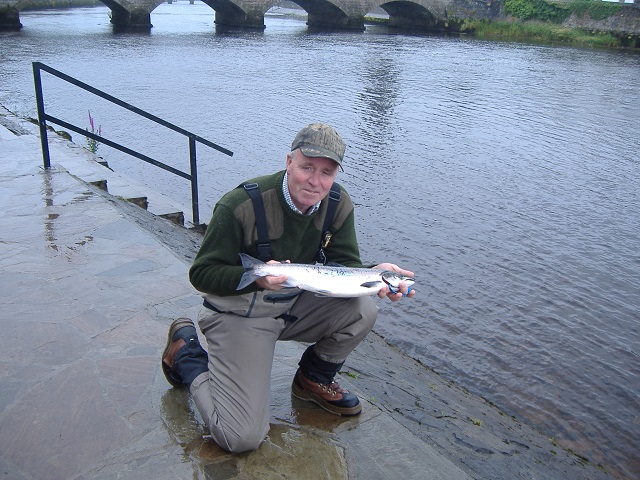 Jim Gannon from Co. Meath with his first ever salmon
The Bill Whitwell party from the UK had a total of 12 fish over 5 days on Mt. Falcon, while Mervyn Couzens, also UK, caught two grilse on worm fishing Coolcronan. On Armstrong's, Danny Clarke, Co. Westmeath, landed three on worm. The Foxford town fisheries produced 40 salmon for the week.
Further upriver on Cloongee, Thiery Coulm, France, caught 5 fish for the week (4 released) using bubble & fly. His fish ranged between 3 and 7 lbs. German regular, Erwin Dewald, had a 4 lbs. grilse on fly on East Mayo, while martin Parker, UK landed a four pounder on worm.


Glencar Lake
Bill McNeary and his son Rory from Rossinver enjoyed an exciting day on scenic Glencar Lake during the week. Rory caught a lovely 3 lbs. sea trout, while Bill had a 4 lbs. grilse. Both fish came to the fly. The two anglers reported that they had some more rises and that there were good numbers of big fish showing.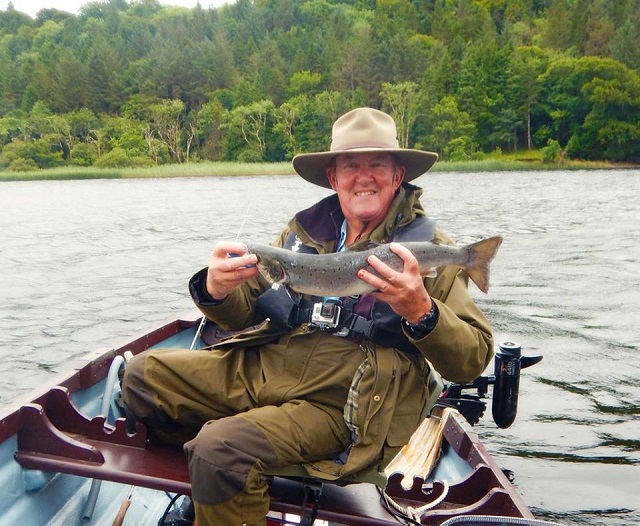 A happy Bill McNeary with a Glencar grilse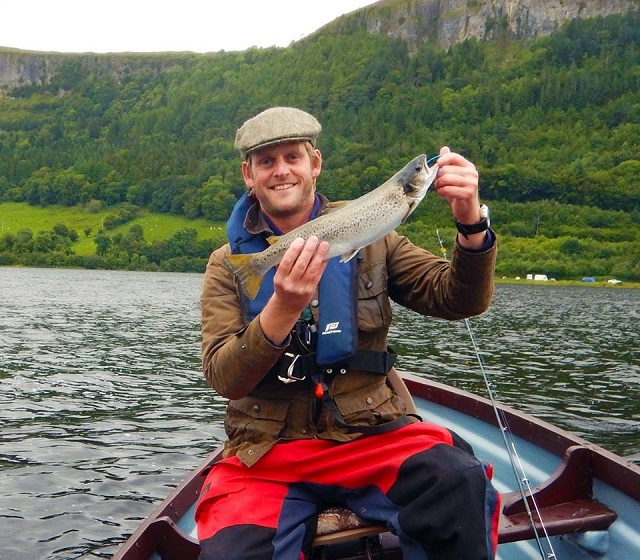 Rory McNeary with his 3 lbs. sea trout from Clencar Lake.
Fishing on Glencar Lake is managed by the Sligo Anglers Association, for details contact sligoanglers@hotmail.com.

River Erriff
Osgur Grieve reported that anglers on the Erriff Fishery enjoyed a good week with 6 salmon and 9 sea trout caught. The flood that arrived on the 3rd made fishing difficult; however the 4th was a better day with a total of4 salmon caught. First off the mark was Gernot Lipp from Austria with a 5.75 lbs. grilse from the Upper Square Pool on a fly of his own tying just named ''a bunch of hair''! Then it was Gael Kerschbaumer's turn with a fresh grilse of 2.6 lbs. from the Sea Pool on a General Practitioner. Gael also lost another salmon in the Middle Garden Pool that morning. Luke Chester Master caught and released a fine hen fish estimated at 8 - 9 lbs. from The Hill on Beat 5 on a Cascade. Martin Weinzort, Austria, released a nice sea trout of 2 lbs. from the Middle Garden Pool, while Jeremie Abgrall, France, caught a fine 6.8 lbs. salmon at the Falls on an Orange Shrimp Fly.
Gernot Lipp was fishing Beat 3 on the 5th and had a 3.25 lbs. grilse from the Tawnyard Potholes on another fly of his own called an ''Austrian Squirrel''. Local angler, James O'Neil, fished a couple of hours on the 6th and released a 1 lb. sea trout from the Quarry Pool on Beat 2. The 7th saw Austrian angler, Bernd Schubel, catch a 4 lbs. grilse on the Falls Pool on an Ally's Shrimp, which was a nice way for the Austrian group to finish off their week's fishing. The sea trout released this week ranged from 0.5 - 2 lbs.
For fishing on the river Erriff visit www.errifffishery.ie.

Trout Angling
Lough Mask
Ronan Cusak reports
Lots of good news from Lough Mask again this week as the good fishing continued. As normal for this time of year, wet flies pulled on intermediate lines across the deeps produced most of the goods. Reports from anglers indicated that the size average of the trout in the deep this year is well up on previous years and fish are in super condition.
Weather this past week has been broken, with a mixture of rain and fresh south westerly winds, which is perfect for the hungry daphnia feeders.
World Cup P.R.O., Denis Kelleher, had an excellent day on Sunday last fishing with good friend Larry Gibb. The pair spent the day in the deep in very stormy conditions and finished with 14 trout on wets (best fish 2 lbs.). Denis said the day was very lively and they encountered fish on every drift. Westport anglers, Jonathan O'Grady and Ronan Gibbons, also fished on Sunday and they decided to concentrate their efforts in the shallows along Churchfield/Gortmore. Their day finished with 10 trout of which 2 were bordering 3 lbs. Ballinrobe anglers, Kevin Egan and Michael Vahey, fished for a few hours on Saturday and Sunday and they had 14 trout for the 2 days (best fish 2.25 lbs. and all returned).
Lough Corrib
Declan Gibbons reported that fishing on Corrib in the week gone by had been quite productive. Those anglers that did best fished with sedges, which are dominant hatch of fly at this time, and some excellent catches were made.
Starting on the Lower Corrib, angler Harold O'Toole from the Commercial Boat Club enjoyed an excellent day's fishing in the Hurney's area, landing four fish on dry sedges and mayflies with the best fish being 3 lbs.
In the Oughterard area, John Kelly, Oughterard, and Albert Long, Clifden, had two cracking trout for 7.5 lbs. on mayfly on Thursday last; best at 4lbs. Also in the Oughterard area, Basil Shields from Ardnsillagh Lodge (Tel: +353 (0)91 552550)) reported of Steve Sutton from Dublin catching two fish on Sunday with the best fish weighing 1.25 lbs. Michael Gallagher had two fish also. One fish was an estimated 2.25 lbs. at 44cm which he sportingly released. Declan Keogh, Dublin, had two fish for his trip to Lough Corrib. Both fish were around the pound and a half mark. Basil also informed us that sedges are the predominant hatch of fly life at the moment with hatches of mayfly and olives tapering off. Also in the Oughterard area, Kevin Molloy (Tel +353 (0)87 9604170)) reported of slower angling activity in the area. Kevin himself fished on Wednesday last with three trout on wet fly. The best of them was 2.5 lbs. On Friday, he had three fish to 1.5 lbs. trolling.
In the Cornamona area on Wednesday, John Somerville enjoyed an excellent evening's fishing in the Inchagoill area on wet mayflies. He landed five trout over thirteen inches, released four, and met as many more.
At Corrib View Lodge, Glencorrib, Larry McCarthy reported of another good week experienced by anglers staying there with some notable catches on dry and wet fly. On Monday last, Anthony Quinn, boated by Frank Reilly, had a personal best of 4 lbs. 4 oz. on a small size 16 dry sedge which he sportingly released while Frank managed to land four fish of a 2 lbs. average. Larry, boating a couple from Andorra, had good fishing on Monday and Tuesday on the lower lake on dry olives and caught fish up to 2 lbs. A group of six anglers from Northern Ireland had great sport on Friday and Saturday. The highlight was on Saturday when James Burns and his Father landed six fish between 2 and 3 lbs. in the Inishanboe area while being guided by Larry.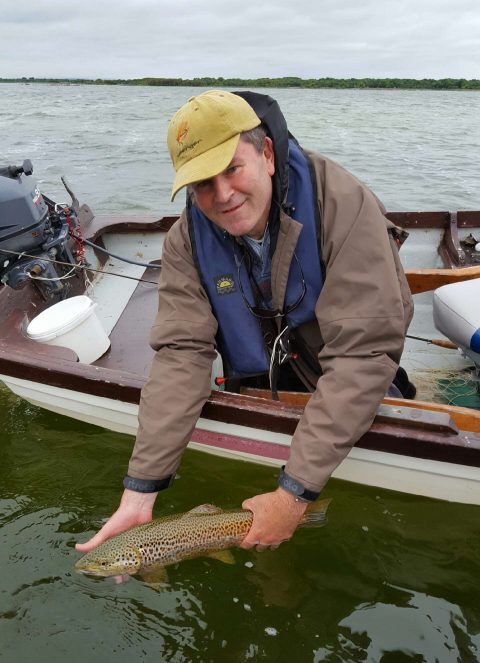 Anthony Quinn releasing his biggest trout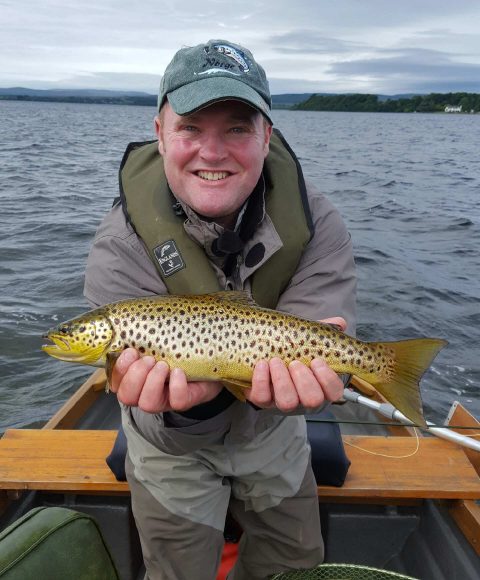 James Burns, Northern Ireland, with a Corrib beauty
On Tuesday last in the Inchiquin area, Vincent Hughes From The Neale and Mark Gibbons from Cong were dapping and had a fish each of 2.5 lbs. and 1.5 lbs. Also fishing were Vincent's brother Mattie and a friend catching one fish each for their endeavours.

South Connemara
Before the high winds at the weekend, Brian Curran of Ireland West Angling (Tel +35390)87 2509722) was guiding a New Zealand couple, Tam and Ian Smith, on Lough Nualla. The couple fished from the bank using a range of flies incl. Royal Wulffs, Zulus, Clan Chiefs, and Muddlers to name a few. They finished the day with a total of 18 small wild brown trout and really enjoyed both the fishing and the surrounding country side.