River Moy
Despite dropping water levels and reduced angling effort on all fisheries during the week the River Moy still returned a reported catch of 256 salmon. However, fisheries in the lower part of the river saw better results, while angling on the middle and upper sections was rather slow.

The Moy Fishery produced a total of 34 salmon including a nice fly caught grilse (released) from the Ridge Pool for Mark Bowler, editor of Flyfishing & Flytying magazine. Amongst those who had success on the Cathedral Beat were Nigel Cox, UK, who had two grilse to the fly, and Frank O'Hara, who also had two to the fly, one of which he released.

Mount Falcon also enjoyed some good fishing as did the Foxford Fishery where Jean Marie Bleaut, France, had 7 salmon for 3 days. On Coolcronan, German angler, Yannick Kessel landed three on spinner, while the East Mayo water produced a fine 7 pounder for Billy McGhee and a 5 lbs. fish for Peter Kelly, both on fly.


Owenmore River & Carrowmore Lake
The lower water levels also impacted on angling on the Owenmore River. As a consequence, angling effort on the Bangor Club water was lower this week. However, anglers who ventured out fishing floating lines and small flies were rewarded with fresh run grilse. Amongst the successful anglers were Mark Mason and Brendan Corr who caught and released a grilse each, while Declan Black, Dublin, had a fine 8 pound salmon. The recent rain will improve fishing conditions on the Owenmore and therefore prospects for the remainder of the salmon season are looking good.

Sea trout fishing on Carrowmore Lake is still reasonably good. The few boats that went out during the week reported fine catches of sea trout averaging 3/4lbs. - 1 lbs., with the odd bigger fish also been caught.

For bookings contact Seamus Henry, West End Bar, Bangor Erris on +353 (0)97 83487 or visit www.bangorerrisangling.com
Burrishoole Fishery

Only 7 salmon were reported for the week on Lough Furnace, including 3 ranched and 4 wild grilse, with 6 more hooked and lost. All the wild salmon were released. The best salmon was a cracking wild fish of 6kg and all fish were caught by regular visitors Michael and Sean Smith from the UK.
Angling on Lough Furnace can be booked by contacting Pat Hughes, Fishery Manger on +353 (0) 2377078.

Ballisodare Fishery
Fishing in Ballisodare slowed down somewhat with fewer anglers venturing out than in previous weeks. However, there are still good numbers of grilse around with many good sized fish starting to show. In total, 29 salmon were caught (15 released) for the week averaging 5 lbs.; most of the fish were taken on fly.

Water levels are still good at the moment at Ballisodare and with the recent rain some good fishing is expected to be had over the next few weeks.


Drumcliff River & Glencar Lake
Recent weeks saw some good salmon fishing on the Glencar/Drumcliff System. On the Drumcliff River several salmon were landed, mainly on worm and spinner. Successful anglers included local Sligo anglers Micheal Carr with a 5 lbs. fish on worm, Paul Scott who also had a 5 pounder but on spinner and Paul Mulligan with a fine 8 lbs. salmon on worm.

Glencar Lake produced 2 fine grilse weighing 7 lbs. and 6 lbs. respectively for local flyangler, John Davis, while Pat Davis, Dublin, had one fish of 5 lbs. also on the fly.

There is also some sea trout fishing reported from the system with a few smaller fish caught on the Drumcliffe River.

Lough Arrow
Angling on Lough Arrow has continued to be sporadic as the Green Peter fishing is now tailing off. However, dry or wet Daddies should prove effective from now on and through September. With the onset of the cooler weather, wet fly during the day should also produce some good sport.

Lough Arrow Fisheries Preservation & District Anglers (LAFPADA) will hold a competition on Sunday 1st Sept from 11.00am to 6.00pm. Entries are taken between 10.00am and 11.00am at Flynn's Pier or by text to any of the numbers below before start time (no entries after 11.00am). Alison: 087 9541835 David: 086 3825376 Karl: 086 8343584. Weigh in for single heaviest fish will be at 7.00pm in McDermott's Bar, Castlebaldwin.


Sea Angling
Donal Kennedy, skipper of the Leah, reported good flyfishing from Killala Bay. Dutch angling journalist, Rudy van Duijnhoven and Mario Sanz, Germany, who both have specialised in saltwater flyfishing enjoyed very good fishing despite the blustery and squally conditions. Originally, they had planned to venture out to tempt a blue shark to the fly but had to stay inshore due to high winds and rough seas. However, the pair landed a total of 5 different species on the fly, including, mackerel, pollack, coalfish, wrasse and mullet. This shows the great potential for saltwater flyfishing in Killala Bay!

For bookings Donal can be contacted on +353 (0)86 8174509 or www.dkennedyangling.net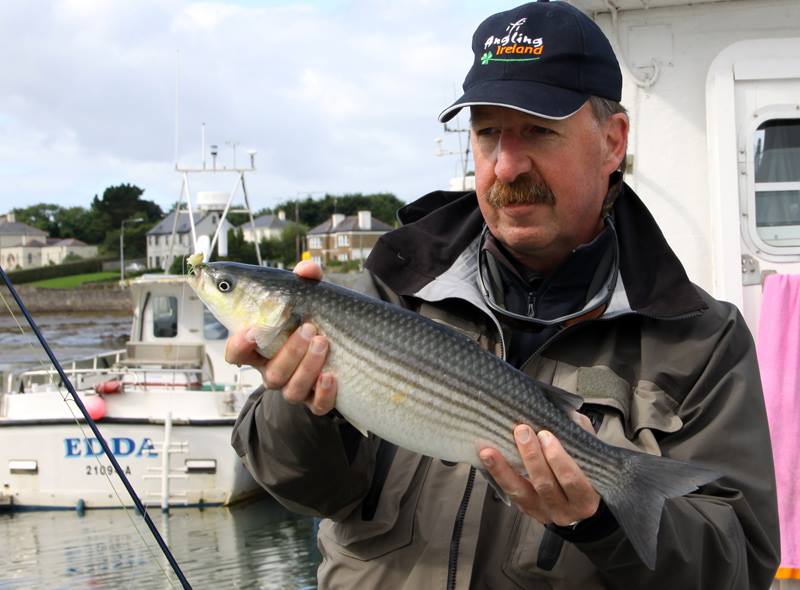 Dutch angling journalist, Rudy van Duijnhoven, with his fly-caught Mullet from Killala Bay.
---
Lough Corrib
Compared to last week, fishing on Lough Corrib slowed down a bit. However, trout are still taking Mayfly and Murrough patterns and anglers reporting some good catches. A party of four anglers from Northern Ireland fishing out of Oughterard had 9 trout for 2 days, best at 2.5 lbs., while Mr. Caridia, Kerry, caught 8 fish over 3 days (best 2.5 lbs.) on the dap.
Two competitions were also held during the week. The Martin Molloy Cup was fished by 58 anglers. Twenty-four trout were caught weighing a total of 16.5kg. Results were as follows: Local angler, Joe Healy, won the competition with 4 trout for 3.460kg. Second place went to Seamus Kelly with 2 fish for 2.410kg and David May, Carlow, came in third with one fish weighing 1.890kg. David also won the prize for heaviest fish with his fine trout. The junior section was won by Micheal Molloy with one trout for 0.395kg.
Elsewhere, twenty-five anglers competed in the John Gill Cup, catching a total of 13 trout. First place went to Joe Donnelan with 3 trout for 3.16kg; Billy Molloy finished runner-up with one trout for 1.78kg and Joe Healy came in third with 2 fish for 1.48kg. Billy Molloy also had the heaviest fish with his 1.78kg trout.
Erriff Fishery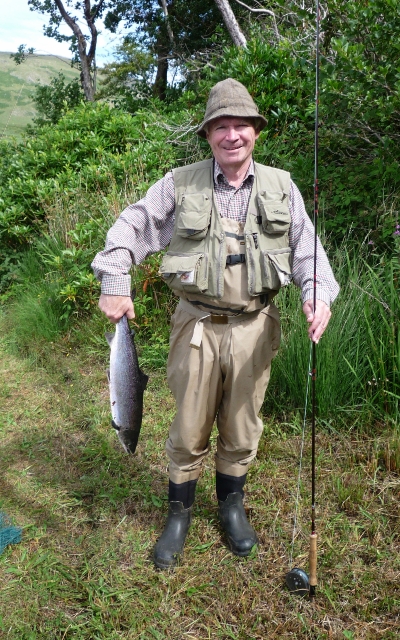 David Clarke, UK, with his grilse from the Lower Garden Pool.

Fishery manager Jim Stafford reports that fishing on the Erriff picked up somewhat compared to the previous week as heavy rain increased water levels around mid-week and again towards the end of the week. In total, the river produced 12 salmon and 4 sea trout for the week.

Martin Owens, UK, who fished the Erriff for the first time caught a fine 8 pounder on a Yellow Shrimp in the Holly Pool on Beat 8, while David Clarke, also UK, had his first Erriff salmon in the Garden Pool on Beat 9 on a Cascade. Neil Spellacy, Moycullen, Galway, released 2 fish taken on a Black Shrimp in the Glenanane Stones on Beat 7; Neil also caught & released a sea trout of 1.5lbs.

Neil's good fortune continued later in the week with 4 grilse (3 of which were released), 2 grilse from Beat 6 and another 2 from the Hawthorn Run and Twin Rocks on Beat 7. A Black Shrimp accounted for 3 and a Cascade for the 4th fish.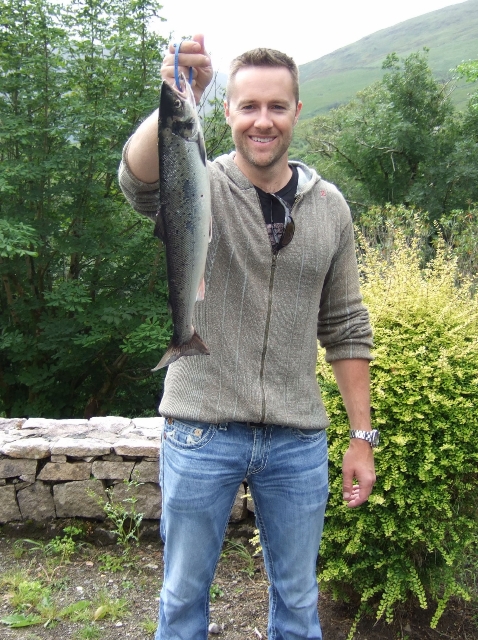 Magician Keith Barry with his Erriff grilse.

The Yellow Banks on Beat 5 produced a nice grilse for Keith Barry, Dublin. Keith also lost another two fish . . .now was that good angling or "just magic" that the fish had a "trick" or two also?

To book fishing or accommodation at Aasleagh Lodge, contact Jim at +353 (0)95 42252, or check www.aasleaghlodge.ie for details.