Salmon Angling
River Moy
Low water levels impacted on angling mainly on the upper Moy beats, while the lower and middle sections saw a slight increase in catch numbers as fresh fish were moving up through the system.
On the Moy Fishery, a total of 53 salmon were caught. Amongst the successful anglers were Walter Norton, UK, with 4 grilse on fly up to 5 lbs. (three from the Ridge Pool & one from the Cathedral Beat) and Cian Gargan, Galway, who had three grilse on the Ridge Pool, also on fly.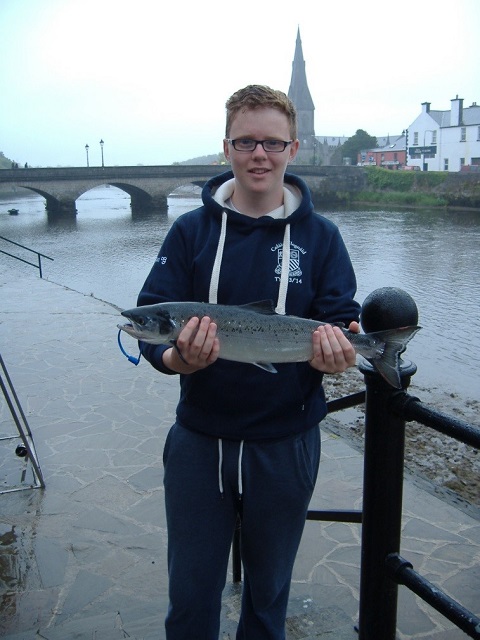 Cian Gargan, Galway, with one of his three Ridge Pool salmon.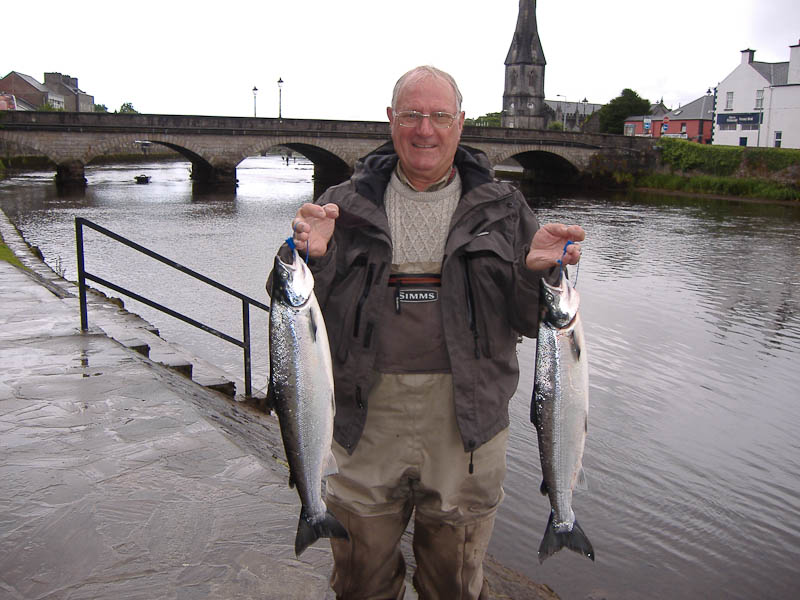 Walter Norton, UK, with two of his four grilse from the Moy Fishery.
Visiting Dutch angler, Mark Geesink, had three grilse on worm on the Mount Falcon water, while Hugh Marshall, Northern Ireland, had one on prawn on Coolcronan. Armstrong's, Gannon's and the Foxford Fishery all produced decent numbers of fish. Anglers on Rinanney and the Foxford Salmon Anglers' water were also successful including Claude Raine, France, who landed a seven pounder on prawn.
Further upriver, Jean Jacques Daurat, France, had a fine 12 lb. salmon (spinning) on Cloongee, while Steve Thompson, UK, was successful on the East Mayo Association water landing 3 grilse on worm averaging 4 lbs.
Carrowmore Lake & Owenmore River
Carrowmore Lake provided some excellent sea trout fishing during the week with many boats reporting between 5 and 10 "keepers" for a day. Anglers are still catching grilse on the lake. However, most of the fish have gone a bit stale. A nice exception was a fresh 5 lbs. grilse for Athlone angler Sean Kelly.
Water levels on the Owenmore River have been favourable for most of the week and as a consequence, a number of salmon were caught and released including 2 fish for Oisin O'Sullivan, Co. Offaly, best at 9 lbs. and a six pounder for local angler Jim Mills.
Please note that Carrowmore Lake is a Brown Tag Fishery this year and that the Owenmore River is "Catch & Release"! For fishing on Carrowmore Lake and the Owenmore River contact Seamus Henry on +353 (0)97 83487 or visit www.bangorerrisangling.com
Burrishoole Fishery
The Burrishoole Fishery reported 5 salmon and 12 sea trout for the week. Niall Berwick from Dublin caught two salmon at 3.3 lbs. and 6.2 lbs., while J. Wilson, Ballina, had one of 4.5 lbs. Other successful anglers included Fishery Manager Pat Hughes, who landed a 4.6 lbs. grilse and Michael Righton with a 2.9 lbs. fish. All sea trout were carefully released to the water.
To book fishing on the Burrishoole Fishery contact Pat Hughes at +353 (0)87 2377078
Trout Angling
Lough Conn & Lough Cullin
Mixed weather towards the end of the week saw a return to form for day-time trout fishing on Lough Conn. Peter Roche from Rathduff, Co. Mayo, had a memorable day's fishing around the Cormorant Rocks area, with six fine fish ranging from 1.25 lbs. to a beauty of 6.25lbs., all caught on a Green Peter Dabbler.
Fishing out of Pontoon Bridge Hotel (www.pontoonbridge.com), Roy Walsh and Jimmy Brown, Wales, had five trout averaging 1.5 lbs. However, their best fishy was just short of 3 lbs.  Two of their trout took dry olives and three came to Green Peters. Numerous smaller fish were also caught and returned. Elsewhere, Graeme McWilliams and Grainne Foy, UK, boated four trout for 5 lbs., while Steven Fox, Dublin, had a trout of 2 lbs. and a salmon of 3.5 lbs. in the south Conn area.
On Lough Cullin, Trevor James and Thomas Killeen, Co. Fermanagh, had 8 "keepers" and numerous smaller fish for their three day fishing trip; all on dry Daddy-Long-Legs.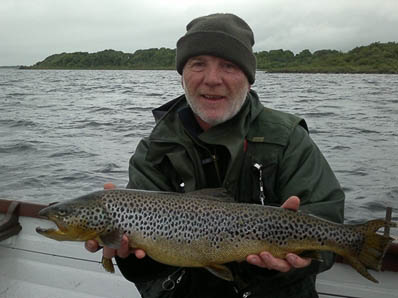 Peter Roche, Co. Mayo, with his superb 6.25 lbs. Lough Conn brownie.



Lough Arrow
On Lough Arrow, the nightly hatches of Green Peter have been excellent over the last week and the fish are now taking them with great enthusiasm.  In the areas around Ballindoon, the mouth of the River Unshin and the Thumbs, catches have been very good, with Simon Steele accounting for 6 trout up to 3.5 lbs. in one session; four of these were returned. Other successful anglers included Gerard Martin with 4 trout, all to Green Peter patterns, best at 3.25 lbs., Noel Clinton with 3 fish to 3 lbs. and Thomas Walsh with a total of 11 trout to 5.5 lbs.
Pike Angling
Pike fishing has been slow due to the warm weather and low water levels. However, fishing among reeds and lily beds still provided some good sport with surface lures or fishing the fly. Visiting anglers from Canada, John Duffy and his wife Alena, spent a day with local guide Kenny Sloan on some of the pike lakes in the Foxford area catching 5 pike with many lost on the surface.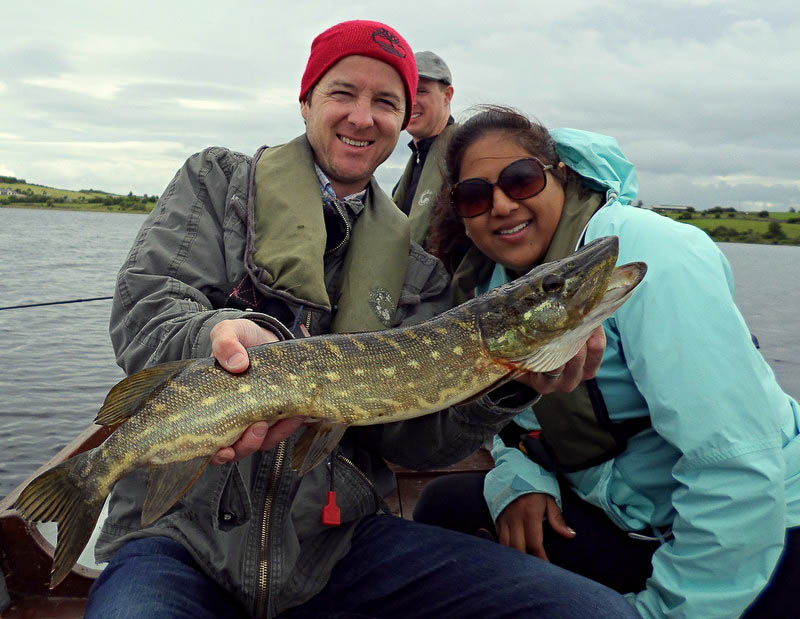 Happy Canadian anglers with one of their Mayo pike.



To book a day's guiding or boat hire contact Kenny Sloan on +353 (0)949256501 or +353 (0)87 9670310 or visit www.pikemania.co.uk