Salmon & Sea Trout Angling
River Moy
Despite moderate angling effort, the River Moy produced a number of spring salmon during the week. On the Ballina Salmon Anglers' water, local angler, Jimmy Cawley, had an eight pounder, while Shane Maloney caught the first fish of the season on the Mt. Falcon Fishery. Shane's fish was just short of 10 lbs. and took a prawn. On Rinanney, Alan Rushe, Athlone, had a 10.5 lbs. salmon also on prawn.
Steven McCabe, Northern Ireland, landed the first of the season on the Clongee Fishery, while 15 year old Bailey Lowe from Galway stole the show with a nice 8.5 lbs. salmon on his first ever fishing trip.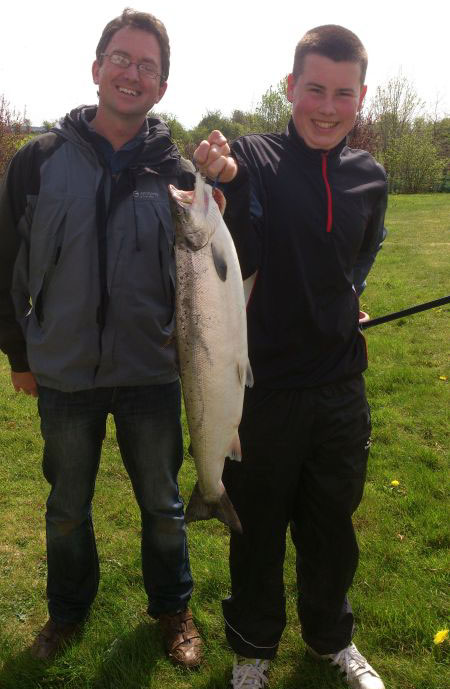 15-year old Bailey Lowe with his first ever salmon (8.5 lbs.) from the Cloongee Fishery.



Further up river, flyfishing worked best. On the East Mayo Anglers' water, flyanglers from Switzerland and Denmark enjoyed good sport with salmon of 10 lbs. and 7.5 lbs. respectively. Also on East Mayo, local angler, Paul McGrath, had a 9.5 lbs. salmon on fly.

Moy Estuary

Judd Ruane reported an excellent start to the sea trout season for his clients. Will Butters, Australia, and Andy Gillivan, US, enjoyed a great opening day in the Moy Estuary catching numerous sea trout up to 1.5 lbs. As water conditions are perfect at present with a great sign of fish, prospects for the coming weeks are very good.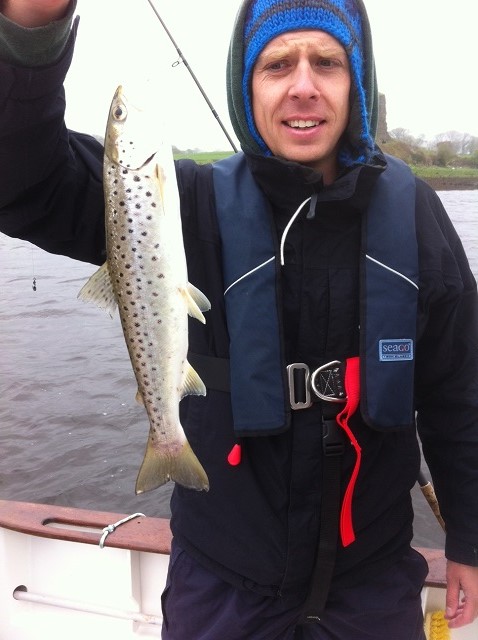 Will Butters, Australia, with one of many Moy Estuary sea trout.
To book a day's sea trout fishing visit www.fishingireland.ie or contact Judd on +353 (0)87 6736969
Carrowmore Lake
Despite calmer and brighter conditions, Carrowmore Lake saw another good week with a total of 19 salmon caught, 7 of which were released. Amongst the successful anglers were Brian Butler, UK, Jack Gillespie, Northern Ireland and Mary Harkin, Dublin. However, it was Christin Breuker from Germany who had a very memorable day on Carrowmore Lake catching her first Irish salmon. Christin is a regular visitor to the West of Ireland but hadn't fished for salmon in loughs before. Her 8 lbs. salmon took a Jaffa fished on the point. Christin hopes to return during the summer to try her hands at some river salmon fishing.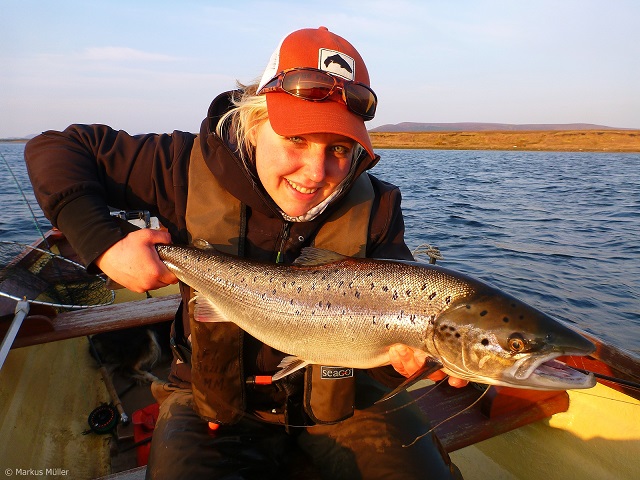 Christin Breuker, Germany, with her first Irish salmon caught on Carrowmore Lake.
Please note that Carrowmore Lake is a Brown Tag Fishery this year! For fishing on Carrowmore Lake contact Seamus Henry on +353 (0)97 83487 or visit www.bangorerrisangling.com
Lough Beltra
Lough Beltra continued to fish well with more fine spring salmon reported. Visiting angler, Fred Turkington, landed and returned the best fish of the week, a fabulous 15 lbs. salmon at the mouth of the Glenisland River, while Vincent Rigney, Westport, returned a 9 lbs. salmon at The Red Shed. Other successful anglers included Conor Deffley with an 8 lbs. fish, Eamon Kennedy who had a 10 lbs. salmon and Martin Hughes with another eight pounder. Successful flies included Yellow Badger, Hairy Mary and Beltra Badger.
To fish Lough Beltra East please visit www.loughbeltra.com.
Ballisodare Fishery
Salmon fishing on the Ballisodare Fishery improved further with a total of 23 fish caught (6 released). Almost half of the salmon were caught on fly. John Scanlon had the best fish of the week with a fine 12 lbs. salmon on fly, while UK angler, John Connoly had 3 salmon ranging from 7 lbs. to 11.5 lbs. Other successful anglers included Heather Chambers with an eight pounder on worm, Paddy Loughlin and Clive O'Neill who both had a 9 lbs. fish on worm and flyangler, Paul Colreavy, who also had nine pounder. Most successful flies were Willie Gunn, Ally's Cascade and various tube fly patterns
Garavogue River & Lough Gill
During the week, Sligo angler, Ollie Conlon, landed a nice spring salmon of 11.5 lbs. on a Flying-C on the Garavogue River, while the first fish of the season from Lough Gill was caught in the previous week. Keith Trotter from Sligo was the lucky angler who caught the 9.5 lbs. salmon while trolling.

Trout Fishing
Lough Conn & Lough Cullin
On Lough Conn, trout anglers enjoyed some nice fishing during the week. Ian Wise, Cloonamoyne Fishery, reported good results for his guests with David McConville together with his fishing partner, Ciaran, both Northern Ireland, catching 6 trout between them. Local angler, John Warren had 2 fish, best at 1.5 lbs., while Ian himself boated 3 trout, all around the one pound mark. Thomas McWilliams, Northern Ireland was also successful in the northern part of the lough where he had 4 trout averaging one pound.
Fishing out of Murphy's Boat Hire, Mick Sweeny, Galway, reported 4 trout, best at 2 lbs. Liam McHugh, Offaly, had three, best at 1.5 lbs. and Malcolm and Tom Bell, Tipperary got four between 1.5 lbs. and 2 lbs.
Cloghans Bay produced 8 trout (averaging 1.25 lbs & all released) for Jim O'Brien, Dublin and Jarlath O'Hora, Kildare. Local angler Orla Walsh was also successful in Cloghans with 3 trout, two of which were released.
Best flies for the week included: Golden Olive Bumble, Fiery Brown, Green Peter, Bibio and International Dabbler.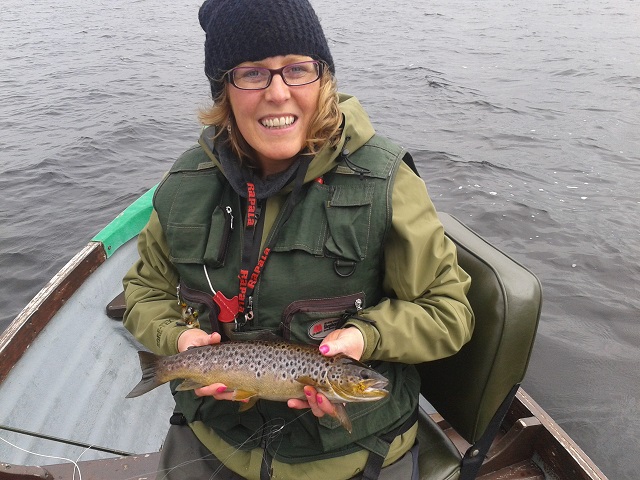 Orla Walsh with a fine Lough Conn brown trout
Pike Angling
On a short visit to Ireland John McNella from Watford, UK, along with his son James tried their hands at some pike fishing. Father and son met up with local angling guide, Kenny Sloan, Foxford, to fish some of the lakes nearby. The weather was mild and a moderate southwest wind made for good fishing conditions. James, who had never fished before, landed a total of six pike trolling, while his father had four ,biggest around 14lbs.
To book a day's guiding or boat hire contact Kenny Sloan on +353 (0)949256501 or +353 (0)87 9670310 or visitwww.pikemania.co.uk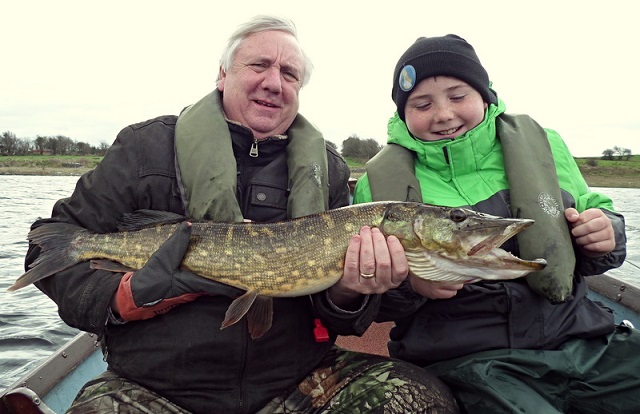 Happy father and son, John & james McNella, UK, displaying a nice Mayo pike.