Salmon Angling
River Moy
Despite extremely low water conditions, the Moy produced a reported catch of 194 salmon for the week, bringing the yearly total to 1,427 so far.
On the Moy Fishery, a total of 13 salmon were caught, including a nice 7 lbs. fish for David Angliss from Australia. David's fresh Ridge Pool fish took a size 8 Chartreuse Cascade.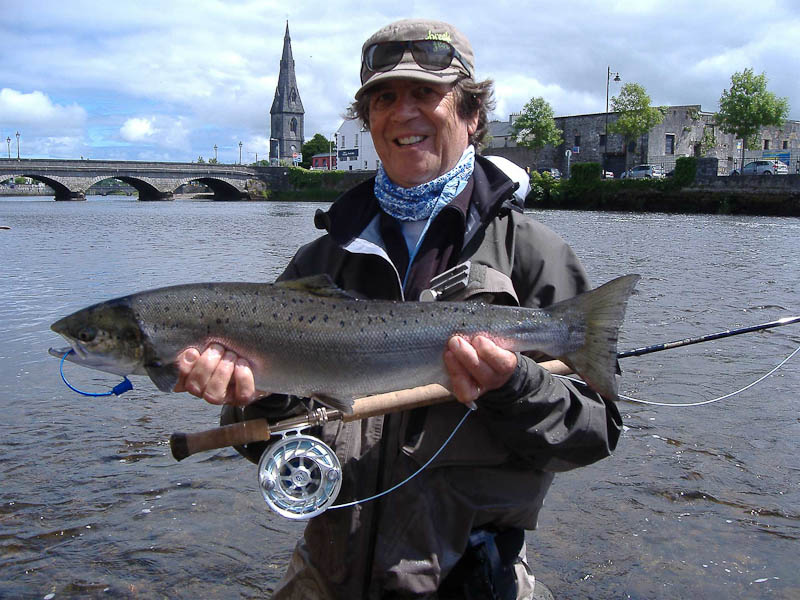 A happy David Angliss, Australia, with his seven pounder from the Ridge Pool



German visitors, Gerd Blug and Ferdinand Osthof, were successful on Armstrong's where they had fish of 9 lbs. and 7 lbs. on the first day of their angling holiday. Flyangler, Yves Offredo, France caught a nice eight pounder on the Foxford Fishery, while Gareth Jones had an 11.5 lbs. fish on Rinanney on spinner. Further upriver, on the Cloongee Fishery, Jean Marc Bellegy, France, had two salmon while spinning.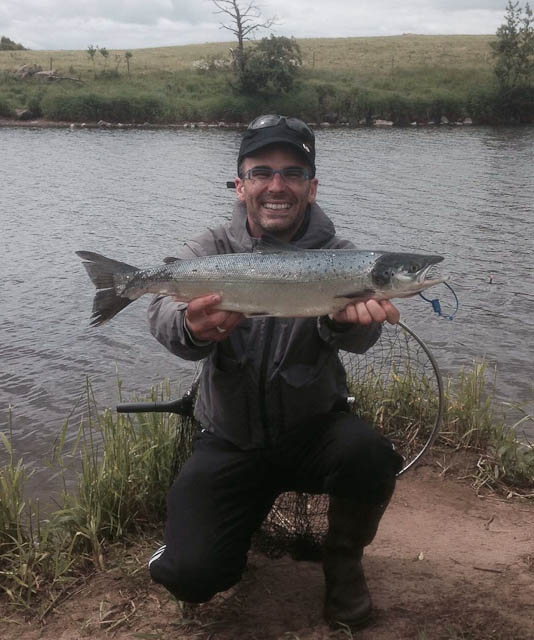 Jean Marc Bellegy, France, displaying one of his two Cloongee salmon



The East Mayo Anglers' water produced 3 grilse for John C. Coulan, all on fly, while Christian Bardet, also France, had two grilse on worm. Flyangler, Bob Thomas, UK, was also successful on the East Mayo water with grilse of 4.5 lbs.
Moy Estuary
Judd Ruane, skipper of the Pegasus, enjoyed a good week's fishing on the Moy Estuary with guests from Switzerland, Germany, France, UK and Ireland. Conditions improved compared with the previous week and, as a result, a total of 123 sea trout were caught, with the majority being released. Des McDonagh landed the best sea trout of the week on Pegasus, a nice fish just under 3 lbs.
To book a day's sea trout fishing visit www.fishingireland.ie or contact Judd on +353 (0)87 6736969.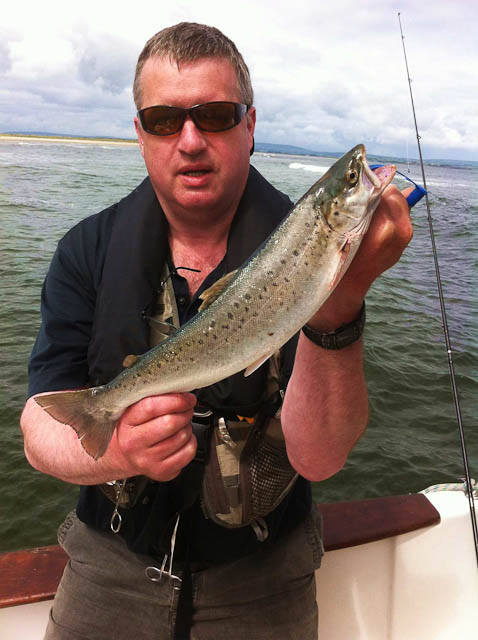 Des McDonagh with his fine Moy Estuary sea trout weighing just under 3 lbs.



Ballisodare Fishery
The Ballisodare Fishery saw a rather good week considering the low water conditions with over 115 salmon caught, most of which were released.
Due to the extremely low water levels the majority of the fish were caught at the Falls. At present, the average size of fish is about 4lb, with a few fish of 6, 7 and 8lbs. still showing. Most salmon fell to the prawn, with some taken on fly and worm as well.
Amongst the successful anglers were David Crawley 5 lbs. (fly), Michael Wymes 5 lbs. (fly), Pat Forkan 6 lbs. (fly), Hillary Mitchell 7 lbs. (prawn), Keith Campbell 6 lbs. (fly), Heather Dean-Wright 4 lbs. & 5 lbs. (fly), Patrick O'Connor 4lb (prawn) and James McGuire 5 lbs. (fly).
A lot of fish are coming in on the tides at the moment, and angling is very good with fish being caught constantly.
For Bookings please contact Dermot Glennon on +353 (0)086 2515064 or email ballisodarefc@eircom.net
Pike Angling
The warm and sunny weather of late impacted heavily on pike fishing. However, French anglers Jerome Lelimausin along with his son Clement made their way to Foxford to meet up with local guide, Kenny Sloan, to test their pike fishing skills on a number of different waters. Conditions were tough and the northerly wind didn't make things easier.
However, they caught 6 pike for the day with a few more lost in the weeds. Poppers and surface lures, along with trolling, accounted for the catches. Fifteen year old Clement managed to catch his biggest pike to date, a strong fish of 88cm. The two French anglers are planning to return to the Foxford area next year to try for a bigger one.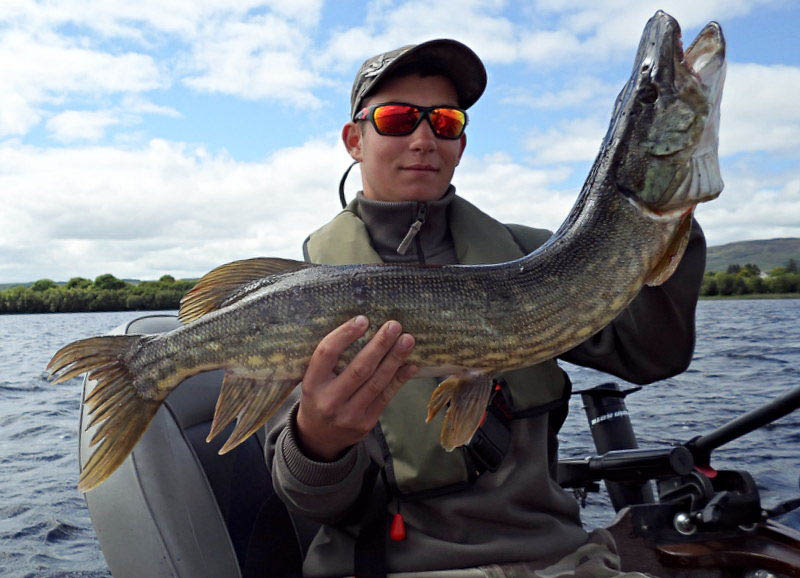 15 year old Clement Lelimausin with his biggest ever pike so far - a wild Mayo pike of 88cm