WRBD Galway Angling Report 23 April 2014
Lough Mask
Ronan Cusack reports that the good fishing which anglers enjoyed recently slowed slightly over the Easter weekend. The change in wind to an easterly direction, coupled with bright sunshine, made angling conditions extremely difficult. The majority of anglers fishing Mask this weekend anticipated the start of the olive and Campto buzzer hatches, but unfortunately this was not the case. In bays such as Cushlough and Ballahalla, olives only hatched in small numbers for a short period during the day. Their late arrival is possibly due to the late spring and high water levels.
Waterford anglers Christy Crotty and John Ronayne spent Saturday and Sunday on Mask and they had 4 fish for their efforts. Christy's best fish was 4.5lbs which he got on his last drift in Cushlough Bay before finishing up. Liam Conroy and his son Damien from Tourmakeady landed 2 fish pulling wets on Sunday last (best fish 1.75lbs). Former World Cup winner Mick Dunne also reported a good day's fishing on Sunday while fishing with John Purtell from Tipperary. The lads had 13 fish between them (best fish 2lbs). Local angler Kevin Egan fished with Ronan Cusack for a day over the weekend and they had 5 fish (best fish 3lbs all returned). Ballinrobe angler Kevin Sheridan reported catching 6 fish last week on a combination of wets and dries (best fish 2lbs). Gerry McDonnell also from Ballinrobe had 5 fish pulling wets on Wednesday last along the north shore (best fish 1.5lbs, all returned).
The majority of anglers on the lake at the moment are reporting that the number of under size fish they are encountering on each outing is incredible and very much on par with last year. Inland Fisheries Ireland officers are very much aware of this and are out at the moment around the lake carrying out routine checks on both size and bag limits. Anglers are asked to respect the minimum statutory size and bag limits and return any undersize fish to the water as quickly and carefully as possible. (The minimum size limit is 13 inches (33cm) measured from the nose to the fork of the tail, and the bag limit is 4 trout per day per angler.)
Ronan also guides on Mask and can be contacted at cusackronan@gmail.com or at 087 2869487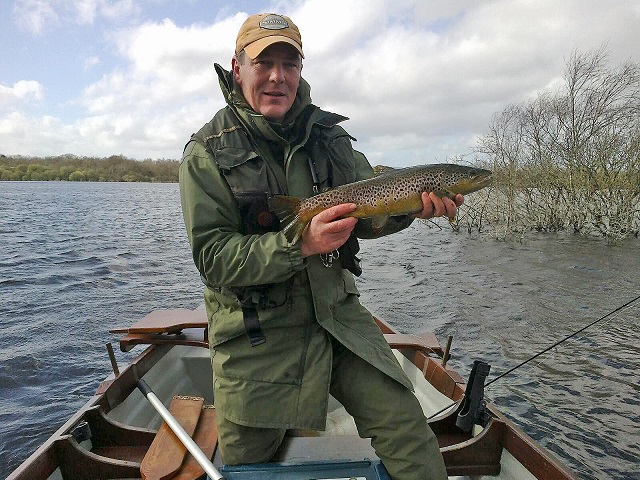 Ronan Cusack with a nice 3lbs trout from Lough Mask over the Easter weekend. The fish was taken on a size 12 Sooty Dabbler.
Lough Corrib
Frank Reilly reports that angling proved difficult over the week on Corrib, with fine weather and bright conditions giving the trout the upper hand. However, anglers have started reporting good hatches of olives throughout the lake, as well as a sprinkling of early mayfly in the Cornamona area. Early in the week Mike Faherty and James Kelly, fishing from Oughterard, landed 7 trout for 10lbs. Hugh McMiller, Northern Ireland, also fished from Oughterard for one day and landed 5 trout for 9lbs, all sportingly returned.
The Galway-based Inland Fisheries Ireland staff held their annual wetfly competition on Friday, with 16 anglers landing 6 trout in difficult bright conditions with very little wind. The winner was local expert Martin Butler with a fine trout of 3.5lbs, taken on buzzer nymph. Kevin Molloy took second place with 2 trout for 2.25lbs, while third was Seamus Hartigan with 1 trout for 1.25lbs. Cong Anglers held a wet fly competition on Sunday the 20th, with 22 anglers landing 5 trout. The winner was Seamus O'Loughlin, Ennis with 2 trout for 4.12lbs. Second place went to Tommy O'Loughlin, Ennis with 2 trout for 3.1lbs, and third was Philip Comber, Cong with 1 trout for 1.75lbs.
The Greenfields area saw very little angling over the week, however Brendan McGee landed 4 trout for one outing. Don Stiffe also landed 2 trout for a couple of hours fishing. Eugene McGuinness landed 2 trout for 2 days.
The Cong River has provided some good salmon fishing over the week, with 8 salmon landed between 8lbs and 11lbs. Young Cong angler Caolan McDonnell landed a fine salmon of 8lbs on a shrimp. John Lavelle, Cong also landed a fish of 8.5lbs.
The showery and breezier conditions prevailing this week should see a big improvement in olive hatches, and with the hawthorn trees starting to blossom already, I won't be surprised to see the mayfly hatch get underway very soon. The change in conditions and better hatches should see a lot more anglers out, and fishing prospects on Corrib are good for the next week.
Galway Fishery
After a winter of extremely high water, drier conditions have prevailed over recent weeks, and water levels in Galway have dropped rapidly, with 2 sluice gates now open on the weir. Fishing conditions are excellent, however the high water seems to have enticed fish upstream, and we now await a fresh run of springers to improve sport. There were 2 fish landed for the week, including the first fish on fly this year, which was taken by Ivor Trimble from Northern Ireland , a nice springer of 8.5lbs. Midlands angler Gerard Nevin also took a fine 11lbs salmon on spinner.
Heading into May, and the prime period for spring salmon fishing, I would expect to see the main spring run soon, especially with the bigger tides over the next few days, and with fishing conditions looking good, prospects in Galway are for sport to pick up significantly.