WRBD Ballina and Galway Angling Reports 10 July 2014
WRBD Galway Angling Report 10 July 2014
Salmon Angling
River Moy
Bright sunshine and low water did not favour angling during the past week. Despite the poor conditions, 271 salmon were reported caught on the River Moy last week.
The Moy Fishery had its best week so far this year with 35 salmon landed. On the Ridge Pool, Rene Roche, France and Anthony Waldron, UK had one fish each to the fly. John Smith, Cavan and John Ryan, Tipperary also had one each on the Weir Pool, with Peter Taylor and John Wearing UK enjoying success on the Cathedral Beat.
Upstream on Armstrong's Fishery, Gilles Bodenier, France had two salmon on the worm, while Dermot Drain, Northern Ireland fishing the Foxford Fishery released two fish of approx 4lbs and 9lbs, both taken on the fly. German angler, Gunther Barr had a fish of 7lbs to the worm on the Foxford Salmon Anglers' Rinanney waters, where 46 salmon were reported caught.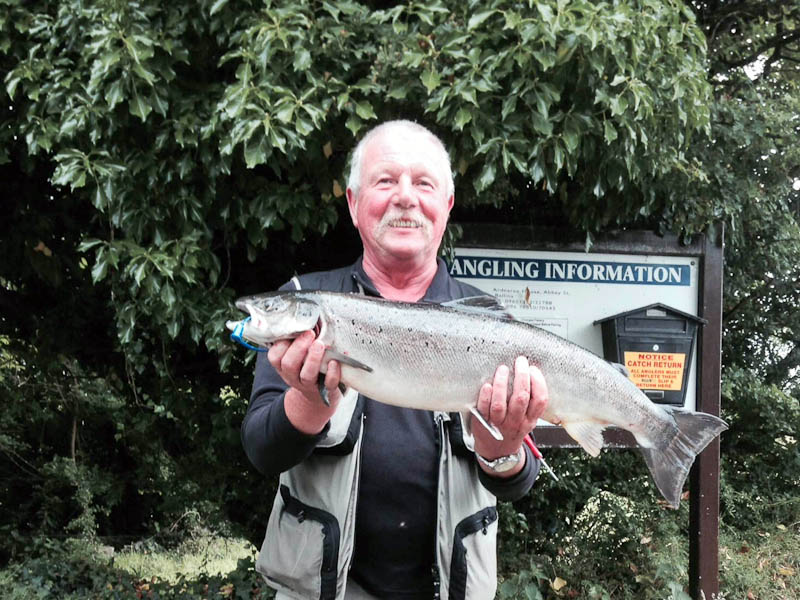 French angler, Gerald Groult with a nice salmon taken last week on the Cloongee Fishery.



Further upstream at Cloongee, Gerald Groult (France) had two salmon, one of which he released, and father and son team, Patrick and Damien Rousseau, France had a fish each. On East Mayo waters low water levels had the greatest impact with only 12 salmon reported for the week
Apologies to Jack and Stephen Murphy for the typo in last week's report, which read "had an eleven pounder each on prawn" and should have read "had one salmon each on prawn".
Ballisodare Fishery
Anglers enjoyed surprisingly good fishing at the falls in Ballisodare despite low water conditions with 159 salmon caught over the week, 80 of which were sportingly released.
Most were grilse which averaged 5lbs in weight and were taken predominantly on the prawn and worm with good numbers also coming to the fly. Among the anglers who enjoyed success on the Ballisodare were Jean Bernard Chenaux and Jean Loup, Switzerland. Anthony McCann had a cracking fish of 11.5lbs early in the week on the prawn.  On the same day, two visiting French anglers had a good day catching four fish on the prawn all around the 5lbs mark several of which were released. A party of four French anglers who fished the Ballisodare for a few days last week had 27 salmon to the prawn, many of which were returned, including several in the 6 to 8lbs range.
For Bookings please contact Dermot Glennon on +353 (0)086 2515064 or email ballisodarefc@eircom.net
Owenmore River & Carrowmore Lake
Weather conditions in Bangor were not favourable for salmon angling but some anglers enjoyed success including Glenn Wood, Lisburn fishing Carrowmore Lake who had two  salmon, one of which he released. Anglers also reported reasonable  sea trout fishing on Carrowmore over the week. With low water and very little rain, the Owenmore River proved difficult. Oisin O'Sullivan, Tullamore had two salmon from the river, his best weighing in at 9lbs, both of which were returned.
Trout Angling
Lough Conn
Bright, hot weather early in the week was not conducive to trout angling, although there was some decent dry fly fishing (sedges & buzzers) on offer in the Cloghans area for a small number of anglers who ventured out in the late evening.  Ian Wise, Crossmolina had two trout and one sea trout on dry sedges and his best fish, the sea trout weighed in at 2lbs. Bryan Costelloe, Tuam and Gerry Walsh, Galway, had four trout for 6lbs on dry olives.
Later in the week, when the weather broke, daytime angling improved considerably. Hugh Maloney and Damian Lundy, Scariff, Co. Clare had six trout between them in south Conn, all on Dry Wulffs.
Anna Sullivan, Ciara Byrne and Jack Souza all of whom were visiting from Boston, USA had three trout for 4lbs also in south Conn. Vinny O'Boyle, Knockfree and Willie Anderson, Manchester fished out of Pontoon Bridge Hotel for a few days later in the week.  Vinny had 2 on Green Peter and Willie took three on dry Wulffs.  Sean Casserley, Mayo had three trout on various wetfly patterns fishing in the Cloonamoyne area with his best fish weighing in at 1.5lbs
Sea Angling
A party of Dublin anglers enjoyed a great day's fishing on Killala Bay from the charter boat "Leah".  The first drift produced some ling, pollock and pouting.  On another drift some nice pollack were caught, the best up to 8lbs.  Later the party had some fine spurdog up to double figures, all of which were safely released.  Towards the end of the day the party drifted over a sandy patch which produced dabs and ray.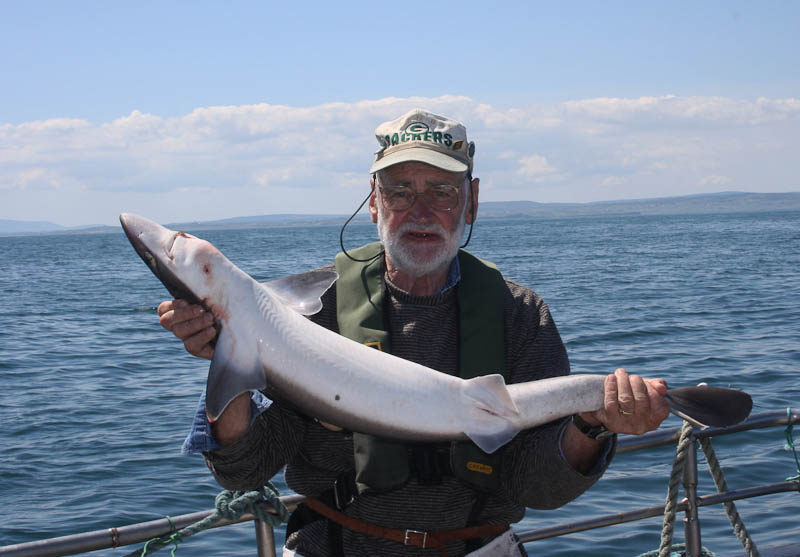 A nice double figure spurdog caught aboard the Leah out of Killala over the weekend. The fish was released after a quick photograph.
To book a day's fishing in Killala Bay contact Donal Kennedy on +353 (0)0868174509 or visit www.dkennedyangling.net.


WRBD Galway Angling Report 10 July 2014
Galway Fishery
It was yet another week of momentous firsts in Galway, as we celebrated first salmon for several more young anglers this week. Over many years staff at the Fishery get to know anglers from near and far on their annual, and more regular visits to Galway, and then these anglers grow up and have their own little anglers, and the little anglers start coming to Galway to catch salmon too!
Conor Liddell from the UK was one of our lucky young guests this week, fishing with his dad Ian he caught his first ever salmon, shortly followed by the second - one on fly and one on shrimp, and weighing 5 and 6lbs. Well done Conor!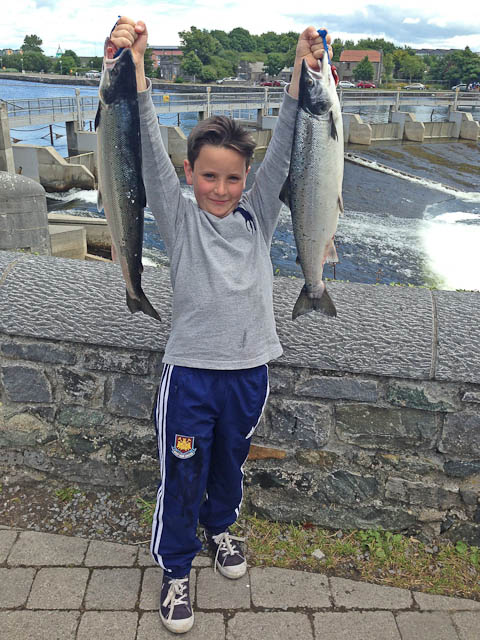 Conor Liddell from the UK, on a fishing holiday to reland with dad Ian, caught his first 2 salmon ever at the Galway Fishery, including one taken on fly and one on shrimp. Well done Conor!



Next to feature was the son of one our regular anglers - Tony Kavanagh from Salthill. Tony's son Denis (7) landed his first salmon over the weekend, which I'm sure will be the first of many in Galway.
And last but by no means least, Alex Dinn, fishing with his granddad Dr. John Casey from Clifden, another Galway regular,  managed to catch no less than 3 salmon on his first attempt, with 3 grilse to 4.5lbs taken on fly and shrimp. Definitely one to watch for the future!
Not to be outdone, the rest of the anglers on the Weir managed a fine tally this week, landing 122 salmon for the week in perfect conditions conducive to flyfishing. Barry Browne from Dublin had 3 grilse to 5lbs on fly, while Clare man John Liddy had 2 grilse on fly. Moycullen angler Neil Spellacy broke his recent duck with a nice catch of 3 grilse to 5.5lbs on fly for an evening, while Tuam man Louis Brennan took 2 grilse to 6lbs on fly.
Erriff fishery manager Jim Stafford had a rare break from duty at Aasleagh Lodge and managed 3 grilse to the fly for his morning on the weir, while Pat Gorman also had 2 fish for his outing. Laois man John Hetherington landed 2 grilse to 6.5lbs on fly and shrimp, and Galway man John McCarthy had 3 grilse to 6lbs, also on fly and shrimp. Annual German visitors Manfred Wilke (now 89 and coming to Galway for many years, and Wolfram Hoppe (not yet 89!) are enjoying their week-long visit to Galway, with over 10 salmon landed so far, including several fish sportingly relased.
With water conditions in perfect order, temepratures not too warm, and plenty of grilse running the river, prospects for fishing in Galway for the coming week are once again, excellent.l
Erriff Fishery
Fishery manager Jim Stafford reports that last week was a mixed week with bright sunshine and some very heavy thundery showers.  Water levels were low for the first three days of the month - however the sea trout continued to run in very good numbers with almost 250 trout running through the counter during that period.  Overall the amount of rain that fell was disappointing with water levels peaking at just over 1.1 meters on the 4th - however it was a welcome bonus for the salmon fry on the feeder streams which were running seriously low.  The first good pulse of the grilse run with a scattering of Springers saw almost 100 fish move upstream - the run of sea trout was excellent with almost 700 fish recorded through the counter.
Michel Le Paire caught a sparkling fresh sea-liced grilse in the Bridge Pool on Beat 9 on a Sunray Shadow.  Fishing lightly dressed Cascades Enda O'Connell , Newcastle upon Tyne, UK had a very successful few days on the river catching 3 fresh grilse in the Falls Pool and Garden Pools on Beat 9.  Ken Mills, UK caught another grilse in the Garden Pool also on a Cascade.  Simone Scaggio and Michel Malagugini, both from Italy and fishing the Erriff for the first time caught their first ever salmon in the Falls Pool on Beat 9.  David Gaffney caught a nice sea trout on Beat 1. Hugh Maguire, Ireland, caught a grilse and 3 sea trout in the Upper Sally Pool on Beat 7. The last fish of the week was caught by Michel Winthrop from France on a Lady O'Hara in the School House Pool on Beat 3.
The catch for the week was 9 salmon and 15 sea trout.
To book fishing or accommodation, contact Jim at 095 42252, or check www.aasleaghlodge.ie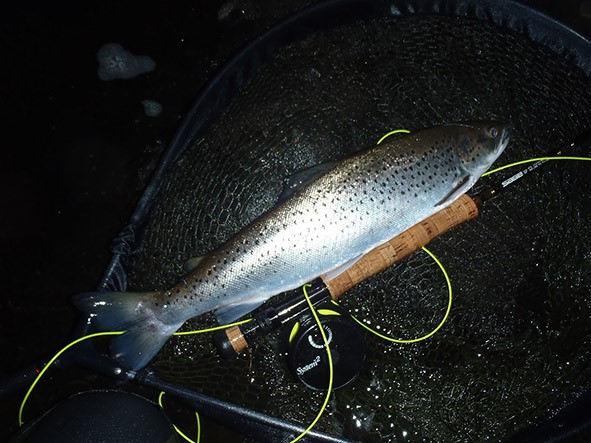 A beautiful fresh 52cm sea trout caught and released after a photo by French angler Raphael Amat during his recent visit to the Erriff Fishery.



Lough Corrib
Frank Reilly reports that fishing has picked up significantly on the Corrib with the break in the weather over the last week.  Jerry Dixon and Mathew Tierney, Oughterard, landed 16 trout (8 returned) to wet fly on one day; Jerry also reported on another outing landing and releasing a trout of 5lbs.  Philip O Connell, Oughterard, landed 3 trout for 5.5lbs to mayfly.  Enda Tierney, Oughterard, landed 1 trout for 3.5lbs dapping mayflies for a day.
On Friday the 4th July Galway Garda Angling Club Vs IFI Galway held their annual challenge competition with 20 anglers landing 19 trout.  1st was Kevin Molloy with 4 trout for 6.85lbs, 2nd was Peter Curran with 4 trout for 5.32lbs and 3rd was John Walsh, also with 4 trout for 4.99lbs. The best fish of the day went to Peter Mc Guinness with a trout for 2.95lbs; Peter also landed a second trout for a total of 4.35 lbs giving him the top rod for Galway Garda A.C.
6 anglers fished the Greenfields area over the weekend and landed 14 trout to wet fly and dry fly using mayfly and sedge patterns.  Ronan Broderick, UK fished for one day and landed 5 trout up to 2.5lbs, all released. Peter Ryan and John Flynn, Dublin, fished for 2 days and landed 6 trout for 10.5lbs to wetfly.
Anglers are reporting plenty of Mayflies and Sedges hatching through the day.
Ballynahinch Castle
Brid O'Malley was in touch from Ballynahinch Castle to report that the summer grilse have arrived after the nice fresh rain last Friday.  The river rose a little, with great results this past weekend.  13 salmon were landed, and a few more got away.  Tom McManus had great success with a hat -trick on Friday and another 3 fish were landed on Saturday.  The usual traditional flies are working best - Silver Rat and Ballynahinch Badger and a few on the Silver Stoat too.  The lower water is actually better and preferred at Ballynahinch as the salmon can still come in without difficulty and will stay in the lower beats until a big flood arrives.
So with the grilse running well now, there are fish showing up and down the river.  There are also a lot of smaller sea trout around, which provide sport even for the novice learning to fly fish. For the more experienced anglers, catches into the double figures are very possible, even in one afternoon.  There are some places available on the river at the moment, but booking is definitely advised.
Contact the hotel reception on 095 31006 to arrange fishing or visit www.ballynahinch-castle.com .