Salmon & Sea Trout Angling
River Moy
Angling effort on the River Moy was up compared to previous weeks and despite varying water levels anglers enjoyed the best week of the season so far. However, recent floods seem to have shifted the emphasis upstream from Ballina.
On the Ridge Pool, fly angler, Robert Logue, Northern Ireland, caught and released a nine pounder, while John McKinley, Athlone, had a fine 12.75 lbs. salmon on worm. Gannon's produced a good number of fish during the week including a fine 11 pounder on worm for Steven Killen from Northern Ireland. On the Foxford Fishery, Peter Feeney, also Northern Ireland had a 10 lbs. salmon (worm), while father and son, Barry and John Rogers, UK, landed two great fish of 10 lbs. and 11lbs. on Rinnaney.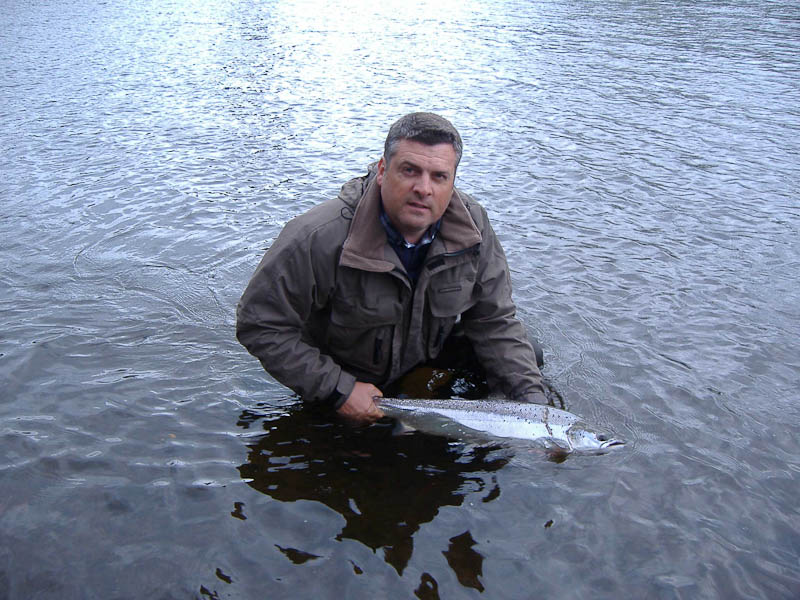 Robert Logue, NI, releasing his 9 lbs. Ridge Pool salmon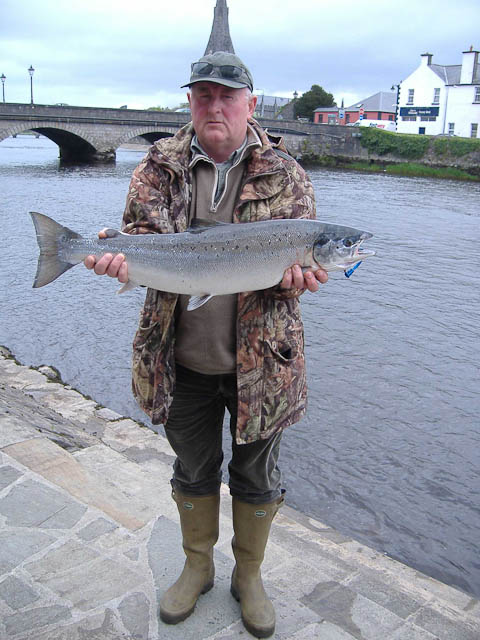 John McKinley, Athlone, with 11.75 lbs. fish from the Ridge Pool
Further up river, on Cloongee, French anglers, Beatrice Valaize and Chantal Goussot, did very well catching salmon of 13 lbs. and 10.5 lbs. Both fish fell to a Pink Rolla Silver Bullet spinner. Also on Cloongee, Gerry Guilfoyle, Westmeath, had an 11.5 lbs. fish on worm.
Fly anglers, Frank Sommer, Germany and Pascal Nicholas, France where successful on the East Mayo Association water where they caught fish of 12 lbs. and 9 lbs. Other successful anglers on East Mayo included Mike Haywood, UK, with a 12 lbs. salmon on spinner and Owen Bishop, also UK, who had a ten pounder on worm.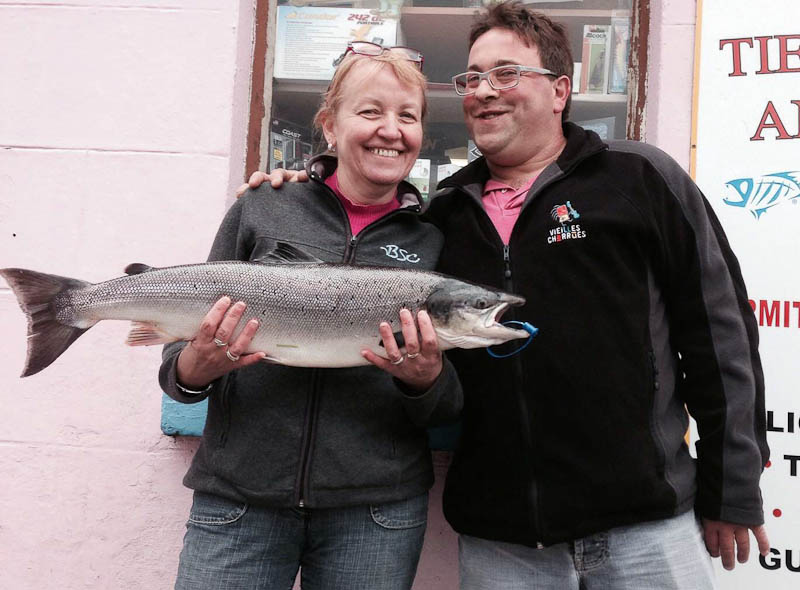 A proud French lady angler, Chantal Goussot, displaying her 10.5 lbs. Cloongee fish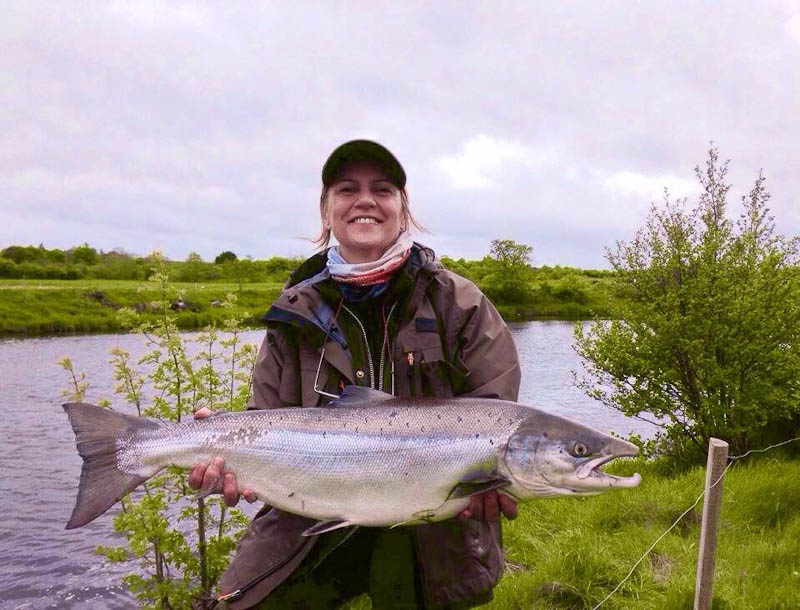 Beatrice Valaize, France, with her fantastic 13 pounder from the Cloongee Fishery

Lough Beltra
The recent unsettled weather resulted in better fishing conditions on Lough Beltra. James Burns, Northern Ireland, had a fine 10 lbs. salmon in Walsh's Bay, while local ghillie, Eamon Kennedy, reported an eight pounder from the west side of the lake. Newport's, David Nevin, caught a fresh 10 lbs. salmon at Morrison's on a Green Peter and Gerard Nowicki, UK, got an 8 lbs. salmon on a Jaffa at the Yellow House. Prospects look very good for the coming days.
To book fishing on Beltra West contact Newport House at +353 (0)98 41222 or visit www.newporthouse.ie. To fish Lough Beltra East please visit www.loughbeltra.com.
Ballisodare Fishery
Catches on the Ballisodare Fishery improved compared to last week with a total of 26 salmon caught, many of which were released. Worm and fly were the most productive methods and with almost 9 lbs. the average size was very good. Amongst the successful anglers were Michael Mullaney and Alexander Mills who both had good fish of 9 lbs. on fly. Club Secretary, Dermot Glennon, caught and released a fine fish of 8 lbs., while fly angler, Vincent Henry, enjoyed great fishing with a total of 3 salmon averaging 8 lbs. over two days. However, the best fish of the week fell to David Shanks. David's fish weighed 11 lbs. and was caught on the worm. Higher water levels towards the end of the week impacted somewhat on angling conditions. However, the fishery should fish well as soon as levels drop. Most successful flies for the week included Willie Gunn tube flies and the Posh Tosh.
Trout Fishing
Lough Conn
Lough Conn has fished exceptionally well over the past couple of weeks with many excellent catches reported, especially from the Castlehill area. Even recent floods and high winds didn't really impact on the good fishing. Besides the usual wet fly methods, small dry flies worked remarkably well.
Pontoon Bridge Hotel (relax@pontoonbridge.com) reported some good fishing for their guests. Darragh Mulcahy, Cork, had two trout on Claret Bumble patterns, best at 2.5 lbs. off Glass Island, while Kevin Egan & Patrick Sheehy, both Dublin, caught and released a total of 7 fish averaging 1 lbs. Local ghillie, Kieran Connoly, had 3 trout up to 3 lbs. on wets and Jack Mellet, Castlebar, was successful fishing dry flies catching 2 trout, best at 2.5 lbs.

Cloonamoyne Fishery, Enniscoe, Crossmolina, (ian@cloonamoynefishery.com) also enjoyed good fishing: Barry Seagrave, Dublin, and John Warren, Crossmolina, had two good trout each on olive patterns and returned six more. Ian Wise reported 12 trout (all released) in less than two hours in five short drifts in Bog Bay on wet patterns.
Fishing out of Murphy's Boat Hire, Massbrook, (gmurphyboats@gmail.com) Mick Sweeney & Mick Mc Hugh, both Galway, boated 10 trout (all released) over 2 days, while Kieran and Martin Foley, both Dublin, took 3 trout each on mayfly patterns, best at 2 lbs.
Clients of Kelly's Boat Hire, Walter and Susan Byrne, Offally, caught 7 trout (all returned); best 2 lbs. all on wet mayfly patterns. Other successful anglers included Dermot Dunne, Offaly with 4 fish, best at 2 lbs. and Karl Henry, Sligo, who boated 6 good trout for 9 lbs. on wets.
In the Brackwansha area, Padraig Traynor, Crossmolina, had 3 trout best at 2.5 lbs. on dry olives, while Peter Roach, Cloghans, caught 4 fish averaging 1.5 lbs. Stephen Neylon, Dublin, was also successful catching 5 trout on wet patterns, best at 1.75 lbs.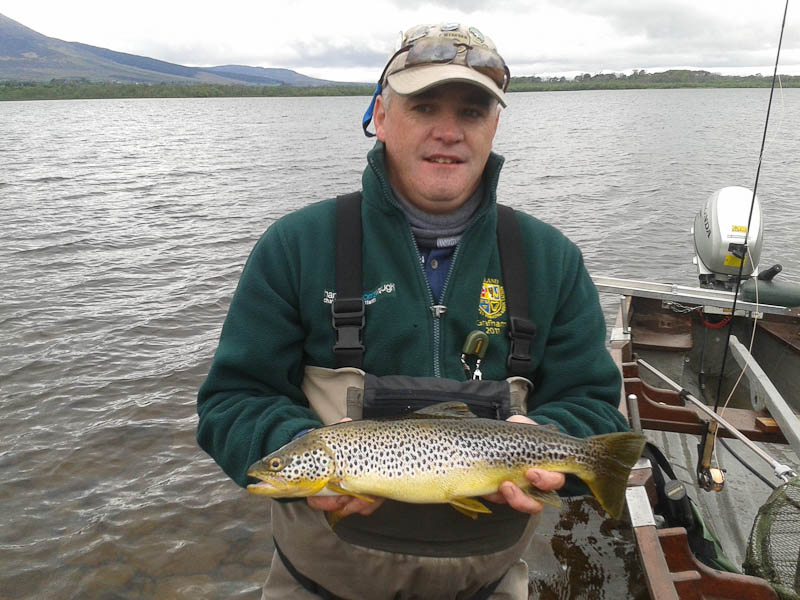 Michael Monaghan with a lovely 3 lbs. trout from Castlehill Bay on a Grey Wulff
Lough Arrow
Lough Arrow saw a very good week with all methods (wet fly, dry fly and dap) producing good catches. French visitor, Cedric Ducouret, boated two fish on the dap weighing 2 lbs. and 2.5 lbs., while Francis White had 4 trout weighing 11.5 lbs. in one day on dry flies. Local anglers, Rosaleen and Gerard Martin, caught and released 7 fish in one day up to 3 lbs. With the first prolific falls of spent expected, prospects for the coming days are looking good.

Lough Arrow Fish Preservation Association & District Anglers held their annual Mayfly Competition on Sunday 11th May. Forty-six anglers fished the event reporting a total catch of 49 brown trout. Results (heaviest fish only) were as follows:
1st Ken Murray - 4.974 lbs.
2nd Michael Monaghan - 4.144 lbs.
3rd Jonathan Frazer - 2.996 lbs.
4th Orla Walsh - 2.694 lbs.
Walter Frazer won the Juvenile Competition with a trout weighing 1.638 lbs.

Pike Angling
Steve Bates and Bill Gutheridge, members of the English Lure Angling Society (L.A.S.), visited the Foxford area for two days pike fishing and were guided by Kenny Sloan on a number of different waters. It was their first to North Mayo and definitely won't be their last!
The two lure angers accounted for a total of 25 pike, the biggest, a great fish of 22 lbs. falling to Bill. Steve had fish to around 16 lbs. More members of L.A.S. have already booked for October when they hope to beat their personal best in the lakes around Foxford.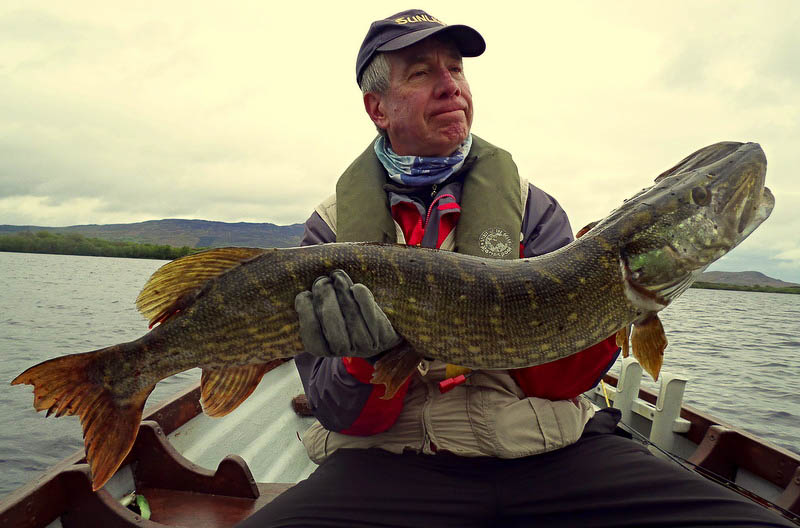 Steve Bates with one of many lure caught Mayo pike.
To book a day's guiding or boat hire contact Kenny Sloan on +353 (0)949256501 or +353 (0)87 9670310 or visitwww.pikemania.co.uk.