Salmon Angling
River Moy
Due to isolated heavy thundery showers, water levels on the River Moy fluctuated all week, making angling difficult at times.  However, the Moy system accounted for a reported catch of 242 salmon for the week.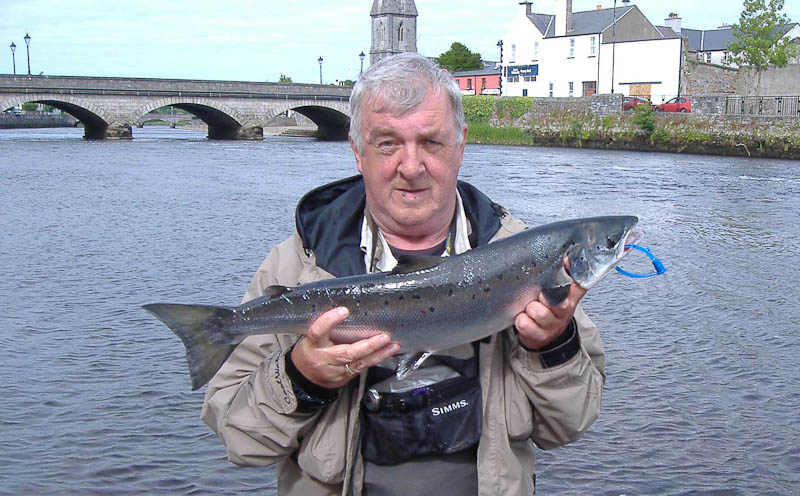 Michael Doheny, Cavan, with his 8.5 lbs. fly-caught Ridge Pool salmon



On the Ridge Pool, two salmon were caught during the week including a fine 8.5 lbs. fish for flyangler Michael Doherty from Cavan.  UK visitor, William Morris, had two fish at 4 lbs. and 7.5 lbs. on the Mt. Falcon water on spinner, while Hugh McCormack, Dublin landed a 6 lbs. fish on the Coolcronan Fishery. Dave Allen, Northern Ireland, caught two fine 10 lbs. salmon on Armstrong's, Eric Fabre, France, had an eight pounder on Gannon's and Jean Marie Bluet, also France, took an 8.5 lbs. salmon on the fly on the Foxford Fishery. Anglers on Rinanney and the Foxford Salmon Anglers water also enjoyed good fishing with Lutz Kaiser, Germany, landing a cracking 13 lbs. salmon on worm.
Further upriver, Cloongee produced 3 salmon (2 x 5 lbs. & 8 lbs.) for Cyril Martin, France, on spinner, while Alain Carretero landed two fish averaging 4 lbs. also on spinner.
The East Mayo Anglers water saw a good mix of successful international anglers including Pascal Burg, Luxemburg, with two fish on worm (6 lbs. & 8 lbs.), Lothar Waldeck, Germany, (11 lbs. on spinner), Remo Schorno, Switzerland, (5.5 lbs. on fly), Roberto Cucindo, Italy, (5 lbs. on worm) and Jean Pierre Rigaud, France with a ten pounder on fly.
Moy Estuary
Despite difficult conditions with a spring tide and northerly winds, Judd Ruane, skipper of the Pegasus, reported reasonable sea trout fishing for his clients during the week. Anglers fishing onboard the Pegasus accounted for a total of 67 sea trout, of which the majority was released.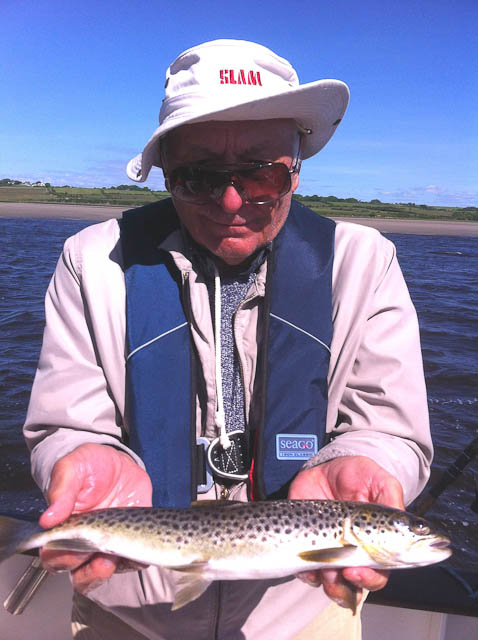 John James, Wales, with a nice Moy Estuary sea trout


To book a day's sea trout fishing visit www.fishingireland.ie or contact Judd on +353 (0)87 6736969.

Carrowmore Lake & Owenmore River

Carrowmore Lake had a reported catch of 28 salmon (19 released) for with week. The bright conditions and very low water levels didn't make for easy fishing. However, anglers also reported some fine catches of sea trout up to 3 lbs. Jan Mertens, Belgium, was amongst the successful anglers with a fine sea trout of 2.5 lbs., while his countryman,  Danny Van Looy, caught his first ever salmon, a nice fresh grilse of 4 lbs.

On the Owenmore River, the same group of Belgian anglers also enjoyed good sport catching a total of 4 salmon; biggest at 10 lbs. Danny Verbessem was particularly successful catching and releasing 3 salmon between 5 lbs. and 10 lbs.

Please note that Carrowmore Lake is a Brown Tag Fishery this year and that the Owenmore River is "Catch & Release"! For fishing on Carrowmore Lake and the Owenmore River contact Seamus Henry on +353 (0)97 83487 or visit www.bangorerrisangling.com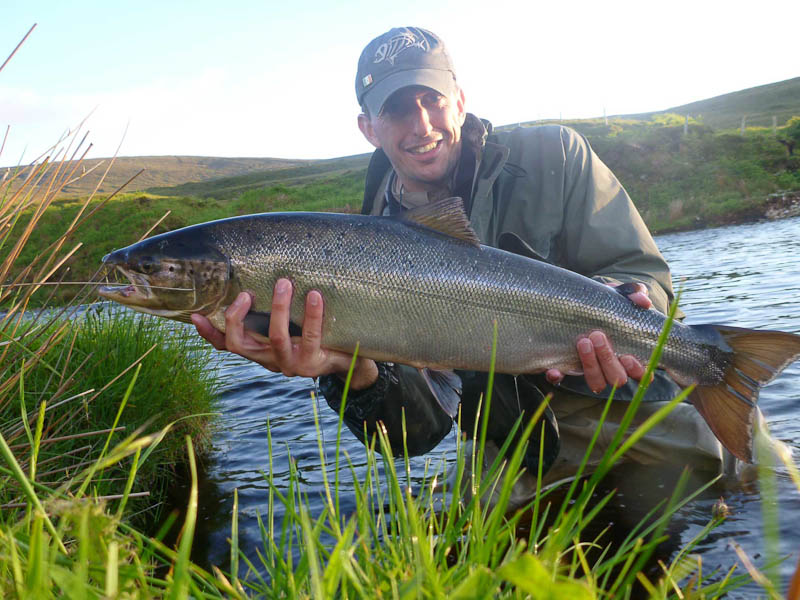 A happy, Danny Verbessem, Belgium showing the best of his three Owenmore salmon.
Ballisodare Fishery
The Ballisodare Fishery saw a decent week with a total of 82 salmon caught, most of which were released. The low water levels and bright conditions didn't really impact on angling and more and more grilse in the 3 lbs. to 6 lbs. range are starting to show at the Falls. Again, most fish were landed by fly anglers with some being caught on worm and prawn.
Swiss visitor, Yvelise Chenoux, had fish of 4 lbs. and 6 lbs. on fly, while local anglers were also successful. Fly angler, John Scanlon enjoyed a great day's fishing during the week landing 3 fish between 3 lbs. and 5 lbs. David Crawly also had 3 fish on the fly ranging between 4 lbs. and 5.5 lbs. Other successful anglers included Pat Hagen with 2 fish (4 lbs. & 5 lbs.), both released, Dennis Barrett (8 lbs. on worm) and Sean Gallagher who had fish weighing 4 lbs. and 9 lbs. on fly.
Most successful flies for the week were small Shrimp and Cascade patterns with a size 12/14 Green Butt Cascade working best.
Trout Fishing
Lough Conn & Lough Cullin
Due to the bright and sunny weather, trout angling on loughs Conn and Cullin has slowed down somewhat. Fly hatches were more sporadic than in previous weeks and most of the fish were caught towards the evening.
On Lough Cullin, Gary Binley, Foxford, had 4 trout, all around 1.25 lbs., while Richard Binley, Foxford, and Bruce Vaughan, UK, boated over 60 keepers (all returned) over a four day period. Also on Lough Cullin, Chloe & Patric Devereux, France, caught 6 trout averaging 1.25 lbs.
Fishing out of Pontoon Bridge Hotel (relax@pontoonbridge.ie), Welsh anglers, Peter Morgan and Paul & Tina Williams, all did very well catching several good sized trout up to 2 lbs. (all released). Glen & Dave Bennet, UK, had 4 trout, best at 1.5 lbs., Brendan O'Malley & son John, US, accounted for 7, biggest also at 1.5 lbs.
Murphy's Boat Hire (gmurphyboats@gmail.com) reported 9 trout (best at 2 lbs.) for Mick Sweeney & Liam Mc Hugh (Galway & Offaly), while Tony Reddington, Dublin, boated 5 up to 2.5 lbs.
Guests of Cloonamoyne Fishery (ian@cloonamoynefishery.com) were also successful during the week, with Bernie Bradford boating a number of good fish, best at 2 lbs. and
Jack Brady & Alan Hopkins, also UK, catching 11 trout, best at 1.25lbs.
The Cloghans area produced 7 trout for local anglers John and Mick McNeely, for an evening's fishing, while James Waldron & Liam Butler, both Galway, had 2 trout each, best at 2 lbs.
Most successful flies for the week included dry olives and mayfly patterns, Dabblers and Wulffs.
Sea Angling
Donal Kelly, skipper of the Leah, reported on a great day's fishing in Killala Bay. On Sunday 15th June a party of anglers from the Longford area set out from Killala Harbour at 9am for a day's fishing in Killala Bay. The weather was fine with light northerly winds and some sunshine.
On the first couple of drifts the group caught some fresh mackerel for bait.
As the skipper had a plentiful supply of fresh frozen mackerel, the group didn't want to waste more time and moved further out to fish over deeper water. This was the right decision as drifting over deeper ground produced some nice cod, best up to 5lbs. The same drift also produced many ling up to7 lbs., pollack up to 9 lbs. along with coalfish, pouting and some cuckoo wrasse. This was the trend for the rest of the day with many more fine fish being landed. Shoals of mackerel also appeared on the scene and kept the anglers busy until they returned home to Killala Harbour well pleased with their day's fishing.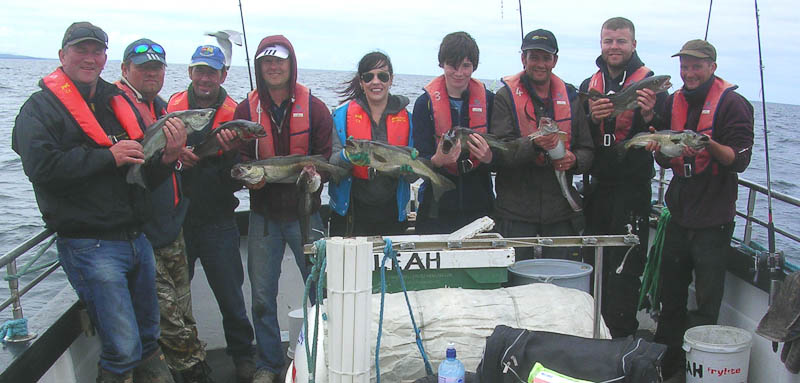 Delighted with their catch - a group from Longford onboard the Leah, Killala Bay



To book a day's fishing in Killala Bay contact Donal Kennedy on +353 (0)0868174509 or visit http://www.dkennedyangling.net/.