WRBD Galway Angling Report 16 July 2014
Finally some rain for the Connemara fisheries, and fishing has started to come alive the last couple of days.
Erriff Fishery
Fishery manager Jim Stafford reports that the early part of the week was mainly dry with low water conditions.  However the excellent run of sea trout continued with 849 sea trout passing through the counting facility at Aasleagh Falls between the 7th and the 13th!  Then the rains came on the morning of the 14th with the level rising to 1.35 meters on the gauge by mid-afternoon. The combination of the increase in water levels accompanied by high tides up to 4.6 meters brought in an additional 600 sea trout and 100+ salmon into the fishery.   After the dry period the river was somewhat coloured during the morning and early afternoon but it did clear by late afternoon. Overall angling pressure was relatively light on the river during the period.
French anglers Francois Tartaguino, fishing the Erriff for the first time, and regular visitor Gerard Garnier had a successful first few days of their visit with Francois catching his first Irish salmon in the Bridge Pool on Beat 9 - they went on to catch a further 10 sea trout and 2 grilse during the period. Regular UK visitor Andrew Beattie caught 4 sea trout and a grilse of 7.75lbs - all fish were taken on a size 14 Cascade. James Keogh, Dublin caught 3 grilse - with the first coming from the Lower Garden Pool and the other two from the Falls Pool on Beat 9 - again a small dark Cascade was the successful pattern. Garret Beattie, Northern Ireland caught 2 grilse in the Lower Garden Pool and the Bridge Pool on a Golden Shrimp Fly and a Willie Gunn.  Local angler John Flaherty caught a sea trout in the Coronation Pool on Beat 8 and 2 grilse in the Falls Pool on Beat 9.
At the time of writing the report (Tuesday evening) heavy rain is coming in from the west which should favour angling conditions for the coming week.
Total catch for the week was 13 salmon and 23 sea trout.
To book fishing or accommodation, contact Jim at 095 42252, or check www.aasleaghlodge.ie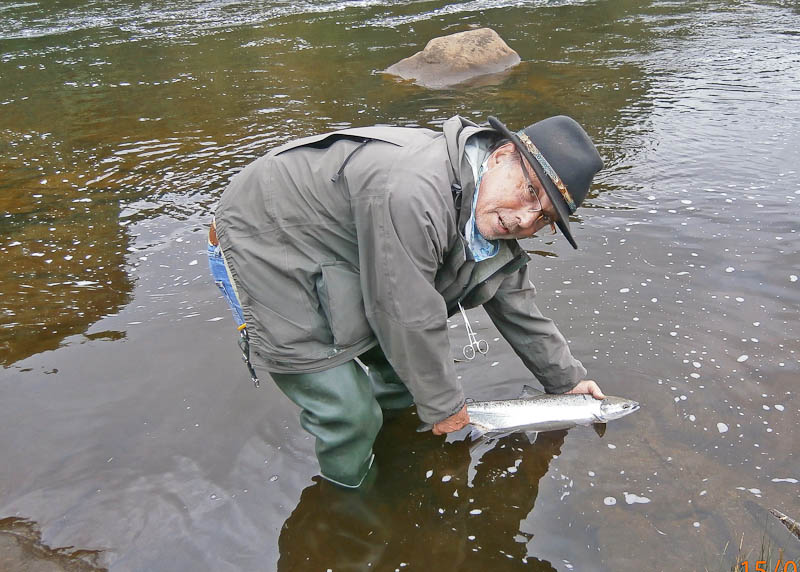 Regular French visitor Gerard Garnier releasing a nice grilse he caught on Beat 9 on the Erriff Fishery.



Screebe
Fishery manager Trevor Doen reports that fishing at Screebe has really improved, with heavy rain on the 14th and spring tides, which bodes well for the next weeks. One interesting characteristic of Screebe is that even in low water levels  salmon and sea trout can still get to the top of the third lake and to the Salmon Pool.
From the 7th of June  sea trout fishing picked up with 23 recorded up to 2lbs, and 36 brown trout recorded to 3lbs from Screebe Lake. On the 21st June a small run of grilse livened up fishing at the Salmon Pool, with 3 lost and one landed at 5lbs things looked promising , over the next week this story continued  with fish lost and one landed each day - 7 salmon for the week to 6.5lbs. On the 29th Fisch n Fang magazine from Germany arrived for a week ,the first 3 days saw calm and sunny conditions but they still managed some nice brown trout and sea trout from the tidal loughs, on the 4th day conditions improved with cloud cover and a good strong westerly stirring things up. Tre3vor guided them to their first Screebe salmon of 5lbs. So the Screebe grand slam was caught, photographed and logged (salmon ,sea trout and brown trout.) The last 2 days they switched to perch fishing on one of our many lakes where jigging soft plastic lures paid off with over 100 perch caught and released.  On the 4th of July 4 anglers from the Moyola angling club arrived - Brian Bigmore , Phillip Maguire , Tommy McGrath and Patsy Harkin had 4 days trout fishing the bottom 3 lakes. They did the club proud with 210 brown trout, 35 sea trout and one 5.5lbs grilse for Phillip, releasing all the trout in sporting fashion.
On the 10th July regular German angler Eberhardt Jahnke arrived for 4 days fishing - he caught 3 nice grilse to 5.5lbs and lost 4 others after acrobatic fights - in all a nice weekend in low water conditions. The rain on Monday and Tuesday has really improved water conditions, and Trevor was in touch again last night with a "live feed" from the fishery, sending a photo of Ken McMillan with a nice grilse just after being landed. With good conditions and fish running, I expect to hear of more fish from Screebe over the next few days.
To book fishing contact Screebe House at 091 574110 or visit www.screebe.com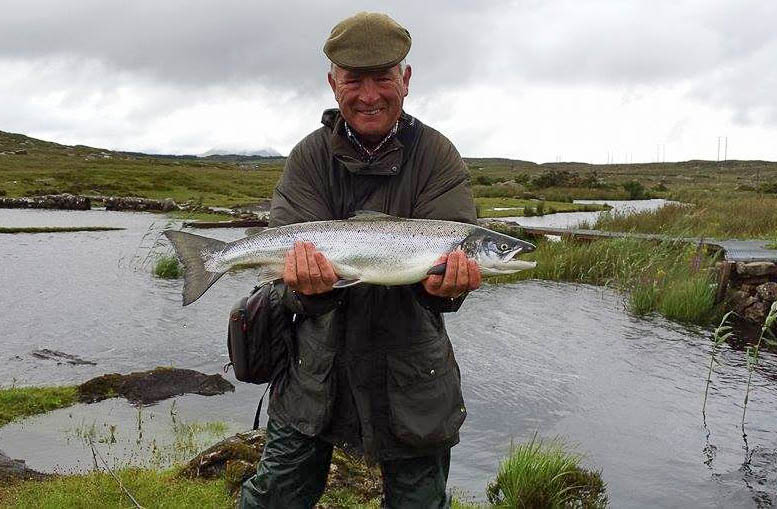 Ken McMillan with a nice grilse caught at Screebe on Wednesday July 14th, 2014.



Lough Inagh
Colin Folan was in touch to report on a good rise in water levels since Monday, following heavy rain in Connemara. The lake rose by 18 inches, with the level at the Derryclare Butts rising 12 inches, which should ensure safe passage for the first big run of grilse and sea trout into the upper lake. Colin himself had 2 nice fresh grilse on Wednesday evening at the Butts, both 5-6lbs and sea-liced, so the fish are making their way quickly upstream from the sea. With good water levels and fresh fish running, fishing prospects at Inagh have improved immensely this week.
To book fishihng or accommodation call Lough Inagh Lodge at 095 34706, or visit www.loughinaghlodgehotel.ie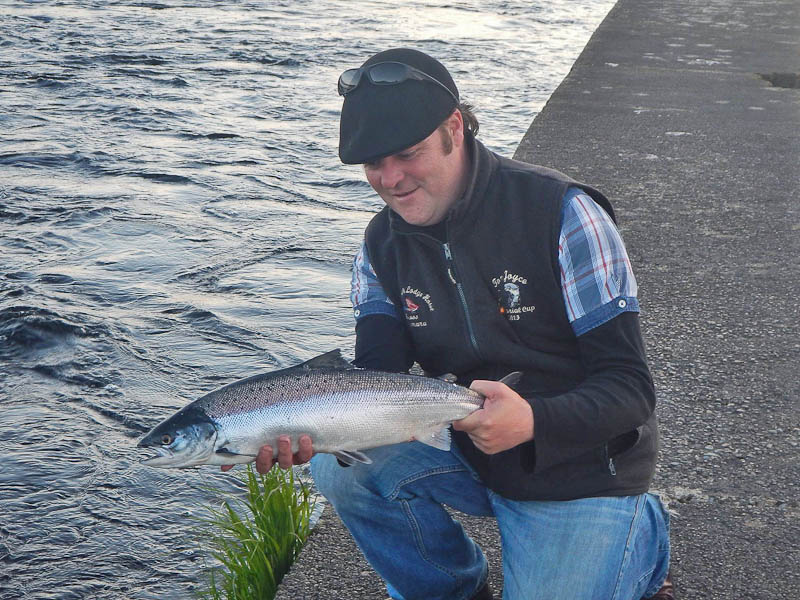 Lough Inagh fishery manager Colin Folan with a nice grilse that he caught on Wednesday the 16th July at the Derryclare Butts. The fish was released after a quick photo.



Kylemore Abbey Fishery
Fishery manager Nigel Rush reports that last week was slow, with just 6 fish landed for 9 rod-days. However, the rain that was promised arrived with a vengeance and the river yesterday was in full flood. The lakes are now full so lack of water is not an option and should see plenty of fish entering the fishery this week.
So far this week the fishery has produced 11 grilse to 5lbs for just 13 rod-days with Conor McCormick landing 3 fish for 3 outings and Steve Eustace 2 fish for 2 mornings.
Steve's second fish caught yesterday morning, was landed at Tullywee bridge and whilst he was sorting out a tag to tag the fish, his young son Nick, who was sitting next to the fish was accosted by an otter who duly picked up the fish and headed for the nearest bushes! Two otters have regularly been spotted on this stretch with one of them killed three mornings ago on the road nearby. Obviously this roaming otter is trying to rear it's young on its own and will stoop to robbing our anglers catch....be warned!
To book fishing at Kylemore Abbey, call Nigel at 095 41178, or mobile 087 9580702, and for latest news check the website at www.kylemorefishery.ie
Lough Corrib
Frank Reilly reports that anglers enjoyed good fishing over the last week to all methods. 6 anglers fishing the Oughterard area for 15 rod-days reported landing 66 trout. Three anglers in the Goldberg party dapping for one day landed 16 trout (10 released) keeping 6 for 15lbs with the best fish of the day at 4lbs.  Swiss angler Stefan Kaufmann and a friend fished for 5 days and landed 36 trout for approx.  50lbs (18 released) to dapping and wet flies.  John Gilbert, Carlow fished for 3 days using wet and dry fly and landed 14 trout for 22lbs, the best fish for the trip was 3.5lbs.
The Greenfields area had very few anglers fishing over the week  On Thursday the 10th July the Garda Angling Club held their annual competition with 20 anglers landing 12 trout. 1st was Bob Bradley, Galway with 3 trout for 5.12lbs. 2nd was Christy Reilly, with 2 trout for 4.25lbs, and  3rd was Mick Bradley with 2 trout for 3.94lbs. Dara Walsh, Glencorrib fished for 1 day and landed 2 trout for 4lbs to dry fly.  Larry McCarthy of www.corribangling.com reported good fishing over the week; Larry fished 3 mornings on the Caenis with Gareth Jones of Airflo and landed 20 trout up to 2.5lbs, all released.  Larry also fished 1 day in the Greenfields area with a UK angler and landed 5 trout up to 3lbs on dry sedges.
The bit of rain over the last few days and breezy warm conditions now prevailing should keep the good fishing going, and reports from Corrib should be fairly good over the next few weeks.