WRBD Ballina Angling Report 18 May 2014
Salmon & Sea Trout Angling
River Moy
Water levels on the River Moy fluctuated all week impacting on angling on most of the system. Again, the middle and upper fisheries fished best.
French visitors, Herve Rubat and Michelle Domenjoud, were guided by Kenny Sloan on the Knockmore water and both landed a salmon on spinner. For Herve it was his first ever salmon! On Gannon's, 18-year old Andrew Todd, Northern Ireland, had a nine pounder on worm, while Howard Bayliss, Wales, caught 3 on spinner, best at 10.25 lbs. Cloongee produced a number of salmon including a 7 pounder for Brian Everard, Meath, and a 6 pounder for local angler, Peter Todd, both on worm.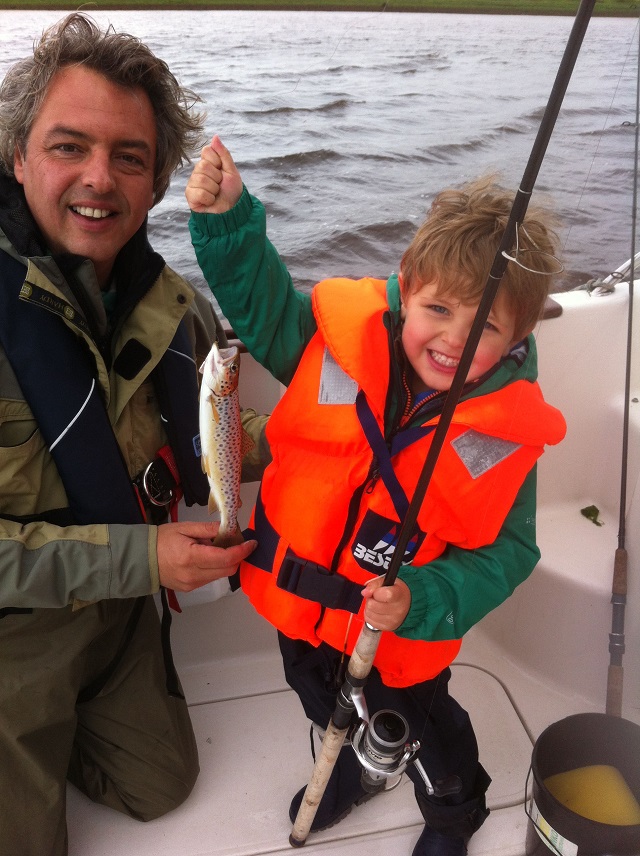 4-year old Liam van Seemus, Holland, proudly shows the first of three sea trout he caught with his dad Martin on the Moy Estuary.
The best fishing on the Moy system was had on the East Mayo Anglers Association water with good numbers of salmon caught mainly on fly and on worm. Visiting Belgian angler, Sergio Perezzina, landed a fine 13 lbs. fish on spinner, while fly anglers, Mike Springer, UK and Brendan McCusker, Northern Ireland enjoyed good sport catching fish of 7.5 lbs. and 10 lbs. respectively. However, it was Paddy Keenan, Monaghan, who stole the show this week with his fantastic 20.5 lbs. fly caught specimen salmon! Well done Paddy!
Moy Estuary
Judd Ruane, skipper of the Pegasus, reported excellent fishing for his clients during the week. Despite poor angling conditions, almost 80 sea trout were landed over 6 days. The majority of the fish were of course safely returned to the water. Amongst the successful anglers was 4-year old Liam van Seemus, Holland, who caught his first ever sea trout.
To book a day's sea trout fishing visit www.fishingireland.ie or contact Judd on +353 (0)87 6736969.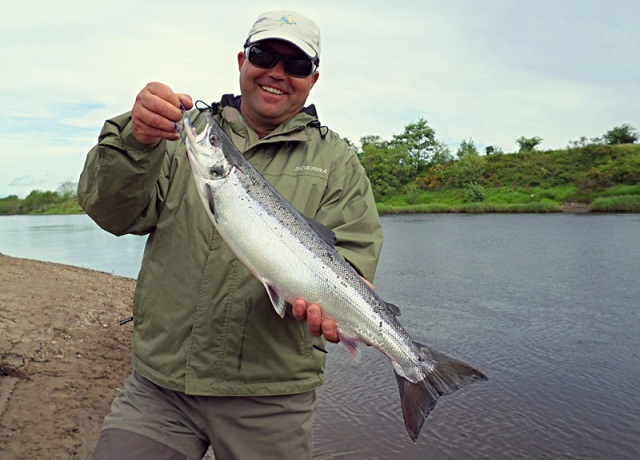 Herve Rubat, France, with his first ever Salmon caught on the River Moy.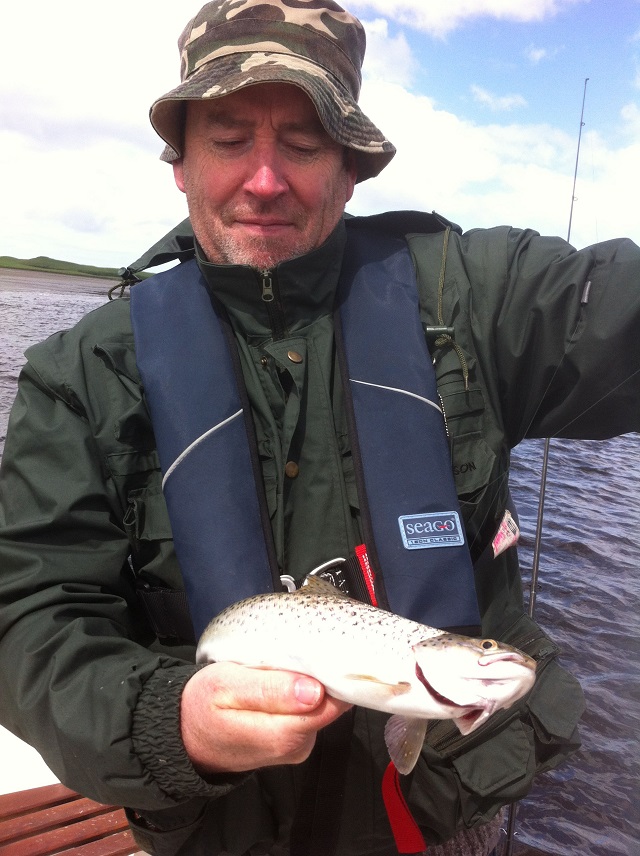 Jim Dickson, Scotland, with a nice Moy Estuary Sea Trout.

Carrowmore Lake & Owenmore River
Carrowmore Lake saw another successful week with a total of 22 salmon caught, 13 of which were released. The majority of the fish were in the 6 to 7 lbs. class. The Collin McGrory party, a group of eight anglers from Scotland, had 12 fish (8 released) for the week, while a group from the Navan Anglers boated 7 salmon (5 released). Other successful anglers included Franz Kayser, Bangor Erris & Germany, Jimmy Keogh, Dublin and Scottish visitor, Andy Bowman. Most successful flies were Clan Chief, Jennifer, Green Peter and various Bumble patterns.
Bryan Martin, UK, caught the first salmon of the season on the club stretch of the Owenmore River. Martin's 6 lbs. fish took a Cascade and was safely released to the water.
Please note that Carrowmore Lake is a Brown Tag Fishery this year and that the Owenmore River is "Catch & Release"! For fishing on Carrowmore Lake and the Owenmore River contact Seamus Henry on +353 (0)97 83487 or visit www.bangorerrisangling.com
Lough Beltra & Newport River
Newport House reported some good fishing for their guests. On Lough Beltra, David Alcott and Eamon Kelly had a salmon each (7.8 lbs. & 8 lbs.), while Michael Dolan had three for the week weighing 8, 8.5 & 9.5 lbs. The Newport River also produced some fine fish including a 12.5 lbs. salmon for Martin McCoy, Northern Ireland, a ten pounder for Neil Berwick, UK and a 9 lbs. fish for Max Marty. Best flies for the week were Beltra Badger, Green Peter and Ally's Shrimp.
To book fishing on Beltra West and the Newport River contact Newport House at +353 (0)98 41222 or visit www.newporthouse.ie.
Ballisodare Fishery
It was yet another good week on the Ballisodare Fishery with 46 salmon caught, many of which were released. Depending on water levels, the worm and the fly still were the most productive methods. Most fish ranged between 6 and 8 lbs. with some nice double figure salmon including a fine 13 pounder for local angler, Dermot Glennon, and a 12 lbs. fish for Vincent Henry. Swiss angler, Jean Loup, had 3 fine fish on the fly for his visit weighing 6, 8 & 9 lbs. Most successful flies for the week included Willie Gunn and Park Shrimp tube fly patterns. With good numbers of fresh fish showing at the Falls, prospects for the coming weeks are very good.

Trout Fishing
Lough Conn
The cold and blustery weather didn't really impact on fly hatches during the week and, as a consequence, Lough Conn again saw some very good Mayfly action with the Crossmolina end of the lake starting to fish well.
Fishing out of Pontoon Bridge Hotel (relax@pontoonbridge.ie), Tom Jordan, and Jack Mellet, both Castlebar, had 3 trout each, best at 2 lbs. all on Octopus. Glen Allen and Dave Orsler, UK, caught and released 16 trout between them, while Noel Bennet, Kildare, had 20 fish on dry May flies, best at 1.5 lbs.
Gerry Murphy Boat Hire (gmurphyboats@gmail.com) also reported good fishing for their guests. Gerry Groarke, Tuam, and Frances Gallagher, Galway, boated 6 trout for 10 lbs. on wet and dry Mayfly patterns.
Guests of Cloonamoyne Fishery (ian@cloonamoynefishery.com), Günter Hommer and Olaf Kestermann, both Germany, got a total of 13 trout (9 released) between them, best at 1.5 lbs
The Gloghans and Crossmolina areas of Lough Conn also fished well during the week with many fine trout around the 1.5 lbs. mark being caught. Amongst the successful anglers were local angers, John Griffin and Paul McNulty, with 7 trout from Flannery's Bay, Michael Lennon, Ballina, with 5 trout, best at 2 lbs. and Gary Martin, Donegal with his boat partner, Noel Shannon, Dublin & Sligo, who caught 6 fish, best at 2 lbs. on wet mayflies.
Ballin Lough
Eight rods fished for the week on Ballin Lough catching a total of 25 trout (10 browns and 5 rainbows). Scottish anglers, MacMillan and Tomlinson, did particularly well, boating 14 trout over 2 days including some cracking fish of 4 lbs. and 5 lbs. respectively. Small streamer patterns and fry imitations worked best during the week.
To book fishing on Ballin Lough contact IFI Ballina at +353 (0)96 22788.
Lough Arrow
The good Mayfly fishing continued on Lough Arrow during the week with many fine brown trout in the 2.5 lbs. to 3.5 lbs. range being caught. Sean Corry and Pat Eyres, Clare, had 2 fish of 3.5 lbs. and 2.75 lbs. on the spent in one evening, while Gerard Martin caught a cracking five pounder, also on the spent. Young, Charlie Cooke, Bonniconlon, did well on the dap catching a 1.5 lbs. trout.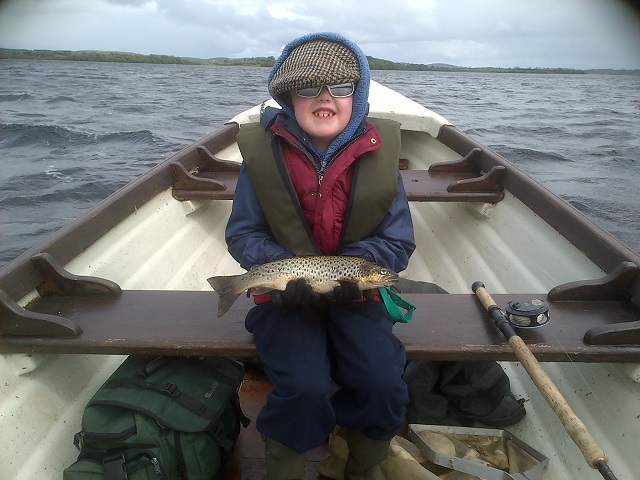 Charlie Cooke (age 9) with a fine 1.5 lbs. trout on the dap from Lough Arrow
Guests of Lough Arrow Caravan Park also enjoyed fantastic fishing. G. O'Doherty had a total of 11 trout (all released) over 2 days, best at 4 lbs. Eight of his fish were taken on dry Green Mayfly patterns and there on Buzzers. The dap produced four fish for E. O'Connor over 2 days ranging between 1.5 and 2 lbs.
Fishing out of John Hargadon's Lough Arrow Boat Hire, Maurice Whiteman, Northern Ireland, had 6 fish up to 6 lbs. on dry Mayflies and Buzzers. Other successful anglers included Jim Wilson, Ballymena, Mark Malone, Castlerea, Michael & Dodie Leonard, Scotland and Eugene O'Connor, Dublin, who all boated fine brown trout up to 3 lbs.
Pike Angling
French anglers, Herve Rubat and Jean Michelle Domenjoud, who had already been successful fishing for salmon on the River Moy also tried their hands at some flyfishing for pike. Local angling guide, Kenny Sloan, took them to a number of lakes in the Foxford area where they had good numbers of pike. Herve, who had already caught his first ever salmon managed to get his first pike on fly. The pair finished the week with many more strong Mayo pike and are eager to return next season.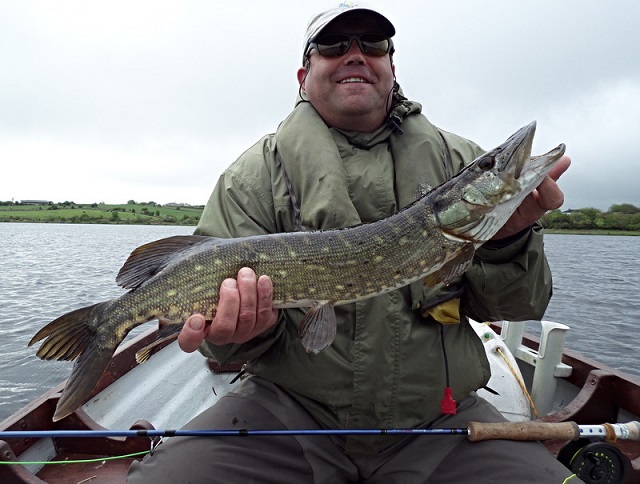 First fly-caught pike for French angler Herve Rubat.
To book a day's guiding or boat hire contact Kenny Sloan on +353 (0)949256501 or +353 (0)87 9670310 or visitwww.pikemania.co.uk
Scottish angling journalist and flyangler, Andy Bowman, visited the North Mayo area for a week and enjoyed some excellent floattube fishing for pike. Andy fished a number of small to medium sized waters in the Castlebar area catching many fine pike including a couple of 20 lbs. plus fish! Andy, who is an expert on flyfishing for pike, described floattubing the North Mayo waters as one of the best experiences he had in a long while.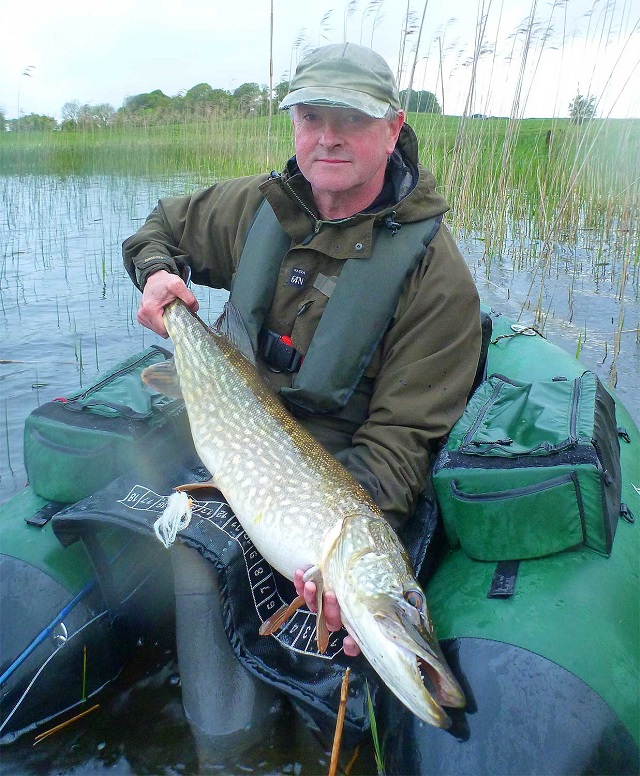 Andy Bowman, Scotland, with one of many fly-caught pike while floattubing in Co. Mayo.
WRBD Galway Angling Report 21 May 2014
Lough Corrib
Lough Corrib continued in fine form up to the weekend just gone, with mayfly hatching in great numbers, especially further south on the lake. This is the usual pattern, with the mayfly hatch starting in the Cornamona area and moving down the lake as the month goes on. Humid and thundery weather since then has made fishing difficult, and anglers are strongly advised to seek shelter when thunderstorms approach, and especially not to continue fishing with rods made of graphite/carbon etc.
Craig McKirdy reports on some excellent fishing in the Greenfields area, particularly for tourist anglers. Visiting anglers - father and son Theodor and Otto Ingstrup from Denmark had 13 fish over 3 days, taking home a nice one of 3.4lbs, with the rest released. Mark & Steve Turner , visiting from Leeds, UK, and fishing with Louis Brennan had 5 lovely fish on Tuesday. Lithuanian angler Marius Mazrimas along with Richard and Stuart Howard and Sean Donavan had 10 fish between them - Marius having the best fish at 2.9lbs.
Belgian visitor Michael Aerts along with his father were out with Don Stiffe of Greenfield House Hotel and had a lovely fish of 4.6lbs on Buzzers. Dutch angler John Skines, fishing with PJ Sullivan had 4 fish, all returned. French visitors Vincent Piriou and Henry Raffard along with Graham Stephens from the UK had 5 nice fish between them. Ennis angler Sean Dixon had 2 fish for 4.5lbs on Tuesday.
Brendan Mullins had 3 fish to the dap for 7.4lbs on his first day out. Christy and Brian O'Connell from Cork had 8 fish all to the dap. Local angler Eugene Kenny, along with another 2 anglers had 10 fish, all taken while dapping. Richard Lewis and Sean O'Donovan from Tipperary had 5 fish, all returned. Ennis angler Dan Mullins had 2 trout for 4.9lbs. A further 31 anglers had a great week, finishing with 110 fish, with a large amount being returned.
Phil Hall and Martin Conroy from London had a total of 9 trout, returning 7.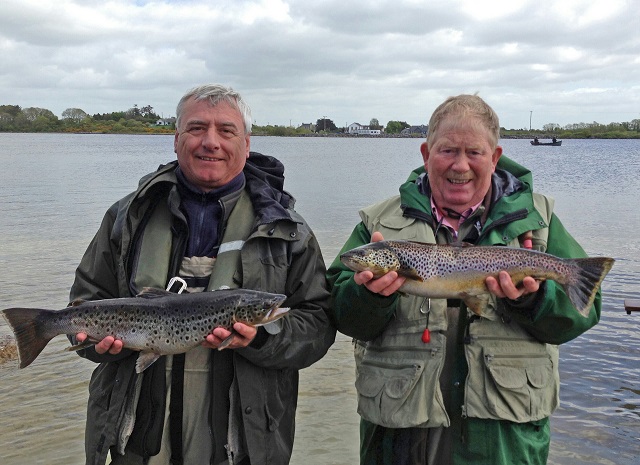 Phil Hall and Martin Conroy with two fine Corrib trout taken during the mayfly season, May 2014.
In the Oughterard area Stan Cosgraveand Mervyn Woods from Scotland had 10 fish over 2 days for 16lbs. UK angler Steve Watson landed 9 fish for one day's fishing, all returned. Paddy Dawson from Northern Ireland fished for a week and landed 41 fish over the 7days, including 30 returned.
Cork angler Billy Kelleher had 12 fish over 2 days all to dry fly.
Ian Scott from Leeds was in touch with a nice report on his holiday, fishing in the Cornamona area with son Daniel and brother-in-law Stuart Irvine from Newcastle. They enjoyed excellent weather for most of the week, with mayfly quite sparse at times apart from 2 occasions when there were dozens available at a time. Dapping proved the most successful method, taking 53 fish in the week, with their best fish approx. 3lbs, although all 3 either rose or lost fish much bigger. The highlight of the week was a drift where all three rods (dapping) had fish on at the same time, all successfully landed, and all around 1. The lads sportingly returned all of their fish, and reported that it was their best holiday on the dap so far.
Gary Costelloe from Lakelands Angling Centre in Oughterard reported that the broken weather and good hatches kept their guests very satisfied with their fishing. The Clemont party from France had their best fishing in years, with 44 trout in 5 days - the best was 5lbs 6oz taken on the dap. Ian Garrett and Pat Molloy had 22 fish in 3 days, best 3lbs and all sportingly returned. John McGrath from Clare had 5 fish - best 3.3lbs, while his partner had a fine 5lbs 2oz trout on the dap, all in Portacarron Bay. Paddy Curran and friend John had a good day's fishing, landing 5 trout - best fish 3lbs. Reggie Jackson and Neil O'Brien from Dublin had 5 trout, including a lovely fish of 4lbs. To book fishing or accommodation at Lakelands, contact Gary at mayfly@eircom.net , call 091 552121, or check www.lakelandanglingcentre.com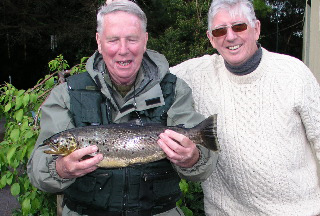 Reggie Jackson and Neil O'Brien from Dublin with their best trout from their visit to Corrib, a nice 4lbs fish.
Inland Fisheries Ireland officers are out on a daily basis at the moment carrying out routine checks on both size and bag limits. Anglers are asked to please respect the minimum statutory size (13 inches) and bag limits (4 trout per day) and return any undersize fish to the water as quickly and carefully as possible.
Lough Mask
Ronan Cusack reports that angling on Mask at the moment can only be described as top class, with some fantastic catches being reported. Mayfly hatches are well above average on other years and trout are taking full advantage of the bonanza.
Well-known Cork angler Tom (Swanky) Sweeney turned a few heads around Clonbur last week when he walked into Burkes Bar after a day's wet-fly fishing in Tourmakeady. Tom landed a fish of a life time along the Lusteen Islands which weighed 11.993lbs.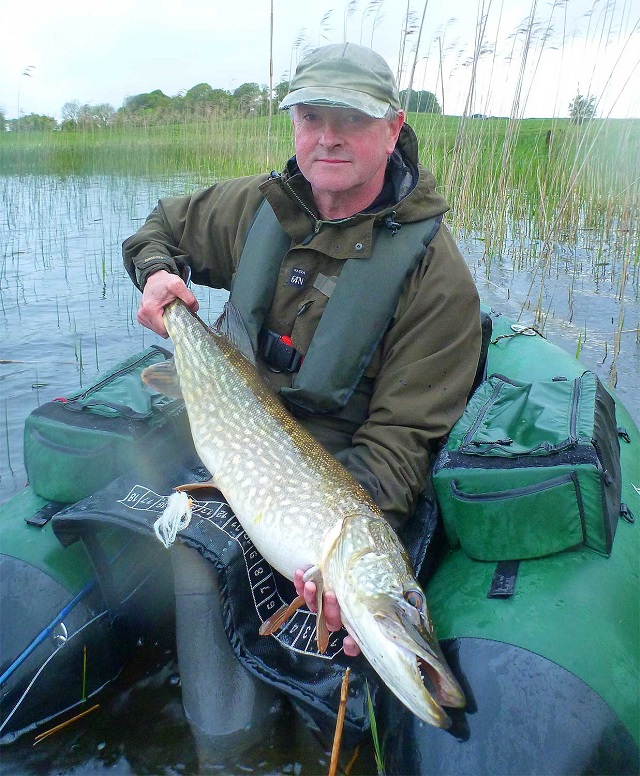 Andy Bowman, Scotland, with one of many fly-caught pike while floattubing in Co. Mayo.



The Tourmakeady Angling Club organised another successful European Cup over the past weekend. The competition was run on a heaviest single fish rule with a 15" size limit. 75 anglers took part with 38 fish weighed in. Fermanagh angler Patsy Treacy took top prize with a fine trout of 5.01lbs. In second place was John Faherty (Renvyle) with a trout of 4.06lbs. Castlebar angler Damien Walsh took third place with a trout of 3.14lbs. Ballinrobe angler Denis Kelleher was fourth over all and said that last Saturday's competition was the best day's wet-fly fishing he has had on Mask for years.
UK anglers Howard and Mike had a memorable 5 day fishing trip to Mask this week with trout up to 2.5lbs every day (all returned). Sunday last had to be the best day of the holiday, when the lads boated 20 trout over the legal limit and numerous under size. Scottish anglers Mike Donaghy and John Webb fished with Ronan Cusack on Monday last and they had in excess of 20 trout for the day (best fish 2lbs, all returned). John Bourke from Tourmakeady had 5 fish on wets up to 2lbs in a few hours on Monday evening (all returned).
Ronan also guides on Mask and can be contacted at cusackronan@gmail.com or at 087 2869487.
Margaret Gorman from Isham Self-Catering and Angling Centre was also in touch to report guests staying at Isham have been having very good fishing to artificial mayfly and olive patterns. Winds turned southwest over the weekend and outstanding fishing resulted particularly on Saturday evening when heavy rainfall was experienced. Adrian and Pat Gorman had 12 fish for the evening - most of which were returned. They were meeting lots of fish on every drift. Dr. Michael Redmond, Northern Ireland and his friend Harry also fished on Saturday and they too had a fantastic day's fishing, also returning most of their fish.
Dr. Ian and Rosie Gordon (Northern Ireland) and their friend Patrick from Kenya had 3 fish, all over 2lbs, on Sunday including 2 gillaroo trout from Dringeen Bay on dry fly. Lighter winds during the day proved more difficult. However, most anglers managed to get 1 or 2 fish with large numbers of small fish being reported by all anglers.
For further information on accommodation and angling advice, contact Margaret Gorman at 094 9546582 or email isham@eircom.net .
David Hall of Hall's Angling Centre reported on fishing for their guests. Brian Cooper's party of 6 anglers landed 28 fish over the limit for 6 days, best 3.25lbs. Mr. Falshaw's party of 6 anglers recorded 120 fish for 7 days, best 3.75lbs (their best trip ever on Lough Mask).
Neil Howe from Northern Ireland and 2 friends reported 14 fish for 6 days, best fish 2.7lbs, as well as numerous undersize fish. Jean Hammond's 2 anglers from France fished for 7 days, taking 11 fish, best fish 4.25lbs.
Kenny Halliday from Northern Ireland fished for 3 days, landing 9 fish to 2.5lbs, while fellow NI angler Ivan Mc Gaw had 11 fish over 3 days to 3.5lbs. Kerry angler John O Sullivan's party of 4 rods landed 20 fish over 2 days to 2.25lbs. All anglers said they had many small fish as well as the ones reported above. According to David Lough Mask is alive and in a very healthy state! David reported his guests were having a lot of success with dry mayflies fishing very well in the past week , also different olive and emerger olive patterns and the red arsed Green Peter were doing well. To book fishing or self-catering accommodation at Hall's, contact David or Helen at 094 9541389 or check www.lakeshoreholidays.com .
Inland Fisheries Ireland staff are very much aware of the number of small trout anglers are encountering on the lakes over the past number of weeks and officers are out on a daily basis carrying out routine checks on both size and bag limits. Anglers are asked to please respect the minimum statutory size (13 inches) and bag limits (4 trout per day) and return any undersize fish to the water as quickly and carefully as possible.

Lough Carra
There was a big improvement in hatches on Carra over the previous week, with reasonably good hatches of mayfly this week, combined with a mixture of sedge and olives,
Lough Carra Anglers held their annual Mayfly competition last week. 23 anglers took part and 18 fish were weighed in. First place went to Denis Kelleher (Ballinrobe) with 4 fish for 5.73lbs. In second place was Peter Byrne (Castlebar) with 2 fish for 3.35lbs Third place went to Damien Walsh (Castlebar) with 2 fish for2.96lbs.

Erriff Fishery
A belated report which should have been included in last week's rather full report! The first fish was taken on the Erriff on Saturday the 10th, a nice salmon of 7.5lbs which was land by Eoin Bresnihan from Oughterard, fishing a "Yabby" fly in the Garden Pool on Beat 9.
The second fish swiftly followed the following day, with Niall Wickham from Drogheda landing a nice 8.5lbs fish in high water from the Broken Bridge Pool on Beat 5. The fish was taken on a 2" copper tube fly.
With plenty of rainfall the river is in good order, and should see a decent run of spring fish over the next few weeks, traditionally yhe best period for spring fish on the Erriff, overlapping with the first grilse. To book fishing or accommodation, contact Jim Stafford at 095 42252, email erriff.fish@iol.ie or check www.aasleaghlodge.ie

Costello and Fermoyle Fishery
Fishery manager Terry Gallagher was in touch to report that it's been quiet out at Costello for the last month or so. Not many anglers are about yet, but local expert Geoffrey Fitzjohn struck again this week, landing a 9lbs bar of silver at the Butt of Fermoyle Lough. The fish was taken on a size 12 Bibio fished on a dropper. Terry reports that the river was going into a big flood at the time of writing (Tuesday) so they are hoping to see a few early running grilse.
To book fishing at Costello, contact Terry at 00353 (0)91 572 196, on mobile at 087 2399988, or by email at terrygal7@gmail.com .