Salmon Angling
Markus Müller
River Moy
Low water conditions and bright sunshine continued to impact on angling during the week. However, the Moy still produced over 250 salmon for local and visiting anglers alike.
The Moy Fishery saw its best week of the season so far with 21 salmon landed. On the Moy Fishery, Northern Ireland flyanlgers, David Gray, Ian McClatchey, Colin Farrel and Ivan Megaw all had salmon, best at 7 lbs. With 3 fish, best at 5 lbs., Terry Tobin, Meath, was also successful on the Ridge Pool.
On Coolcronan, father and son, Jack and Stephen Murphy, Northern Ireland, had an elven pounder each on prawn, while Jean Luc Muret together with two friends enjoyed a fantastic week's fishing on the Foxford Fishery. The Three Frenchmen landed a total of 27 salmon, all on worm. Robert Bonet, France, was amongst the successful anglers on Rinanney where he had a nice 9 lbs. salmon on worm.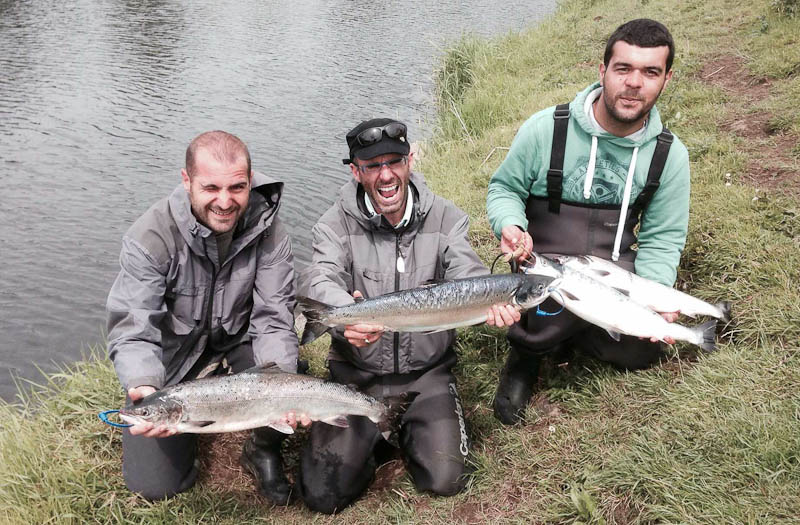 Allez les Bleus at Cloongee!
Allez les Bleus at Cloongee!
Further upriver, the luck of the French continued (not only in the World Cup) with a group of 3 anglers, led by Jean-Marc Bellegy, catching 15 salmon (7 released) on spinners and bubble & fly.
Low water levels impacted especially on angling on parts of the East Mayo water. Nevertheless, some anglers still managed to land fish including Bob Thomas, UK, who had a grilse on fly and Celia Fry, also UK, who got a salmon on worm.
Moy Estuary
Another good week for sea trout anglers in the Moy Estuary! Judd Ruane, skipper of the Pegasus, reported a total of 101 sea trout (62 released) for his clients including some nice fish in the 2-3 lbs. range. Amongst the successful anglers was UK angler, Phil Minor, who enjoyed great sport over 3 days together with 3 friends onboard Pegasus.
To book a day's sea trout fishing visit www.fishingireland.ie or contact Judd on +353 (0)87 6736969.
Ballisodare Fishery
Despite continuing low water conditions, the Ballisodare Fishery had another successful week with 148 salmon caught. The grilse are of a good average size (4.5 lbs.) and most anglers practice catch and release with approx. 50% of the fish being safely returned to the water. As a result of the low water levels all the fishing took place at the Falls with prawn, worm and fly being equally successful.
Amongst the successful anglers was Luke O'Connell, who managed to land 7 grilse during the week, all on prawn. Larry Mitchell had a nine pounder on fly, while Paul McGuire caught the best fish of the week, a fine salmon just short of 10 lbs. Paul's fish fell to a prawn. Joan Bowen-Walsh had a nice sea trout of 2.5 lbs. on prawn but it was a visiting French angler who stole the show with a fantastic sea trout of 4 lbs. on worm, which is the best of the season so far.
For Bookings please contact Dermot Glennon on +353 (0)086 2515064 or email ballisodarefc@eircom.net
Trout Angling
The hot and sunny weather impacted on angling on Loughs Conn and Cullin during the week. As a consequence, angler numbers out on the lakes were low and few catch reports were received. However, Fionn Feeney, Foxford Lodge, had a nice 2.5 lbs. trout on a Green Peter off Glass Island. Eamon Gleeson and John Greham, both Wicklow, enjoyed good sport fishing dry flies catching a total of 11 trout averaging 1 lbs. (all released), while UK angler, Thomas Jordan, boated 2 fish for 2 lbs. in the Bog Bay area.
Elsewhere, Brian Foley, Galway, caught 2 trout for 3 lbs. on a dry Wulff and Gary Barbour, UK, had 6 fish, all around 1.25 lbs. on dry Olives.
Pike Angling
Pike fishing at this time of year can be very difficult with warmer water temperatures and bright sunny conditions impacting on the pike's feeding pattern and behavior. However, Foxford based angling guide, Kenny Sloan, reported some good sport for his clients during the week. Visiting anglers, Parimal Patil and his son Amand, from Boston Massachusetts, enjoyed a good day's pike fishing with a total of 9 fish caught, biggest at 15 lbs. Fishing surface lures and poppers amongst weedy areas worked best as did trolling dead baits. In these "warm" water conditions it is particularly important to play the pike as quickly as possible and minimize handling.
To book a day's guiding or boat hire contact Kenny Sloan on +353 (0)949256501 or +353 (0)87 9670310 or visit www.pikemania.co.uk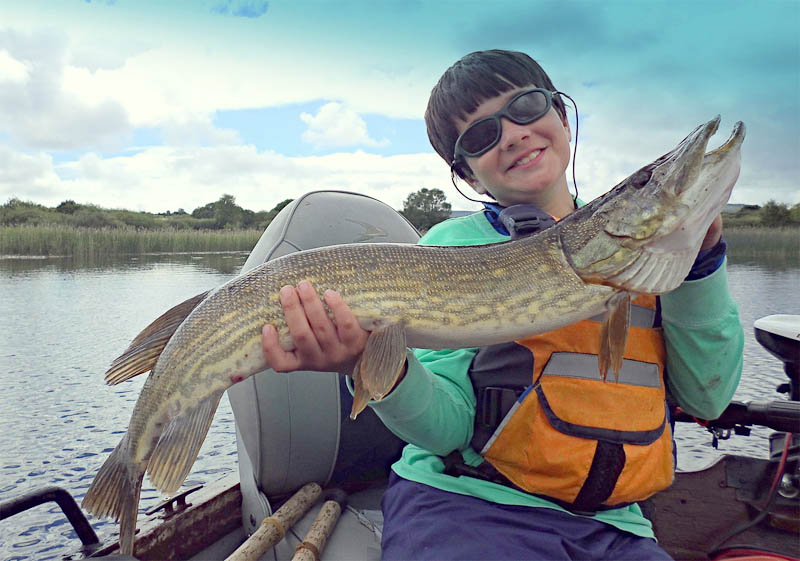 A proud Amand Patil, US, with his first ever pike

Sea Angling
Donal Kennedy, skipper of the Leah, reported some excellent spurdog fishing and a wealth of varieties, for a group of Anglers from Athlone, in Killala Bay. The weather was fine with light northerly winds and a promise of fresh sea breezes towards late afternoon.
The first couple of drifts didn't produce as many mackerel as anticipated and as caught in previous days. However, the skipper came well prepared with a good supply of fresh frozen mackerel which were needed as the first drift further out, over deeper water, produced the ever present pouting, along with some nice ling, best up to 7 lbs. There was a steady catch of fish with more ling, cod, pollack, coalfish and cuckoo wrasse.
As the day continued, one of the anglers thought he was caught in the bottom only to discover he had hooked a fine spurdog, well into double figures, which was brought right to the boat but unfortunately came off. However, many more good fighting spurdog were hooked, played, and landed and safely released.
To finish off the day the group fished over a sandy patch which produced another 4 different species including dab, red gurnard, grey gurnard and the odd dogfish. All in all an extremely successful and entertaining day out in Killala Bay
To book a day's fishing in Killala Bay contact Donal Kennedy on +353 (0)0868174509 or visit www.dkennedyangling.net.
---
WRBD Galway Angling Report 25 June 2014
Kevin Crowley
Galway Fishery
Angling conditions in Galway are perfect at the moment, with low water levels favouring the fly, and plenty of grilse coming in, with numbers increasing by the day. There were 93 fish reported for the week, with many of these taken on fly.
Kevin and Noel McCrossan from Donegal accounted for 5 grilse to 5.5lbs, all on the fly, while Offaly man Liam Dunne landed 4 fish to 5lbs on fly and shrimp, including one released. Fellow Offaly man Jim Kinahan had 2 fish to 6lbs on fly and shrimp, while Dublin angler Brian Howard took 3 grilse on fly. Local angler Fintan Murphy had 2 grilse on shrimp, while Elaine Kooi and Brian Healy enjoyed their visit from Mayo, landing 3 grilse between them on fly and shrimp. Laois angler John Hetherington had 2 grilse to 5.5lbs on fly and shrimp, while Dessie McWhirter from Northern Ireland had a successful visit, landing 5 grilse to 5.5lbs over his two days in Galway. Young Dublin angler Amy O'Reilly showed dad Dave how to do it, as she landed the only salmon of their trip, with Dave hooking but failing to land several fish. Well done Amy! Finally Michael Hegarty from Galway had 2 grilse to 5lbs, as did Markus Hanziker from Switzerland, all taken on shrimp.
With grilse numbers increasing every day, and stable water levels and good weather, fishing prospects in Galway for the coming weeks are excellent.
Fishing upstream has not picked up as well as in Galway itself, with the Clare River in particular enduring low water levels, but there was success for one young angler - Brian Joyce from Cregmore, who only took up fishing properly this year, landed his first salmon off the Cregmore beat. Brian recently visited the Galway Fishery for a tour of the fish counter and smolt traps and was clearly very keen to learn all he could about fishing, so it's great to see him putting it into practice. Well done Brian!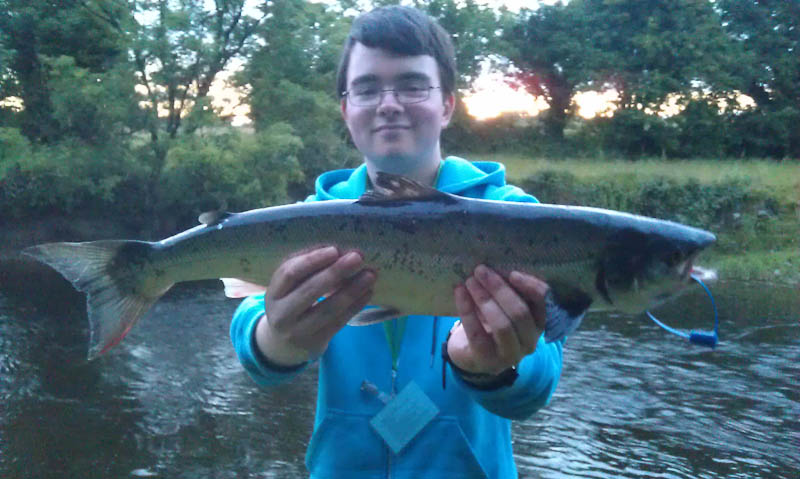 Brian Joyce with his first ever salmon, taken on the Cregmore beat on the Clare River.
Erriff Fishery
Fishery manager Jim Stafford reported on the fishing for last week. It was a week of hot summer weather on the Erriff - a very dry week with low water of 0.6 meters on the Aasleagh Gauge. With bright sunshine for the week, angling conditions were far from favourable. However there were rewards for those who persevered. Selby Knox had 2 salmon and a sea trout for the week - best was a fresh fish of 11lbs taken in the Broken Bridge Pool on a Red Alley Shrimp fly. A few days later Selby caught a grilse of 5.25lbs in Black Banks on Beat 6. Tim Marshall, UK, landed a sea trout in the Garden Pool on Beat 9 and a grilse of 4lbs on a Red Allys in the Falls Pool on Beat 9. Andrew Morley, London on his first ever salmon fishing trip, caught a sea trout in the Garden Pool and a grilse of 6.25lbs in the Falls Pool - both fish were taken on a size 14 Cascade.
The run of sea trout has commenced with fish running upstream in very low water, with just over 200 recorded for the week. Overall the sea trout are in excellent condition but many are very heavily sea-liced.
At the time of writing the report the grilse can be seen splashing on the tide and with rain forecast for midweek prospects look good for a fresh run of fish into the river.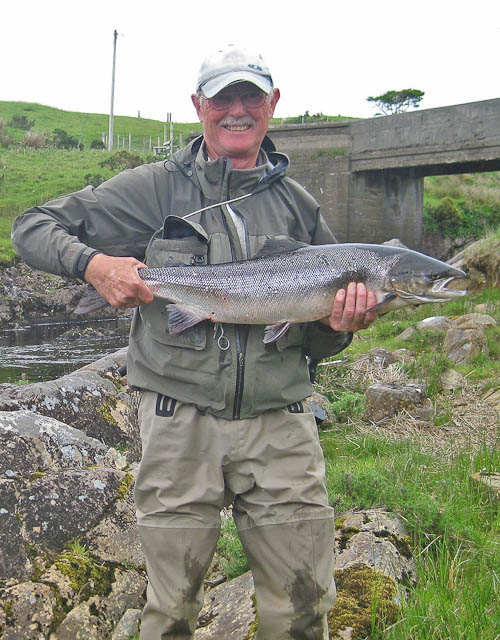 Selby Knox from the UK with a fine 11lbs salmon from the River Erriff. The fish was taken in Broken Bride Pool on Beat 5, and took a red Allys Shrimp fly.
Lough Corrib
Very little to report on Corrib this week, as very warm and humid conditions made for barbecue weather, rather than fishing. Some small hatches of sedge and mayfly were observed, but there was little angling activity, except for early morning Caenis fishing and some late evening buzzer fishing. Unfortunately I have no reports of catches.
In these high temperatures anglers and the general public are asked to notify their local IFI officer or the hot line on 1890 347424 if they notice fish in distress due to drought or low oxygen in rivers.