WRBD Bangor, Ballina & Sligo Fisheries Districts Angling report - w/e 25th May 2014

Salmon & Sea Trout Angling
River Moy
The Moy had its best week of the season, so far, with a reported catch of 197 salmon. However, it was a difficult week for anglers as water levels fluctuated for most of the time. Conditions improved towards the weekend and as a result most fisheries, particularly in the middle and upper part of the river, recorded some good catches.
The Coolcronan Fishery produced its first two salmon of the season. Harald Retsch, Germany, and Patrick Doherty, Northern Ireland, had fish of 8 lbs. and 10 lbs. respectively. Both salmon were taken on worm. Byrne's also reported the first fish of the season, a 6 pounder on worm for Roy Buckley. On Armstrong's, John Keane, Northern Ireland, landed a 10 pounder on worm, while local angler, Padraic O'Boyle, had a cracking 17 lbs. springer on Gannon's while spinning. Sam McConnell, Northern Ireland, was successful on the Foxford Fishery, where he caught a 9 lbs. salmon on spinner.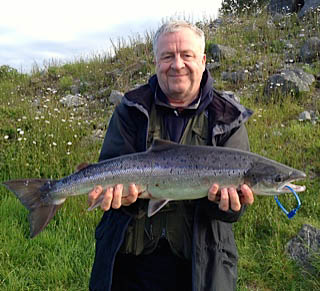 A proud John Ellis, UK, displaying his 9 lbs. Moy salmon

On Rinanney, Stephen Scott, Scotland, and Eric Stalsman, Belgium, were amongst the lucky anglers catching 2 salmon each averaging over 10 lbs. All four fish were taken on worm. German anglers, Sebastian Merkofer, Markus Ulmer and Michael Döbele, all had fish ranging from 7 lbs. to 10 lbs., while UK visitor, John Ellis also got a fine 9 lbs. fish on the Foxford Salmon anglers water.
Upstream of Foxford, on The Cloongee Fishery, Jürgen Kettlitz, Germany, had 3 salmon between 7 and 8 lbs., all on worm, while French visitors, Mathieu Pilorge and Andre Rolland had a 9 pounder each on spinner.
Anglers also enjoyed good fishing on the East Mayo Association water. Amongst the successful anglers were a group of flyanlgers from Co. Meath. Simon Cassidy, John Maloney and Noel Padden all had great sport on the fly catching fish around the 9 lbs. mark.
Moy Estuary
Strong North winds restricted fishing for most of the week on the Moy Estuary. However, Judd Ruane, skipper of the Pegasus, reported 17 sea trout over two days for his clients.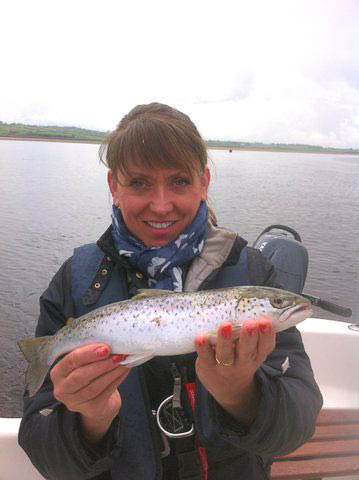 Elaine Waterworth with a lovely Moy Estuary sea trout.
To book a day's sea trout fishing visit www.fishingireland.ie or contact Judd on +353 (0)87 6736969.

Lough Beltra & Newport River
Newport House reported some catches for their guests. On the Newport River, Cathal Hoban had an 8.5 lbs. fish, while Niall Berwick caught and released two salmon of approx. 7 and 11 lbs.
Lough Beltra also produced some salmon during the week. Amongst the successful anglers were Richard McDowell, David Nevin, Martin Hughes and Ian Conn who all had nice fish between 8 and 11 lbs. Manfred Bunzel, Germany, also scored on Lough Beltra with a grilse of 6 lbs.
Best flies for the week were Beltra Badger as well as various Shrimp and Cascade patterns. With the recent rise in water levels, prospects for the coming days are looking good.
To book fishing on Beltra West and the Newport River contact Newport House at +353 (0)98 41222 or visit www.newporthouse.ie. To fish Lough Beltra East please visit www.loughbeltra.com.

Ballisodare Fishery
With a total of 68 salmon, anglers on the Ballisodare Fishery enjoyed their best week of the season so far. Most fish were released and averaged 7 lbs. The majority of the fish were again caught on the fly and worm, with some anglers trying the prawn at the falls.
A group of visiting anglers from Spain were particularly successful landing a total of 14 salmon up to 10 lbs. Other notable catches included a fine 13 pounder for flyangler, Denis Crawley, a 10 lbs. salmon for Hubert Henry (also on fly) and a nice brace of salmon for John Connolly weighing 7 and 10 lbs. (one released). Juvenile angler, Owen Cushnahan, also did very well, catching two fish of 4 lbs. and 6 lbs. on worm.
Cascades and Cascade variants seemed to be the best working flies for the week.

Trout Fishing
Lough Conn & Lough Cullin
Despite the poor weather conditions with high winds, thunder & lightning and some heavy rain, Lough Conn saw another very good week. Mayfly and olive hatches were still plentiful and good numbers of trout were caught throughout the lakes.
On Lough Cullin, local anglers, Paul Breslin and Peter Gray, had seven trout each (all released) with Paul catching a fine 3 pound trout on a ginger Dabbler. Other successful anglers on Lough Cullin included Brian Golden and Peter Neary, both Dublin, who had a total of 26 trout, all released and all around the 1 lbs. mark. On the last drift of the day, Pat Haslin had a cracking 4 pounder on a Daddy from the Pontoon area.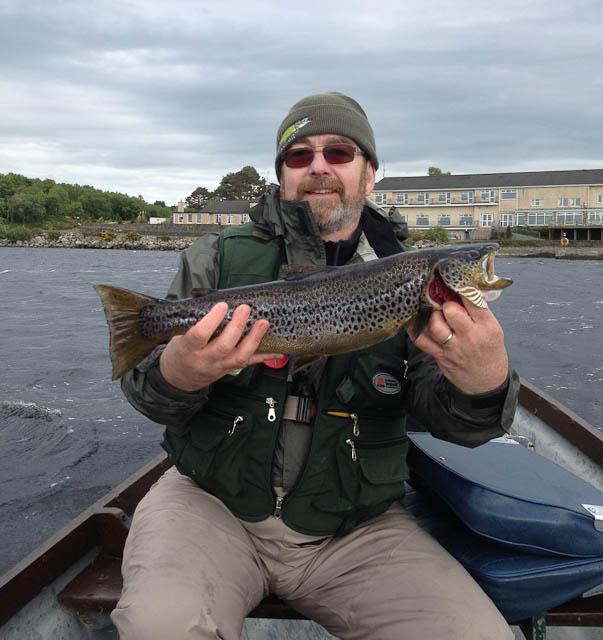 Pat Haslin with his fine 4 lbs. Lough Conn brownie.
From Pontoon Bridge Hotel (relax@pontoonbridge.ie), all anglers reported good fishing, releasing most of the trout. Joan Lindsay and Davy McCabe, UK, had 18 fish between them, best at 1.5 lbs. US visitors, Brendan O'Kelly and his son, John, caught & released a total of 7 trout, best at 2 lbs., while Geoffrey Cooke, UK, averaged 6 trout a day for his week. Chris Wathen, UK, also reported excellent fishing, averaging 15 keepers a day, best at 2lbs.
From Murphy's Boat Hire (gmurphyboats@gmail.com), regulars to Lough Conn, Liam McHugh, Offaly, and Mick Sweeney, Galway, averaged 8 keepers a day, best at 2 lbs. Ned Tourell and Barry Greham, both Offaly, had approx. 20 trout between them, best 1.5 lbs., while David Passmore, Wales, and his party of 8 anglers averaged 15 trout over 3 days with one angler alone having 30 trout over 12".
From Cloonamoyne Fishery (ian@cloonamoynefishery.com), John Flynn & son Bill, Kilkenny, caught and released 47 trout over 6 days fishing. Michael Gill and Dermot McAleese, both Dublin also enjoyed great fishing with 39 trout for two days, best at 2 lbs., while David Craig and Mark Hagans, both Northern Ireland, boated 15 fish, best at 1.75 lbs.
In the Crossmolina area, local anglers also did very well with many good fish up to 2.5 lbs. being caught. Successful anglers included Freddie Canavan with 5 trout up to 2 lbs., Fred Finlay and Brian Gallagher with trout up to 2.5 lbs. and Michael Lynn, who also boated a good number of nice trout up to 2.5 lbs.
Fishing out of Kelly's Boat Hire, Martin Cawley, Cloghans, and Clive Tyrell, UK, caught 10 trout each, best at 1.5 lbs., while Trevor Cooke and Barry Bradley, both UK, had over 30 trout between them. The Brackwansha area also produced some notable catches including 4 trout for local angler, Orla Walsh, best at 2 lbs. and 3 trout for John Finnerty, Knockmore, best at 2.75 lbs.
Two competitions were also held during the week. Results were as follows:
Annual Aidan Conor Cup (Crossmolina Angling Club)
1st Tommy Gallagher - 1 trout 0.905kg
2nd Padraig Traynor - 1 trout 0.770kg
3rd Michael Monagahn - 1 trout 0.645kg
Annual President's Cup (Foxford Anglers)
1st Ian Bertie - 2 trout @ 1.57kg
2nd Stephen Brown - 3 trout @ 1.54kg
3rd Peter Roche - 2 trout@ 1.30kg
Heaviest fish: Michael Tiernan Snr.

Lough Arrow
Fishing on Lough Arrow has been pretty good for the past week with most of the action taking place in the evenings. Anglers reported a good fall of spent and the buzzer fishing was also productive.
Bryan and Shane Kelly, both from Boyle, had a total of 24 trout for their week, most of which were returned. The fish weighed up to 2 lbs. and were taken on dry green mayflies and spent mayfly patterns. Michael Kelly, Croghan, reported a very good evening's fishing with 5 trout (3 released) up to 5 lbs. on a Lough Derg Spent.

Pike Angling
Three members of the French Salmo Team arrived on their annual pike expedition to the Foxford area where they met up with local guide Kenny Sloan. The French anglers fished many lakes in the surrounding areas of Manulla, Castlebar and Lahardaun during the course of the week. Great numbers of double figure pike were caught by all three on a wide range of different lures. Some of the fish were just short of the 20 lbs. mark!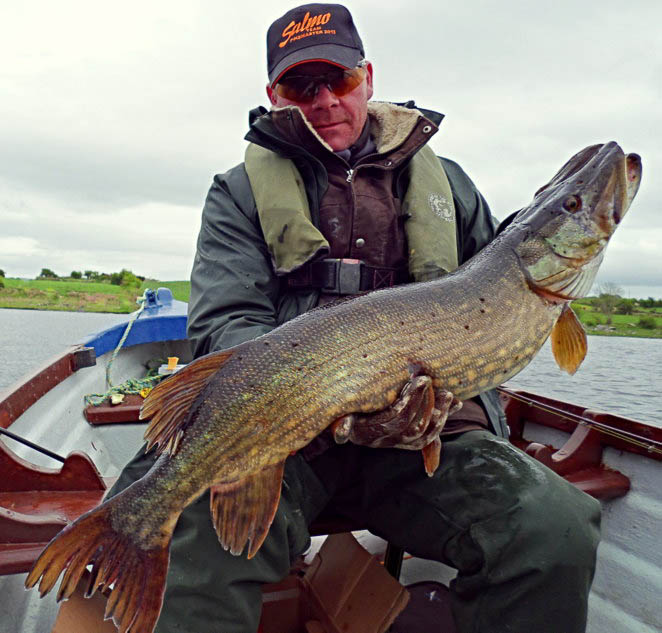 One of many wild Mayo pike the French Salmo Team caught while fishing in the Foxford area. Pictured: Cedric with a cracking fish just short of 20 lbs.
To book a day's guiding or boat hire contact Kenny Sloan on +353 (0)949256501 or +353 (0)87 9670310 or visitwww.pikemania.co.uk
Sea Angling
On Tuesday 20th May, a party of anglers from the Mullingar area set out from Killala Harbour for a day's fishing with skipper Donal Kennedy. Conditions were reasonable, with a light North Easterly breeze and a moderate North Westerly swell. The heavy rain on the day did not deter the keen anglers who, straight away on the first drift, hit into a nice shoal of mackerel. The next drift further out in the bay produced a number of nice cod along with some coalfish. Pouting were in plentiful supply, so were ling. The next few drifts produced some more good pollack, coalfish and cod. The skipper, Donal Kennedy, himself showed the party that there were some more fine cod to be caught by boating a fine double figure cod.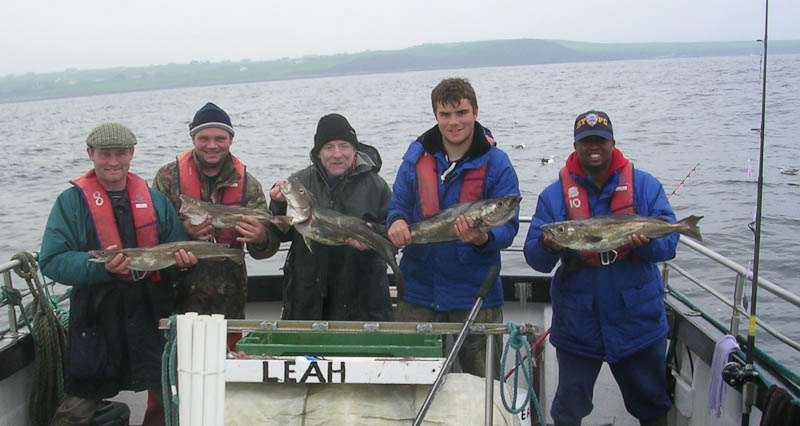 Happy Mullingar anglers on board the Leah, Killala Bay.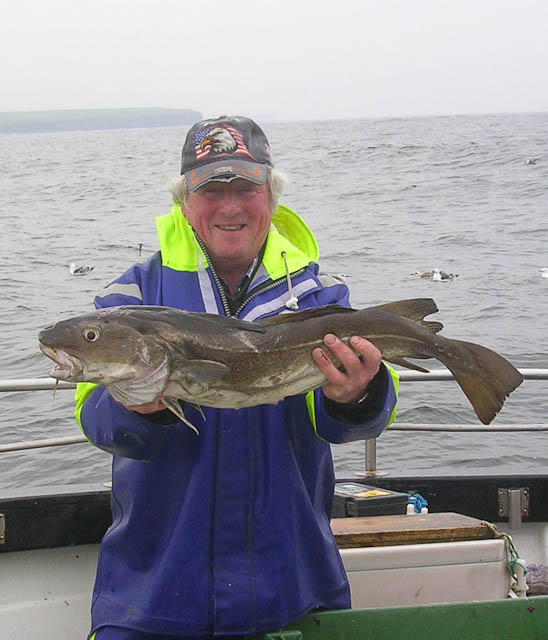 Skipper, Donal Kennedy, with a fine Killala Bay cod
To book a day's fishing in Killala Bay contact Donal Kennedy on +353 (0)0868174509 or visit www.dkennedyangling.net.WRBD Galway Angling Report 29 May 2014.
---
WRBD Galway Angling Report 29 May 2014
Lough Corrib
After a fantastic mayfly season, Lough Corrib has seen the slow end of the main hatch over the last few days, with hatches diminishing and the current warm sunny conditions probably seeing off the last of the big hatches. Mayfly will hatch off in small numbers for the rest of the summer, often with another good hatch sometime in August, and it will be worth having a few mayfly patterns in the box to be ready. There was still some excellent fishing reported this week in spite of lesser hatches, and anglers prepared to travel and fish hard will be rewarded - I know of several anglers who fish on evenings with dry mayfly patterns well into June and have excellent sport, so while daytime wetfly fishing may be declining, it is well worth getting out in the evening.
In the Greenfields area, Craig McKirdy reports that the annual mayfly competition held by Headford & Corrib Anglers was won by Sean Naughton, with 3 trout for 10.33lbs, including a nice fish of 3.66lbs. Eugene Kenny was second, with 3 fish for 4.18lbs, while Kieran Cooney was third, with 2 fish for 3.63lbs. Also in the Greenfields area, Cork angler John Hart had 2 fish for 7.8lbs, Tommy Reynolds from Tuam boated 2 lovely fish - best 5.13lbs, while fishing buddies Noel Kelly from Barna and Lilywhite Jim Murray had 11 fish.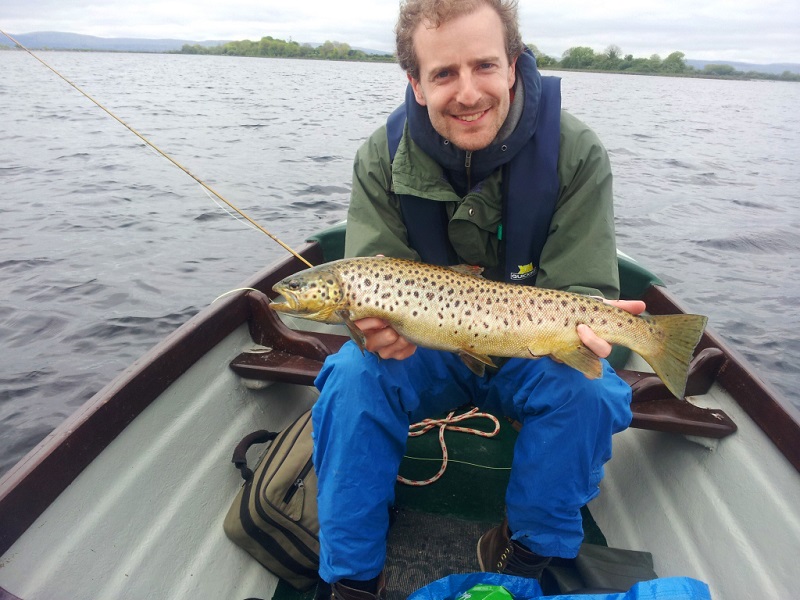 Michael Aerts from Belgium with a lovely 4.6lbs Corrib trout taken during the mayfly season, May 2014, while fishing with angling guide Don Stiffe.
In the northern part of the lake, Cornamona Anglers also held their annual mayfly competition, with top honours going to Tom Summerville (Cornamona) with 4 trout for 5.53lbs. UK visitor Andrew Shaw was second, with 3 fish for 4.80lbs, and local angler Martin Kineavey was third, with 3 fish for 4.61lbs. Lady angler Eileen O'Malley was fourth with 3 fish for 4.59lbs. Also in this area, local angler Terry Keenan along with UK angler Peter Robinson had 2 fish weighting 4.5lbs and returned another 5 fish. John Summerville Jnr. from Cornamona had 3 trout for 5.8lbs, while Denis Daly along with John Quinn from Limerick had 2 fish for 4.8lbs.
Over on the west and south side of the lake, fishing was reasonably good, and John McWilliams from Athlone had 12 fish over 3 days, all to dry fly. Tim Fingleton had a fine haul of 5 fish for one days fishing for 7lb. Rory Allen from Cork with his partner had 13 fish over 2 days, returning 7. Stephen Watts, UK, had 6 fish for a day with all being returned.
Opera singer Jean Pierre from France and Kevin (Sniper) Molloy from Oughterard had 3 fish trolling, which weighed 15lbs, 9lbs and 4lbs. On the lower lake, Kevin O'Toole and Patsy Griffin from Galway had 10 trout for approx. 18lbs, sportingly returning most of their catch. Harold O'Toole from Galway landed 9 trout, again mostly returned, and all taken on wetfly.
Lisa and Pat O'Halloran from Birchall, Oughterard had 4 cracking trout while dapping.
Gary Costelloe from Lakelands Angling Centre in Oughterard reported that strong and cold northerly winds kept anglers close to home over the weekend, and at one point up to 33 boats were counted in the one sheltered drift in Portacarron Bay. With good hatches of mayfly fishing was still good for the brave who ventured out.
The DADS (Dublin Amateur Dapping Society ) made their annual May pilgrimage to Corrib, on this occasion celebrating the 30th anniversary of their inaugural outing and they weren't disappointed. They had some excellent fishing, with 8 anglers this weekend landing 22 fish in total over the 3 days.
To book fishing or accommodation at Lakelands, contact Gary at mayfly@eircom.net , call 091 552121, or check www.lakelandanglingcentre.com
Karel Sourek from the Czech Republic was in touch to let me know of his most recent trip to Corrib. Karel landed a 25lbs trout in 2010, and is an annual visitor to Oughterard, hunting for the big ferox trout that haunt his dreams. They faced some difficult weather, with strong winds and cold conditions at times, but put in the hours and were well rewarded with some fine ferox trout, although no 25-pounders on this occasion! Well done Karel.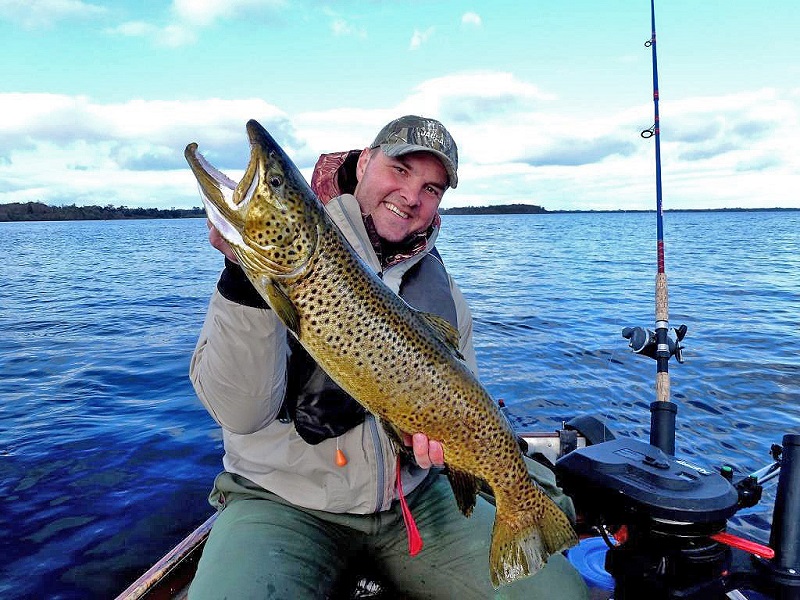 Czech visitor Karel Sourek with a fine ferox trout he caught recently on his annual visit to Lough Corrib. Karel has caught ferox up to 25lbs on Corrib in the past, and makes a point of returning for a week every year. Like all his fish, this one was sportingly returned after a quick photograph.
Lough Mask
Ronan Cusack reports that the strong north westerly winds that pounded the eastern shorelines of Mask this week produced some of the best wet and dry fly fishing we have seen for years. Rod averages of 10 plus trout over the size limit were not uncommon throughout the week. Mayfly hatches were also steady and trout responded well to these.
Regular visitors to Mask, Mike Donaghy and John Webb from Scotland fished with Ronan Cusack for 3 days this week in very blustery conditions and they maintained an individual rod average of 8 trout each day (best fish 3.25lbs, all returned). Ronan also fished with UK angler Pete Dighton for 2 days over the weekend and they again averaged between 15 and 20 trout each day on a combination of wets and dries (best fish 3lbs, all returned).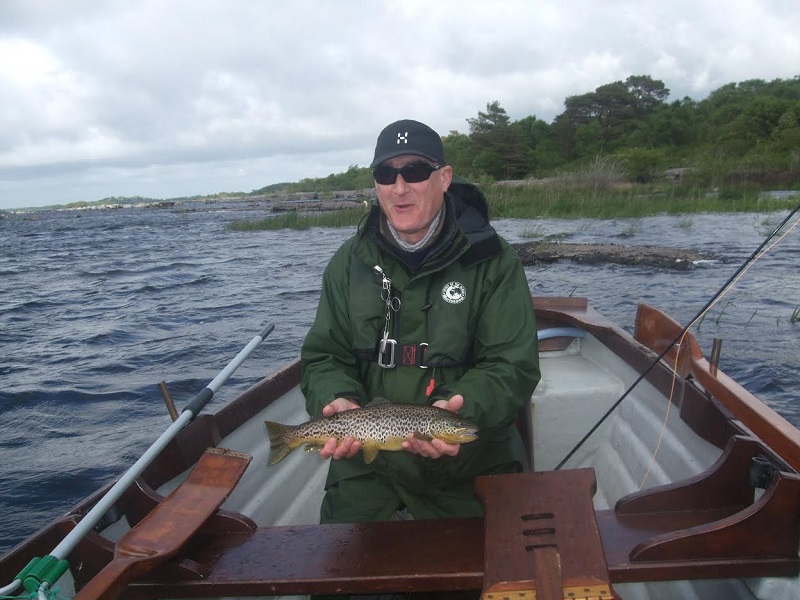 Mike Donaghy with a nice Mask trout caught on his recent visit, where himself and friend John Webb enjoyed excellent fishing.
Local angler Declan Gibbons had 2 nice trout on Friday afternoon on wets (best fish 2lbs, all returned). Eddy Gibbons (Tourmakeady) fished with Dublin angler Doug Armstrong on Friday last and they had 5 trout along the Tourmakeady shore (best fish 3lbs). Shane Jones, also from Tourmakeady, fished on Friday and he had 4 fish on wets (best fish 2lbs). UK angler Phil Brooks had a day on Mask with Declan Murphy (Ballinrobe) last Saturday and they had 12 trout on wets and buzzer (best fish 3.5lbs). Declan fished alone again on Sunday and he had 4 fish (best 2.5lbs, all returned).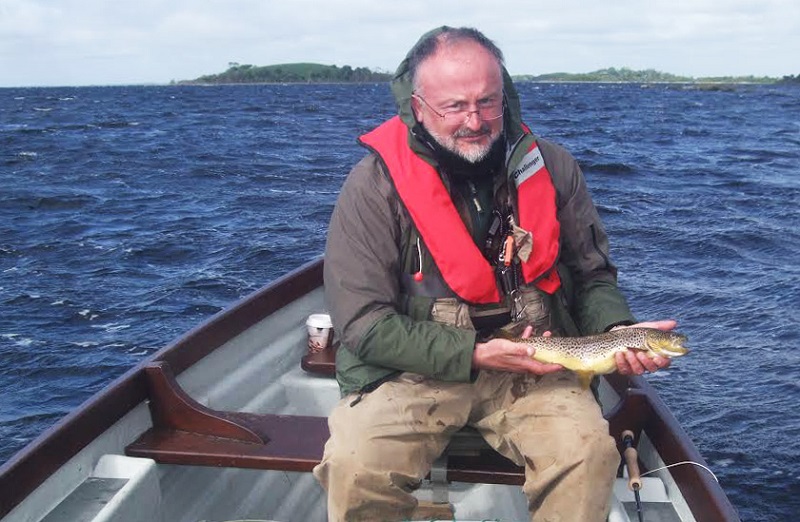 John Webb from Scotland, who enjoyed excellent fishing recently on Lough Mask, with one of his catch.
Overall Mask is fishing extremely well and if conditions remain good it is well worth a visit over the next couple of weeks.
Ronan also guides on Mask and can be contacted at cusackronan@gmail.com or at 087 2869487.
Lough Carra
Joe Flanelly from Keel River Lodge reports that Lough Carra is fishing very well with good action being enjoyed by anglers, and no blank days reported, despite a poor mayfly hatch. The most successful patterns are Claret Bumble, Golden Olive Bumble, Green Peter, Silver Daddy, Sooty Olive and Claret and Mallard.
Michael Maloney from Ennis Co. Clare had 4 good trout for one day. Dr. Killian Hurst from Ballinasloe Co. Galway who fished with his father Dermot also had 4 fish. The best fsh was a nice one of 2.5lbs and took a Golden Olive Bumble. A visiting angler from Scotland, Marcus Thomson, had a great day, landing 6 trout to 2lbs. 5 of the fish took a Claret Bumble. All fish were returned to the water.
To book fishing or accommodation at Keel River Lodge, contact Joe or Lucy at 094 9541706, or check www.keelriverlodge.com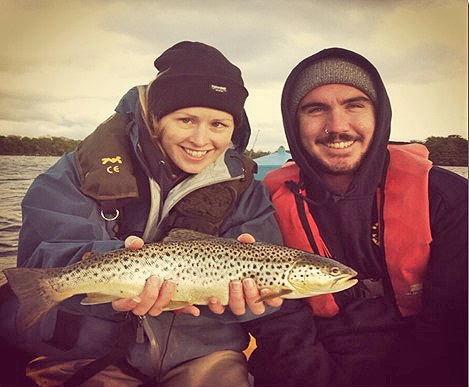 Helen Walsh from Headford, Co. Galway with a nice Carra trout caught during May 2014.
Erriff Fishery
Fishing picked up last week with some nice conditions on the Erriff, frequent rain brought some good water levels and fresh fish running the river provided some good sport. Fishery manager Jim Stafford reports that rains increased levels on Monday 19th, and a few fish were hooked and lost on Beat 9. The following day Niilo Hakkinen, Finland lost a salmon in the Sea Pool. There was little angling activity on the river for the next few days. Water levels and angling conditions were perfect on the morning of the 24th. Rod Robinson from Waterville, Co. Kerry, fishing the Erriff for the first time, caught a magnificent 15.75lbs fish on an Apache Shrimp in the Coronation Pool on Beat 8 - Rod moved another one in the same pool later in the afternoon. The same day Basil Towers, UK caught one of 6.25lbs on a Black Pennell in School House Pool on Beat 3.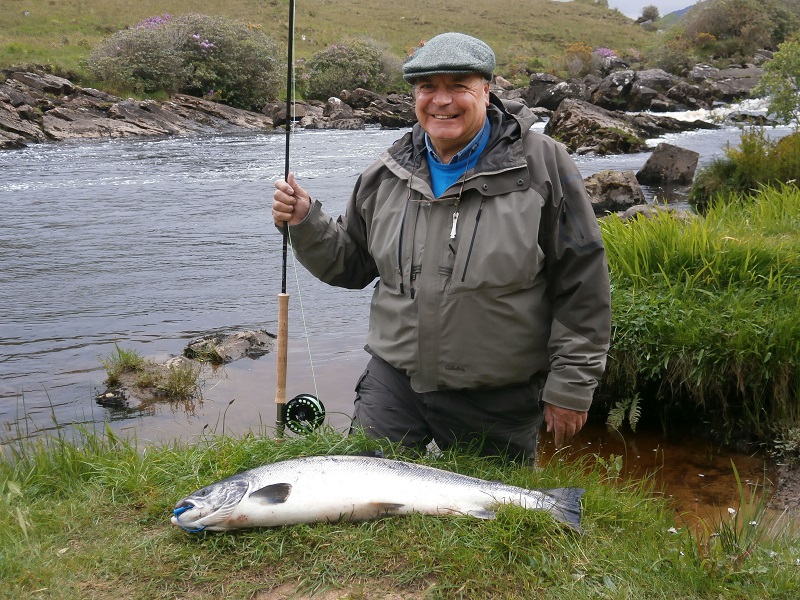 Roderick Robinson from Waterville, Co. Kerry, with a magnificent 15.75lbs salmon taken on the River Erriff, May 2014.
The following day Hugh Maguire, Dublin landed a fish of 10.25lbs on a Black Shrimp pattern in Poleen on Beat 4. Tom Harrington, Limerick also had a springer of 8lbs on a Tosh in the Colonel's Pool on Beat 6.
It appears that with the high water for the past 2 weeks (at times the river was unfishable at 2+ meters) fish that entered the river are well dispersed throughout the beats.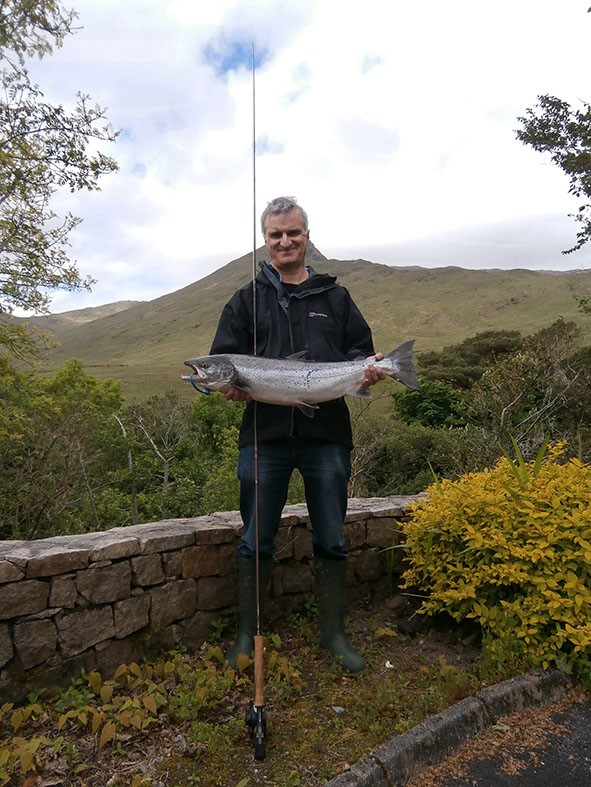 Hugh Maguire from Dublin with a fine 10.25lbs Erriff salmon taken during May, 2014.
Accommodation and fishing are still available during the coming weeks. To book fishing or accommodation, contact Jim Stafford at 095 42252, email erriff.fish@iol.ie or check www.aasleaghlodge.ie
Galway Fishery
High water has prevailed for much of the last 2 weeks, with 4-6 gates open on the weir, however levels are dropping now and 2 gates are now open, allowing much more scope for flyfishing. Some nice fish have been caught in that period, with some spring fish still running, and the early grilse starting to appear.
Local angler Dave Lenihan landed 2 salmon of 10.5lbs and 10lbs, one on shrimp and one on spinner, while Neil Spellacy from Moycullen took a nice 8.5lbs fish on fly. There were grilse of 6lbs for John McCarthy, Brian King and Philip Mackey (UK), all taken on shrimp, with Brian also landing a 4lbs grilse. French visitor Jean le Moal had fish of 7.5lbs and 5lbs on spinner, while Michael Griffin took a nice 8.5lbs salmon on shrimp. Brian O'Rourke, Jim Delahunty and Fergal Cormican all had grilse around 5lbs, with Fergal also landing a fine 12lbs springer on spinner, while David McMurtry had a 7lbs fish, also on spinner.
With water levels now at a much more fishable level and the grilse starting to appear, fishing prospects are looking up in Galway for the weeks ahead.