Salmon & Sea Trout Angling
River Moy
Salmon fishing picked up slightly on the River Moy during the week. However, salmon where caught throughout the system including the first fish of the season on the Ridge Pool by local ghillie, John Howley. John's fish took a Yellow Ally's Shrimp and weighed 7.8 lbs.
Gerry Seck, Crossmolina, had one on worm on the Ballina Salmon Anglers water, while local angler, Eugene O'Boyle got a 7 lbs. fish on Gannon's. The Foxford Fishery produced a nice ten pounder for Northern Ireland angler, Michael McIver (on worm) and Swiss visitor, Steffen Kuhlow, had a 9 lbs. salmon on spinner on the Foxford Salmon Anglers water. In the previous week, local angler, Steve Sowrey, landed a magnificent salmon of 13.5 lbs. (on spinner) on the same fishery.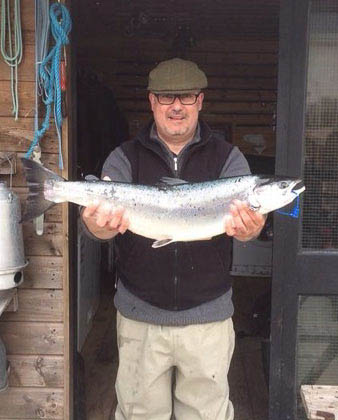 Steffen Kuhlow, Switzerland, with his 9 pounder from the Foxford Anglers water.
Further up river, on Cloongee, French anglers Thierry Coulm and Lionel Mondelin, did well catching fish of 12 lbs. and 8 lbs. respectively (on spinner). East Mayo Anglers Association water also produced a few fish including a 9 lbs. salmon for German flyangler, Frank Sommer, and a ten pounder for Jim Wheelan, Swinford, on worm.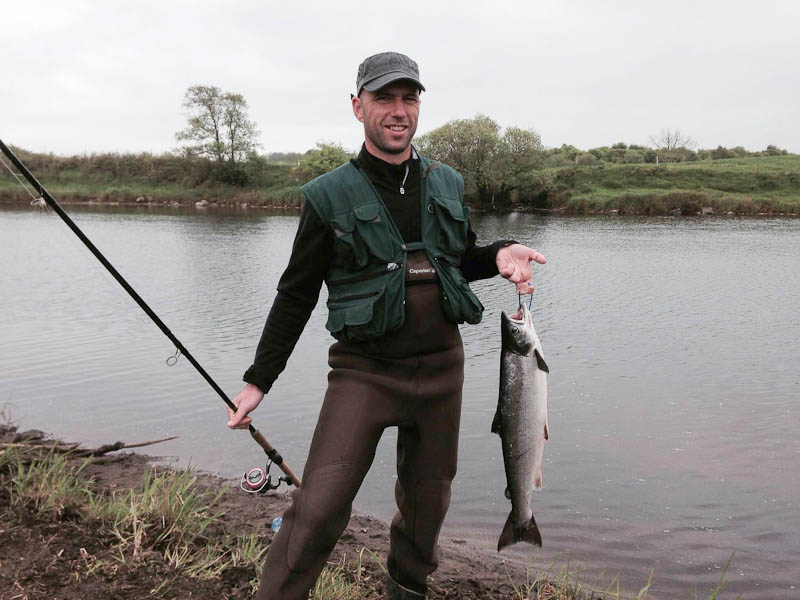 A proud Lionel Mondelin, France, with his 8 lbs. fish from the Cloongee Fishery.
The recent rain should result in rising water levels and angling conditions are expected to improve.
Moy Estuary
Judd Ruane, skipper of the Pegasus, reported excellent fishing for a group of anglers from Switzerland with good numbers of sea trout between 0.75 lbs. and 1.5 lbs.
To book a day's sea trout fishing visit www.fishingireland.ie or contact Judd on +353 (0)87 6736969

Carrowmore Lake
For the fourth consecutive week, Carrowmore Lake provided excellent spring salmon fishing. A total of 20 salmon were caught by local and visiting anglers alike, 12 of which were returned. This week, the average weight was somewhat lower than previously with most fish ranging between 4 lbs. and 8 lbs. German anglers, Frank Sommer and Marco Feltes, who were guided by professional angling guide, Paddy McDonnell, had 4 salmon (3 released) for 4 day's fishing. Other successful anglers included Owen Warner, Galway and Larry McAlinden, Northern Ireland. Most successful flies for the week were Green Peter, Jaffa, Noone Zulu and various Cascade patterns.
Please note that Carrowmore Lake is a Brown Tag Fishery this year! For fishing on Carrowmore Lake contact Seamus Henry on +353 (0)97 83487 or visit www.bangorerrisangling.com

Ballisodare Fishery
Due to the dry weather and a resulting drop in water levels, the Ballisodare Fishery saw a slow start to the week. Although plenty of fish were seen, catches were down compared to previous weeks. However, some anglers still did well including Chris Kitchen, who had a nice fish of 9 lbs. on the worm. Dermot Glennon released a fine fish of 11 lbs. on the fly, while Andrew Pearson caught two fish at 8 lbs. and 11 lbs.; one on worm and one on fly. Other successful flyanglers included Vincent Henry with a ten pounder and Paddy Byrne who landed a 6 lbs. fish.
Newport River
Guests of Newport House enjoyed some nice spring salmon fishing on the Newport River during the week. Flyanglers Kate James and P. Richardson had a fish each weighing approx. 9 lbs. and 12 lbs. respectively. Both fish were safely released.
To book fishing on the Newport River contact Newport House at +353 (0)98 41222 or visit www.newporthouse.ie.

Trout Fishing
Lough Conn & Lough Cullin
Trout anglers experienced good fishing on Loughs Conn and Cullin during the week. On Lough Cullin, father and son, Richard and Gary Binley, Foxford, kept 8 trout, best at 2 lbs. on dry mayfly patterns, while Liam Flynn and Michael Hopkins, both Roscommon, caught and released 5 fish averaging 1.5 lbs., also on dry mayflies.
Fishing out of Brackwansha and around the Cormorant Rocks, Philip Coogan and boat partner, Danny Kilcawley, both Sligo, had 5 trout between 1.25 lbs. and 1.5 lbs., all on dry mayflies and Green Peters, while Victoria Bay produced 3 trout, best at 1.5 lbs. for Gerry Walsh and Michael Coleman, both Galway.
The northern end of Lough Conn also fished well with many nice trout up to 2 lbs. taken by anglers. Amongst the successful anglers were Dessie Ruthledge & son Pierce with 3 fish on Green Peters and Vincent O'Boyle & Michael Cawley with 5 fish on wet and dry mayflies.
Kelly's Boat Hire reported god fishing for local angler, Padraig Kelly Snr. & Dermot Dunne, Offaly, who boated 9 trout in Home Bay, best at 1.5 lbs. Karl Henry, Northern Ireland, had 6 fish in Castlehill Bay on dry olives, while Fintan Phelim, Castlebar, was successful off Cloghans with 4 trout on traditional wet flies.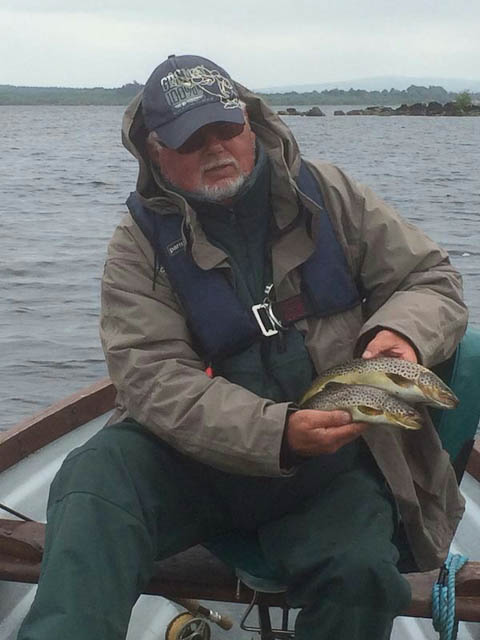 Richard Binley, Foxford, displaying two Lough Cullin trout.
Cloonamoyne Fishery, Enniscoe, Crossmolina, reported excellent fishing for their clients with John Baker and Julien Linton from the UK catching 13 trout over 2 days on wet Goslings and Fan Wings, best at 2.25 lbs. Ian Wise and boat partner, David Flynn, UK, enjoyed very good fishing in Bog Bay with trout up to 2 lbs. To book guided fishing with Cloonamoyne Fishery, contact Ian at ian@cloonamoynefishery.com
A couple of competitions were also held on Lough Conn during the week. Results were as follows.
Saturday 3rd May - Annual Dublin Anglers vs. Lough Conn & Cullin Anglers Competition (35 anglers, 63 wild brown trout taken)
1st Padraig Traynor - 4 trout 3kg.
2nd John McNeely - 5 trout 2.5kg.
3rd Michael Monaghan - 4 trout 2.3kg
Best fish: Padraig Traynor 1.6kg
Sunday 4th May - Annual Pratt Cup (40 anglers, 25 wild brown trout taken)
1st Sean Goulding, Dublin - 3 trout 3.6 kg
2nd Noel Shields, Dublin - 2 trout 2.1kg
3rd Billy McGhee, Foxford - 3 trout 1.3kg
4th Justin Clarke, Dublin - 2 trout 1.2 kg
Best fish: Sean Goulding - 1.4kg
Lough Arrow
Conditions on Lough Arrow improved considerably in recent days. The mayfly is up on the lake with good numbers of anglers out and a lot of small to medium sized fish being returned. K. Gibson, K. Hutchinson and K. Tully, all guests of Lough Arrow Caravan Park enjoyed a good week's fishing with many trout in the 2 lbs. range, most of them returned. Local angler, Walter Frazer, also had a 2 lbs. trout, while Muriel Frazer caught a cracking fish weighing 5 lbs. 6oz. on the dab.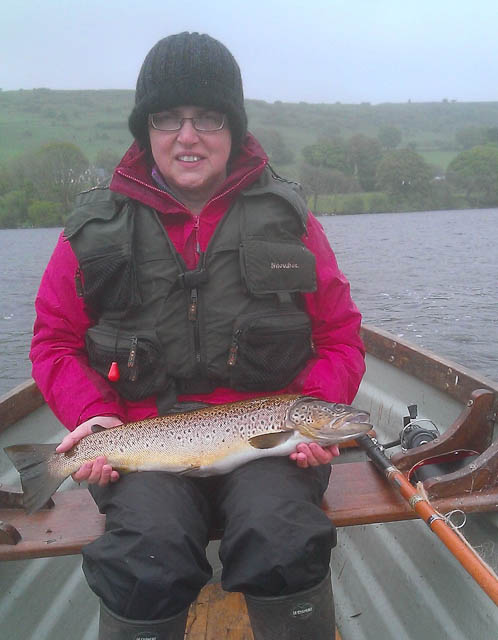 Muriel Frazer with her magnificent Lough Arrow trout (5 lbs. 6 oz.) caught on the dab.
Lough Arrow Fish Preservation Association & District Anglers will hold their annual Mayfly Competition on Sunday 11th May from 10am until 6pm. Weigh in for single heaviest fish will take place at McDonagh's Bar, Ballindoon, at 7pm. Entries will be taken at Flynn's pier between 9am and 10am or by text message to the following committee members (Alison +353 (0)87 9541835, David +353 (0)86 3825376, Karl +353 (0)086 8343584, Sarah +353 (0)87 9734101).
Ballin Lough
The Ballin Lough Fishery near Westport produced some decent fish for visiting anglers this week. Amongst the lucky anglers were John Muldoon with his boat partner who had a rainbow trout of 4 lbs. and 3 browns, best at 1.75 lbs. Pat Murphy, Galway, boated a 3 lbs. rainbow trout and a nice brown trout weighing 1.75 lbs. Best flies included Dabblers and nymph patterns.
To book fishing on Ballin Lough contact IFI Ballina at +353 (0)96 22788.

Pike Angling
Undoubtedly, the Foxford area with its many different lakes such as Levally, Conn and Derryhick provides some of the best pike flyfishing opportunities in the country. Knowing the excellent flyfishing potential of these waters, regular visitors, Paul Dennis and Wayne Oldfield, both Dublin, met up with local angling guide Kenny Sloan for a day's fishing. Conditions were good with a moderate southerly breeze. The pair flyfished on several lakes around Foxford and ended up with a fantastic 18 pike for the day.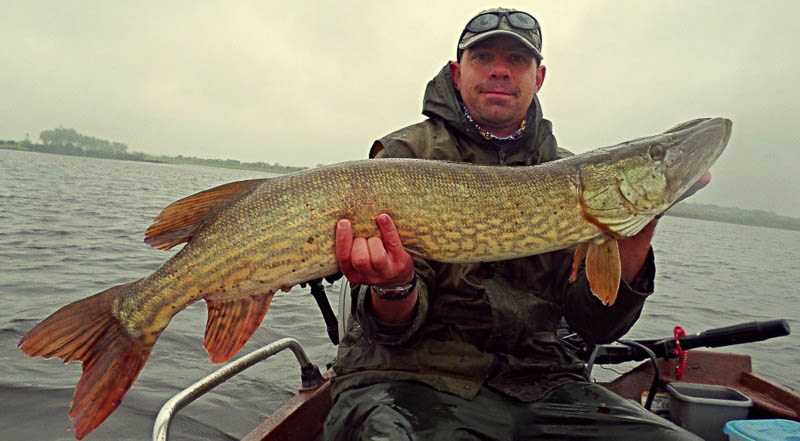 A delighted Wayne Oldfield, Dublin, with a fantastic wild Lough Conn pike.



The biggest fish fell to Wayne, a fine wild Irish pike around the 18 lbs. mark, while Paul's best pike was estimated at 15 lbs. Many more good low doubles were also caught and all fish were safely returned to the water to be caught another day. Pink & white as well as brown & yellow colored streamer patterns worked best. Both anglers intend to return for a day's fly fishing for brown trout later in the season.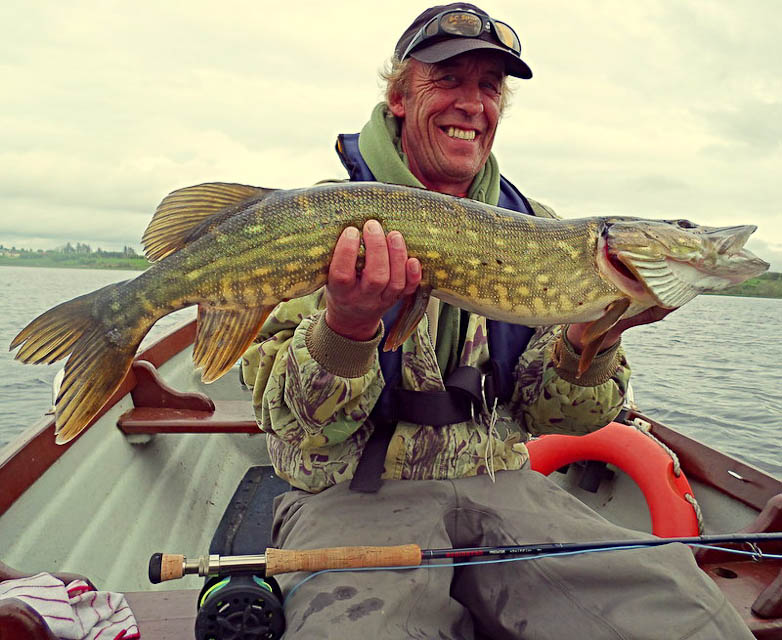 Fantastic sport on the fly - wild Mayo pike! (Paul Dennis, Dublin, with one of 18 fly caught pike).
To book a day's guiding or boat hire contact Kenny Sloan on +353 (0)949256501 or +353 (0)87 9670310 or visitwww.pikemania.co.uk
Murphy's Boat Hire, Massbrook, also reported some good pike fishing for their clients. A party of pike anglers from France had a total of 10 pike trolling lures, best at 14 lbs.
---
Lough Mask
Ronan Cusack reports that angling on Mask blew very hot and cold for the second half of last week, as low pressure and easterly winds dominated the weather. Mayfly and olive hatches were very unpredictable and changed from one day to the next.
Ballinrobe and District Anglers held their annual 2-day development competition over the bank holiday weekend. 66 anglers took part and 105 fish were weighed in over the 2 days. First place went to the team of Tourmakeady angler Mick Dunne and Frankie Guilfoyle from Ennis, with 10 trout for 14.07lbs. In second place were Tom Foley (Ballinrobe) and John Forde (Cork) with 11 trout for 13.30lbs. Denis Kelleher (Ballinrobe) and Ronnie Law (Northern Ireland) took third place with 10 trout for 12.34lbs. Richard Cleary (Cork) weighed in the heaviest fish of 3.37lbs. Kevin Egan (Ballinrobe) won the best Ballinrobe angler prize with 6 fish for 8.88lbs.

Cavan anglers Vincent Kelly, Cian, Darragh and Brendan Murtagh spent 3 days on Mask last week with Ronan and Joe Cusack. Conditions were tough and the lads finished with 9 trout over the size limit. Cian and Vincent were fishing Buzzer in Ballahalla on Friday when Cian asked boatman Ronan to hold his buzzer rod in order for him to set up dries. No sooner had he done this when the line ran off and a cracking trout of 6.75lbs was on the other end. After a 20 minute battle Cian landed the fish with the help of his boat partners Vincent and Ronan.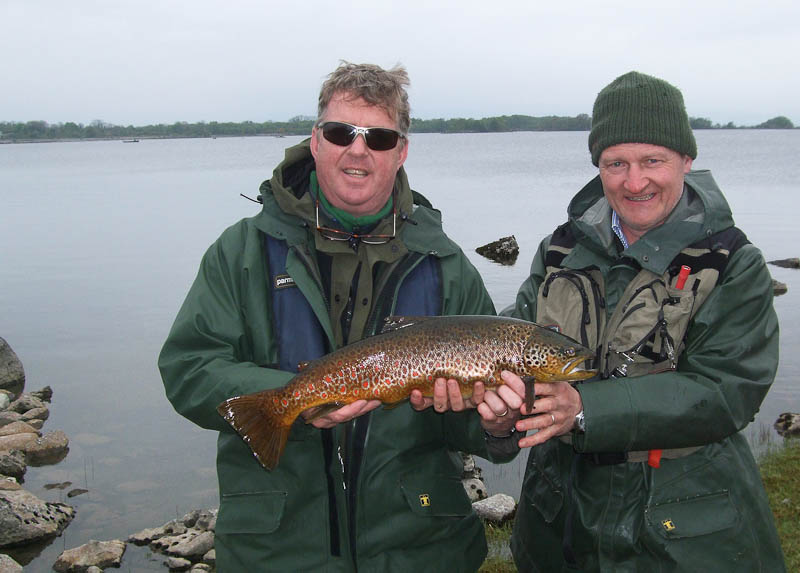 Cian Murtagh (right) with a beautiful almost 7lbs trout that he caught while fishing buzzer in Ballahalla Bay on Lough Mask. Also in picture is his boat partner Vincent Kelly.
Hugh Jameson Northern Ireland fished with David Hall of Hall's Angling Centre on Saturday last and they had 6 fish for their day (best fish 5lbs). 2 French anglers also staying at Hall's fished for 3 days last week and they had 12 trout (best fish 2.5lbs). Norwegian angler Rune Dunne fished for 3 days in the early part of last week and he had 7 trout on dries (best fish 4.5lbs). Ivan McGough Northern Ireland had 11 trout over 3 days on Mask last week (best fish 2lbs). David Hall fished on Bank Holiday Monday and he had 3 fish (best fish 1.5lbs). To book fishing or accommodation contact David or Helen at 094 9541389 or check www.lakeshoreholidays.com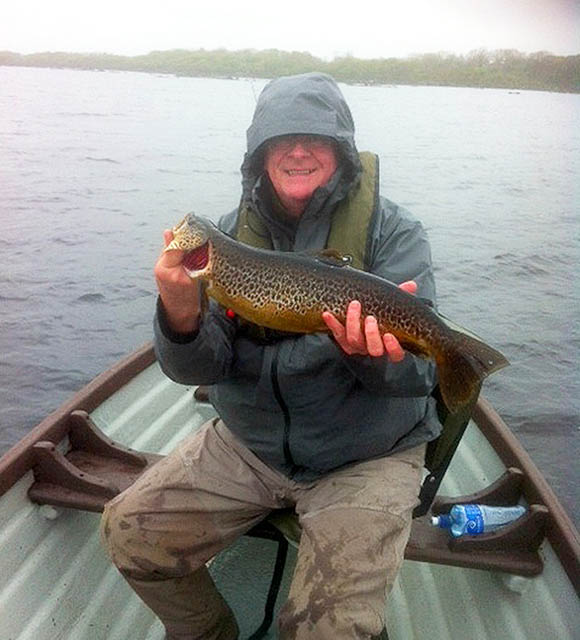 Hugh Jameson with a 5lbs trout he caught on Lough Mask while fishing with David Hall.



Eamon Kennedy, Tommy Foley and Damien Walsh guided 6 anglers on Mask on Tuesday last and they had a total of 6 fish (best fish 1.5lbs). Ballinrobe angler Sean Maloney also fished on Tuesday with Noel Fay from Kildare and they had 2 fish for the day (best fish 1.75lbs). Peter McGroary from Donegal had a superb day the previous weekend, landing 13 trout, many undersize but including a lovely fish of 3.75lbs
Ronan also guides on Mask and can be contacted at cusackronan@gmail.com or at 087 2869487


Lough Corrib
Craig McKirdy reports that there were good hatches of mayfly and olives over the last week, with the broken weather helping. In the Greenfields area, visiting couple Chris Loots and Edith Bollen from Belgium enjoyed their first visit to Corrib this season, landing 6 fish on buzzer, returning 5 and keeping a trout of 3lbs 2oz. Frank Conroy from Maam had 2 fish for 4lbs 9oz. Local angler Darren Walsh had 2 trout to a Green Dabbler and Olive Nymph, both were carefully released.


Local expert angler Pat Day from Headford had 6 fish in 2 evenings. Martin Conroy and Phillip Hall from the UK had 12 fish for 2 days, releasing 8, best trout "rocking in" at 3lbs 6oz. Ennis angler Ger Kenny had a productive day with 3 fish, 2 of which took the Cock Robin (all released).
David Gray and Garret Byrne from Dublin returned for a nice day's fishing, David released 2 fish, and Garret had a nice fish of 2lbs 6oz. Phillip Clesham and Junior McGahon from Castlebar fished out of Greenfields over a few days - Phillip had 1 on Wednesday weighing 2lbs 6oz, he also released 1 on Saturday, while Junior had a lovely fish of 4lbs 8oz on a dry daddy.


Antrim angler Peter Neeson's first visit to Corrib this season proved rewarding. Fishing with local ghillie Frank Reilly, he landed 6 fish, releasing 5, all coming to wet and dry mayfly patterns. Stephane Decrette, from France but living in Claremorris, along with visiting French angler Daniel Rojon, had 4 fish between them, releasing all. Not only can this man sing but he can also fish, Don Stiffe of Greenfield House Hotel caught 2 fish for his day out weighing 6lbs 9oz.


In the Cornamona area, the Cornamona Anglers held their annual wet fly competition, with 29 anglers weighing in 23 fish over the limit. First prize went to Martin Butler with 3 fish for 4.75lbs, Gerry McDonald took second with 4 fish for 4.30lbs, while third place went to Roy Pierce, with 2 fish for 2.66lbs.
Over on the Oughterard side of the lake, Declan Egan from Galway had 4 fish for 6lbs, all coming to wet fly. Sean McEvory and Declan Murphy from Ballinrobe, fished from Basil Shiels' Ardnasillagh Lodge had an incredible 25 fish over 2 days, their best trout a cracking 8lbs!


Davy Wilson and friends from Fermanagh had 17 fish for 1 day's outing to 3 rods. Swiss angler Dieter Lampe along with a friend had 10 fish for 1 day. The Garda West club held a competition on Corrib, with 14 rods weighing in 12 fish. Seamus Kelly took top honours with 4 fish for 9.8lbs, Mick Bradley was second with 2 fish for 5.9lbs, and Peter McGuiness was third with 3 fish for 4.7lbs.


The Braithreach Na Coiribe club also held a competition with the winner Mike Keady from Moycullen taking the prizes with 4 fish for a staggering 14lbs.


Broken weather is forecast up to and including the weekend, which should help hatches, but high winds are making fishing difficult today. Fresh conditions for the rest of the week will favour wetfly fishing, and with the mayfly getting into full swing the next few days could see the best of the fishing. With so many anglers out, and many new to the lake, a reminder is issued to all anglers that Fishery Officers will be conducting routine inspections during the month of May, checking compliance with conservation byelaws for the Corrib catchment, particularly the 4 trout catch limit and the 13 inch size limit (measured from the nose to the fork of the tail).

Galway Fishery
Conditions were reasonable at the Weir for the week, with 2 sluice gates open and more fresh fish showing in the river every day. 7 salmon were landed for the week, including a 9lbs fish for Brian Keoghan, taken on spinner. Michael Browne had two fish over two days, both taken on spinner and weighing 12lbs and 12.5lbs. Barry Brown and Henry Cosgrove both had 11lbs fish on spinner, while Declan McInerney took a nice 12lbs springer, also on spinner. The only fish taken on fly fell to German angler Werner Meckle, a long-time visitor, who had an 11lbs salmon.


With the lake upstream rising after recent rain, I would expect water levels to rise in Galway soon, possibly rendering flyfishing more difficult. Fresh fish are showing in better numbers, however, and anglers should see an improvement in sport as a result.