Galway Fishery
Water levels have dropped away again in Galway, with 4 gates now open, a big improvement on last week, when 12 gates meant very heavy water. With the drop in water levels, catches are starting to improve, and several fish have been caught over the last few days. I also have reports of salmon from the Clare River upstream, so it appears good numbers of fish have been running through during the high water. Michael Browne from Clare landed a nice 11lbs fish, taken on shrimp, while Eugene Murphy had a fine 11.5lbs fish on a spinner. Eoin Dunne took an 8.5lbs fish on spinner, while Brian O'Rourke managed an early grilse, a 5lbs fish taken on shrimp. With the water dropping to 4 gates on Monday, Jim Barry landed a sparkling silver 7.5lbs fish on fly. No more fish have been reported since, but quite a few fish have been hooked and lost, with quite a few more takes reported. Spring fishing is starting to pick up in earnest now, and if water levels drop further I would expect the fishing to improve hugely over the coming weeks.

Western Lakes
Fishing on Mask was a bit tougher this week, with not as many anglers seen on the lake. The warm bright conditions we have been experiencing over the past week has not helped matters. Prolific hatches of small dark sedge are still being reported almost on a daily basis. The vast majority of anglers are having most of their success on small dry patterns e.g. size 12/14 F-flies or the Chocolate Drop. A common complaint (if you could call it that!) is the number of small fish being caught and returned by anglers every day.
Kevin Beattie and Ray Broughton (Ballinrobe) fished Mask on several occasions over the past week with great success. Kevin said their catches would have been in double figures most days, but many of their fish would have been undersize. Sean Maloney and Tommy Foley (Ballinrobe) had 3 fish on Sunday. Sean fished again on Monday and had a further 4 trout (best fish 2.25lbs). Ger Linehan (Cork) fished over the weekend for 4 fish (best fish 2lbs). Dennis Kelleher and Noel Moran (Ballinrobe) also fished on Sunday and had 3 fish (best fish 2lbs). Hall's Angling Centre also reported good catches. Four anglers from the Dargle Angling Club, staying at Hall's, fished on Sunday and they had 10 trout for their efforts (best fish 2.5lbs). Two Galway anglers also staying at Hall's had 6 trout on Sunday (best fish 2lbs).
At this stage the duckfly is over on Mask and attention begins to focus on the olives. Reasonable hatches of olives and the occasional campto buzzer have been reported in the usual haunts, so lots to look forward to over the next few weeks.
To book accommodation or fishing from Hall's, contact David Hall at: tel. +353 (0) 94 9541389 or email info@lakeshoreholidays.com.

Fly fishing on Lough Corrib is still proving tough for anglers at the moment, with fishing described as patchy, but angling effort is also low at the moment in the bright conditions, so poor catches may be reflection of this also. Some olives are starting to hatch in bays on the eastern shore, with some early mayfly also appearing in the Cong and Cornamona areas. Just one report from this area, with Eamon Gavin from Cornamona reporting 5 trout for an evening for 6.5lbs, with 3 released. Other reports are patchy and difficult to come by.
Over on the Oughterard shore, fishing is still patchy enough. The Bartley McGauley Cup competition was fished from Oughterard was won by Jimmy Dixon, with 2 trout for 2.5lbs. Kenneth Ferguson was 2nd, with 1 trout for 1.75lbs, and local tackle dealer Tommy Tuck was 3rd with 1 trout of 1.25lbs.
The Rocca Cup, fished out of Collinamuck, was won by Padraic Fahy from Cloonabinnia, with 2 trout for 5lbs. Toby Bradshaw from Moycullen was 2nd, with 2 trout for 4lbs, and Niall Collins from Galway was 3rd with 2 trout for 3.5lbs. The 42 anglers who entered landed 25 trout over the size limit.
As with the far shore, other reports were hard to come by with the low angling effort, but 2 Swiss anglers who trolled for 4 days landed 7 trout, best 8.5lbs.

Ferox Trout
I received another fantastic report from fishing guide Tomi Kurman from the Corrib Predator Team, who guided a couple of first time visitors from the Czech Republic last weekend, Peter Durdik and his son, Peter Jr. As Tomi put it, he had the pleasure of introducing Mr. Ferox to the father and son, who had such a good time that they are already planning a longer trip for next year.
Peter Sr. smashed his previous personal best trout by landing a ferox of 16lbs 7 oz, while son Peter had a slightly smaller fish at "only" 16lb and 5 oz!
Both beautiful fish were sportingly released, hopefully to put more weight on before their visit next year! See the attached photos of these magnificent fish.



To book a day on the lake with Tomi, call him on 085 7318541, contact him by email at corribadvice@gmail.com or check his website at www.guidedfishing.info


Delphi
Delphi fished very well over the last week, according to fishery manager David McEvoy. Indeed, on one day they had 5 fresh springers! Regular visitor Paul Wymes landed and returned an 8lbs fish from the Whin Pool, taken on a Sunray Shadow. Paul also had 2 fish on another day, one of 5lbs 15oz from the Rock Pool on a Red Francis, while the second (released) was approx. 12lbs, taken on the Whin Pool on a Sunray Shadow.

David Allcutt landed a 5lbs 13oz fish on Finlough, which took a Willie Gunn, following his fish earlier in the week, a 9lbs 8oz fish taken on Doolough. Neal Loughrey landed a 7lbs 6oz fish on Doolough. This fish was taken trolling. Neal also landed a spectacular 13.5lbs fish off the Turn Pool on the river, that came to a Cascade tube fly. Dexter Lynas, who was successful the previous week, landed another fish off Finlough on a Sunray Shadow weighing in at 10lbs 11oz.
Jimmy Colville had a sea liced 8lbs fish on Finlough on a Clan Chief and Peter Morris had a 10lbs fish on Doolough. Hugh Brennan may not have landed a salmon but he did hook and lose 3 on Doolough. One fish stripped his reel of line!

Niklas Rothkoetter from Germany had a sea liced 7lbs 2oz fish off on a Collie Dog. Niklas made a great start to salmon fishing 2 years ago when he landed 3 springers in a day.

For fishing or accommodation, full details and booking info are available on the website at www.delphilodge.ie , or contact the lodge at +353 (0)95 42222.


Kylemore Abbey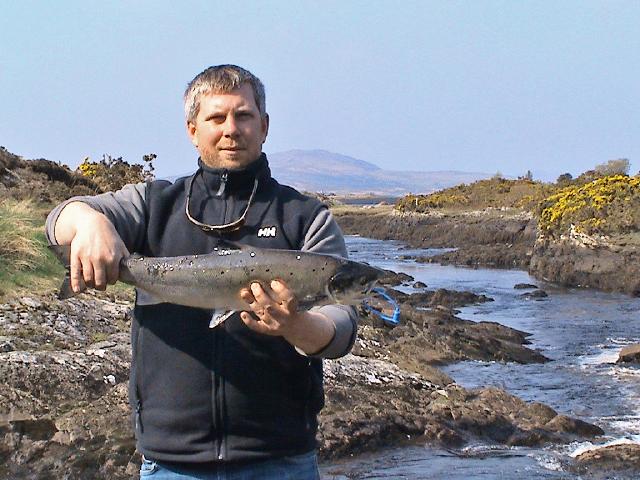 The first salmon of 2011 was caught on the upper river yesterday, reports fishery manager Nigel Rush. Over the last 10 years, the first fish has been caught on average around the 18th of April, and this year was spot on. The lucky angler was Ciaran Brady, who landed the fish in Lower Eugene's Pool. The fresh fish weighed 7.25lbs, and was taken on a local fly pattern, the Kylemore Killer! No doubt the fish was well celebrated in Letterfrack last night!
Kylemore had a very good season in 2010, and the prompt arrival of the first fish this year bodes well for another good year. For information on fishing or to book a day on the fishery, contact Nigel Rush at: tel. +353 (0)9541178, or +353 (0)9541161, or email nigelrush@eircom.net