The North Western Regional Fisheries Board recently organised and promoted Fisheries Awareness Week with the support of the Central Fisheries Board, fishing clubs, charter boat skippers and private fishery owners across the region. The initiative was aimed at encouraging young people and adults alike to take up the pastime of angling and was also directed at raising environmental awareness.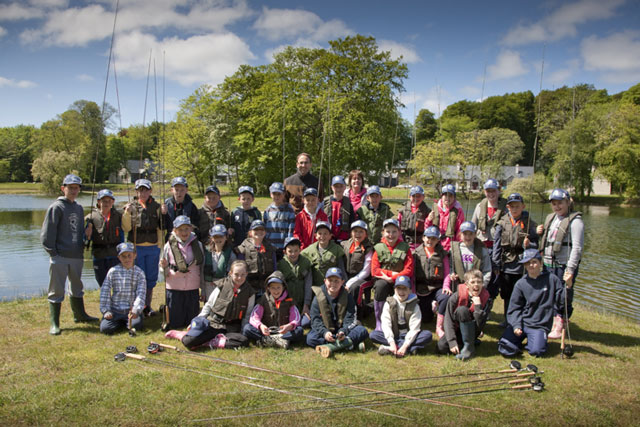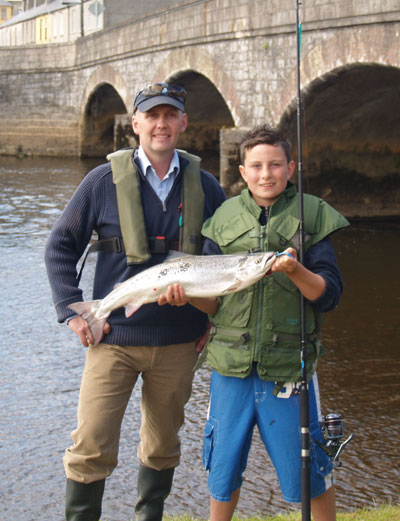 Moy Fishery Manager Declan Cooke and Fergus McDermottQuinn with his first ever salmon.

Seventeen events were hosted across the region during the week which opened with an open day at the Board's headquarters in Ballina. Two events were hosted at Mount Falcon Rainbow Trout Fishery, the first of which was attended by 31 pupils from Breaffy National School, as part of their prize for winning the 2009 national "Something Fishy" competition. The pupils were treated to expert tuition in the art of fly fishing followed by an angling session on the Estates' Rainbow Trout Fishery. One lucky pupil, Jason Moyles, caught a fine fish of 3.5lbs which was swiftly photographed and safely returned. This was followed by a Ladies Casting event which was attended by eight ladies keen to learn the skills required to be a fly angler.

A great success during the week were tours of the Moy Estuary onboard the Board's rigid inflatable patrol boats. Over seventy members of the public participated and were given the chance to view the sights and wildlife of the Moy Estuary from a different perspective while learning the historic significance of the many landmarks along the shores of the estuary. Similar tours were also hosted in Sligo on the Garavogue River/Lough Gill.




Various other angling events took place throughout the week, including an introduction to fly tying and fishing at Ballin Lough Fishery near Westport. Over sixty people availed of introductory sea angling sessions onboard the Leah, on Killala Bay and An Gearóidín, on Broad Haven Bay. Two events were hosted by the Ballymote and District Angling Club, an introduction to coarse angling at Fin Lough and an introduction to fly tying and fishing at Lough na Leibe.

The highlight of the week for many children was the Juvenile Angling day, held on the famous Cathedral Beat of the River Moy. Over forty juveniles participated in the event including many who had never fished previously and a great day was had by all. Perhaps the happiest of those participating was 12 year old Fergus McDermott-Quinn, who, while fishing the worm, hooked and successfully landed his first ever salmon, a fine specimen of 6lbs 10oz.