Galway Fishery
Grilse have started arriving in Galway this week in good numbers, and catches are starting to pick up too. There were 32 fish landed this week, and with the increased numbers of grilse I would expect this to improve further next week.
Local angler Simon Lenihan landed a 7.5lbs salmon on spinner, while Pat Roche from Kerry took a fine 13lbs fish, also on spinner. Paddy Gargan landed a 9lbs fish on spinner, while son Cian took a 4lbs grilse on shrimp.
Seamus McEleney from Northern Ireland had a salmon of 10lbs and a 4lbs grilse, both on fly, while Dublin angler Colm Adams had fish of 10lbs and 7.5lbs on spinner.
Michael Brown from Clare had grilse of 5.5lbs and 6lbs on spinner and shrimp, while there were grilse for Brian O'Rourke from Tuam, JJ Sullivan from Carrickmacross, and Northern Ireland's Keith Creelman. Frank Hession from Tuam landed his first ever salmon, a nice 5.5lbs grilse taken on shrimp.
With good water levels and fresh grilse running, fishing prospects for the coming week are very good.
Western Lakes
Ronan Cusack reports that there was an eerie sense of silence around Lough Mask this week, with few boats venturing out. Many anglers tend to miss out on excellent fly fishing at this time of year in the belief that trout feed solely on perch and roach fry post-mayfly season. This was not so for Ballinrobe anglers Noel Moran and Dennis Kelleher, who enjoyed a lively day on Sunday last.  Despite the constant downpour, high winds and low temperatures they managed 5 good fish for the day on wet flies (best fish 1.5lbs). Noel also reported returning large numbers of undersize trout throughout the day. Noel fished earlier in the week with well-known Mask angler Sean Maloney and they had f4our fish for their day (best fish 2.25lbs).  It was a quiet week at Hall's Angling Centre this week.  Helen reported that one angler from Athy, Co. Kildare, fishing for a day in the early part of the week had 1 trout of 4lbs for his day. Mick Dunne and Liam Conroy, Tourmakeady, fished together for two days last week and had 6 trout over the two days (best fish 2lbs).
To book fishing and accommodation at Hall's Angling Centre, call David Hall on +353 (0)94 9541389, or email info@lakeshoreholidays.com
To book fishing with Ronan Cusack, call him on 087 2869487 or email cusackronan@gmail.com
Lough Corrib is very quiet this week, with very few boats out. Tomi Kurman from the Corrib Predator Team reported on some fishing for his clients last week. Fishing wasn't easy as they had all types of weather in just a few days, from gale force winds on the first day, with showers and even downpours, to flat calm conditions on the last day.  In 6 days of fishing they managed to catch and release good numbers of pike up to 20lbs 8oz, and some very good trout. Brian Gunning from Northern Ireland smashed his previous personal best on the first day of fishing, with a beautiful trout weighing 13lbs 3oz.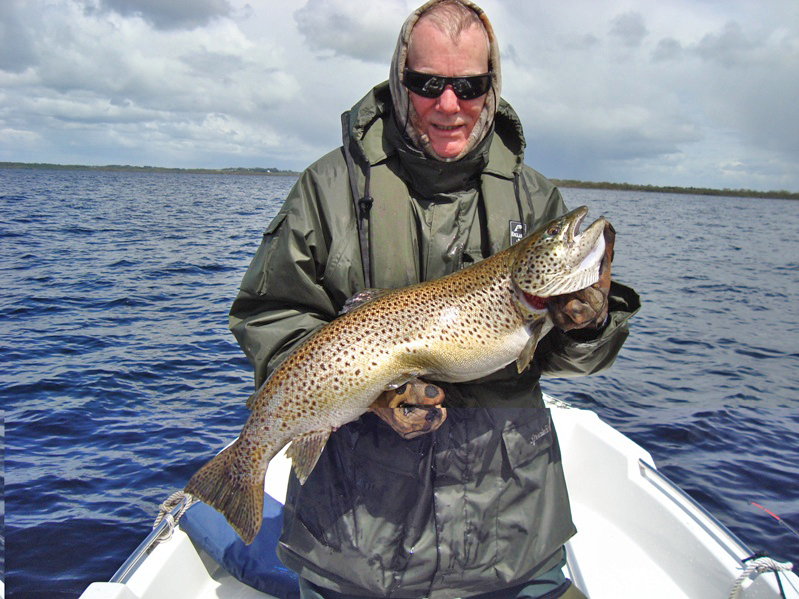 Brian Gunning 13-3 lbs Ferox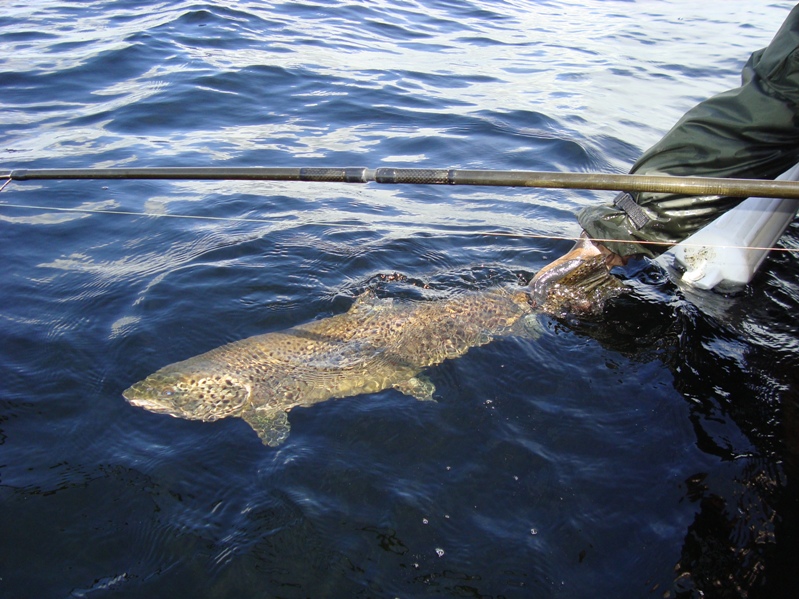 Brian Gunning Catch & Release
Robert from Poland landed a fish of 8lbs, as well as 3 smaller fish. To book fishing with Tomi, contact him on 085 731 85 41, or check www.guidedfishing.info
Connemara
The rain of the last week has kept water levels up, and fresh fish have been running most of the rivers in Connemara. Jim Stafford, manager of the Erriff Fishery, reports on good runs of salmon and sea trout at the moment. There are very few rods on the river at the moment, and catches would be significantly higher if more rods were fishing. Catches this week included Urgan Mantle, who had a 10lbs spring salmon from the Colonel Pool on Beat 6, and a fish estimated at 8lbs, which was caught and released by Bernd Gregan from Germany.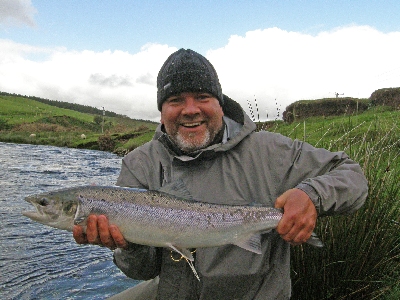 Bernd Gregan
Jim also landed a 5lbs grilse himself. There is plenty of availability during the coming weeks on the fishery. To book fishing on the Erriff or accommodation at Aasleagh Lodge, contact Jim at +353 (0)95 42252, or email erriff.fish@iol.ie
Fishery manager Simon Ashe had good fishing to report from Ballynahinch Castle: The fishing at Ballynahinch has really picked up over the past week.  Traditionally a quiet time of the season, mainly due to low water levels, early June has really come alive!
3 salmon have been landed over the past four days. Conor Killeen took a good 7lbs fresh springer from the stream on Beat 1 on Monday morning with a Yellow Shrimp.  This was followed on Wednesday by a huge 13.25lb springer caught by Tom McManus from the Iron Pier on Beat 4/5. Without a landing net, Tom duly put the rod over his shoulder and dragged the fish onto the bank. This fish was taken on a size 10 Silver Rat.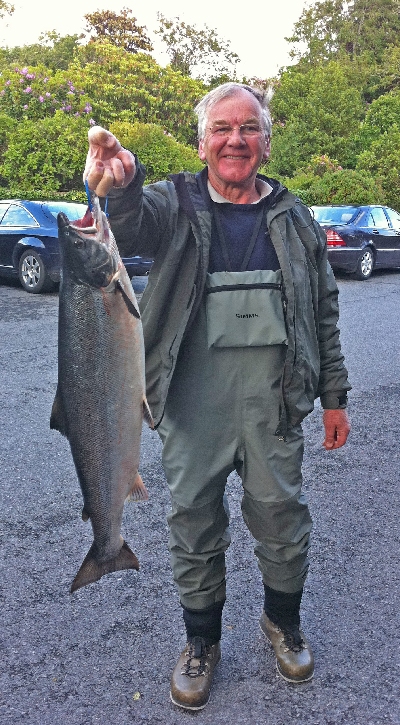 Tom McManus
The week was topped on Friday morning when regular angler, Ann Corcoran, after only 5 minutes of fishing on Beat 1, landed a whopping 14.25lbs fresh run spring salmon from the stream. The fish, with long tailed sea lice, is the largest fish of the season at Ballynahinch so far.  Given the size of the springers going over the counter on a daily basis though, this record could only be short-lived!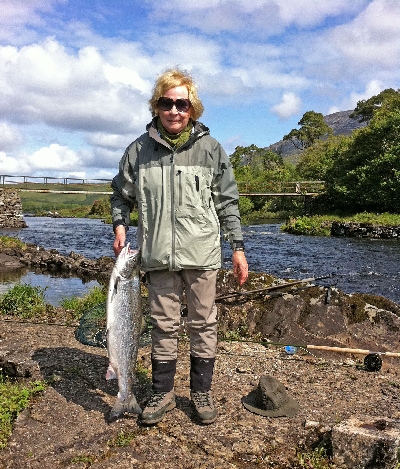 Ann Corcoran
The sea trout fishing over the past week has been really encouraging.  A good number of maiden sea trout up to 3lbs have been coming over the counter and Richard McMahon released one of 3lbs from Ranji's Rock.  Most people who go fishing are catching sea trout.
The weather conditions remain fantastic for fishing at Ballynahinch and there are still some spaces available on the river over the coming weeks.  Contact the hotel on 095 31006 to check availability.
Sea Angling
I have had several reports of good tope and bull huss fishing in Galway Bay, both from shore and off the boat, over the last week. It seems tope are inshore in good numbers this year, and fish to 43.5lbs have been reported so far. Anglers are also taking bull huss into double figures, with several fish of 9-11lbs reported.
Kevin MacGabhann from Spiddal, skipper of the Maighdean Mara, called me to say they were landing good numbers of spurdog, as well as enjoying good mixed species fishing. Mackerel are in the bay and the predator fish are close behind them, so fishing for the coming weeks should be very good if we get the summer weather to help.
To book fishing with Kevin, contact him on 086 8547890, or check www.galwaybayfishing.com