Lough Corrib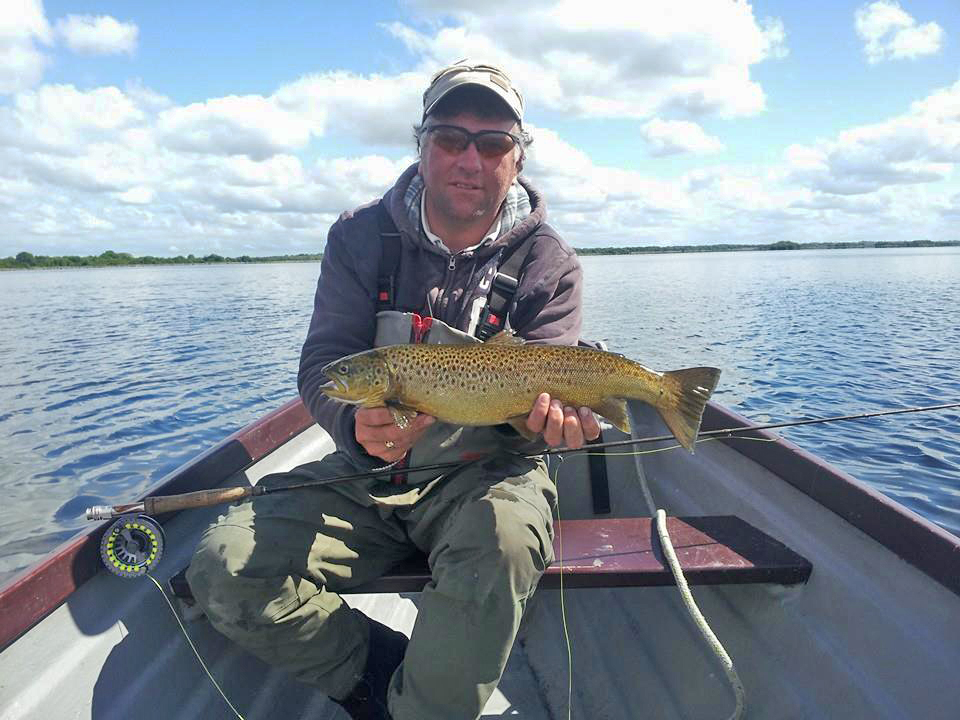 Larry McCarthy from Corrib View Lodge with a fine Corrib trout taken on a Caenis pattern, June 2014.

The mayfly is well and truly over on the western lakes, but this time of year the early bird catches the worm, and the settled spell of weather that we are currently experiencing is perfect for hatches of Caenis. Larry McCarthy from Corrib View Lodge has been taking advantage, reporting  up to 15 decent trout on some mornings. One of Larry's clients managed to land over 10 fish on 5 out of 7 early morning outings!

Reports from elsewhere have been very hard to come by. For those who cannot rise as early as the Caenis anglers, evening fishing is the best bet at the moment, with sedge hatches increasing all the time.

To book fishing or accommodation at Corrib View Lodge, contact Larry at www.corribangling.com



Galway Fishery
In common with salmon fisheries around the country, the spring salmon fishing in Galway has been disappointing, but over the last 2 weeks grilse have been showing up in increasing numbers. Water levels have remained stable at 2 sluice gates open on the weir, enabling flyfishing to be practiced over the whole length of the beat.
There were 24 fish landed for the opening 10 days of the month, with most being grilse taken on shrimp. Annie Taylor (UK) had a nice 8lbs salmon on shrimp. John Mugan from Moycullen had a 4lbs grilse on shrimp, while Donegal man Paul Gallagher had a good day, taking fish of 8lbs and 6lbs on shrimp. Fellow Donegal man Martin Marmion took a fine 8.5lbs salmon on shrimp, while Aidan Spooner from Clare landed 2 grilse to 4lbs on shrimp. Northern Ireland visitor Jim Adamson landed a 4.5lbs fish on shrimp, while Clare angler Fergus Glynn fished the fly and landed a nice 4lbs fish. Frank O'Hara from Laois also landed a 4lbs grilse on fly, as dis Athenry angler Declan Tuffy (released), while Roscommon man Marcus Kennedy took a 7-pounder on spinner, and finally Brian King from Limerick landed a 7lbs fish on shrimp.
With grilse appearing on the tide every day and moving upstream, and water levels set to drop further with settled weather, fishing prospects are quite good for the coming weeks.
Screebe Fishery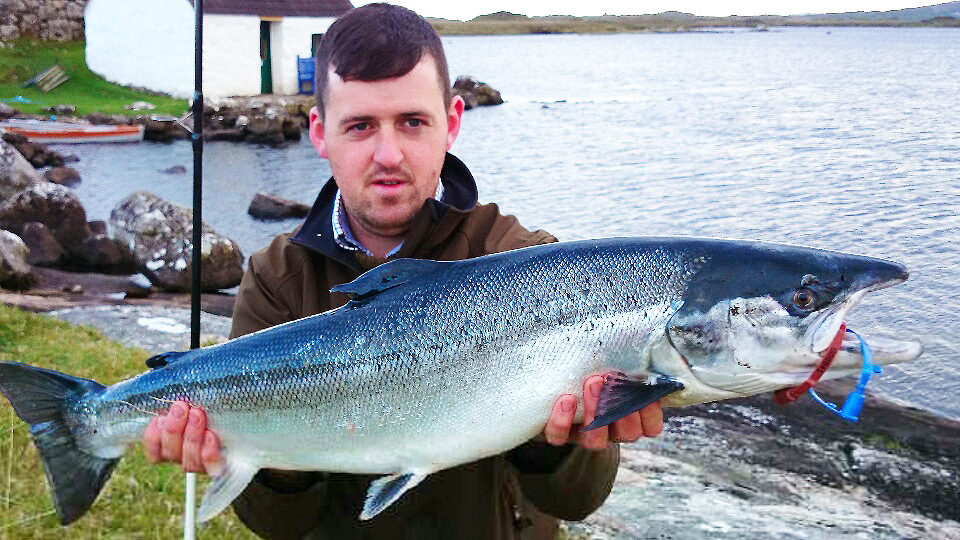 Patrick Delapp with a fine 22.1lbs salmon taken at Screebe. This was the largest salmon recorded at Screebe for 130 years.

Fishery manager Trevor Down reported on some early season fishing at Screebe, including a fine 22lbs salmon taken at the Salmon Pool by Patrick Delapp. Patrick caught the first salmon of the year on the 25th May - it weighed 22.1lbs and is the biggest fish recorded at Screebe in 130 years! On the 31st of May a group of 3 German anglers had great sport on Screebe lakes with 6 sea trout and  18 brown trout up to 2.5lbs - they also hooked and lost 3 salmon!

On the 2nd of June regular angler Michael Wymes had the first grilse of 5lbs from the Salmon Pool. On the 3rd Patrick Delapp caught another 2 grilse at 3lbs and 5lbs, releasing the bigger fish, both from the Salmon Pool.

To book fishing at Screebe, contact Screebe House at 091 574110, or visit www.screebe.com