Galway Fishery
Low water and a good grilse run ensured good angling over the last 2 weeks in Galway, with 136 salmon recorded, and many more lost as fish were taking short on some days.
Catch of the week goes to young Adam Tuffy from Athenry, Co. Galway. Fishing with his dad, well-known angler and fly tyer Declan, Adam hooked and landed a superb 7.5lbs salmon, his first ever salmon, and one that he and his extremely proud dad will never forget!
Other anglers to strike it lucky were Phil Donoghue, who landed 2 grilse to 7.5lbs on fly, and Pappy Cotter, with 3 fish to 8lbs on shrimp and fly. Louis Brennan had a good day fishing shrimp, with 2 fish to 5.5lbs, while Andrew Beattie fished the fly and had 2 fish to 5.5lbs also. Martin Cassidy landed a nice 6.5lbs fish on shrimp, while Jasper Matthews had a 5.6lbs grilse on fly, and Nadia Pickersgill had a lovely 6.5lbs fish, also on fly.
Local musicians Enda Scahill and David Howley took some time off from a busy schedule with their band We Banjo 3 to fish a morning, and finished with 2 salmon for Enda to 6lbs, bettered by David with 3 fish to 7lbs, including his first ever salmon! Andrew Edgar from Scotland enjoyed his visit, landing 6 fish over a few days to 5.5lbs on shrimp , while annual visitor Laurence Flood from London took 7 fish to 6.5lbs during his stay, also on shrimp.
Des Bluett had 3 fish to 6lbs on fly and shrimp, Terry McDermott had 3 to 4lbs on fly, and John Hetherington landed 3 to 7lbs on fly and shrimp. Dublin angler Colm Adams had a cracking 8.5-pounder, taken on shrimp, while Frank O'Hara landed 3 fish to 6.5lbs on fly, and Danish visitor kicked off his annual visit with 3 fish to 4.5lbs.
The fishery is in fantastic order at the moment with perfect water levels and great numbers of fish showing, so prospects for the next week are excellent.
Erriff Fishery
Fishery manager Jim Stafford reports that water levels were reasonably good during the early part of the week with a spate of 1.6 meters on the morning of the 14th, and there was a further spate of 1.2 meters on the 16th - both spates brought fresh salmon and sea trout into the river.
Regular UK visitor Andrew Beattie caught 5 salmon - best 7.75lbs and some 20 sea trout during the week - best day was 8 sea trout from the Tawnyard Potholes on Beat 3. Alexander Mills caught 2 nice sea trout in the School House Pool - the following day he caught another two and released a grilse of 5lbs caught in the Falls Pool on a Cascade.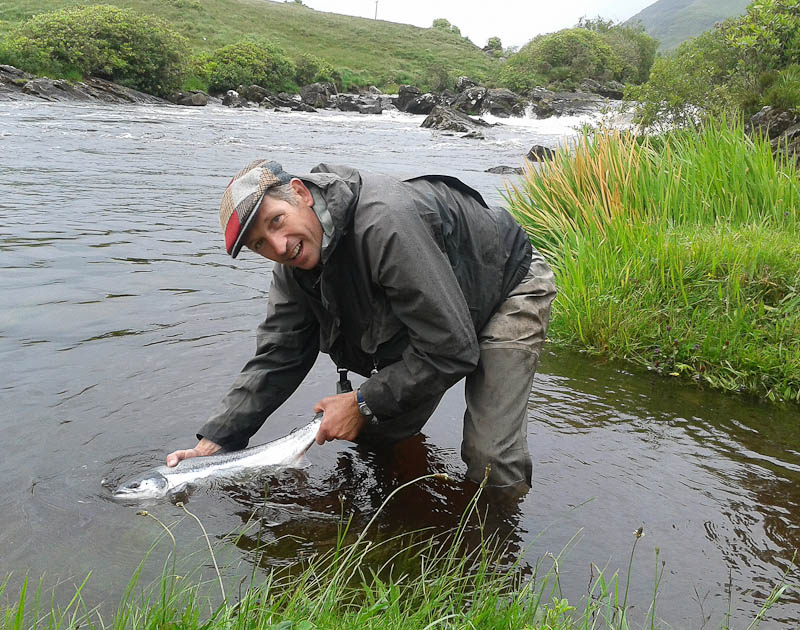 Alexander Mills, Benburb, Co. Tyrone releasing a fresh run grilse into the Coronation Pool on Beat 8 of the Erriff Fishery



Fishing a Silver Stoat and a Black Shrimp Gerard Garnier, France caught 23 sea trout and 3 grilse, best 5.5lbs.    Chris Dennison, UK. released 6 sea trout and a grilse caught on a Silver Stoat in the Colonel's Pool on Beat 6.  Simon Hughes, Tourmakeady caught his first Erriff salmon in the Falls Pool on Beat 9.
Lady angler Aoife Keogh, Dublin caught a sparkling fresh grilse of 5.5lbs in the Falls Pool.   Kevin Attride caught 3 sea trout in Jenkins and Yellow Banks on Beat 5.  Frank Hughes landed a grilse in Jenkins on a Cascade.  Martin Davison, NI, caught a sea trout of 1.75lbs in the Cottage Pool on Beat 4 and David Curran caught one of 1.75lbs in the Glenanane Stones on Beat 7.
The total catch for the week was 14 salmon and 44 sea trout
To book fishing or accommodation, contact Jim at 095 42252, or check www.aasleaghlodge.ie
Kylemore Abbey Fishery
Fishery manager Nigel Rush reports that Week ending 19th July saw the fishery add a further 16 fish to the book for 23 rod days. Conditions were mixed with balmy thundery for the most part hampering fishing potential.
Grilse are mostly small so far this year ranging from 1.5lb-5lb but mostly on the smaller side of this scale. I still feel that the main run has not even started in earnest and will probably come with the next bit of fresher weather. All fisheries seem to be experiencing the same so either they are on the way or not coming at all. Hopefully they are on the way!
Gilly Hennson was the first of our lady anglers to land a fish this year from Lower Eugenes at 3.5lb. Geoffrey Fitzjohn and Conor McCormick were on the leader board with three fish apiece for the week and the largest fish of 9.5lb fell to myself on a short Collie from Derryinver Bridge Pool.
Sporadic rain seems to be forecast for the week which should keep up the water levels in time for the arrival of a good run of grilse!
To book fishing at Kylemore Abbey, call Nigel at 095 41178, or mobile 087 9580702, and for latest news check the website at www.kylemorefishery.ie
Lough Corrib
Frank Reilly reports that there was good fishing in the early part of the week on the Corrib but the settled weather over the weekend slowed down the fishing and very few anglers took to the water. The Greenfields area had mixed results with some anglers reporting great fishing.  Peter and David McGuinness, Milltown fished on Monday the 14th and landed 30 trout (all released) to wet Mayflies and sedges. Robert and Ciarán Reilly, Loughrea fished for one day and landed 4 trout in calm conditions to dry sedges. Frank and Oisín Reilly, Glencorrib fished over the weekend and landed 9 good trout up to 2lbs on dry sedges and wet Mayflies.  Pat Day, Headford fished 5 evenings and landed 8 trout up to 2lbs on wetfly. Good hatches of Mayflies and some sedges were reported by anglers. Very warm, calm and humid conditions are prevailing this week, which is less helpful, but a return to cooler conditions may be on the way by Sunday, and fishing should pick up accordingly.
Lough Mask
Ronan Cusack reports that angling on Mask could only be described as tough, particularly for the second half of the week as high pressure dominated the weather. The best report of this week came from Mike Coyne (Letterfrack, Co Galway) who fished wets across the deep on Tuesday, landing 12 trout exceeding the legal limit. Mike also reported returning 8 undersize and rising several more fish throughout the day (best fish 1.75, all returned). Local anglers Kevin Egan and Declan Gibbons also had a good day on Monday last, landing 6 keepers, and again returning numerous undersize (best fish 1.5lbs, all returned). The latter part of the week saw a change as weather settled back to sunshine and light winds. Tourmakeady anglers Michael Shevlin and Eddy Gibbons had a tough day on Sunday finishing with 2 keepers and a few undersize.  Bart Crowley and Dennis Kelleher (Ballinrobe) also had a tough day on Sunday finishing with 1 trout and a few undersize. David Connors (Ballinrobe) spent a day in the shallows on a combination of wets and dries over the weekend and finished with1 fish for 1.5lbs. David reported excellent hatches of both Mayfly and sedge amongst the islands across the middle of the lake.
Hopefully we'll see a change in weather conditions over the next few days as the first heat of the much sought after World Cup kicks off next week.