Salmon Angling
River Moy
Despite the low water levels and humid conditions which prevailed for much of the week, a total of 431 salmon were reported bringing the season total to 2,704.  This was the best week of the season so far. The low levels have resulted in grilse now holding in the middle and lower reaches but have impacted heavily on angling upstream.
With 72 salmon reported, the Moy Fishery saw its best week of the year. On the Ridge Pool, fly anglers Raymond Steward, NI, Gerry Kelly, Dublin and Victoria Roberts, UK, all had grilse averaging 4.5 lbs.  Garry Perks, UK, had 3 fish on fly on the Weir Pool, two of which he released. Donal Carney, Athlone, was successful on the Cathedral Beat where he landed two grilse at 4.5 lbs. and 5.25 lbs.; also on fly.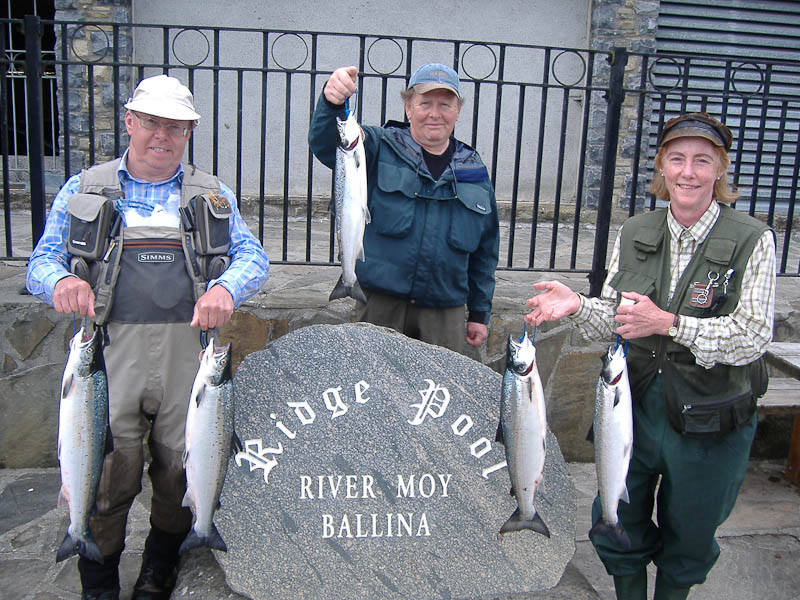 Happy Ridge Pool anglers, (f.l.t.r.) Raymond Steward, NI, Gerry Kelly, Dublin and Victoria Roberts, UK



The Moy Fishery's Annual Juvenile Angling Day also took place during the week. A total of 18 youngsters took part and 5 salmon where caught. Amongst the successful anglers were Sean & Fionn Dermody, Jack Sweeney and Charlie Cook.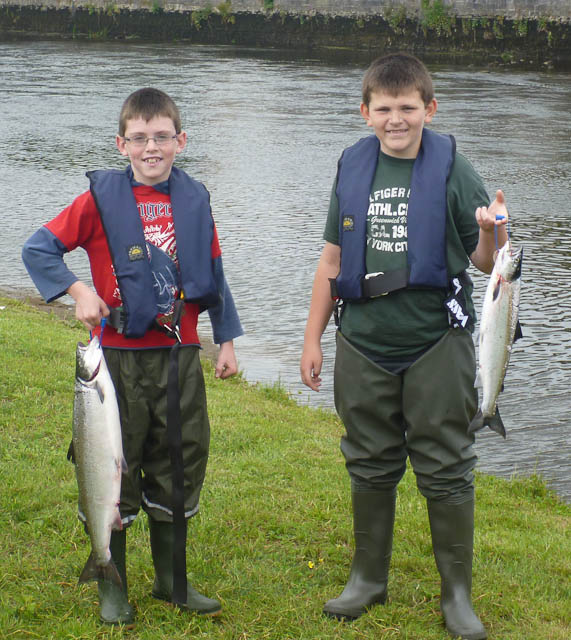 Successful young anglers: Fionn & Sean Dermody.



All mid river fisheries enjoyed reasonable results. On Coolcronan, Tommy Henderson, NI, caught a six pounder on worm, while Nicola Marcon, Italy, had his first ever salmon on Gannon's; also on worm. Ten-year old Christopher Condon, Mullingar, had a memorable day on the Rinanney Fishery as he caught his first ever salmon, a fine fish of 8 lbs.!
Further upriver, regular visitor Klaus Lehmann, Germany had a 4.5 lbs. fish (worm) on Cloongee, while Gerry McNamara, Offaly, landed 4 grilse, one on fly and 3 on worm.
Moy Estuary
Judd Ruane, skipper of the Pegasus, reported good sea trout fishing for his clients for the week. Aidan Spooner, Adare, was amongst the successful anglers catching good numbers of fresh run-sea trout.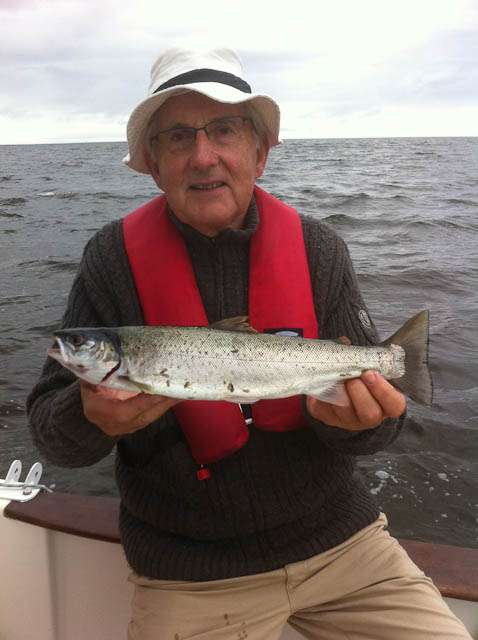 Aidan Spooner with a fine fresh-run Moy Estuary sea trout



To book a day's sea trout fishing visit www.fishingireland.ie or contact Judd on +353 (0)87 6736969.
Burrishoole Fishery
The dry weather impacted heavily on fishing during the week. However, there are good numbers of salmon showing in Lough Furnace but due to the high salinity level the fish have gone a bit off the take. A change in weather with some rain should definitely improve fishing conditions on Lough Furnace.
Nevertheless, some anglers were successful including Fishery Manager, Pat Hughes who had a 5 lbs. grilse. G. Nevin and Tim Aldiss were also amongst the lucky anglers with fish of 3.75 lbs. and 4 lbs. respectively. There were also 13 sea trout caught and released for the week.
To book fishing on the Burrishoole Fishery contact Pat Hughes at +353 (0)87 2377078
Trout Angling
Lough Conn & Lough Cullin
The warm and humid weather resulted in reduced angling activity on Loughs Conn and Cullin this week but those who did venture out were rewarded with some good fishing.
Fishing out of Pontoon Bridge Hotel (www.pontoonbridge.com), Peter Giddings, Wales, had 23 trout over 3 days for 30 lbs. on Daddy Long Legs. JP Conway, Co. Down, caught 2 trout for 3 lbs. on Green Peter, while Thomas Garchinsi, Canada, boated 4 fish for two evenings' fishing all on dry Olives. Angling guide Jack Mellett reported two trout each over 2 lbs. for Colleen and Cassidy Sash from the UK.
Conn Knight from Athlone, guest of Gerry Murphy Boat Hire (gmurphyboats@gmail.com), landed a magnificent 7 lbs. trout while trolling for salmon on a Silver Spoon.
Ian Wise, Cloonamoyne Fishery (ian@cloonamoynefishery.com), reported 4 trout at 1 lb. each from the Woodford Shallows.
Elsewhere, local anglers John Warren and Stephen Browne had 2 trout each averaging 1.75 lbs. on Green Peter and dry fly patterns.
Lough Arrow
There is still reasonable Peter Fishing on Lough Arrow. However, night fishing has not been as productive as in previous weeks.  John James McDermottroe had 2 brown trout (1.75 lbs. and 2 lbs.) on Green Peter, while Francis White landed 5 fish averaging 3 lbs. on wet flies.
Pike Angling
Visiting anglers to Mount Falcon Estate, Guy Hughes and Jonathon Chinn from the UK, teamed up with local guide Kenny Sloan for a day's fishing on some of the surrounding pike lakes.  The two English anglers had numerous takes, fishing surface lures and also large poppers on the fly rod. A total of 7 pike up to 95cm were landed with many more hooked and lost.
To book a day's guiding or boat hire contact Kenny Sloan on +353 (0)949256501 or +353 (0)87 9670310 or visit www.pikemania.co.uk
Guy Hughes, UK, with two of his "surface" pike