River Moy

Yet, another successful week for anglers on the Moy system, with 696 salmon reported. However, varying water levels throughout the week resulted in rather unpredictable fishing conditions. The bulk of the fish was caught midweek, with all mid river fisheries reporting Wednesday as the best day.
The Ridge Pool accounted for 33 salmon, including two on spinner for Walter Norton, UK, and three salmon for Michael Mills also on spinner. On the Weir Pool, John Phelan, Laoise, had 3 grilse (2 released) on worm. John also caught a fine 3.93 lbs. sea trout! Also on the Weir Pool, Garry Perks, UK had a 6.98 lbs. salmon on worm. Fly angler, John Thompson, Laoise, had 2 grilse on the Cathedral Beat, while Sean Kearney, Northern Ireland, caught a fine 11.5 lbs. salmon on spinner. Walter Norton had another two salmon on the Cathedral Beat and Patsy Smyth, Cavan, scored on the Spring Wells with a 5 pounder on fly.

The NWRFB held a juvenile angling day on the Cathedral Beat on Tuesday, 14 July. The turnout was excellent, with over 40 juveniles taking part. Reece Hudson won the event with a 3.5 lbs. grilse, Shane Egan was runner up and joint third place went to Sean Ledden & Colm McGarry.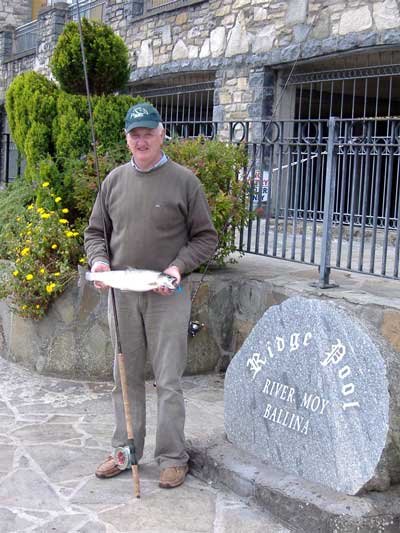 John Phelan with his 3.93 lbs. sea trout from the Moy Fishery's Weir Pool.
Peter Hughes, UK and his 13 year old son Jack, both caught their first ever salmon on the Mount Falcon Fishery which enjoyed another successful week, with 46 salmon caught, 15 of which were released. On Coolcronan, Roy Quinn, Northern Ireland, had 2 grilse on worm, while Michael Campbell, also Northern Ireland, had a 6 pounder on prawn. Armstrong's produced a fine 11 lbs. salmon for Tom Murray, Offaly, and Andy Major, UK, banked a 10 pounder on the Gannon Fishery. Both fish came to the worm. The Howard Bayliss party of three did very well on the Foxford Fishery, with 24 salmon over 4 days, while Tony Furlong, Wexford, landed a cracking 14 lbs. salmon on the Foxford Anglers' Rinanney stretch.

Up river, Cloongee also enjoyed good fishing during the week, with Conor & David Hutchinson, Northern Ireland, catching a grilse each. Also on Cloongee, Rene Gehringer, Germany, did very well, with 4 salmon on worm over 2 days, best at 10.5 lbs. Other successful anglers included Lars Friebertshauser, Germany, (4 lbs. salmon) Gabriel McCafferty, Northern Ireland, (9 lbs. salmon) and Bill O'Regan, Dublin (4 lbs. salmon). All three fish came to the worm.

Fishing East Mayo, Roger Stevens, Northern Ireland, had 3 fish averaging 4 lbs. Alan Andrews and David Hutchinson, both Northern Ireland, also fishing the East Mayo Association water had one fish each and Norwegian visitor, Tony Peterson, caught two salmon at 4 lbs. & 9 lbs. on fly.
Moy Estuary
Despite the unsettled weather conditions and coloured water, some anglers enjoyed good sea trout fishing during the week. Judd Ruane reported 8 sea trout up to 2 lbs. for Edward Thomas & friends, UK, while the John Hurley party of three landed 9 trout. Most sea trout were taken on mackerel strip.


Carrowmore Lake & Owenmore River

On Carrowmore Lake, the Martin Rouland party had one salmon at 6 lbs. and 8 sea trout, all of which were returned. The Owenmore River produced good bags of sea trout and some salmon during the week. The best fishing was during the early part of the week due to a rise in water levels. Amongst the successful anglers were Martin Gaughan, Alan Pease, Eamon & Padraic Giblin, Dennis Summers, Franz Kaiser and Tom Gallagher. Junior angler, Kieran Doherty, Bangor Erris, was also successful on the Owenmore River where he caught his fist ever salmon weighing 5 lbs!

Newport River & Lough Beltra

A rise in water levels resulted in good salmon fishing on the Newport River. Local angler, Eamon Kennedy, had a 6 lbs. grilse, while Jimmy Lawlor caught a 5 pounder and 3 sea trout, all of which he returned. David McClune landed 2 grilse and Dave tucker had a nice sea trout at 1.5 lbs. However, John Corry, Northern Ireland, had the best bag of the week, with 3 salmon weighing between 4 lbs. & 12 lbs. On Lough Beltra West, Ian Holman had 3 sea trout between 0.75 lbs. & 1.5 lbs. (all returned), while on Lough Beltra East, Jackie Diffley, Glenisland, boated a small grilse. Also on Lough Beltra East, Brian McGowan, Castlebar, landed a fine 11.5 lbs. salmon on a Green Peter. He and his boat partner, Eamon Kennedy, also returned a sea trout and rose several more.


Ballin Lough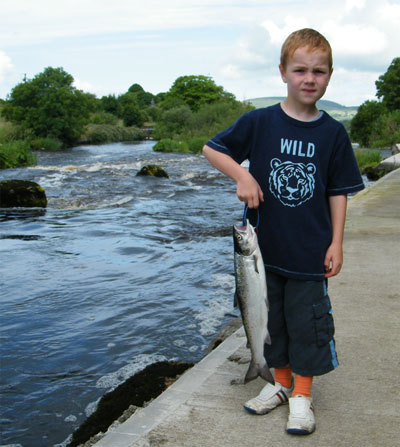 Six year old Jamie Donovan with his first salmon caught on the Ballysadare Fishery.
Again, a good week for Ballin Lough with 26 rainbow trout (12 released) for 19 rods. Mr. F. McMorrow and friend caught 6 trout (5 released), best at 3.5 lbs., P.J. O'Donnell & friend had 8 rainbows, best at 4 lbs. and Sean Flannelly landed 4 fish, with best also at 4 lbs. Best flies for the week were Muddlers & gold head nymphs.


Ballysadare River

The Ballysadare Fishery is still enjoying a good run of salmon at present with a total of 132 salmon caught, 42 of which were released. A very successful day for juvenile anglers was also held on the Ballysadare Fishery. This was facilitated by Ballysadare Fishing Club Ltd. and assisted by NWRFB staff. A total of 74 children participated in this event. Results were spectacular, reflecting the large run of fish to this prolific fishery. Amongst the successful youngsters was 6 year old Jamie Donovan who caught his first ever salmon. The event was won by Karl Murray who had a 7 lbs. salmon on a Cascade pattern.


Lough Arrow
The "Peter Fishing" on Lough Arrow has been pretty good during the week with fair numbers of fish moving. The northern end of the Lough fished best and anglers are still enjoying the best action between 10:00 pm and midnight. Noel Fairbanks had 5 trout, best at 4.75 lbs., David Gray accounted for 7 fish, best at 3.5 lbs., his father Josie Gray caught two, best at 4 lbs., Dave Cadman had two, heaviest at 4.74 lbs., while Francis White landed the heaviest fish for the week, a cracking 6.16 lbs. trout.