Western River Basin District
Bangor, Ballina & Sligo Fisheries Districts
Angling report - w/e 8th June 2014
Markus Müller reports
Salmon Angling
River Moy

With a reported catch of 260 salmon, the River Moy, once again, proved its position as Ireland's most productive salmon fishery!
On the Moy Fishery, flyangler, Kevin Clayton, had a fine 10 lbs. salmon on the Ridge Pool, while Jimmy French, Northern Ireland, had a 10 pounder on the weir pool, also on fly.
French anglers were particularly successful during the week: Claude Bonnange landed two salmon on spinner on the Mount Falcon water, Gilles Bodinier had a 6 lbs. fish on Armstrong's on worm and Jean Marie Bluet caught a 7 pounder (worm) on the Foxford Fishery.  French anglers did also very well on the Cloongee Fishery with Ludovic Coulon landing a 7 lbs. fish on spinner, Patrice Boisadam getting a 12 pounder on bubble & fly and Cyril Martin catching a cracking 13 lbs. fish, also on bubble & fly.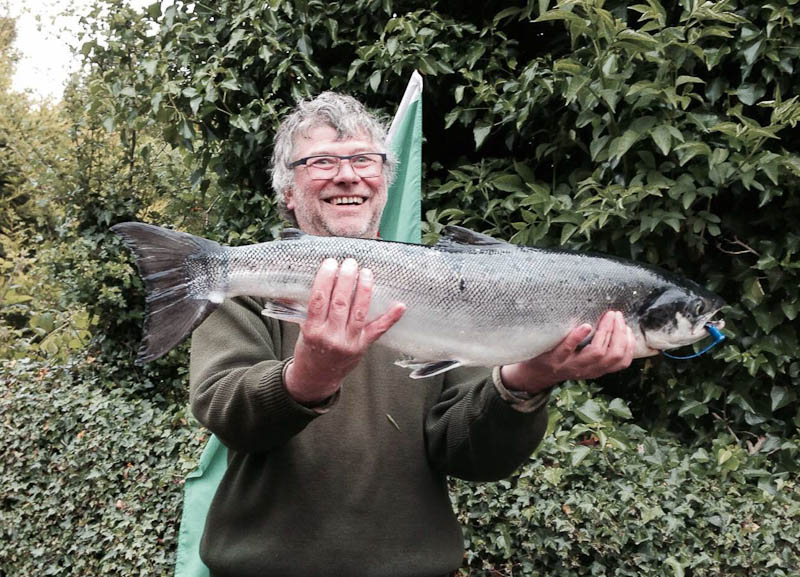 A happy Patrice Boisadam, France, with his 12 pounder from the Cloongee Fishery
However, Rinanney and the Foxford Anglers Water also produced some fine fish during the week. German regular, Herbert Zettel had two salmon at 5 lbs. and 9 lbs. on worm on Rinanney, while local angler, Kenny Sloan landed a fine 10 lbs. fish on the Foxford Salmon Anglers water.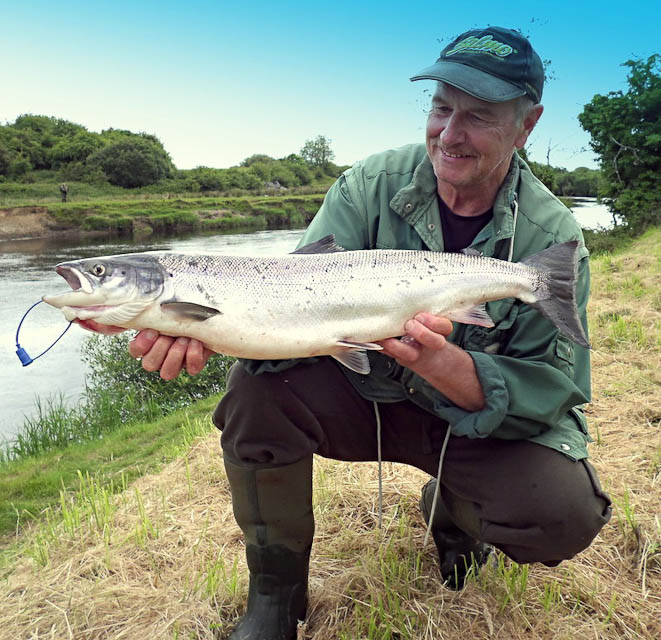 Kenny Sloan displaying a fine 10 lbs. Foxford salmon



Further upriver, on the East Mayo Association water, anglers enjoyed good sport on the fly. Michael O'Keane, Northern Ireland, did exceptionally well catching 3 salmon between 9 lbs. and 15 lbs. Gunter Profanter, Austria, was also successful with the fly landing two salmon, while his country man, Martin Worz, also had two fish but on worm.
With lots of fresh fish reported in the bay, hopes are high that the Moy will produce more good fishing in the coming weeks
Moy Estuary
Judd Ruane, skipper of the Pegasus, reported good sea trout fishing for his clients during the week. A total of 64 sea trout were caught, many of which were safely released. Mackerel strips and sandeels proved to be the most successful methods.
To book a day's sea trout fishing visit www.fishingireland.ie or contact Judd on +353 (0)87 6736969.
Ballisodare Fishery
With a total of 152 salmon, anglers on the Ballisodare Fishery enjoyed good sport during the past two weeks.  As in previous weeks, most fish were caught on the fly with some on worm and many fish being released.
The majority of the fish are now within the 4 lbs. to 5 lbs. range. However, anglers still have a chance to catch bigger fish: Gerry McHugh (fly), Hugh Cushnahan (worm), John Scanlin (fly) all landed nine-pounders during the week. Keith Campbell had a great day's fishing catching 3 fish (2 x fly (one released), 1 x worm), all between 5 lbs. and 6 lbs., while visiting angler, Jens Frey, got two (4lbs. & 6 lbs.) on the prawn.
Despite the lower than normal water levels, prospects for the next few weeks are looking quite promising as more and more grilse show at the Falls.
Drumcliff River & River Bonet
Salmon anglers on the Drumcliff River enjoyed some nice catches in recent days. Flyangler, Oliver Lee from Sligo, had an 8 lbs. salmon, while Ollie Conlon, also Sligo, landed a fine ten pounder on spinner.
On the Bonet River, 10-year old, Arran Long from Grange, caught his first ever salmon.  The "bar of silver" weighed 10 lbs. and took a spinner. Well done Arran!
Trout Fishing
Lough Conn & Lough Cullin
After a number of weeks of excellent fishing, angling on Loughs Conn and Cullin slowed down somewhat. However, there was still some good fishing in selected areas of the lakes.
On Lough Cullin, local anglers Peter Gray and Paul Caslin, averaged 4 keepers on each of their trips, best at 2.5 lbs. John Walsh and his son Shane, Kildare, had 4 trout on wet flies, all around 1.25 lbs., while Tipparary anglers, Clair Maloney and Patrick Morrisey, boated 6 trout between them.
Fishing out of Pontoon Bridge Hotel (relax@pontoonbridge.ie), Tom McMahon, Tipperary, had 10 fish over two days, best at 1.5 lbs. on dry mayflies. US visitor, Bob York, did well on the Grey Wulff catching 5 fine trout, while Sean O'Rourke, Offaly, had 3 fish up to 1.25 lbs. on wets. Local guide, Kieran Connolly, reported good fishing for one of his clients: Douglas Bell, Scotland, boated 4 keepers averaging 1.25 lbs. on Bibios.
Gerry Murphy Boat Hire (gmurphyboats@gmail.com) also reported good fishing for their guests. Regular visitors to Lough Conn, Liam McHugh and Tom Cooney, Edenderry, averaged 5 to 6 trout over 12" on each of their trips, while Colm Wilson, Belfast, got 10 trout (all released) on dry flies, best at 1.5 lbs.
In the Crossmolina area, local anglers Michael Benson, Pat McNulty and Padraic Traynor, enjoyed good sport catching some fine trout up to 1.5 lbs. in Bog Bay. Richard Nicholson, UK, was also successful in the Northern end of Lough Conn, where he boated 3 fine fish, best at 2 lbs., all on dry mayfly patterns.
The Cloghans area produced 5 trout for local angler, Des Ruthledge, best at 2 lbs., while Dublin visitors, Isabel, Lola and Tom Jordan, had 3 keepers on dry olives, best at 2.2 lbs.
Pike Angling
With thundery downpours and warm conditions pike fishing has proved difficult of late. However, 14-year old Harvey O'Brien and Michael Harte, both Claremorris, fishing with guide Kenny Sloan around the Castlebar area managed to land 9 good pike during the week. Surface lures fished among reed beds and float fished roach worked best for the two anglers. It was 14-year old Harvey who showed Michael how to pull them in, landing 5 good double figure pike. Harvey is now "hooked" and is already planning his next pike fishing trip.
To book a day's guiding or boat hire contact Kenny Sloan on +353 (0)949256501 or +353 (0)87 9670310 or visitwww.pikemania.co.uk
Sea Angling
On Saturday 5th April a party of anglers from Sligo set out from Killala Harbour with Donal Kennedy, skipper of the Leah, for a day's fishing in Killala Bay. The weather was fine with a moderate South South East breeze. The skipper came well prepared with a good supply of fresh frozen mackerel. They were badly needed as only 4 mackerel were caught during the day.
The first drift produced coalfish, pollack, pouting and a couple of nice cod. Later in the day the group went out a little deeper and several drifts produced more cod, pollack, pouting, coalfish and some fine ling up to 7 lbs. As the day moved on one of the anglers hooked into a fine fighting fish and brought a large spurdog to the boat only to have the fish cut the line just before it could be landed.
To book a day's fishing in Killala Bay contact Donal Kennedy on +353 (0)0868174509 or visit http://www.dkennedyangling.net/