Salmon Angling
River Moy
The dry and extremely sunny weather impacted heavily on angling during the past week. As a consequence, angling effort had been exceptionally low with only a few fish being caught. Anthony Murphy was one of the few lucky anglers with 2 salmon at 7 lbs. and 9 lbs. caught on the Armstrong Fishery. However, East Mayo Anglers Association water still produced a few fine spring salmon including a ten pounder on fly for Michael Griffith, Northern Ireland, and a 9.5 lbs. fish for Michael O'Keane., also Northern Ireland. Also on East Mayo, Kieran Murphy, Wexford, had a 10 lbs. salmon on worm
Carrowmore Lake
As in previous weeks, Carrowmore Lake stands up to its reputation as one of Ireland's best spring salmon fisheries. Despite the calm and bright conditions throughout the week, the fishery produced a total of 18 salmon, 6 of which were released. Amongst the successful anglers were Brian Moore, Northern Ireland, with an 8 pounder and Tom Cullin with his boat partner Brian Fitzpatrick, both Wicklow, who boated fish of 9 lbs. and 9.5lbs. respectively. Most successful flies for the week were Clan Chief, Claret Dabbler, Bibio, Jaffa and Cascade patterns.
Please note that Carrowmore Lake is a Brown Tag Fishery this year! For fishing on Carrowmore Lake contact Seamus Henry on +353 (0)97 83487 or visit www.bangorerrisangling.com
Ballisodare Fishery
Water levels were dropping slightly during the week on the Ballisodare Fishery making angling that little bit harder. Anglers caught a total of 13 salmon (5 released) with the majority being taken on fly. French flyangler, Jean Bernard Chenaux, enjoyed a great day's fishing with two salmon at 7 lbs. and 10 lbs. (one released), while Denis Crawley also had a ten pounder on fly. The biggest fish of the week, a fine 11.5 lbs. springer, was landed by Kevin Flynn. Kevin's fish was also caught on fly. Other successful anglers included John Murray, Paul McMahon, Gareth Norris and Thomas O'Donavan Jnr. The most successful fly for the week was the Posh Tosh, taking the majority of the fly-caught fish.
Trout Fishing
Lough Conn & Lough Cullin
Easterly winds and bright sunshine affected trout fishing on Loughs Conn & Cullin during the week. Despite these difficult conditions, anglers witnessed some good rises and takes.
On Lough Cullin, Gary Binley and his father Richard, both Foxford, had some good sport and landed 8 trout between them. Also on Cullin, Greg Mullin, Dublin and boat partner, Jason Walsh, Castlebar & Dublin, caught 5 trout, all around 1.25 lbs.
Fishing the Pontoon area, local angler, Billy McGhee along with Gerry Heaslip, Dublin, boated a total of 8 trout, best at 1.5 lbs. The Cloghans area produced some nice catches for local anglers Padraig Kelly (2 trout, best at 1.5 lbs.) and Stephen Browne (4 trout). Walter and Susan Byrne, Offaly, also enjoyed good sport in the Cloghans area over a few days with 8 trout on their best day (best fish 2 lbs.). Paul Caslin, Castlebar, was successful around Glass Island and Victoria Bay, catching 3 trout averaging 2 lbs. The Northern end of Lough Conn produced two trout, weighing 2 lbs. each, for Ian Wise, Cloonamoyne Fishery.
Best flies for the week included: Dry and Wet Olive patterns, Yellow Mayfly, Green Peter and Chilli Bumble.
Lough Arrow
Conditions on Lough Arrow were fairly difficult during the week. Bright sunshine during the day and very calm evenings didn't make it easy for trout anglers. However, Thomas Walsh reported a 1.5 lbs. trout, while local angler, John James McDermottroe, caught a cracking fish weighing 5.75 lbs. Both trout fell for a wet fly. A lot of small fish were showing and anglers reported some early sightings of mayfly. The weather is promised favourable for the next few days which is likely to bring early hatches of mayfly.

Pike Angling
Regular visitor, Bert Müllrick, Germany, enjoyed 3 fantastic day's pike fishing in the Foxford area with local angling guide, Kenny Sloan. Over the 3 days, Bert fished on four different waters including Lough Conn and Levally Lake and caught a total of 17 pike. His best fish was a fine wild pike of 19 lbs. caught on a trolled roach. With such good fishing Bert is eager to return later in the year to crack the 20 lbs. mark!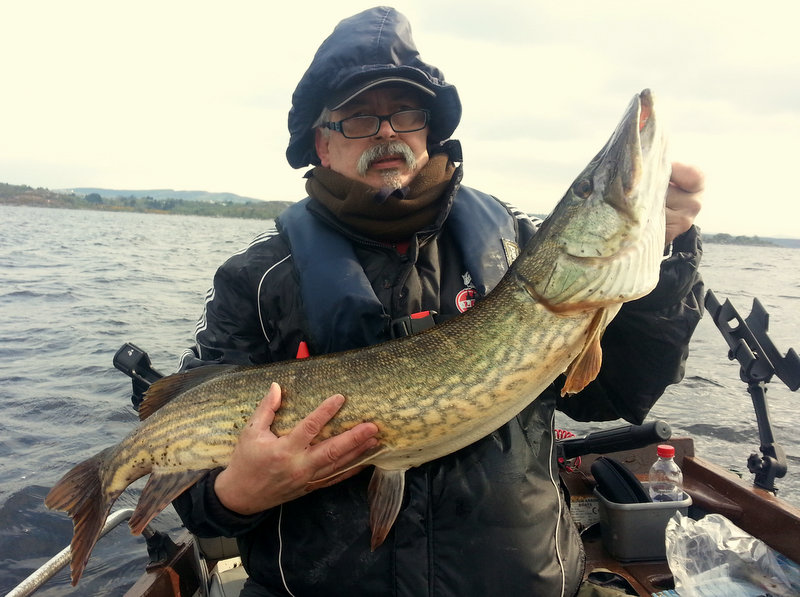 A happy German pike angler! Bert Müllrick with one of his 17 Mayo pike!
To book a day's guiding or boat hire contact Kenny Sloan on +353 (0)949256501 or +353 (0)87 9670310 or visitwww.pikemania.co.uk