WRBD Galway Angling Report 18 June 2014
Lough Corrib
The bright sunny conditions of the last week have morphed into a full-blown heatwave in Galway, with temperatures of 25 degrees over the last few days and a weather warning for temps over 27C today! Consequently, angling on the lake has slowed down, with most anglers taking a break after the mayfly. There were some hatches of sedge and a sprinkling of mayfly, but fishing has been slow in the warm conditions, with the early morning Caenis hatches providing just about the only sport for fly anglers. Indeed a competition held by the Ennis Anglers out of Greenfields was won by Sean Dixon with just one fish for 2lbs 12oz.
Trolling, on the other hand, has produced some good fishing, with the Walsh & Power party from Scotland landing 6 fish, including a fine ferox of 10lbs 8oz. Tomi Kurman from Corrib Predator Team also reported some good fishing, including a 9lbs 1oz fish for Ray Fitzgerald and a beautiful 86cm trout for Marek Kozinski. To book fishing with the Corrib Predator Team guides, contact Tomi on 085 7318541 or Jack on 085 7741578, or search Corrib Predator Team on Facebook


Marek Kozinski with a beautiful 86cm ferox trout from Lough Corrib, taken while fishing with guide Tomi Kurman, June 2014.



The outlook for the week is very sunny and no wind so lake angling activity will be minimal. Anglers on Corrib are taking to a spot of ferox fishing coupled with some serious sunbathing!

In these high temperatures anglers and the general public are asked to notify their local IFI officer or the hot line on 1890 347424 if they notice fish in distress due to drought or low oxygen in rivers.

Galway Fishery
What a change in conditions in Galway over the last week, with warm summer temperatures, lower water levels and the first proper run of grilse seeing 41 fish landed for the week. Among the lucky anglers were Eddie Kelly from Navan, who had 2 grilse of 5lbs on fly, and Slaney expert Mossy Browne, who took 2 grilse to 4lbs on fly. Local angler John Minnock had a 4.5lbs grilse on shrimp, while father and son Liam and Eoin Dunne from Offaly enjoyed their visit, taking 3 fish, 2 for Eoin on shrimp and one for dad Liam on the fly.
Long time Galway expert Michael Leonard landed 2 grilse on shrimp, and local man Simon Lenihan had a nice 5.5lbs fish on fly. Waterford angler Aidan Twomey landed 3 grilse to 5lbs on fly, while US visitors Todd Spacek and Kate Walker both had a grilse each, one on fly and one on shrimp. Ciaran Cosgrove from Tuam landed the best fish of the week, a lovely 7.5lbs fish taken on shrimp.
With grilse numbers increasing every day, and stable water levels and good weather, fishing prospects in Galway for the coming weeks are excellent.

Lough Inagh
Fishery manager Colin Folan was in touch recently to report the first salmon at Lough Inagh, which I unfortunately omitted from last week's report. The first salmon was landed by Mark Walton from Sligo, and weighed 8.25lbs. This was also Mark's first ever salmon, so a doubly impressive achievement! The fish was taken on a size 10 Sedgehog, and came from the top end of the lake.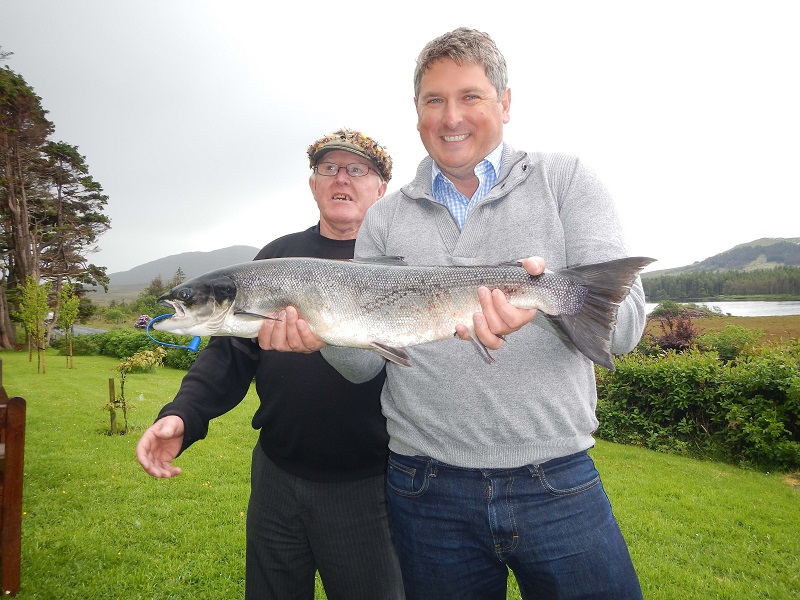 Mark Walton from Sligo, with the first salmon of the year from Lough Inagh, and indeed Mark's first ever salmon too! The fish weighed 8.25lbs and was taken on a size 10 Sedgehog. Also in the photo is Johnny Flaherty, who was Mark's boatman on the day.
Since then Colin himself landed a nice spring fish at the Derryclare Butts, a fish of 8lbs taken on a size 10 Blue Delphi, and the first grilse has been landed off the lake by Galway angler Andy Walshe, who took a nice 5.5lbs fish on a Watson's Bumble. The same day 4 boats fished the lough and another boat occupied by Kieran Power and Noel Greaney from Galway recorded 6 sea trout to 2lbs (fresh) and 4 browns to 1.5lbs, caught on Daddies and Colin's favourite Father Ronan pattern. I have reliable reports of good numbers of good-sized sea trout running a few rivers in Connemara, so I would expect to hear of more good fishing once this heatwave breaks.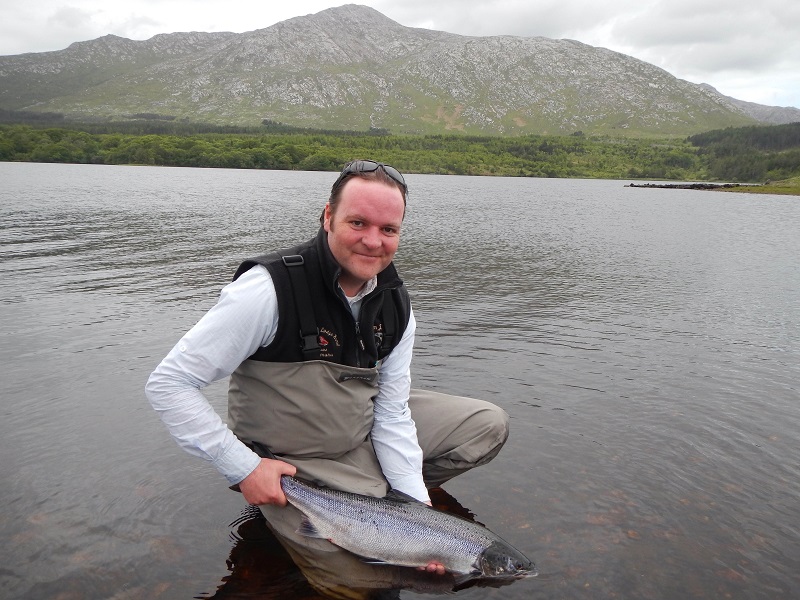 Fishery manager Colin Folan with his first salmon of the season, a nice 8lbs fish taken at the Derryclare Butts.
Sea Angling
Some great news for sea anglers in the west, with the arrival of a new charter boat to Galway Bay. Local skipper John Fleming has just taken delivery of his new boat, the Brazen Hussy II, and is now operating charter trips from Rossaveal, Spiddal and Galway, depending on the species being targeted. According to John, "fishing on the inshore reefs for pollack, cod, ling, wrasse, conger eel and mackerel can be reached in 10 minutes from departure, while our offshore reef marks are within 45 minutes of departure. Our ground fishing for tope, spurdog, ray, bullhuss, turbot, plaice and the giant common skate can all be reached within the hour, ensuring most time is spent fishing.
The shark season usually starts at the end of June and runs into late October, this is the ultimate angling adrenaline rush with these hard fighting blue and porbeagle sharks all being tagged and released safely."
John has package deals available, and booking can be made by contacting him on 0877571320, or check his Facebook page at www.facebook.com/BlueSharkAngling